Happy Thanksgiving
Welcome to the third edition of Design News. The intent of Design News is to educate, inform, and assist by offering healthier greener alternatives. Our goal is to help you create healthy, beautiful projects, all while having some fun!
Over the next year, six issues of Design News will cover these topics:
Interior Design Tips and Trade Secrets

Expert Color Advice
Remodeling Tips from the Pros

Healthier Green Alternatives for your Home
Design Trends
Feng Shui Tips

Design Trade Specials
We hope you enjoy this edition of Design News!
A Simply Grand Entry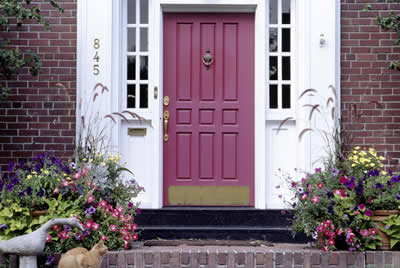 by Lorraine Alexander

Whether your home is stately and elegant or simple cottage style, the entry to your home makes a statement, good or bad. Your entry is the defining element of your home's curb appeal.



Feng Shui Rules of Thumb for Fabulous Curb Appeal




Is your entry easy to see from the street? The practice of Feng Shui teaches that Ch'i (pronounced chee) described as the natural universal energy, enters the home from the front door, making the entry to a home significant. The folk-lore associated with this practice states that when the entrance to a home has good Feng Shui, the Ch'i (or cosmic universal energy) will flow freely into the home, and bring the occupants good fortune, abundance and wealth.
Whether you believe in this 5,000 year old ancient Eastern philosophy of design or not, most folks will admit that the approach to your home really does set the tone or mood for new visitors; making them feel welcome and at ease, or not. Read more...

Are Energy Efficient Bulbs Healthy?




High-efficiency bulbs, savings vs. health


CFLs (compact florescent lamps) are the newest generation of twisted fluorescent bulbs designed to be as compact as a standard light bulb. Developed in part by the U.S. Department of Energy as part of the Energy Star Program. While high-efficiency bulbs save energy, they contain mercury; if broken, they can be a heath hazard. They should never be disposed of in your garbage can. Local retailers have recycling programs for responsible disposal. To find the closest recycling center go to Earth 911.





There is much controversy regarding the safety of CFLs. Research and make your own decision about whether these bulbs are a good choice for you and your family. What should you to do if a CFL breaks? Read more...





Eco-Friendly Gifts
Flowers add a festive tone to any occasion, especially the holidays.
When it comes to gifts, going green is easy. Consumable gifts with recyclable packaging, gift certificates from eco-friendly stores and floral arrangements are a few good choices. Choose gift bags with recycled content and re-use them the following year. Select soft ribbon instead of bows, (easy to re-use again and again). Make or purchase boxes covered with a natural fiber like cotton. These boxes can be reused and make wrapping a snap. Email your holiday greeting cards. One company that offers a variety of online cards is www.smilebox.com
.
Your gift to our future...reduce waste.

Tips...

We have a few simple tricks great ideas to share. Read more to save money and create gorgeous designer style in your holiday floral arrangements
.
Read more...
...
Strive for Simplicity...
Find the simple joys of this holiday season.
"The greatest gift is a portion of thyself."
RALPH WALDO EMERSON
Health, peace and happiness
to us all.
We appreciate your continued support and hope you found Design News interesting and informative.
Lorraine Alexander
Lorraine Alexander Interior
Design


Copyright 2010 Lorraine Alexander Interior Design

Design by Lorraine Alexander

It's all in the details...click this image to visit our website

SRJC Advisory Committee / Interior Design Program
RERA / Adviser and Chair for the Green Building Committee

US Green Building Council / Steering Committee and Education Chair
SSU / Green Building Certified
We support organizations that share our values
US Green Building Council-REC

Lorraine Alexander Edu Chair
Wayne Miller Board Member
"Careers in
Construction Expo"
Lorraine Alexander talks with high school students about Green Design.
Helping our Community
Lorraine Alexander
Interior Design

Junior League Home Tour

On November 20th & 21st, the Junior League of Napa-Sonoma presents a tour of prestigious homes in Bennett Valley, all festively decorated.
All proceeds benefit
local charities!
Lorraine Alexander Interiors will participate in this festive fund raiser by decorating one of the rooms!
or call (707) 545-5567
Learn about healthy choices for your home


We provide Safe-Unsubscribe
We do not share our list.
Share with a friend


Rest assured the safe
"forward to a friend" link keeps emails confidential.
They will not be added
to our list.
Try Constant Contact
for free
and earn $30. credit with
"refer a friend" program?
Click here to learn

more!