How to achieve your best race results-the smart way!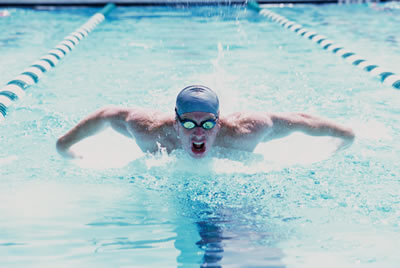 Whether you are a beginner or a seasoned athlete looking to improve your race times, peaking at your race is a satisfying way to complete a race or season of races. Although genetics can help athletes, efficient and structured training will ensure that you are reaching your full potential on the course.
Often we believe that a special nutritional supplement, expensive bike or fancy running shoes will give us the best advantage when in fact it is much cheaper and more beneficial than that! With solid goals in mind and expanding your expectations realistically, you can have your best season yet!...[ read full article]
Prepare for the Altitude

"Don't buy upgrades, ride up grades"---Anonymous.
This quote seems to beckon the goal for most cycling events. Ascend, ascend, and ascend. So, to provide this for the participants, a large number of cycling events have their routes at an elevation greater than what most folks live at. The aspect of training for an event that not only starts higher than you normally live, but also doubles, triples your normal elevation through the day creates a paradox to which the odds are stacked against us. Acute Mountain Sickness (AMS) is one name given to a condition that affects the human body when it is subjected to a lower oxygen environment. Preparation, knowledge and practice...[read full article]
Mountain R.A.T.S. MTB Camp
It's the ultimate Mountain Bike skills adventure. Four days of jaw dropping views, lung burning ascents, aspen dotted hillsides and carefree ridge riding. You will be coached for four days on the many skills that make up mountain biking while your gear is safely transported each day and your meals are provided for you. Because its lead by seasoned USA Cycling Coach, Rob Lockey, you'll come away with new skills to apply to recreational riding as well as racing. It's like a skills clinic summer camp for adults. Riders can check in Thursday morning and arrive home by Sunday night in time for work on Monday morning.


July 28-31, 2011 Keystone, CO Get More Information
Join OES for training rides

-
April 9th (Saturday)
MTB Ridgeline Trails in Castle Rock
-
April 17th
(Sunday)
**FREE** Mountain Bike Skills Clinic
-
May 1st (Sunday)
MTB Buffalo Creek Trails in Pine
OES/BS MTB Team meets on weekends for rides. The weekend rides alternate Saturday/Sunday starting at 10am. Please join us and bring your friends. Alternate ride will be posted if weather interferes so be sure to check the website prior to joining us.

Spring/Summer weekday rides will be starting soon, please check the calendar link above for details.

Please
contact
us for more information.
Resources

Flyer-Rocky Mountain Endurance Series opener
Link-Mountain States Cup
Link-American Cycling Association
Link-Colorado Colfax Marathon
Link-Desert RATS Classic 100K MTB
Link-Winter Park Series
Link-Triple Bypass
Link-Ride the Rockies