Great Expectations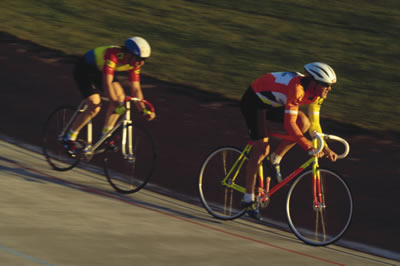 As winter turns to spring, and trainer miles turn to road miles, we find ourselves having to resist the urge to blow off our structured training in order to spend every sunny hour on the road. "More miles can't hurt", is our typical justification. But quickly our rational selves usually get the best of us and we stay the course, our eyes keen on bigger things to come. We start to envision what the long season ahead might have in store. "This is going to be my year", we always tell ourselves. The year where it's all going to come together, the year that I'll get that upgrade or set that new personal best. We're already thinking about that first event of the season and how we will blow the competition out of the water on the back of an early season of strong training.
..[read full article]


Ride The Rockies 2011
OES Training Plans are designed specifically for Ride The Rockies and offer access to a coach. Built for beginner to experienced riders the plans work with your ability and time to train. OES provides these plans via Training Peaks, an on-line interface for coach and client with download capabilities and nutrition tracking. Plans include periodized training, recovery weeks with benchmark tests, a complete strength training plan and a coupon for a lactate threshold test. Having a structured plan like this assists in preparing the participant for the tour, which will enhance the rider's day to day experience. Plans start March 7th 2011.
Keep an eye on the OES website for purchasable training plans for these events and others.
The Triple Bypass 15-week plans start March 28th
Check out the free training plan for the Triple here.

New and improved plans with options for each route begin March 28th. We are offering practice rides of the climbs during three weekends in June, open to anyone. Join OES on the following Saturday/Sunday rides 4th/5th/18th/19th/26th/27th to ride all of the climbs of the route Westbound and Eastbound.

Train for the Triple Bypass with the trusted personal coaching you have come to enjoy from OES.


Join OES for training rides

-
March 6th (Sunday)
Road Ride on 470-South Platte-Bear Creek-470 back to BikeSource from Highlands Ranch
-
March 12th
(Saturday)
Road Ride from Morrison/470-Looping/climbing route to Golden-Lookout-Kerr Gulch-Bear Creek Canyon
-
March 20th (Sunday)
Road Ride from BikeSource Highlands Ranch-Looping/Climbing of High Grade-City View-Deer Creek Canyon
-
March 26th
(Saturday)
Road Road from Morrison-bear Creek to Evergreen-Conifer-City View-Turkey Creek-Parmalee Gulch-Bear Creek
-
April 3rd (Sunday)
Road Ride from BikeSource Highlands Ranch-Looping to Confluence park via the South Platte Trail to Cheery Creek and back to BikeSource
OES/BS MTB Team meets on weekends for rides. The weekend rides alternate Saturday/Sunday starting at 10am. Please join us and bring your friends. Alternate ride will be posted if weather interferes so be sure to check the website prior to joining us.



Please
contact
us for more information.