Getting Ready for your First Tri!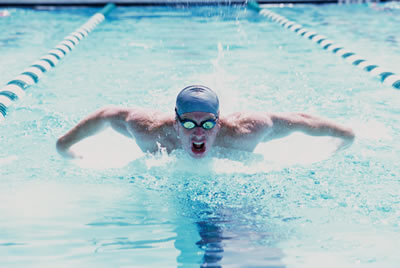 If you are reading this then you are probably already involved in some considerably challenging workouts and endurance events. You know as an endurance athlete the rewards and benefits of cross training. Or maybe you've been a cyclist for a while and have been considering a new challenge.
Whatever your reason for considering the challenge of a triathlon, it takes a few steps to ensure a smooth and fun outcome. Read on and discover just how easy it is to get started
..
.[
read full article
]
Meet the OES Fall Intern, Adam
I recently joined the Optimize staff as an intern for the fall semester as part of my degree program at Metropolitan State where I am majoring in Adult Fitness & Exercise Science. I chose this course of study because of my lifelong passion for fitness and sport. This hands-on, career oriented program also gave Rob Lockey the knowledge and experience he needed to found Optimize Endurance Services.
During my time with OES, I will be working with Rob and Kim to further my knowledge of guiding and training endurance athletes to achieve their goals. I will be assisting with Lactate Threshold tests, Resting Metabolic Rate assessments and building client training plans as well as learning the day-to-day operations that keep Optimize running.
One of my projects as an intern is to present on
the specifics of training and racing a road bike
. This will take place Wednesday, December 8th, invitations will be sent out for this event in November.
.
.[
read Adam's Bio
]
Physiology Word of the Month
Use this word in a sentence this month



Resting Metabolic Rate (RMR)

-The energy required to drive all physiological processes while in a state of rest.

The measurement of energy expenditure in the body under resting, post-absorptive conditions, indicative of the energy needed to maintain life under these basal conditions.

Knowing your unique metabolic fingerprint enables you to establish the calorie budget that will work for you.

Learn your individual RMR number to assist with proper feeding by getting it tested.

Ask-a-Coach

Question:

I would like to climb faster next year and have heard that changing my power to weight ratio is the key to this. So, should I just go on a diet to change my number?



Answer: Well, power to weight (P/W) is a great way to look at the relationship between your current ability and your potential. P/W is one of the many baseline data points given in a Lactate Threshold test, so if you haven't done this test before or it has been a while, consider this as one of a few starting points. The others being Resting Metabolic Rate (RMR) and a food journal.

I'm currently weighing in at 163lbs and my most recent threshold power is 240 which places me at a P/W (watts/kg) of 3.2. So, as I train and improve my watts say to 245 my new P/W is 3.3. I can also loose 3lbs to get the same P/W with no change in watts.

The diet aspect is much more difficult to maintain over time than a basic structured training plan for endurance strength. Dieting usually ends in poor fueling and decreased ability over time. As a coach I believe the best way to increase P/W is through increase watts at threshold. A combination of diet and exercise can be achieved with great success, it just takes many months and a steady stream of data collection to stay on the razors edge of proper adaptation/recovery.

Join OES for training rides

-
Oct 2nd (Saturday)
Mountain Bike Buffalo Creek
-
Oct 10th
(Sunday)
Mountain Bike Centennial Cone
-
Oct 16th
(Saturday)
Mountain Bike Mt Falcon looping through Lair-o-the bear
-
Oct 24th (Sunday)
Road ride Morrison looping to Golden-Clear Creek Trail-South Platte Trail-Bear Creek Trail
-
Oct 30th (Saturday)
Mountain Bike Chimney Glutch looping through Apex
OES/BS MTB Team meets on weekends for rides. The weekend rides alternate Saturday/Sunday starting at 10am. Please join us and bring your friends. Alternate ride will be posted if weather interferes so be sure to check the website prior to joining us.
Please
contact
us for more information.