Phone Blitz Congress with Us on March 28th!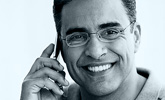 On March 28th, call 866-615-3375 and urge your Representative to support H.R. 4120!

A bill in Congress would fix a regulation that requires Medicare beneficiaries to pay coinsurance when their screening colonoscopy involves the removal of a polyp. The current policy can cost patients $100 to $300 and could serve as a deterrent to screening.
H.R. 4120, the ''Removing Barriers to Colorectal Cancer Screening Act of 2012" will correct this problem by waiving coinsurance under Medicare for colorectal cancer screening tests, regardless of any surgical measures that might occur.
On March 28, 2012, Fight Colorectal Cancer, Prevent Cancer Foundation, and American Society for Gastrointestinal Endoscopy are teaming up to host the Breaking Barriers to Colonoscopy Congressional Call-In Day.

Call 866-615-3375 on March 28 and ask your Member of Congress to support H.R. 4120, the Removing Barriers to Colorectal Cancer Screening Act of 2012.

Sixty colorectal cancer advocates from 22 states were on Capitol Hill on March 7 to fight for their fellow patients and survivors, and for those at risk for getting colorectal cancer.
They showed true commitment when they traveled across the United States to climb the steps of the Capitol to meet with their legislators. Please join us in saluting these advocates - survivors, family members, even those in active treatment - for their efforts to make this world a better place for colorectal cancer patients.
Many thanks to our Call-on Congress sponsors!
Presenting Sponsor:
Benefactor Sponsors:
Bristol-Myers Squibb
Get Your Rear in Gear
Genomic Health
Given Imaging
Pfizer Oncology

President Clinton issued the first Presidential Proclamation recognizing March as Colorectal Cancer Awareness Month a decade ago. Since then, each year in March advocates request that their state and city officials issue proclamations acknowledging March as Colorectal Cancer Awareness Month.
Starting in January of this year, advocates have been reaching out to their elected officials.
They are:
Georgia - Thanks to advocate Lesa Fontaine (seen above)
Idaho - Thanks to advocate Frank Luzzo
Illinois - Thanks to advocate Jennifer Olson
Iowa - Thanks to advocate Jeanna Jones
Minnesota - Thanks to advocate Kathryn Finn-Blume
New Jersey - Thanks to advocate David Dubin
North Carolina - Thanks to advocate John Lloyd
Ohio - Thanks to advocate Rene Elefteriou
Pennsylvania - Thanks to advocate Patti Hollenback
South Carolina - Thanks to advocate Jo-Ellen DeLuca
Texas - Thanks to advocate Brienne Fisher
Virginia - Thanks to advocate Cindy Robinson
West Virginia - Thanks to advocate Pam Seijo
Cities:
Cincinnati, Ohio - Thanks to advocate Ed Murphy
Davis, California - Thanks to advocates Barbara & Doug Wilson
Gadsden, Alabama - Thanks to advocate Lisa Borden

Cong. Dent addresses advocates at Call-on Congress 2012
On March 7, Fight Colorectal Cancer awarded three advocates for their commitment to fighting colorectal cancer.
Congressman Charlie Dent (PA-15) was recognized as Fight Colorectal Cancer's 2012 Congressional Champion. Rep. Dent has championed two key pieces of colorectal cancer legislation: the Fight Colorectal Cancer Stamp Act (H.R. 893) and the Removing Barriers to Colorectal Cancer Screening Act of 2012 (H.R. 4120).

Pam Seijo of West Virginia received the Volunteer Advocate Award to honor her commitment as a mentor and an advocate. Pam, an 11-year survivor, has attended every Call-on Congress since the inaugural event in 2007. She has also served as the chair of Fight Colorectal Cancer's Grassroots Action Committee and has mentored patients and family members.
Pat Steer from New York was awarded the Andrew Giusti Memorial Award. The award is given out annually in memory of Andy Giusti, a former Board member, scientist and colorectal cancer patient to honor advocates who work in the research environment. Pat, a stage IV survivor, was a consumer reviewer for the Department of Defense's Congressionally Directed Medical Research Program in 2011 which funds research for colorectal cancer, among other cancers.
We congratulate Congressman Dent, Pam and Pat and thank them for their work on behalf of others.

The Love Your Colon Campaign was launched this month in an effort to bring together doctors, researchers, pharmacists, survivors, advocates and health insurers from around South Carolina who are focused on promoting awareness of colon cancer screening. Fight Colorectal Cancer is excited to be a partner supporting local efforts and coalitions who take action against this disease.
CVS pharmacies in South Carolina are promoting colon cancer education on their website as well as to their employees. On March 8, they held a continuing education course for over 1,000 pharmacists. Fight Colorectal Cancer Board member, Dr. Indran Krishnan, a gastroenterologist, was an expert panelist.
Colon polyp snared & gone
We knew that colonoscopies find and remove precancerous polyps and reduce the number of new colorectal cancers, but this is a new study that actually links getting a colonoscopy to cutting back death from colorectal cancer.
In a follow-up analysis from the National Polyp Study, people who had adenomas - the risky kind of polyps - removed during the study were much less likely to die from colon or rectal cancer than the general US population.
We thought it was true . . . and now research comes along with evidence.
Shape Your Plate to Fight Recurrence
March 21, 2012
8 - 9:30 PM Eastern

A Peek at the Pipeline
April 18, 2012
8 - 9:30 PM Eastern
Missed a webinar, or want to watch one again? View past webinars.

Fight Colorectal Cancer extends condolences to the family, staff and constituents of Congressman Donald Payne (NJ-10) who succumbed to colon cancer on March 6.
Congressman Payne had served the 10th Congressional District of New Jersey for 23 years.
A Twibbon is an overlay on the corner of your Twitter or Facebook profile image. You CAN'T drink it, but you can call attention to colorectal cancer awareness and signify your support for this cause.
In the Spring issue:
Call to Action
Living with an Ostomy
When "Free" Isn't
A Living Legacy
Make Some Noise


Like us on Facebook - Help us get to 4,000 by the end of March! We're only 400 away!