"

Picnic Classics

"

June 17, 2010 - Volume 2 - Issue 12
Take it Outdoors!



The official start of summer, the solstice, is upon us. However, the season's outdoor dining life has been underway for quite a while now. We've reacquainted ourselves with our grills, become adept at crushing ice, and find ourselves enjoying a superabundance of fresh, local produce. Al fresco dining is at its height, and our favorite summer traditions are brought to the table. The leftovers, if any, have never been so good!



In this issue

, we celebrate four classics that always seem to find their way to the outdoor table,

Potato Salad, Coleslaw, Three-Bean Salad, and Deviled Eggs.

We'll share our best advice for each of these favorites ensuring crowd success each time they're made. A recipe for each is provided that will get you on your way to improvising your own signature style of these great picnic classics.


Away on Vacation






Beyond Pots and Pans will be taking a break this summer and will be closed beginning

July 4th through July 20.

We'll reopen Wednesday,

July 21st at 10:00am

. Hope to see you before and after!
Perfect Potato Salad
Everyone has an opinion about what the perfect potato salad should be. These opinions can reach a pitch of righteousness, but the truth is, everyone is correct and perfection comes down to personal preference.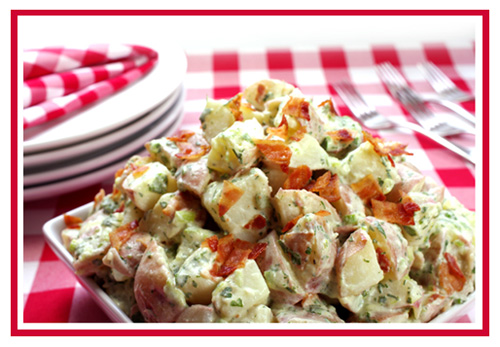 Recipe: Continental Potato Salad


This recipe is an innovative combination of German and Scandinavian potato salads, the result of one family's blended tradition all in one dish. The bacon and vinaigrette features of German potato salad complement the sour cream and dill elements of the Scandinavian side. The result is the perfect marriage of two traditions in one salad. View & Print



American Potato Salad
- This traditional version of potato salad builds on chunks of potatoes with plenty of chopped eggs and onions bound in a mayonnaise-based mustard and egg yolk dressing. Common variations might feature celery and/or pickle relish.
French Potato Salad
- This version of potato salad is vinaigrette based featuring white wine and white wine or champagne vinegar along with olive oil, Dijon mustard, fresh herbs and often capers or cornichons.
German Potato Salad
- Bacon, cooked and crumbled typifies a German-style potato salad along with a vinegar and oil dressing. German potato salad is often served warm as a function of the warm dressing. Warm or cold, it's a delicious alternative to mayonnaise-based potato salads.
Scandinavian Potato Salad
- Less well-known, but worthy of experimentation, a Scandinavian potato salad uses sour cream instead of mayonnaise in a dressing that features fresh dill. The result is a slightly lighter, tangy taste with plenty of herbal freshness.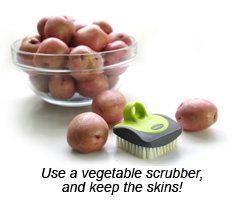 Tip #1: Skip the laborious step of peeling and leave the skins on the potatoes. The skins add extra color, fiber and micronutrients found near the skin. Scrub the potatoes well with a good vegetable brush to remove any residual soil.



Tip #2:

For speedy cooking, cut the potatoes into evenly-sized bite-sized chunks before boiling. They will cook more quickly and heat up the kitchen less. Watch carefully for doneness so that the potatoes do not overcook. Boil the potatoes early in the day to avoid adding to the kitchen's afternoon heat.



Tip #3:

Keep it cool! All picnic salads will fare better and stay safe if cooled well before transporting, and if kept cold during serving and afterwards. Use nested bowls with ice to keep things appropriately chilled.



Tip #4:

For potato salads with vinaigrette-based dressings, add to the cooked potatoes while they're still warm; the warmth will facilitate the potatoes' absorption of the dressing's flavors. For mayonnaise-based dressings, allow the potatoes to cool completely before adding the dressing.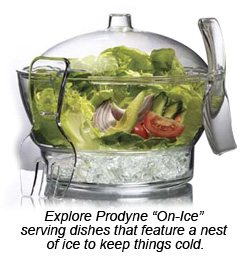 Tip #5: Add some panache to potato salad by accessorizing the salad with capers, diced salami, pepitas, diced roasted red peppers, or other favorites.



Q: How can I keep my potato salad from getting mushy?
A: The key to chunky potato salad, (vs. "mashed" potato salad), is in choosing the right type of potato. Potatoes are classified into two basic categories: waxy and mealy. Waxy potatoes make for the best potato salad, while mealy potatoes make great mashed potatoes. Waxy, lower-starch potatoes include new red potatoes, Yukon Gold, Yellow Finn, and white round potatoes. Potatoes with higher starch content such as Russet or long white potatoes, should be avoided when making potato salad.

Cool Coleslaw
Coleslaw, or just "slaw," is no different than potato salad - we all have our favorites. Cabbage is the centerpiece ingredient by definition. Any cabbage -- green, purple, or leafy -- may be used for coleslaw. According to legend, the term "coleslaw" originates from the Dutch word for cabbage salad, "koolsalade."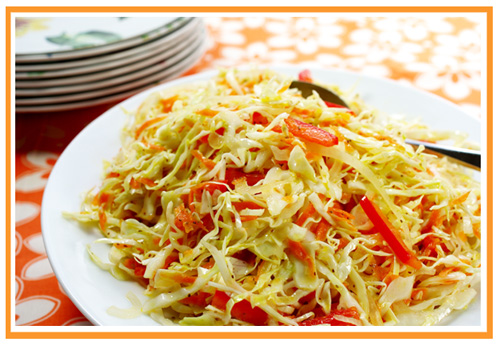 Beautiful on the table and delicious to eat, this classic coleslaw features an oil and vinegar dressing. The shredded carrots, red bell pepper, and thinly sliced onions complement the cabbage in taste and color. The dressing foundation is flavorful cider vinegar sweetened with sugar and augmented by celery seed and dry mustard. True to tradition, it gets better as it rests. View & Print

Recipe excerpted from

Screen Doors and Sweet Tea

by Martha Hall Foose. Published by Clarkson Potter/Publishers, an imprint of the Crown Publishing Group, a division of Random House, Inc., New York, NY. Copyright 2008. Reprinted with permission of the publisher. All rights reserved.




Vinaigrette-based - Oil and vinegar combine with a pinch of sugar and a smattering of spices to dress this version of slaw. Celery seed, (unrelated to green celery stalks) is a delicate flavor addition and a classic in vinaigrette-based slaws.



Mayonnaise-based

- Many American versions of slaw use mayonnaise or buttermilk as the basis for the dressing. Additions of vinegar, mustard, salt, and pepper complete the dressing and produce a creamy coleslaw.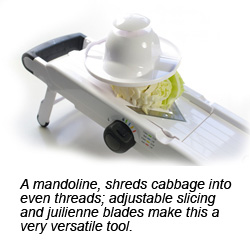 Tip #1: Allow the flavors to meld by allowing the salad to sit in the refrigerator for a few hours. Not only will this resting time allow the flavors to peak, it makes for the perfect do-ahead dish.



Tip #2:

Experiment with other crunchy additions to your slaw. Include matchstick pieces of a tart apple or jicama. Broccoli slaw, made from the stems of broccoli, or red cabbage provides colorful alternatives to the pale green cabbage classic.



Q: What's the best way to shred cabbage for coleslaw?


A:

For perfectly shredded cabbage, use a mandoline for even slices. The finer the threads of cabbage, the better. Cut the cabbage in half, and each half into quarters. Leave the core of the cabbage in place to hold the layers together for easier shredding, but avoid shredding the core.

Count 'em, Three Bean Salad
A good three-bean salad is always appropriate at the picnic or summer potluck table. It's one of those dishes whose ingredients can be kept at the ready in the pantry and assembled in a jiffy. The multi-color presentation adds to the table's splendor, and the salad easily accepts innovation and adaptations.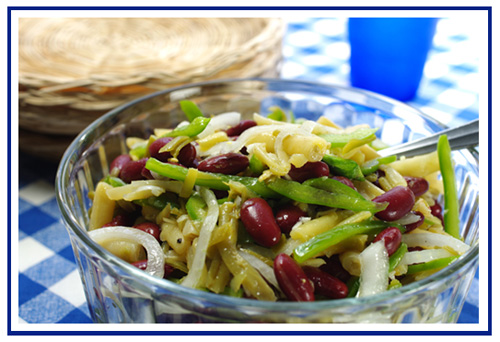 Thanks to pre-cooked beans, this salad assembles quickly. With a variety of beans at the ready, and the addition of onion, garlic, and green bell pepper, this classic crowd salad is dressed with garlic-flavored vinegar, olive oil, and seasoned with sugar, salt and pepper. Like its cousins, it improves as it stands and marinates. View & Print

Recipe excerpted from

Screen Doors and Sweet Tea

by Martha Hall Foose. Published by Clarkson Potter/Publishers, an imprint of the Crown Publishing Group, a division of Random House, Inc., New York, NY. Copyright 2008. Reprinted with permission of the publisher. All rights reserved.




Tip #1: Make it a four-bean salad with the addition of chickpeas. Chickpeas provide another color addition, a shape variation, and a nutritional boost. Chickpeas have a high protein content making their inclusion a perfect choice for any vegetarians in the crowd.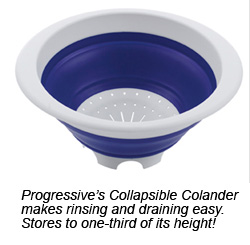 Tip #2: Once assembled and marinating in the refrigerator, stir the salad occasionally to expose all of the bean mixture to the dressing.



Tip #3:

Use a colander to easily drain and rinse the various canned ingredients. Layer one bean on the other. Transfer to a large bowl for the addition of the remaining ingredients and the dressing.



Q: Can frozen beans be used instead of canned beans?


A:

Yes. Cook or steam the frozen vegetables until quite tender, drain and allow to cool slightly. The fresh bell pepper and onion may be added to the warm beans and the dressing applied. The warmth of the beans will help to absorb the dressing. Allow to cool completely, and serve cold.

Heavenly Deviled Eggs
One of our favorite finds on the picnic buffet is the plate of deviled eggs. Have you noticed that there are never any leftovers? They seem to disappear quickly in about four delicious bites each.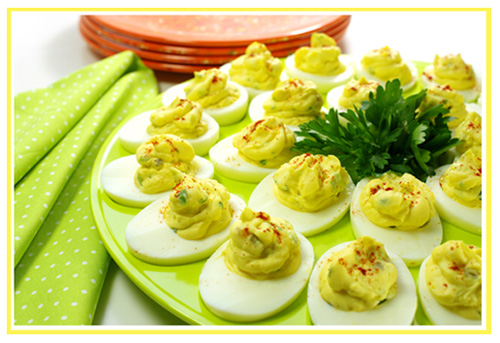 Recipe: Sold My Soul to the Devil-Eggs
This Southern version of classic deviled eggs features crunch from green onions and dill relish, and piquancy and color from yellow mustard. The yolk mixture piped into the waiting wells with ease. We used a smidgen of smoked paprika for garnishing color and a whiff of smoky flavor. View & Print
Recipe excerpted from

Screen Doors and Sweet Tea

by Martha Hall Foose. Published by Clarkson Potter/Publishers, an imprint of the Crown Publishing Group, a division of Random House, Inc., New York, NY. Copyright 2008. Reprinted with permission of the publisher. All rights reserved.




Tip #1: A deviled egg platter is a must for transporting and serving the filled halves. The eggs whites tend to be rather slippery, and the characteristic wells in a deviled egg platter help to keep the eggs under control and in place. Most deviled egg plates are fashioned around a dozen eggs with 24 ready wells for each half.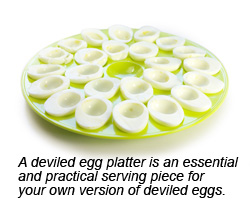 Tip #2: Filling the egg white halves may be accomplished with a dollop of the yolk mixture spooned into the center, or by piping the yolk mixture from a plastic bag into the waiting wells.

Q: How can I reliably avoid green yolks in my hard-boiled eggs?
A:

The green color on boiled egg yolks comes from too much heat for too long. The extra heat inspires the natural sulfur compounds in the eggs to shift composition and change in color. For perfect boiled eggs, begin with cold eggs in a saucepan covered with cold water. Bring the water and eggs to a boil. Allow to boil for 30 seconds, remove from heat and allow to stand covered for 12 minutes. Cool the unpeeled eggs in cold water for 5 minutes. Crack the egg shell and allow to further cool in cold water for another 5 minutes. Peel and use.
Cookbook Review
Screen Doors and Sweet Tea,

Recipes and Tales from a Southern Cook

by Martha Hall Foose. Published by Clarkson Potter/Publishers, an imprint of the Crown Publishing Group, a division of Random House, Inc., New York, NY. Copyright 2008.



Award Winner of the 2009 James Beard Foundation - American Cooking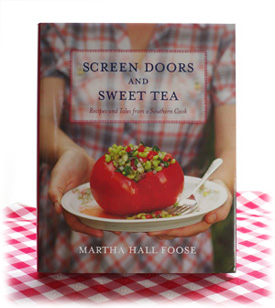 Part cookbook and part storybook, Ms. Foose manages to craft a picture of the Deep South in a unique fashion that captures the mood, culture, and, (literally), flavor of a region that a cookbook or a storybook alone could not accomplish on its own. The title, not necessarily a classic cookbook title, paints the mood - the sound of the screen door clapping shut behind someone carrying a tray laden with tall glasses of sweet tea already sweating from heat, ready to refresh the porch sitters. A repatriated Southerner, Ms. Foose presents the best of Southern cuisine from appetizers, to soups and gumbos, to hearty fare, and to the "sweetest things." Each offering is prefaced with a vignette of Southern life. Together, the stories form an intriguing anthology of a place and space with an authenticity that only a native could express and weave together. As each recipe is made, one joins the legion of cooks that have gone before and those still at it with a shared sense of tradition and tradition's power to define who we are.

Enjoy these full days of summer!

Lorraine, Katie, and all of the Staff at Beyond Pots and Pans