"The Casserole Connoisseur"
September 10, 2009 - Volume 1 - Issue 17


Food to Go!



For some, the word "casserole," conjures up images of church basements and sensible shoes. Indeed, in the Ozzie and Harriet days, casseroles were the

de rigueur

, and red-and-white soup cans a staple in every kitchen. As the culinary world bopped from one trend to the next, "the casserole" fell to the back of the cupboard. The current revival of "hot-dishes" is based in a practicality that's hard to beat! In one dish, usually assembled ahead of time, the delicious flavors of key ingredients meld, proving, once again, that "the whole is greater than the sum of its parts!" In this issue we refresh our understanding of casseroles, explore bakeware that will make your dishes flourish in so many ways, and provide a quick review of heat protection in the kitchen. We feature James Villas' cookbook,

Crazy for Casseroles

, and three of its recipes that are within reach of every cook and will turn anyone into a casserole connoisseur!


Special Le Creuset Feature




To celebrate the heritage color, Flame,

Le Creuset

is offering this

Limited Edition Set of 4 Mini Cocottes

in the iconic shade of orange. For a limited time, purchase the Set of 4 Cocottes and receive a bonus cookbook dedicated to the great features and benefits of the Mini Cocotte. Perfect for gift giving, this set of 4 comes in a beautifully packaged hat box with lid.


This

brand new cookbook

from Le Creuset features 25 specially created recipes just for the Mini Cocotte and its versatile cooking and serving features. Classic recipes including French Onion Soup, Chicken Pot Pie and Macaroni and Cheese are featured throughout the fully illustrated hard cover cookbook.

Set w/ cookbook: $80.00.

While supplies last.
Anniversary Sale
- Sep 10, 11, 12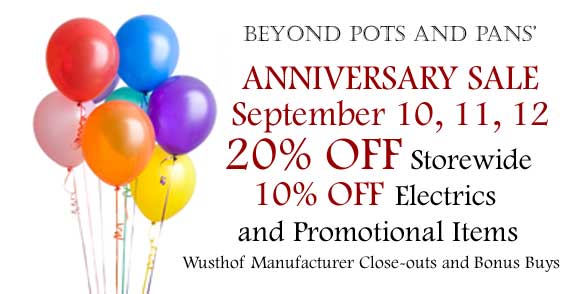 Concocting Casseroles
Even when casseroles had temporarily lost their public flair, they were always at home in the everyday kitchen. Now back in the limelight, the casserole graces buffets spreads, dinner parties, and elegant dining tables in some form. Broadly defined, a casserole is a one-dish meal baked in an oven. From there, variations abound!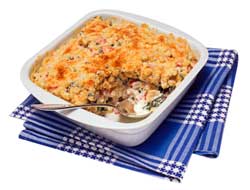 Casserole Cousins - Some claim casseroles to be a distinctly American invention, but hundreds of baked dishes exist across many cultures. Our persistent interest in other regional and international cuisines has opened us up, once again, to casseroles. We know them, perhaps, by other names: French Cassoulets, Southern Shroups, Egg Stratas, Seafood Bakes, Pots, Pot Pies, Vegetable Gratins, Italian Lasagnas and Baked Shells, Greek Moussakas and Pastistos, Royales, Supremes, Minnesotan Hot Dishes, and the dessert casseroles, Cobblers, Crisps, Crunches.



Ultimate Practicality

- The resurgence of casseroles is logical in many respects; they appeal to a practicality that so easily trumps fussiness. Traditionally, the casserole was the perfect venue for ready ingredients based on seasonal availability. Variously composed, the casserole kindly stretched ingredients to the crowd at hand. Most casseroles can be prepared ahead of time leaving the kitchen and the cook free and clear for other meal preparation tasks. Once ready, most casseroles may be eaten with a fork eliminating carving, cutting and complex serving. The casserole epitomizes "family-style dining."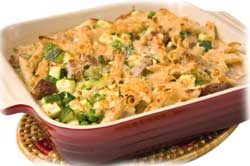 The Ties That Bind

- One-dish concoctions generally use a binder of one sort or another that builds cohesiveness in the resulting product while adding distinctive flavor. Classic binders include eggs, cream, sour cream, roux-based sauces and cheeses. The 50's and 60's homemaker substituted canned condensed soups as the popular binder; it may be this sub-par preparation that perhaps eventually led to the casserole's temporary demise. Back to cooking from scratch, casseroles flourish once again.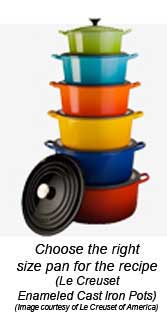 Choosing the Right-Sized Pan - Most casserole recipes will indicate the size of pan to be used measured by volume - most commonly a 1.5 quart, 2 quart, 2.5 quart, or 3 quart pan. Be aware that not all same-sized pans are shaped in the same way. Some pans are shallow, others deep. The shape of the pan will affect the length of baking time. Shallow pans will bake more quickly; deeper pans will heat more slowly.



When Is It Done?

- Many casserole recipes offer timing instructions such as "bake until bubbly." Seemingly vague, the instruction is spot on; at the point where the casserole is bubbly throughout, the temperature is most likely above 200°F. At that temperature, eggs have coagulated, cream has thickened, juices evaporated and the mixture begins to set up as desired.



Friendly Follow-on Food

- Casseroles make for perfect leftovers, if there are any.... Package leftovers in logical containers for follow-on use; refrigerate or freeze. Reheat leftovers in the oven or microwave oven. A sprinkling of water on top of the leftovers and a light cover will keep the casserole from becoming too dry in the reheating process.

Better Bakeware
Now that one-dish baked meals are back, the vessels for baking and serving have been updated, tempered, and designed for the contemporary kitchen. Once was the time where the only casserole dish was a clear, glass rectangular piece; today, the range and diversity of bakeware is exciting and sports whole new levels of practicality.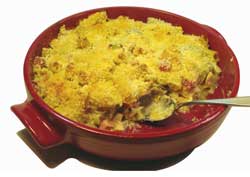 What to Look For in a Baker - Updating your bakers and casseroles will provide new inspiration for the genre. Consider the following characteristics when choosing baking dishes:

Material

- Casseroles as a vessel have traditionally been earthenware vessels. Today's choices are often earthenware in the form of specially formulated and fired ceramics. Choose bakers that are tempered to move from freezer to oven to table.

Durability

- Finishes with quality glazes or enameling provide easy cleaning, resist stains and avoid odor retention.

Shape and Size

- Equip your kitchen with a variety of sizes to make tailoring your choice of baker and recipe as easy as possible. Too small, or too large, and your baking will be altered in perhaps undesirable ways.

Lids

- Many bakers or baking pots come with lids which can be handy for stovetop preparation, keeping food warm on the way to the table, and covering leftovers in the refrigerator. Lids are generally not required during the baking phase, however.

Handles

- Practice lifting a baker with hot pads in hand to ensure that a good grip is available. A pan without handle areas is difficult to maneuver when full and hot.



Our Favorites

: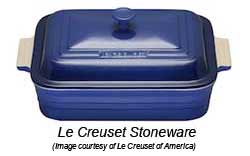 Le Creuset - This French manufacturer of quality bakeware offers two types of pans that are perfect for casseroles.

Le Creuset's Stoneware Bakers

feature all of the sought after characteristics of a great casserole dish. Available in many shapes - square, rectangular, oval, loaf, and pie - the sizes range from individual servings to crowd-sized vessels of 5+ quarts. Le Creuset stoneware resists stains, chipping and cracking. Le Creuset Stoneware is rated for use in situations up to 500°F. Also well-known for their enameled cast iron, Le Creuset products come in bold, bright colors that complement food and the table in delightful ways.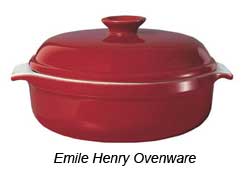 Emile Henry - Another French-based company, Emile Henry uses clay from the Burgundy region of France to craft its ceramic pieces. The nature of this special ceramic slowly and evenly transfers heat throughout dish. Once heated, the ceramic holds the heat beautifully keeping the food hot until the second helpings are had. Possessing extraordinary "thermal shock" properties, Emile Henry products move directly from freezer to oven, and are at home in the microwave and under the broiler.

Emile Henry's Flametop® series

has the added ability of stovetop functionality. These products are stain resistant, do not crack or chip easily, and have glazes that will not craze or discolor with use. Explore the new Emile Henry colors!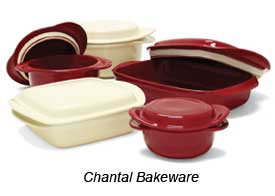 Chantal - A U.S.-based company, Chantal is well-known for its enamel-on-steel products, Copper Fusion™ cookware, and now, its

Make and Take® Bakeware

. Chantal bakeware features all manner of shapes and sizes in beautiful ceramic and stoneware colors and moves easily from oven to table. The lids of the new Make and Take® line sport a removable silicone gasket that form a seal for safe transport and secure refrigerator storage.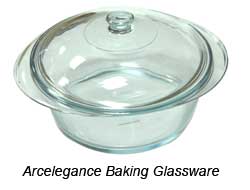 Arcelegance

- Also from France, Arcuisine manufactures clear glass ovenware,

Arcelegance

, designed to withstand thermal and mechanical shock. Simple and elegant, the glass pieces come in oval and rectangular shapes and matching lids. Great for its see-through character.



Soufflés and Ramekins

- Available in many brands, shapes and sizes, these classic fluted-edge baking dishes with their straight-sides are ideal for casseroles of all types.

Heat Defense Systems
It's a daily threat in the kitchen - protecting oneself and one's environment from the damages of misplaced heat. The gift of heat that allows us to eat a greater range of foods, also has the potential to burn or scar our skin, countertops, and dining room tables. Understanding heat transfer and its affects on surfaces helps us avoid damage and pain.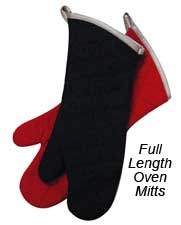 What is Heat?

- Heat is a form of energy, thermal energy that moves from one object to another. In the kitchen, heat transfer occurs when objects are in contact with each other. Nature favors equalization of temperatures between the objects. The speed at which this equalization happens is based on the molecular characteristics of the objects. Some materials are great conductors of heat, (i.e., metal, liquids), others are insulators (glass, wood).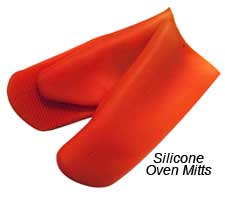 Cloth Protection -- In the kitchen, hot pads and oven mitts are indispensable in providing protection particularly when moving food out of the oven. The traditional material for hot pads and oven mitts is cotton fabric. Cotton or cotton blends have the characteristic of withstanding higher temperatures. Wool, also an excellent heat resistor, is not quite as washable as cotton. Oven mitts provide full protection in and around the oven.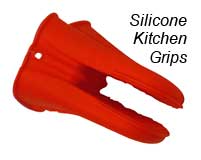 Silicone Innovation - The advent of silicone-based products throughout the kitchen has also provided some novel application of the materials in the heat protection arena. Silicone is very heat resistant, exceptionally flexible, and easy to clean. Investigate silicone oven mitts, handles, and trivets.



Other Natural Insulators

- In addition to plant-based fabrics, other plant materials, wood and cork, prove to be excellent insulators and heat protectors. A decorative cutting board or cork trivet will host your hot casserole dish safely.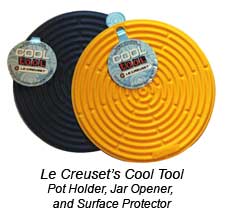 Countertops and Dining Surfaces - Your kitchen countertop may be sensitive to the heat. A laminate surface is most sensitive and can easily be scarred from a hot casserole dish. Solid surfaces, like Corian® or similar products, are less sensitive, but still susceptible. Manufactured stone is also sensitive to heat. Granite, marble, limestone, and concrete are less susceptible to heat, though the sealers placed on these surfaces may be sensitive to heat. Stainless steel is the least sensitive to heat though abrupt localized changes in the metal's temperature may cause temporary reactions. Bottom line, protect your countertop surfaces by insulating them from heat sources.

Smart Casserole Tips
Tip #1:

Use a meat thermometer to check the temperature of your casserole. Sometimes the edges may be bubbling away, but the center remains lukewarm and liquefied. Checking the temperature periodically at the center allows a progress check and timing assessment.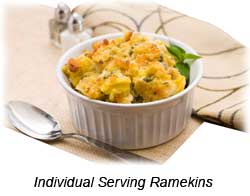 Tip #2: Class up your table presentation of baked dishes with individual casseroles or ramekins. Serve these single servings on a separate plate lined with a simple doily or cloth napkin. Check out Le Creuset's Mini-Cocottes in their iconic shade of orange.



Tip #3:

Generally, if your baker is built for moving directly from freezer to oven, place the frozen pan in a cold oven and allow the pan to preheat along with the oven. The center of a frozen casserole will take longer to bake than an unfrozen casserole. Adjust your timing accordingly.



Tip #4:

At the risk of stating the obvious, know where you're going with the hot casserole before opening the oven door. We've all done it; in our rush to get the dish out of the oven, we forget to find a landing space. Clear a safe location, protect the surface,

then

transfer the casserole from the oven. Hot pads will protect your hands for only a short time, plan to transfer quickly. Keep your hot pads and mitts dry -- water is a very effective conductor of heat!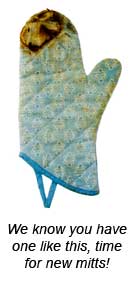 Tip #5:

Casseroles are often topped with cheese or a breaded topping. We think panko bread crumbs are particularly good as a casserole topping. Drizzle melted butter on the crumbs and toss until incorporated. Spread evenly on the casserole's top.



Tip #6:

Use an old trick to track your baking dishes. On the inside of a kitchen cupboard, tack a card listing your favorite baking dishes and their sizes, e.g., large blue baker = 1.5 quarts, red round = 2 quart, and so on. You'll reach for the right size more easily while keeping track of some less used pieces.



Tip #7:

These 'tween days between air conditioners and furnaces where our homes are naturally more open are a great time to flip on the self-cleaning mode of your oven. The open windows will provide the necessary ventilation for the high temperature cleaning process.

Q & A's

Q: How did Campbell's soups become so associated with American casseroles?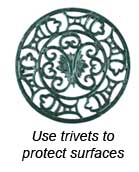 A:
In the 1950's, marketing efforts by the soup company enticed homemakers to buy their products by providing recipes utilizing their prepared soups. Perhaps the most famous incarnation of this phenomenon is the still popular Green Bean Casserole. According to the Campbell Soup Company, the recipe was developed in their test kitchens in 1955 by Dorcas Reilly as a combination of French cut green beans, condensed mushroom soup, and French-fried onions.
Q: What's the best way to clean ceramic bakers?
A:
Most food remains can be cleaned easily from well-glazed bakers. For burnt or stuck-on foods, simply allow the baker to soak in hot, soapy water for a period. The excess food will easily wash away after a good soak. Avoid immersing stoneware in water for long periods of time.
Q: How can I tell what the size of my baking dish is?
A:
Most U.S. recipes express the size of the casserole in "quarts." Check the bottom of your baking dish to see if the size is inscribed on the bottom. If it is not, measure the volume of the dish by pouring measured water into the baker to a height one-half inch from the rim.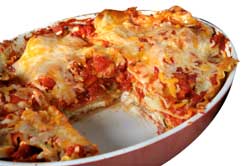 The amount of water used will approximate the recipe volume that the dish will hold.
Q: How can I keep my casserole from bubbling over in the oven and making a mess?
A:
Choose the right size of baking dish for the recipe. Fill the dish leaving at least an inch of space from the top of the rim. This should contain the most exuberant of bubbling casseroles. Just in case, oven liners can minimize the work of an oven mess.
Cookbook Review
Crazy for Casseroles, 275 All-American Hot-Dish Classics

by James Villa. Copyright 2003. Published by Harvard Common Press, Boston, MA.



A James Beard Foundation Book Award Nominee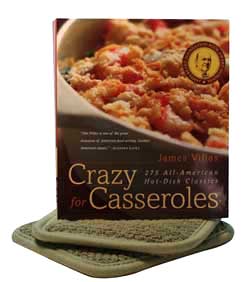 This accomplished cookbook author puts it all together for us in this hefty cookbook. Based in a love for capturing the best of regional cooking, Mr. Villas has assembled a tome of recipes that preserves some of the best of our cooking heritage while greatly expanding today's possibilities for the casserole by incorporating fresh ingredients and novel combinations. His offering is organized first by course: appetizers, entrées, sides, breads and desserts. Within each category, he surveys the full range of possibilities by primary ingredient, eggs, meats, poultry, fish, pasta, vegetables and fruits. We appreciated his chapter on "Casseroles for a Crowd" where we were tutored through some of the nuances of large quantity cooking. We're grateful to Mr. Villas who in this book, has resurrected and reestablished the casserole as a rich culinary tradition both classic and contemporary.

Recipes for Delicious Casseroles
Recipes excerpted from

Crazy for Casseroles

by James Villa. Copyright 2003. Published by Harvard Common Press, Boston, MA. Used with permission of the publisher. All rights reserved.
Sunday Sausage, Apple, and Cheese Strata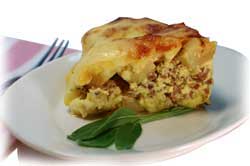 This breakfast or brunch casserole is a nice twist on traditional egg hot dishes. The sausage (we recommend a spicy choice), provides a satisfying heft, the apples a slight sweetness, and the cheese produces a melted wonderfulness. Pair this with fresh fruit cup and call it the perfect start to a day!

Click here to view the full recipe.

Click here for a printable version of the recipe.



Potato, Wild Mushroom, and Sorrel Gratin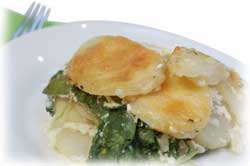 Reminiscent of scalloped potatoes, but two leaps past, this gratin exceeds expectations on the flavor scale. The season's fresh harvest of potatoes is perfect for this dish! We were all out of sorrel but followed the recommendation to substitute arugula. The woodsy flavor of the mushrooms offered distinctive flavors to the experience.

Click here to view the full recipe

.



Click here for a printable version of the recipe.



David's Chicken, Ham, Artichoke, and Pasta Casserole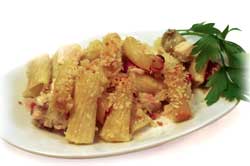 We second the author's introduction of this dish as an "up-to-date. . . sophisticated casserole." Once again, the flavors blended into a delectable dish, just as a casserole should. The slight smokiness of the ham, the artichokes, and the Parmesan cheese characterized the final product that we savored bite by bite as we enjoyed our white wine, sip by sip.

Click here to view the full recipe.

Click here for a printable version of the recipe.


What's old, is forever new - true for casseroles, too!

Lorraine, Katie, and all of the Staff at Beyond Pots and Pans