Flooring: At The Top Of Our Minds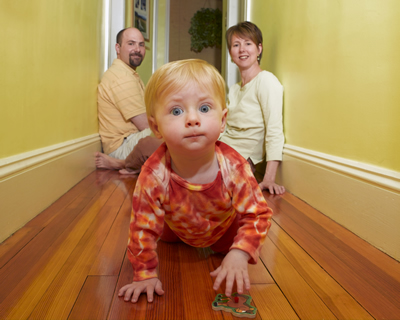 Flooring. It is part of every room, in every build or remodel project. They take the wear and tear of the homeowners' feet but need to still be able to offer the love and comfort to playing children. Health, durability and maintenance are all key factors in selecting the right flooring for your construction project. An interview with Denise Hopkins, an architect for over 20 years and creator of Eden Environments, a sustainable design center and product expert, provides information on how to make the best decision for the material underfoot.



What makes a flooring product green?



Green flooring should start from rapidly renewable resources. It should be long lasting and able to withstand heavy use so that the homeowner doesn't need to replace it in just a few short years. Natural products typically last much longer and perform much better than mad-made products. Any flooring selection should not have toxic-chemicals; these will release into the air and can be harmful to people, children and pets.

Whether it is the builder, remodeler of homeowner making the decision, you need to make the appropriate selection for an area and for the users comfort level and make sure the user's needs are properly met.



What are some examples of green flooring?



Wool is the epitome of sustainable flooring. The sheep is sheared, no one harmed in process. It is durable and long lasting, wicks away moisture, cool in the summer and warm in the winter. Wool naturally repels dust-mites helping with great indoor air quality and positive health benefits. Also, it lasts forever and won't break down like other man-made fibers do. If you have to change your flooring you can throw it on the compost pile because it is natural with no toxic chemicals found in it.

Sustainable harvested wood is another great example. This wood is responsibly harvested and processed. The ANSI Standard offers several options for sustainably harvested wood.

Linoleum is a very affordable option. There are a lot of choices that don't use expensive fossil fuels in the production.



What questions should someone ask about a flooring product?



What is the source of the product? Where did it come from? How is it harvested? Who is involved in the production of it? Are the people involved in the production, getting paid a fair wage? Does it have to be transported a long distance? What are the finishes on it?

It is important to know the whole manufacturing process. For example, you can take a bamboo floor and put a toxic finish on it, it is not so green anymore.

Before purchasing it is important to think about the after-purchase process: how do you maintain it? Is it easy to keep clean and looking new? Can you clean it with environmentally friendly cleaners?

There are a lot of things to consider. If you can't afford to include all of these sustainable options, what is the most important?

The most important thing is to make sure there are no harmful chemicals in the product. A homeowner is going to live with their flooring choice for a very long time and come into daily contact with it; you don't want products that are off gassing.

When making your selection, don't follow the fads. Your selection should be right for you. Make your choice for the long term to avoid having to replace it every couple of years. If you make a good decision up front you will be happier with it longer.



What about rating systems?



Rating systems are not the most important thing to consider. Sometimes Eden Environments look at this information as a back-up but most of the rating systems have minimal requirements. Eden Environments tends to look way beyond to other requirements. In addition, many manufacturers with great sustainable and responsibly manufactured products will not pay the expense of certifying of certifying their products.



How much will green flooring cost compared to traditional flooring?



There are a tremendous amount of products that are in line with traditional products in terms of actual cost. The value with sustainable products is much higher. With sustainable products, all of them from the low end to the elaborate are going to last much longer than traditional products.
People are looking much more seriously at every purchase now. This is when they should really consider green flooring; it is going to be much more durable and long-lasting for their money.



Why do you care about sustainability?



It has been a long process for me personally; I have been an architect for over 20 years. During this time I have learned how much damage the construction industry can do to the environment, but it doesn't have to be that way. Years ago I started learning about how we can minimize our impact on the environment while creating healthy places to live. If you look at studies on illnesses and children with asthma and allergies, the places we live are to blame.



How can you help Green Built Members?



Eden Environments can help with everything from design, working drawings, recommending materials, or working directly with the homeowner to help them to determine what their needs are. We are also able to help with interior design needs.

A lot of people in the construction industry don't have showrooms; this can be their showroom. They can come in, bring their clients with them and put their hands on the products they are considering. We have many items on display for them to see in person.

Eden Environments can serve as a resource. We have thoroughly researched products. We have the information and ability to answer questions. There are so many products to choose from and so much information out there; Eden Environments has done the homework to take the "overwhelming" factor out of green construction.

The most important thing is that there is help out there. One of the goals of Eden Environments is to make it easy for people to make good healthy choices and it doesn't always cost more.



For more information, you can contact this Green Built Michigan Member directly at Eden Environment 616-956-5000 or you can find them on Facebook by searching Eden Environments.



Not On Price Alone
Ron Jone


Ask any home buyer or homeowner how many leaks in their roof or spewing plumbing joints would be acceptable. What about gas leaks or faulty electrical circuits? How many doors or windows are allowed to be left out? How large a hole can the builder or remodeler leave in the ceiling, wall, or floor and still call the job complete and satisfactory?

Now, ask that same consumer how much of the energy and water that they pay good money to bring into their homes they are willing to waste every month because of poor design, obsolete products, shoddy workmanship, mediocre materials, and inefficient mechanical systems. (Never mind the fact that their lifestyle and habits will have just as large an impact on these resources-if not more-than the sum of the building quality.)

Most of the studies I have seen estimate that as much as 30% to 40% of the energy brought into American buildings, including residences, for space heating, air-conditioning, ventilation, water heating, and operating appliances is never put to its intended use. It is simply wasted. As for water, these waste estimates range from 15% to 35%, and even higher in some parts of the country.

Does anyone reading this newsletter believe the cost of traditionally produced energy is going to go down? Does anyone on a public water system anywhere in the country think they pay the true cost of sourcing, treating, and delivering a gallon of safe, potable water to the tap? Does anyone know of a city council, a county commission, or other government body that has the political will to charge the electorate the real cost of anything, fearing that people mostly vote their pocketbooks, when they can instead externalize portions of these costs and cloak them by a variety of means?

I am always amazed when I hear builders and remodelers say that their customers are not willing to pay extra for higher quality or performance or that they are only willing to spend more if an acceptable payback can be assured. Sorry, that simply does not fly with me. If this were true then there would only be one model of each product, the cheapest version possible. And somebody please tell me what the ROI is on a brand-new big-screen HD television. Sure, price matters but people don't make purchasing decisions on price alone.

No, my experience across the 25 years that I delivered homes to my customers was that they invariably chose to buy the best product, component, or system that they could afford. Sure, there were trade-offs. It was regularly necessary to balance the level of performance or price point with the overall budget until an acceptable bottom line was reached. And often they looked to me for my advice on what parts of the project they should prioritize, not only for the sake of resale value, but to help them understand where they could economize with the least impact on their quality of life.

Today, homeowners and home buyers are beginning to look at the long-term ramifications of their selections. They are realizing that operational costs, replacement rates, maintenance expenses, reliability and durability-not just the initial purchase price-are all keys to their ability to afford any dwelling over the long haul.

They are also carefully factoring insurance costs, property taxes, and the soft costs associated with their chosen type of financing vehicle (especially in the case of adjustable rate mortgages) with a keener awareness that keeping the lights on, the appliances running, the water heater fired up and the living space comfortably conditioned all come at a price, month after month, and must be transparent in the calculation.

Industry groups and individual building professionals have got to abandon their outdated circle the wagons mentality when it comes to attempting to forestall regulations requiring higher levels of performance and put an end to the monotonous messaging of denial and fear that only tell part of the affordability story. Trade associations, like NAHB, are not speaking for all of their members when they lobby lawmakers to limit increases in performance regulations to no more than token increments.

Many builders, remodelers, and contractors are already delivering performance that well exceeds the embarrassingly low minimum requirements held forever sacred by the foot draggers. It is time that the achievers are represented and rewarded rather than continuing to protect and defend those who make up the lowest common denominator.

Any building professional who believes it is possible to succeed going forward on the basis of price alone, or that higher building performance will remain voluntary, is in for a rude awakening. At the end of the day, a level playing field, an understanding that the market paradigm has definitely shifted, and a genuine determination to deliver the best performance and highest quality product possible are the keys to successful building, satisfied customers, and a brighter future for everyone.

This article originally appeared in the Green Builder electronic newsletter, July 17, 2009. To subscribe to this newsletter or to the Green Builder magazine, visit: www.greenbuilder.com

Is Your Home Award Worthy?

This year Green Builder Magazine will honor the best in residential design and construction. Have a green residential project you're proud of? Whether you have a cutting-edge custom, a production powerhouse, a multifamily masterpieces, or a grand community don't miss the opportunity to enter our awards contest and compete for teh accolades you deserve!
For more information and to get your entry packet, send your contact information to Green Builder Magazine at awards@greenbuildermag.com.
Act now! Entries must be submitted by September 15, 2009.


A dozen people with felony backgrounds were selected to participate in the program. These individuals combine classroom learning at Grand Rapids Community College with weekly field-work on Habitat projects, and detailed hands on learning with the model home.

Chris Hall, Director of Construction with Kent County Habitat for Humanity explains, "The model home gives us the opportunity to provide education and information through a controlled environment that isn't dependent upon weather and other circumstances that would limit the education process."

Hall explains that the goal of the process is to have the group develop the skills to do a complete rehab project with Kent County Habitat, likely to occur in Spring 2010.

The model home is hinged down the middle to provide two construction methods: green and greener. The home can be divided into four units, the two sides, roof and wall panels to provide a mobile learning center.

Products in the home are labeled, plexi-glass cut-away's provide an opportunity to see products, such as energy heel trusses and energy insulation, installed an in use. The home features many green products including various forms of insulation, skylights, solar hot water collection, triple-glazed argon filled windows produced in Manistee, MI and an entire smart-lighting system. The interior walls are all clay based.

Even the construction location captured green building methodology by using a pre-existing space."We were talking about where to do this, and the old Smith Industries building in Kentwood where they used to build aerospace products came up. This is where do already do wall builds. It was obvious, we have this space why not build it there?" Hall states.

Hall felt that the program was a natural fit for Habitat. "This is part of Habitat's mission to partner with community organizations. As an organization, we really see the value in trying to work with educational organizations so this project provided the perfect connection-Goodwill Industries is working to develop green building skills and we are the top green builder in the mid-west. We are using this program to educate people and along the way putting up sustainable structures."

For those interested in walking through the home, it will be on display at Great Lakes Green 2009 at the DeVos Place in Grand Rapids on August 21.

Universal Design-What is it?
Rich Kogelschatz






What is Universal Design?


The intent of universal design is to simplify life for everyone by making products, communications, and the built environment more usable by as many people as possible at little or no extra cost. Universal design benefits people of all ages and abilities.



- NC State: Center for Universal Design


There are alot of names that people use in place of universal design: barrier free, handicap accessible, A D A compliant. Universal Design, I think, is the best name for this concept because to me accessibility is not just for "them folks" in wheelchairs. It is for everyone regardless of age and physical ability.

All right, just what does Universal Design really mean? Here are some

features that are very important in the design of the home that are basic to UD:



Exterior Doors - without question should be 36" wide
Interior Doors - bedrooms, bathrooms, laundry rooms, common area doors - 36" wide (Note that many articles will say 32" doors. Many wheelchairs will get through 32" wide doors but if a person is in a wheelchair they will scrap their knuckles as they go through the door. I once priced out doors for a house. 10 doors going from 32" to 36" wide. The cost for the wider doors was under $100 - for the entire house (not per door). No brainer!
Wider halls - Minimum 42", better if halls are 48". Please note that halls are a waste of space. Eliminate them or reduce them and you will increase the functional space in your home.
Turning radius or better said as Clear Floor Space - Kitchens, bathrooms, laundry area that equals 5'. What is the benefit? If you utilized a wheelchair you would have the ability to enter and function without obstacles in these parts of your home.
My personal favorite - A zero step entry. What is that? No steps into your home from the front porch and from the garage into the home. Imagine, not having to worry about steps as you bring home groceries. There are so many benefits to this feature.
Wider Stairs - minimum 42", better if 48".
There are many other features associated with UD. Their necessity for you depends on your needs.
Why is UD important?
Wider doors, wider halls, wider stairs and clear space will make your home appear larger. It will feel more open.
Wider doors, wider halls and wider stairs will allow you to carry furniture throughout your home much easier.
Imagine you are 30 years old and you own your home. If the home incorporates the basic features of universal design guests will be able to visit your home without limitation. Imagine if your grandparents or Aunt Millie is in a wheelchair or requires the use of a walker. They could visit without limitation. Don't you want to offer this freedom to your customers?
Imagine you are 65. Retirement is just 10 years away (no please, not that long). Your parents may still be alive. Mom and Dad could come visit your home without limitation as well.
A home that has incorporated UD is livable for much longer than a home without such features.
Here is what everyone wants to know - -

How much money does this stuff cost?



Wider doors - under $100 (per home);
Wider halls / Stairs - hard to answer this one, but under $500 (considering cost per square foot and the size of your home).
Zero step entry - this one depends on the size of the home. Generally around $1,000.

Wow! If all you do is 1 and 2, you can build an accessible home for under $500. Better yet, for under $1,500 you can build a home that is really accessible to you and everyone. It makes a great deal of sense.

I am a proponent of UD for one reason.

I believe that it is my responsibility as a builder to provide value for my customers when building their home.

To me there is no greater value than accessibility. If something were to happen to you or your relatives, without accessibility your home has little value to you.

Finally, not every home we build incorporates every feature of UD. Customers get to decide what they want in their home. (That said, don't budge on the doors and halls. Gotta be wide!)



There will be an education track dedicated to learning more about Universal Design practices and how to implement them in your construction projects at Great Lakes Green 2009.





Kogelschatz is a member of the Green Built Michigan Board of Directors, chair of the Great Lakes Green Committee, and chair of the Green Built Michigan Marketing Committee. Owner of Heartland Builders, LLC based in Rockford, Michigan, Rich Kogelschatz currently serves as Builder Vice President of the board of directors of the HBA Greater Grand Rapids. In 2005, Heartland Builders he was recognized by Disability Advocates and the Fair Housing Center of West Michigan for our commitment for universal design.




Member Log-In


Members can log in to the Green Built Michigan website to access member only information.

All you need to do:

Go to the website.
Click on the members button on the main page.
Enter your member log-in name and password.
Don't have a log-in name and password? You'll be prompted to create one. It may take 24-48 hours for your account to be activated.
Will You Be Our Friend?

Green Built Michigan is now on facebook! Become our friend and stay up to date with what's new at GBM as well as connect with other Green Built Members.
Find us on Facebook
at
facebook.com/GreenBuiltMichigan
Don't have a facebook account? Don't know how to create a facebook account? Join us for a conference call education session, date to be scheduled.
If you are intersted, email
ekopietz@greenbuiltmichigan.org
Coming Up...

Next month's issue of the Green Built Update will discuss Energy, Home Automation and Lighting Control Systems.

Is there something you would like to know?

Are you an expert?

We Need You!

Your help is needed at Great Lakes Green. We're looking for outgoing, friendly people with a passion for green building and remodeling to serve as greeters, help with registration, and assist the speakers during the education sessions.
Download the volunteer form
, or call Pam Frakenburger, Director of Great Lakes Green at 517-646-2572. You can also
email Pam
.