HAPPY NEW YEAR SALE!!! JAN 2 - 31
10% - 30% Off All Merchandise
15% Off Thomas Blackshear & Annie Lee


Stock up now for Birthdays, Graduation, Mothers/Fathers Day, Holiday Season 2008, Gifts for all occasions!
Enhance your decor with images that reflect the beauty of African-American culture - a mug, teapot, bible bag, coasters, magnets, blankets, spoon rests, cookie jars, dolls, books & more!


Black

History

Month


Make it memorable with a historical collectible figurine, honoring our pioneers all year long.
Edmonia Lewis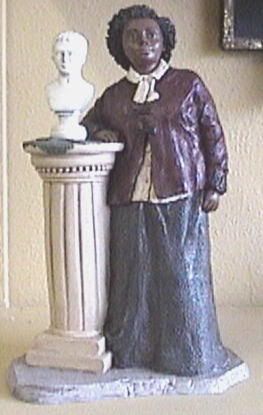 First African Native American female artist. She was the first woman of her race to be recognized as a sculptor. In addition, she was the first woman to attend an American college on a non-segregated basis.
$74

Henry Ossian Flipper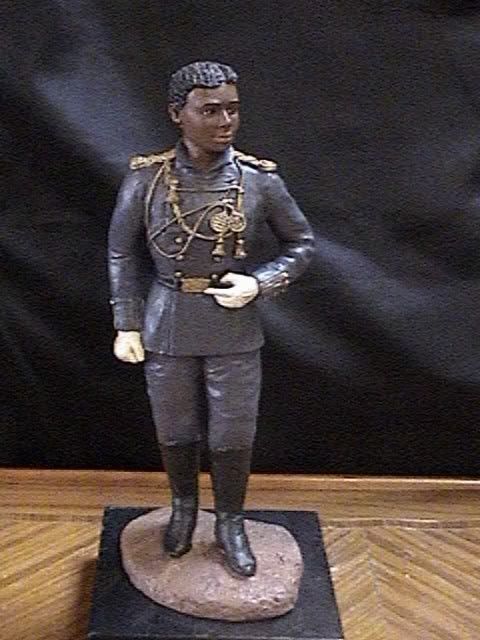 First African-American to graduate from the United States Military Academy at West Point. In addition to a military career characterized with success, Flipper prospered as a surveyor, translator and mining engineer. Each year West Point presents an award in his honor to the graduate who best exemplifies "the hightest qualities of leadership, self-discipline and perseverance in the face of unusual difficulties while a cadet.
$85
Phyllis Wheatley

Born in Africa in 1753, was sold into slavery at the age of 7 to the Wheatley's of Boston. Accepted as a member of the family, she soon learned to read and write english. At thirteen she wrote her first poem and subsequently published 39 of them in "Poems on Various Subjects, Religious and Moral". It was the first book to be published by an African-American.
$25

Tuskegee Airman II

A tribute to the African-American flyers who broke the color barrier in the United States Air Force during WWII. After successfully flying over 1500 missions during the military during the post WWII era, spearheading the integration of the armed services.
$30

Buffalo Soldier On Horse

Designed to honor the memory of the calvary men who were considered to be the most effective troops in the Army's Western drama. Originating in Kansas in 1866, these African-American regiments fought numerous battles with some of the most skillful enemies in frontier history.
$50

Courier Break Box

In the heat of the battle, couriers served as an integral part of communication by keeping leadership in touch and relaying soldiers reinforcement needs. After a long ride, couriers would take a break, fuel up on vittles, rest and saddle up again!
$35

Congratulations To Our Winners
Mrs. Clara Jones
"Mo Cheeks", Art Impressions Collection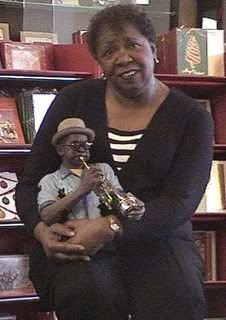 Congratulations to Mrs. Clara Jones, drawing winner, at the 22nd Annual Holiday, Kwanzaa & Christmas Gift Show.


Sam Fuller
"The Star Catcher", Thomas Blackshear Collection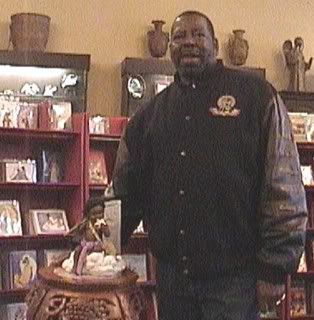 Congratulations to Sam Fuller, drawing winner, at Something of Value 16th Anniversary Event.
Something of Value Services
Curbside Service

- Purchase online (starting 2/1/08) or by phone, give us a call before you arrive to confirm arrival time, and we'll bring it to you curbside.

Shipping Service

- Purchase online (starting 2/1/08) or by phone and we will package and ship your items anywhere in the U.S. (postage & handling fees apply)

Lay-A-Way Service

- 20% down, full payment & pick up within 60 days.

Something of Value Online Store
Launching February 1, 2008
Our online store makes shopping easy and convenient on our secure site. See what's new at the click of a mouse!

Have your items shipped anywhere in the U.S.
Read & subscribe to our online newsletter featuring new releases, events, sales & more!

Odessa Bolton, Owner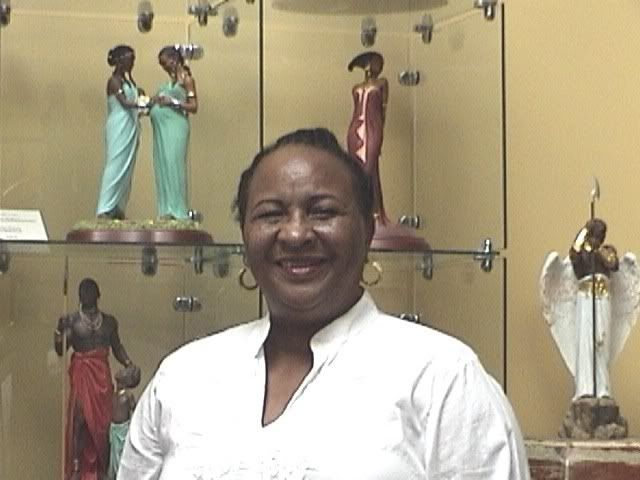 A New Year Greeting!
As we enter a New Year & Black History Month, I feel privileged to have an opportunity to communicate with each of you. My wish, in addition to world peace, family harmony, a drug free society, and safety & joy for the children, is for the support of African-American businesses.

We need your support, we cannot exist without you! Something of Value can only continue to exist via your support.

Historically, we use "word of mouth" to communicate with each other, often the biggest challenge to traditional "marketing" and "advertising" campaigns. If you like our merchandise, events and newsletters please spread the word. Tell your family & friends about us, forward our newsletters far and wide as we also offer shipping services.

In 2008, you can look forward to our continued support of African-American artists through providing events and activities that present their work to the community.

We welcome & appreciate your comments and suggestions. If you would like to see different merchandise, let us know.

Have a blessed 2008!
GET MORE WITH EMAIL!!!
Our email newsletter has more features, an event calendar & information.
Subscribe By Email
somethingofvalueus@yahoo.com
NEW YEARS RESOLUTION
Take Charge Of Your Health


Annie Lee "You Hungry"

Please park in Office Max & Pak n Save Lot
COMMUNITY CALENDAR
JANUARY EVENTS
MLK Celebration: Faith in California
Sun 1/20/08 12 - 5pm
Oakland Museum 1000 Oak Street
Ethnic Expressions West Coast Regional Conference
Sat 1/26/08 8am - 5pm
Holiday Inn Airport North S. SF 510.727.0695
Bring the creativity of our people to our people
White Elephant Sale Preview
Sun 1/27/08 10am - 4pm
WES Warehouse 333 Lancaster St. Oakland


True Gospel Singers
Sun 1/27/08 2 - 7pm
Kimball's Carnival 522 2nd Street
Oakland
510.776.9986


Cassandra Wilson
Tue 1/29/08 - Sun 2/3/08
Yoshi's San Francisco
FEBRUARY EVENTS



First Fridays After Five!

Fri 2/1/08 5pm - 9pm
Oakland Museum 1000 Oak Street
Special celebration of Black History month with live music, dancing, special exhibitions, & more.

Iron Ladies of Liberia

Tue 2/5/08 6:30 - 9pm
Oakland Museum 1000 Oak Street
In this intimate biography, filmmakers go behind-the-scenes with Liberian President Ellen Johnson Sirleaf, Africa's first freely elected female head-of-state.
The Afro-Caribbean & Black Native American Presence in CA
Sun 2/17/08 2pm
Oakland Museum 1000 Oak Street

A celebration of Afro-Caribbean & Black Native American traditions, led by dancers & musicians.
Family Explorations! African-American Rhythms On & Off The Canvas
Sun 2/24/08 1 - 4pm
Oakland Museum 1000 Oak Street
Bring the whole family to join in a lively exploration of African-American art, music, & spoken word in celebration of Black History Month.