Jazz Doings
For the support that Chris Jazz Cafe and The Mermaid Inn give us every year, we'd like to give them a plug. Click on the links and you'll see their musical lineups this fall!
Singer Barbara Jackson is singing and hosting Freedom on the Lawn tomorrow from 2-5 pm at her home to raise money for the New Freedom Theater. It's a great cause and there will be a lot of music from various groups, to find out more, please call 215-849-7505
The Painted Bride is heating up this fall with some wonderful music. Check it out!! And don't forget the great artists that Ars Nova is presenting!
The Philadelphia Clef Club of Jazz & Performing Arts, Inc. and its Board of Directors, announces its First Annual Philadelphia "Clef Club Jazz Awards," taking place on Saturday, November 3, 2012 at the Philadelphia Clef Club, 736-38 South Broad Street. A VIP Reception begins at 6 p.m. and the Awards Program at 8 p.m. This year's theme is, "Preserving, Presenting, and Educating."
Carol and Woody are kicking off the first Philly Jazz Fest called "Remembering Grover" with headliner Pieces of a Dream on Sept. 22nd from 1 pm-12 midnight at the Sheraton Philadelphia Downtown Hotel Ballroom, 17th and Race Streets. Lots of great musicians and singers - for more info: 609-884-8919
Pianist Jim Holton and flutist Cindy LeBlanc head the terrific jazz vespers at St. John's Lutheran Church in Ambler, PA, every 1st Sunday starting at 7 pm -it's a wonderful musical experience.
AND...
Rob Henderson's
Sunday Sessions at the LaRose Jazz Club every Sunday from 6-10 pm.
Bring your ax!
Check out our new calendar, compliments of All About Jazz and all the jazz dates within 50 miles of the city!
Please support our mission . . .
Donate to Jazz Bridge - it's only a click away!
Jazz Bridge is half-way through its first Kickstarter Campaign - Jazz in the Neighborhood!!!
(Click Above)
And we're not doing well. To be honest, we really expected more support from the jazz community for our upcoming Neighborhood Concerts season - so far, we only have 27 backers and haven't even reached 1/4 of our goal of $6000. If we don't reach our goal by Sept. 19, we receive NO money at all, no matter how much we raise.
Many nonprofits are hanging on by their fingernails through this recession - JAZZ BRIDGE is no different. Our donations are way down and frankly, I'm worried that we'll be able to keep this valuable program going.
Listen - I don't know how to move any of you opening this newsletter to buy a $10 ticket through Kickstarter to any concert this season, but how about this: It's my birthday today. I've devoted 35 years of my life to jazz in Philadelphia. If 350 of you opening this email will buy ONE ticket and gift it to yourself or a friend - that will be a wonderful birthday present that I'll remember forever and it'll put $3500 into our Kickstarter campaign.
Take at look at our brochure (board member Sarah Hopkins designed it) and see all the great people our Jazz Bridge hosts have booked this coming season - your support will ensure that there will be performance opportunities for over 160 local musicians this season!
Please help keep the music playing and buy a ticket (or two). Thank you for all your support and your generosity!
Calling for nominations for our 3rd Annual
Making A Difference Award!
Now's The Time to nominate the person YOU think should get the award this year at our December benefit. The nominee does not have to be a musician, but he or she MUST have a strong record of service to the jazz community. This honor also carries a cash award of $250.
Please send a nominating paragraph of a least 150 words to Kim Tucker at kimetucker@gmail.com
Yes, you can nominate yourself!
Odds and Ends
Writer and singer Rhenda Fearrington (a lady who is ubiquitous on Facebook and a tireless jazz advocate)
wrote a great piece for our
Jazz Bridge blog
She's a wonderful wordsmith and a multi-talented singer.
Need I say,
Rhenda will
be appearing in January in Collingswood?
And . . .
the Tri-State Jazz Society will be holding an ALL DAY festival in Princeton this Sunday - Check it out!
The

Chamber Music Society is calling for proposals for

residency grants:

Deadline 11/16/2012.

A really cool thing - Jazz For Cows...

gosh, these bovines are more attentive then some audiences I've seen. Hmmm.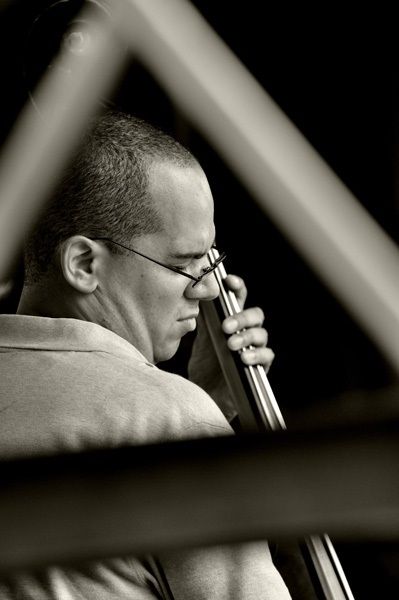 This photo is a magnificent example of the work of one of our best photographers in town. His name is Anthony Dean and you can probably see him at this or that jazz concert documenting the scene. Jazz Bridge will be spotlighting the many sensitive photographers in the area who devote their time and talent to the community. Be the first one to name the musician in the photo and win a CD - Click on the photo to explore Dean's fabulous portfolio. Thank You Anthony!
Anyone who could not make the town hall meeting to pick up their Great Day photo, please contact
me
to pick up your photo at my house. Note, only the musicians who were in the photo can get one free. If you wish to purchase, please contact the
Coltrane House
.