And we have tons of events, so print out every Jazz Bridge show for this month by clicking HERE.
Henrietta Shelton and the Chicken Bone Beach Historical Foundation have cooked up some spring jazz concerts at the Tropicana every Thursday to May 10th.
Also, the Chicken Bone Beach Historical Association will be presenting Sonny Fortune and his Quartet on May 19th at Dante Hall at Stockton College of New Jersey - all proceeds go to Chicken Bone Beach!
For info: 609-347-2167 or email dantehall@stockton.edu
AMLA will be presenting Papo Vazquez Pirates Troubadors on Friday, May 11th from 7:30-9 pm, 191 Huntin Park Ave. Tickets: $15 (advance). for info call 800-838-3006 All Philadelphia Jazz Musicians admitted FREE!
Regol Concerts is starting up a new Trad Jazz series! Al Harrison and his Dixieland Band will kick off this monthly series at Jack's Deli and Restaurant, 8500 Bustleton Ave in Philadelphia on May 17th - 6:30-8:30. Call 215-528-0582 to make reservations.
AND...
Rob Henderson's
Sunday Sessions at the LaRose Jazz Club every Sunday from 6-10 pm.
Bring your ax!
Check out our new calendar, compliments of All About Jazz and all the jazz dates within 50 miles of the city!
Now for all you blues people out there
the 5th Annual Zannie-Do Festival remembering blues singer Zan Gardner will be happening on May 19th at the Mermaid Inn starting at 8 pm. Tickets: $20 and all proceeds go to Jazz Bridge. Appearing at the fest will be the fabulous Deb Callahan Band, the Flashpoints and the Randy Lippincott band.
Please support our mission . . .
Donate to Jazz Bridge - it's only a click away!
Fresh off his gig on the Jon Stewart show with Esperanza Spalding, Jef Lee Johnson is coming to Collingswood this Thursday, May 3rd! A true American original, Johnson grew up playing in the church his grandfather built in Germantown, Philadelphia, PA, so therefore he plays almost every instrument and is a powerful vocalist with a broad and soulful range. According to Phil DiPietro of All About Jazz, it's on guitar that Jef Lee Johnson "burns most incandescent, conjuring jawdroppingly brilliant, careening stylistic collisions of legato-laden fusion, angular outness, and state-of-the-art acid-funk." Johnson has toured and recordied with such heavyweights as James Carter, Rachelle Ferrell, George Duke, and D'Angelo. He's probably the only musician who has worked with McCoy Tyner and Sister Sledge on the same day! In demand mostly in Europe, Jef Lee Johnson is a prolific creator, putting out numerous projects on Dreambox Media: Hype Factory, Things Are Things, Monkey Zero, St. Somebody, Laughing Boy (to name just a few!) and his latest project - Black and Loud - is a top seller at the record label. This rare opportunity to see Johnson, bassist Chico Huff and drummer Charlie Pateirno should not be missed!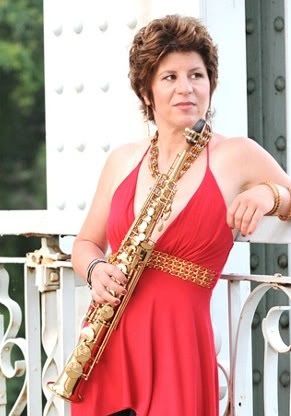 Appearing on Wednesday, May 2nd, in Kennett Square, will be saxophonist Lynn Riley and her band World Mix. She has performed with many noted artists like Grover Washington Jr., Philly Joe Jones, David Bromberg, Rachelle Farrell, Charles Earland, Gerald Veasley, David Murray and Johnny Pacheco and opened for artists such as Najee, Spyro Gyra, Nester Torres, Andy Narell, the Indigo Girls, Brenda K Star, the Mahotella Queens and Compai Segundo of the Buena Vista Club. She has performed throughout the United States, Europe, Africa, South America and the Caribbean, touring with diverse groups such as Sharon Katz and the Peace Train ("the South African band that rocks"), and the funky latin jazz band Ellas y Amigos. More recently Lynn has been expanding her composing vocabulary and style by traveling and performing in countries such as Cuba, South Africa, Bolivia and Brazil. This multicultural exposure gives Riley's music a unique traditional ethnic sound blended with her original ideas and jazz roots, culminating in a funky accessible world influenced mix. She can be heard this Wednesday with her long time friend and bassist Rubin Edwards, a collaboration that has generated many magical musical moments, from riveting live performances to the beautiful compositions on Lynn's new album - Too Cool.
EVI artist John Swana was born in Norristown, Pennsylvania and began studying trumpet at the age of 11. He was drawn to jazz early after hearing
Dizzy Gillespie
and his interest developed into a passion while he was in college, where he began transcribing the solos of Freddie Hubbard,
Clifford Brown,
Miles Davis, and
Tom Harrell
. Swana has performed and/or toured with the Mingus Big Band, the Dave Holland Big Band, and has also played with well-known jazz names such as Don Patterson, Shirley Scott, Mickey Roker, Stanley Turrentine, Harold Mabern, Cecil Payne, and Chris Potter. Swana has recorded five CDs under his own name on
Criss Cross Records
and also can be heard on recordings with Benny Golson, Grover Washington Jr., John Patitucci, Eric Alexander, Charles Fambrough, Tito Puente, Dave Valentin,
Mulgrew Miller
,
Christian McBride
, Uri Caine, Marvin "Smitty" Smith, and Tom Harrell. Performing with Swana at the
Cheltenham Center for the Arts
this Wednesday, May 2nd, will be guitarist
Steve Giordano
, organist
Lucas Brown
, and drummer Wayne Smith Jr.
*********************************************
FREE BUFFET at all locations to celebrate the season: Please bring a dish with you to the concert for all to enjoy or just bring yourself!
There is parking right across the street from Society Hill Playhouse or folks can take the High Speed Line to 9th/10th and Locust stop and walk two blocks to 8th street to the venue. Free parking in lot at Kennett Flash and on street. Metered parking in Collingswood. Onsite free parking Cheltenham and Media.
Thanks to everyone who came out to Chris' Jazz Cafe last Friday to Pay it Forward! - It was one incredible evening with music provided by Jerry Weldon, Lucas Brown, Justin Sekelewski, Rob Henderson, Odean Pope, Larry McKenna, Bobby Zankel, Rhenda Fearrington, Denise Montana, Suzanne Burgess, Virginia Buck, Michelle Lordi, Ben Britton, Luke Carlos O'Reilly, Jim Miller, Denise King, Anwar Marshal, Mike Boone, and Nimrod Speaks!