All kinds of jazz events at the Free At The Kimmel Series: 3/31 Belleville Quartet at 6PM and "Sittin' In" hosted by Luke O'Reilly on 3/28 at 8 pm.
Henrietta Shelton and the Chicken Bone Beach Historical Foundation have cooked up some spring jazz concerts at the Tropicana every Thursday from April 5th to May 10th.
The Painted Bride is having their Black Cat Brew fundraiser on April 13th honoring their Jazz on Vine series that has brought some wonderful folks into town. Check out the festivities!
Shout out to the Lucky Old Souls Concert Series at Robbins Bookstore in March - some wonderful artists on the bill!
AND...
Rob Henderson's
Sunday Sessions at the LaRose Jazz Club every Sunday from 6-10 pm.
Bring your ax!
Shout out to the Firecreek Restaurants in Downington, PA, and Voorhees, NJ, for having jazz on a regular basis - check out the lineup. Another commercial enterprise supporting local jazz and Jazz Bridge!!!
Help Support our Mission
Donate to Jazz Bridge - it's only a click away!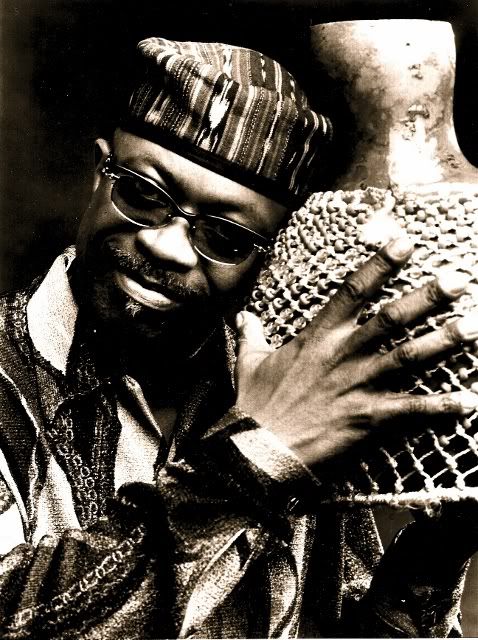 Appearing at
Jazz in Media!
at the
Unitarian Universalist Church
, 145 W. Rose Tree Road in Media, PA, on March 21st will be percussionist Doc Gibbs and his band featuring bassist Nimrod Speaks and pianist Jeff Knoettner. *** He may not be a practicing physician, but Philly native Leonard "Doc" Gibbs approaches his craft with the precision of surgeon. His informal medical standing came about in the mid-seventies when the percussionist was gigging with famed saxophonist
Grover Washington Jr
. Legend has it that, on a break, Grover complained he wasn't feeling well and Gibbs not only diagnosed the problem, but prescribed a herbal remedy so effective that it prompted the sax player to exclaim to the crowd upon returning to the stage, "There are two doctors in Philly: Dr. J (the 76ers) and Doc Gibbs." Gibbs was also a major (on camera) presence on the Emeril Live! television show on The Food Network as musical director from 1997 until the show ended in 2007. In the early seventies, Doc studied music at the Pennsylvania School of Fine Arts, but was soon on the road with the likes of
Anita Baker
,
Ricki Lee Jones
,
Bob James
,
George Benson
,
Nancy Wilson
, and later with
Erikah Badu
and Wyclef Jean. An affable percussionist who lays down exquisitely comfortable grooves, Doc is a first-call studio player and has over 200 albums to his credit, but finally, Doc released his own CD in 2002 entitled
Servin' It Up Hot!
There is parking right across the street from Society Hill Playhouse or folks can take the High Speed Line to 9th/10th and Locust stop and walk two blocks to 8th street to the venue. Free parking in lot at Kennett Flash and on street. Metered parking in Collingswood.Onsite free parking Cheltenham and Media.
As always, Jazz Bridge Neighborhood Concerts start promptly at 7:30-9 p.m. One show. $10/$5 students. No advance sales.

For info: 215-517-8337 or 610-745-3011
Jazz Bridge and the Kimmel Center are already to launch "Philly Jazz: A View Through the Lens" - the first time that our own jazz photographers will be put in the spotlight. An April 3rd reception from 6-8 pm will kick off the month-long exhibition and will feature the work of Anthony Dean, L. David Hinton, Ben Johnson, Howard Pitkow and video by Jason Fifield. You've probably seen them at jazz shows trying to get just the right shot, but now they'll be front and center! I hope to see you there!
Buy Your Tickets Now!
Kim Tucker
is continuing to build our fabulous fundraiser in April. She has booked saxophonist
Jerry Weldon
with Lucas Brown, Justin Sekelewski, and Rob Henderson for our
Jammin' for Jazz Bridge
fundraiser at
Chris' Jazz Cafe
on April 27th and she's also putting together a dynamite jam session that same night that includes some wonderful artists including pianist
Dennis Fortune
, singers
Suzanne Burgess
,
Denise Montana
, and Rhenda Fearrington, drummer
Vince Ecter
, saxophonists
Ben Britton
and Victor North, and trombonist
Don Collins
and more to be announced! Don't miss this close out to National Jazz Appreciation Month and the kick-off to that weekend's
Center City Jazz Festival
and the union reunion
(local 274)
at the
Philadelphia Clef Club
!
Don't miss Jazz Bridge underneath Billy Penn's hat when our organization will be featured in the mayor's reception room on April 11th from 5:30-6:30 pm. for
City Hall Presents!
We'll be featuring saxophonist Umar Raheem, pianist Jim Holton, bassist Mike Boone and drummer Jim Miller and a wonderful film by
Jason Fifield.
FREE!
Jazz Bridge was in the news again! Here's a terrific interview and video with Denise Montana on her Media jazz series and a story about the organization by the
Delaware County Times
.
And for your listening and viewing pleasure, check out Mike Boone's gig at the Kennett Flash below.