AND...
Rob Henderson's
Sunday Sessions at the LaRose Jazz Club every Sunday from 6-10 pm.
Bring your ax!
Shout out to the Firecreek Restaurants in Downington, PA, and Voorhees, NJ, for having jazz on a regular basis and for giving our volunteers some wonderful gift certificates. Another commercial enterprise supporting local jazz and Jazz Bridge!!!
Dear Friends,
You may have already heard that our son and brother, Nathan Ingram III, passed away sudden
ly of a heart

attack on January 14, 2012 at his home in Fukushima, Japan. He was 61 years old. Nathan had been sharing and teaching the beauty and uplifting power of African-American art and culture in Japan for two decades.
Nathan is survived by three sons, Nathan IV (age 22, US); Dorian (age 3 1/2 , Japan); and Neuboi (age 10 months, Japan); his mother, Doris Ingram; siblings Ruth Craigen, Germaine
Ingram, Kevin Ingram, Karen Ingram-Brown, and Karl Ingram, and several nephews, nieces, grand-nieces, cousins, and an aunt.
Anyone who wishes to contribute to a memorial fund to help support the needs of Nathan's three children can make a tax-deductible contribution online or by writing a check to the Nathan Ingram III Memorial Fund and sending it c/o Jazz Bridge, 3008 Limekiln Pike, Glenside, PA 19038.
Kim Tucker
Donate to Jazz Bridge - it's only a click away!
Appearing at the Collingswood Community Center on March 1st will be drummer J. Jody Janetta and Adelante, featuring Paul "Woz" Woznicki on piano, synths, and flute and S
tephen T

esta on bass.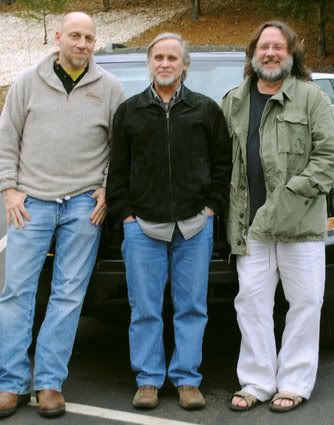 Drummer J. Jody Janetta is the founding member of Adelante, a group that fuses jazz, improvisational music, world/folk traditions, contemporary, classical, and ambient/electronic music. Janetta has performed with top people and groups, including saxophonist Elliot Levin, singer Paul Jost, the Nubian Percussion and Dance Ensemble, Equinox, and Solstice World Music Ensemble. But to experience the music of Adelante is to be taken on an aural journey that touches mind, body and spirit. Adelante is rooted in the improvisational approaches of Modern Jazz, but the group creates a musical brew that knows no musical boundaries, relishing in the challenge that all musical styles can be complimentary and woven together to create something musically and sonically beautiful, new and unique. It's been said that listening to Adelante is like "hearing a rainbow".
For info: 215-517-8337 or 856-858-8914.
Onsite free parking Cheltenham and Media. Parking right across the street from Society Hill Playhouse or folks can take the High Speed Line to 9th/10th and Locust stop and walk two blocks to 8th street to the Society Hill Playhouse. Free parking in lot at Kennett Flash and on street. Metered parking in Collingswood.
As always, Jazz Bridge Neighborhood Concerts start promptly at 7:30-9 p.m. One show. $10/$5 students. No advance sales.
The Volunteers Went Wild at Campbell's Place in Chestnut Hill!
From left: Denise Montana, Mike Boone, Howard Pitkow, and George Sinkler
Just wanted to say another big thank you to all of our long time volunteers and board members who have put in so many long hours making Jazz Bridge what it is today!
From Wendy's Desk . . .
I've been working on our 990 form for the IRS and saw some wonderful things as the numbers shook out. Jazz Bridge did pretty well last year! In our 2010/2011 fiscal year, Jazz Bridge spent $25,181 on musicians in need (up from the $17,530 we spent the previous fiscal year)! We also put $15,038 into the pockets of the musicians who played our Neighborhood Concerts and fundraisers last season (up from $10,358 last year)! Yes, we're still small by most standards, but we've come a long way and done a lot of good thanks to everyone in the community!
SAVE THIS DATE and STAY TUNED!!!
APRIL 27th
And now, thanks to board member Jason Fifield and
SLife Productions
, here are two new videos from our latest Neighborhood Concerts in Cheltenham and at the Society Hill Playhouse!