The Jazz Bridge 2012 Calendar is selling like crazy and, due to the limited printing, we only have about 35 left, so get 'em now!
C
h

eck out Jazz Times - link has a

great list of jazz spots in our area.
January 6th will be the 4th Annual Somers Point Jazz Society Benefit Concert featuring George Mesterhazy trio with special guest Barry Miles. $20 at the Sandi Point Coast Bistro. Sets start at 8PM. For info: 609-927-6677
On Jan. 8th, saxophonist Larry McKenna will be featured at the Jazz Vespers at Christ Church Ithan in Villanova at 7 pm. For info: 610-416-1950
Check out Matt Feldman's Jazz Calendar...very comprehensive about what's happening around town.
And don't forget Ed Dennis' jazz vespers every third Sunday of the month at Philly's "Jazz Church" - the Lutheran Church of the Holy Communion, 2110 Chestnut Street. 5 PM Free!
All About the Benjamins
Music at the Anthology (MATA) call for
festival submissions
:

Young composers (40 years of age and under)
Hey, remember when I told you about
Good Search
, a search engine and shopping web site that gives money to charity? Remember when I complained that our check for all of 2011 only came to $5? Well, because of your holiday shopping/searching, Jazz Bridge has already accrued $74.79! Keep up the good work!
Donate to Jazz Bridge - it's only a click away!
Appearing at the Cheltenham Center for the Arts on January 4th will be bassist Ed Wise and his New Orleans Jazz Band featuring Stan Slotter, cornet & trumpet; Charly Salinger, clarinet & tenor; Fred Scott, trombone; Dave Posmontier, piano; and Grant MacAvoy on drums. *** Born and raised in Houston, Texas, Ed Wise began his study of the string bass at the age of twelve, and eventually became one of the busiest musicians in Texas. In 1989 Ed moved to Toronto where he worked with the great Lee Konitz and toured with Monty Alexander, the legendary Harry "Sweets" Edison, Scott Hamilton and Bud Shank. Ed headed back south to New Orleans in 1993 where he lived and worked until Hurricane Katrina came to town. During his twelve-year tenure in the Crescent City, he performed with and arranged for Al Belletto's Big Jazz Band and sextet, Connie Jones' Crescent City Jazz Band, pianist Henry Butler, guitarist Herb Ellis, pianist/vocalist Mose Allison, and became the bandleader aboard the legendary steamboat Delta Queen.
The Cheltenham Neighborhood Concert series is partially supported by a grant from the Pennsylvania Council on the Arts and the Greater Philadelphia Cultural Alliance.
*******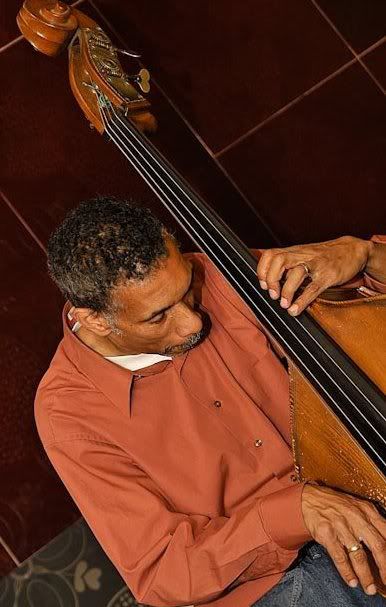 Dreambox Media artist bassist Mike Boone has been a Philadelphia icon for many years, especially for his legendary work with the Ortliebs' HausBand with pianist Sid Simmons and drummer Byron Landham. A graduate of Eastman School of Music, Boone has toured and recorded with Ben Vereen, Buddy Rich Big Band, Clark Terry, Mose Allison,
Dakota Staton, Nat Adderly, Leslie Uggams, John Blake Jr.,
Shirley Scott, Mickey Roker, John Swana, Orrin Evans, Cecil Payne, and Terell Stafford. Boone is currently on the faculty of Temple University and has been a respected teacher at the Kimmel Center Jazz Camp since 2003. His discography as a leader includes Better Late Than Never, Yeah, I Said It!, and Old Head. Collaborations include Live at Ortliebs' JazzHaus, Buddy Rich Big Band Live at Montreaux, LUVPARK, and Philly Gumbo Vol. 1 and 2 with John Swana for Crisscross. *****
Filling in for saxophonist Denis DiBlasio this year at the
Collingswood Community Center
on January 5th will be trumpeter George Rabbai with his band, featuring guitarist
Brian Betz
, bassist
Steve Varner
and drummer
Jim Miller
. *** Rabbai's first national recognition came when he joined the
Woody Herman
Orchestra and during his two-year stay, Rabbai recorded with Herman on the Concord and Toshiba EMI labels. His unique style of scat singing prompted Herman to reinstate and re-record the classic arrangement of the big band bebop hit of the 1940's Lemon Drop as a vocal and trumpet feature. Soon, Rabbai was selected as part of the Woody Herman All-Star small group, performing with artists like Sal Nistico, Jake Hannah, Nat Pierce,
George Duvivier
, Scott Hamilton and famous Count Basie tenorman
Frank Wess
. He has also performed as a soloist with the Concord Jazz All-Stars. As a leader, George has recorded with jazz greats
Hank Jones
, Rufus Reid and Mel Lewis and recorded and toured with Tony Bennett and
Rosemary Cloooney
. George's lyrical trumpet sound is featured in the soundtrack of Ken Burns'
Baseball
and
The West
.
The Jazz Bridge "Making a Difference Award" and Daphne Fund Benefit in December was an incredible success. We made over $2200 and had some of the best women musicians and vocalists on stage at the La Rose Jazz Club that could be seen anywhere. To get a flavor of what went on that night check out Jason Fifield's video of the evening!
2nd Annual Jazz Bridge Making a Difference Award