Don't miss the All-Star, All-Women Jazz Jam at LaRose Jazz Club this Sunday, December 11th
Jazz Bridge is partnering with Rob Henderson's Sunday Sessions to raise money for the Daphne Fund, which will benefit women jazz musicians and the wives of jazz and blues musicians. Appearing that night will be Denise King, Monnette Sudler, Cindy LeBlanc, Denise Montana, Rhenda Fearrington,
Gina Roche, Ella Gahnt, Suzzette Ortiz, Karen Rodriguez, Lynn Riley, Dawn Evans, Pearl Williams and many more!
We'll also be giving out our second annual "Making a Difference Award" to Thelma Anderson that night

.
Get them while they last

!


Hey People...Give the gift of a donation to Jazz Bridge this season! You send us a check and tell us who you want to receive this beautiful card designed by Kathy Ridl and we'll send it out for you! You can donate online too! Please be generous. Wouldn't it be nice to say to someone you love, "Honey, I donated $25 to Jazz Bridge this year in your name to help the musicians in our midst"?
Thank You from all of us!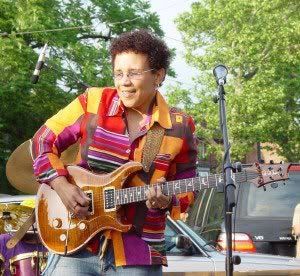 Appearing this Wednesday, December 7th at the Kennett Flash in Kennett Square will be guitarist Monnette Sudler and her band featuring pianist Barry Sames,bassist Steve Green, and drummer Leon Jordan.
Monnette Sudler is a multi-faceted musician; guitarist, vocalist, composer, drummer and poet. She
is a Philly-born artist with tons of acclaimed CDs to her credit who has

played with many all-time jazz greats, such as Grover Washington Jr., Hugh Masekela, Cedar Walton, Reggie Workman, Leon Thomas, Sunny Murray, Shirley Scott, Charles Famborough, Mickey Roker, Philly Joe Jones, Frank Foster, Don Pullen, Dave Holland, Cecil McBee, the Sam Rivers Big Band, The Change of the Century Orchestra, and Steve Turre. This fabulous musician
has performed throughout Europe and the United States including appearances at the Newport Jazz Festival, Kool Jazz Festival, the Winnipeg Jazz Festival, and the Berlin Jazz Festival. Sudler has brought her blend of jazz, poetry and song to various artistic venues around the world.
Also appearing this Wednesday at the Cheltenham Center for the Arts in Cheltenham, PA on December 7th will be the jazz funk Dirk Quinn Band featuring guitarist Dirk Quinn, keyboardist Mike Borowski, bassist Stephen Kurtz, and drummer Steve "Zeeg" Zegray. *** Guitarist Dirk Quinn and his band are a high energy funk/jazz/jam band based out of Philadelphia that tours extensively throughout the US and Canada. In 2007 Quinn made his long-awaited recording debut and began playing the club and coffee house circuit. He has shared the stage with such legends as Booker T, Ivan Neville's Dumpstaphunk, Gary Wright, and Sam Kininger. QuinnTet, his latest CD release, features thoughtful, original melodies flowing seamlessly over groove-heavy rhythms; intricate song structures giving way to strongly expressive, organic improvisations. The band's infectious energy and musical interplay will pull you into their rhythmic experimentation with an accessible modern edge.
Coming Up! Guitarist Charlie Ellerbe and his band will be at the Unitarian Universalist Church in Media on Dec. 14th and alto saxophonist Wade Dean and his band will be performing at Society Hill Playhouse on Dec. 15th. Don't miss these wonderful artists!
As always, Jazz Bridge Neighborhood Concerts start promptly at 7:30-9 p.m. One show. $10/$5 students. No advance sales. For info: 215-517-8337 or 856-858-8914. Onsite and street parking in Kennett Square and free onsite parking in Media.

And now.... for a free holiday CD with pianist Mark Kramer and bassist Charles Fambrough, answer this question: What was the name of the local establishment where Mark Kramer and his band played for almost two decades?
Mark Kramer - Jazz In Media
Just a little taste of what happened last month at the Unitarian Universalist Church in Media. See what you're missing? Film by Jason Fifield.