Jazz Bridge received some wonderful nominations for musicians, photographers, community supporters, and educators. We salute them all! So, our Board of Directors had a hard time deciding who to celebrate this year, but we are happy to announce that the winner of the second annual "Making a Difference" Award goes to Thelma Anderson, long-time jazz fan, tireless volunteer with the Tony Williams Scholarship Fund, and the founder of the Council of Jazz Advocates! Please come out to the benefit to congratulate Thelma in person on December 11th!
Jazz Doings

It'll be Ladies Chance to Jam when Jazz Bridge in partnership with Rob Henderson's Sunday Sessions has their "Making a Difference Award Benefit" for the Daphne Fund to support women jazz musicians and the wives of jazz musicians. Philly's top women musicians and singers will be there to celebrate.

Save the date!

Sunday December 11th at LaRose Jazz Club.

Big shout out to the Somers Point Jazz Society's Blue Moon Winter Series at Gregory's Restaurant, 900 Shore Road, in Somers Point, NJ

Bassist Madison Rast and his band will be performing on 12/10 8:30-11

Chris' Jazz Cafe is featuring Orrin Evans' Captain Black Big Band every Tuesday night, so drop in and hang if ya get a chance and then make time to check out his hosting abilities at the Society Hill Playhouse this Thursday!


And don't forget Ed Dennis' jazz vespers every third Sunday of the month at Philly's "Jazz Church" - the Lutheran Church of the Holy Communion, 2110 Chestnut Street. 5 PM Free!
Jazz Bridge Needs Some Love!
I'll tell it to ya straight. Attendance at the last three Jazz Bridge concerts in Cheltenham, Kennett Square, and the Society Hill Playhouse was absolutely dismal. The music was sublime, but the audience? Practically nonexistent. Oh yes, some of our die-hard loyalists came out (and we love you for it!). But we need at least 50 people at each concert to break even.
(Wendy cringes every time we have to dip into extra money to keep it going)
That's all we need to keep Wendy smiling, folks. So please come out, experience a midweek respite from the cold, cruel world and enjoy a wonderful early evening of great jazz and blues.

Now to smoothly segue to what's happening this week!


Appearing at the at the Unitarian Universalist Church, 145 W. Rose Tree Road in Media, PA, this Wednesday, November 16th will be pianist Mark Kramer and with him will be bassist Gary Mazzaroppi and drummer John Mosemann. *** Kramer's history is unique in a field that is brimming with talented jazz pianists. From simple beginnings, he taught himself how to play piano. Perhaps it is through this unconventional self-initiation that Kramer has come to be accredited in recent years with "astonishing" speed and dexterity, as well as having invented a rich harmonic vocabulary and distinctive melodic style. His touch, described by critics as delicate, hearty, and diamond brilliant, clearly defies description. Kramer has worked with the likes of Randy and Michael Brecker, Charles Fambrough, Stanley Clarke, Mike Richmond and many other Philadelphia jazz giants. The Philadelphia Jazz Musician's Alliance recognized him as best Philadelphia jazz pianist. Click here for a review of this trio!
***************************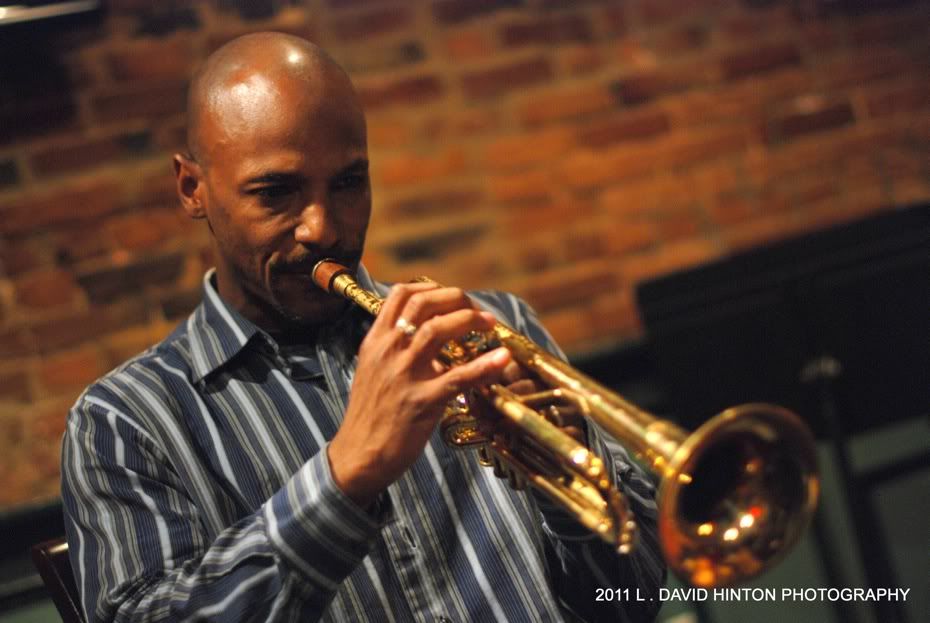 Appearing at the new Jazz Bridge Neighborhood Concerts series Jazz at the Playhouse at Society Hill Playhouse, 507 S. 8th Street, Philadelphia this Thursday, November 17th will be trumpeter Duane Eubanks and his band featuring pianist George Burton, bassist Alex Claffy, and drummer Anwar Marshall. *** Duane Eubanks was born into a family of gifted musical talent. His mother, pianist Vera Eubanks, brothers, trombonist Robin Eubanks, and former Tonight Show with Jay Leno bandleader Kevin Eubanks, and uncle, legendary pianist Ray Bryant all contributed to his musical DNA. Duane has played with the Grammy award-winning Dave Holland Big Band, the Frank Foster Loud Minority Big Band, and Roy Hargrove's big band, and he's worked with the greats:


Benny Golson, Bobby Watson, James Moody, Donald Bryd, Terell Stafford, Antonio Hart, Nicholas Payton, The Temptations, Mulgrew Miller, Elvin Jones, Curtis Fuller, and John Hicks. Currently Duane is broadening his musical chops recording and touring with Alicia Keys, Talib Kweli, Mos Def, and Wu Tang Clan.

His most recent CD is

Second Take

on TBC Records.
As always, Jazz Bridge Neighborhood Concerts start promptly at 7:30-9 p.m. One show. $10/$5 students. No advance sales. For info: 215-517-8337 or 856-858-8914. Free refreshments and free on-site parking at the Media concert. Parking across the street from the Playhouse is $10 or you can use on street parking. Alcoholic beverages served too!
Get your senior food box if your cupboard is bare this or any month.
Philabundance
has got you covered! To call:

800-319-FOOD (3663).
Or if you're well-stocked, but need free tax help, check out the Campaign for Working Families. Don't wait until April 14th - find out what's happening at this terrific nonprofit! And, baby, it's getting cold outside, so don't hesitate to contact for LIHEAP for assistance with your energy bills. Are you a young jazz composer? Well, has ASCAP got the right grant for YOU! Check it out! And for all of our terrific jazz photographers (Les Hinton, Tony Dean, Howard Pitkow, Richard Timbers II, Bryan Moore, and so many more) here's a grant that's right up your alley from the Puffin Foundation. Go get that money!
A little taste of what the Media series is all about with a glimpse and earful of Larry McKenna and his band. And also a very excited pitch from singer and host Denise Montana. Hey, what's Tony Miceli doing in the still? ;-)

Film by Jason Fifield.