Lots of Great Stuff Coming Up!
Jazz vocalist Jeannie Brooks will be appearing at the Cheltenham Center for the Arts on Wednesday, November 2nd
with pianist Sean Gough, bassist Steve Varner, and drummer Doug Hirlinger.
Brooks has been performing in Philly, New York and Europe for many years. Coming from a prominent musical family and raised on gospel, rhythm & blues, she has developed her own style of singing that is instantly recognized on concert stages and in jazz festivals from here to Paris. In 1993, Brooks won the People's Choice Award for Best Jazz Vocalist in the Philadelphia area. Don't miss this vocalist; she's got a fabulous band behind her - "New York's Go Trio is a shining example of both a trio's tightness and its elasticity...If the trio has any one focal point, it's the American Songbook." - Washington City Paper
Manifest III will hold forth on Wednesday, November 2nd at the
Kennett Flash
in Kennett Square featuring pianist
Dennis Fortune
, bassist
Michael Cruse
, guitarist
Gerald "Twig" Smith
and drummer
Harry "Butch" Reed.
Leader, pianist Dennis Fortune made his mark initially as the musical director for singer Billy Paul of "Me and Mrs. Jones" fame and quickly moved to form the seminal jazz group of the 1980s:
Fortune, Vinson, and Cruse
. This formidable band was produced and recorded by T.S.Monk and Charles Fambrough and many CDs went ballistic in critical acclaim and sales. This band toured extensively in festivals and clubs up and down the East Coast. After the death of drummer Pete Vinson, Fortune re-grouped and formed the band Manifest III, keeping bassist Cruse and adding guitarist Gerald "Twig" Smith, who has worked with all the top players in Philly and in organ groups with
Jimmy McGriff
and
Groove Holmes
, and drummer Harry "Butch" Reed, a veteran of the
Electric Mingus Project
and
Soul Fuego
. This is jazz at its finest!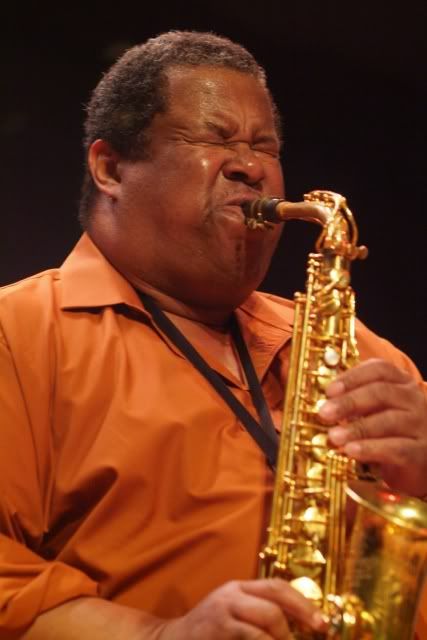 And don't miss alto saxophonist Julian Pressley at the Collingswood Community Center on Thursday, November 3rd with his band, featuring organist Dan Kostalnick and drummer Craig McIver.
Pressley has performed and recorded with R&B artists such as Aretha Franklin, the Four Tops, and the Temptations, but this jazz giant also has a stellar background in improvisation. He's recorded and toured with Lionel Hampton, Joshua Redman, Freddie Hubbard, Stanley Turrentine, and many others. No stranger to American jazz venues such as Avery Fisher Hall and Carnegie Hall in New York, Pressley has also been featured at Jazz Ascona in Switzerland, Aix En Provence Jazz Fest in France, the North Sea Jazz Fest in Holland. Julian Pressley is a singular presence on the saxophone and one of America's most unique purveyors of jazz improvisation.
As always, Jazz Bridge Neighborhood Concerts start promptly at 7:30-9 p.m. One show. $10/$5 students. No advance sales. For info: 215-517-8337 or 856-858-8914. Free refreshments and free on-site parking in Cheltenham, BYOB and street parking at the Kennett Flash, and free refreshments, BYOB, and metered parking in Collingswood.