Pianist, arranger,composer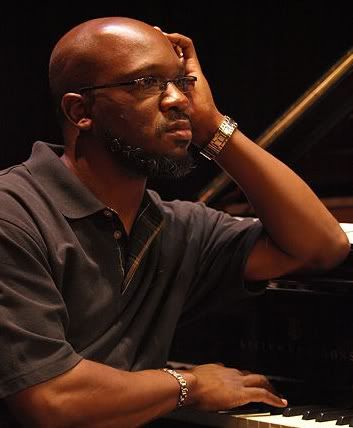 Orrin Evans will be opening up a new Neighborhood concert series called Jazz at the Playhouse at the Society Hill Playhouse, 507 S. 8th Street in Philadelphia on Thursday October 20th, 2011. With him will be bassist Alex Claffy, drummer Justin Faulkner, and saxophonist Chelsea Baratz. His beautiful wife Dawn will be there too in the ticket booth - she's just another one of our celebrity volunteers for Jazz Bridge!
****
Born in Trenton but raised in Philadelphia, Evans was among the "Young Lions" of straight-ahead jazz who emerged in the 1990s. "The clear-cut best pianist of his time..." is how Hot House Magazine described him, praise which was echoed again later in 2002 when the New York Times described the pianist as "...a poised artist with an impressive template of ideas at his command." Evans toured and recorded with the legendary saxophonist Bobby Watson for six years and later was a mainstay with the Charles Mingus Big Band. Currently, he is performing with and recording his own big band -The Captain Black Big Band - and is hosting this series once a month through May.
Saxophonist Larry McKenna will be opening our new season of Neighborhood Concerts hosted by singer Denise Montana and called Jazz in Media! at the Unitarian Universalist Church, 145 W. Rose Tree Road in Media, PA, on Wednesday October 19th, 2011. With him will be vibist Tony Micelli, bassist Kevin McConnell and drummer Dan Monahan. ****
Larry McKenna, known for his gorgeous, velvety sound and his fluid, bebop-inspired improvisations, is one of the finest saxophonists in the world. He has played and recorded with many stars including Woody Herman, Clark Terry, Buddy DeFranco, Tony Bennett, Rosemary Clooney and Frank Sinatra. Larry
also is one of the most sought-after saxophone and jazz theory teachers. He has taught countless students (who later became stars!) in the Philadelphia region; in fact, it could be reasonably said that his pedagogical influence has established a "Larry McKenna School of Saxophone." Larry has released three CDs as a leader to widespread critical acclaim. His most recent Profile, mixes jazz standards with Larry's original compositions and it's his best yet.
As always, Jazz Bridge Neighborhood Concerts start promptly at 7:30-9 p.m. One show. $10/$5 students. No advance sales. For info: 215-517-8337 or 856-858-8914. Free refreshments and free on-site parking at Jazz in Media! Parking is across the street from Jazz at the Playhouse! and alcoholic beverages are available at that event.
Special Offer! The Kimmel Center is helping us celebrate the Heath Brothers blowing into town this Saturday October 15th and the recent good news that saxophonist Jimmy Heath has become our celebrity spokesperson! Click on the photo of Jimmy Heath, put in the promotion code JAZZBRIDGE and you will get a $5 discount on your ticket for the concert. Only folks who are on our mailing list are getting this offer...Wendy and I will be there at the outreach table in front of the Perelman Theater, so stop by and say hi!