Jazz Doings
The Chicken Bone Beach Jazz on the Beach series will be in full swing starting July 7th with saxophonist Dahi Divine opening for Bootsie Barnes and Friends. Free! Chill out between Mississippi and Georgia Avenues on the Boardwalk. For info call, 609-441-9064
And trumpeter Michael Ray and X-Ray will be at Matt Feldman's Moonstone Series on July 8th...tickets: $8 in advance. Showtime: 8:30 pm at 110 S. 13th St. Philadelphia
The Blue Moon Brewery Summer Jazz Series sponsored by the Somers Point Jazz Society continues!
And don't forget Ed Dennis' jazz vespers every third Sunday of the month at Philly's "Jazz Church" - the Lutheran Church of the Holy Communion, 2110 Chestnut Street. 5 PM Free!
Another Great Opportunity!
Did you know that you can get great weekly 1/2 price offers to theater, music, dance, museums and more - right in your inbox?
You can by signing up with the Philly Funsavers brought to you by the nonprofit cultural community (of which Jazz Bridge is a proud member!) For every ticket you buy, 100% of that revenue goes directly to the groups you love. Sponsored by the Greater Philadelphia Cultural Alliance, your advocate in Harrisburg for Philly arts.
And thank you for your phone calls and emails to your legislators last week: the Pennsylvania Council on the Arts on received a little funding haircut - but for the most part, they escaped the ax!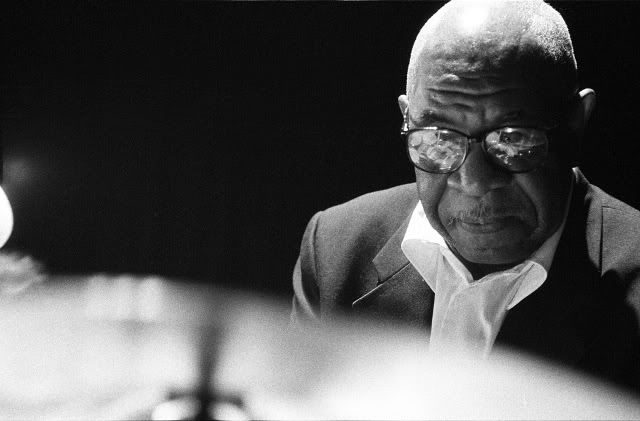 Jazz Bridge is Celebrating the Life of Philly Joe Jones on his Birthday and you're invited!
The celebration begins at 8 p.m on July 15th with the Sticks & Tones Percussion Ensemble, featuring Randy Sutin, Harold Smith, Doc Gibbs, Craig McIver and Jim Miller. Then at 9:30 p.m. the Mickey Roker Quartet with Bootsie Barnes, Lee Smith and Lucas Brown take the stage. There will be film clips of Philly Joe Jones and folks will be on hand to talk about this great drummer's impact on Philly and jazz.
Tickets are $20 and ALL proceeds go to benefit local jazz and blues musicians in crisis because the owners of the club, Maureen and Mark Deninno and Glen Gerber, have generously donated their entire club for the evening! Tickets can be purchased at Chris' Jazz Cafe and online or at our Online Store.
For info:
call Jazz Bridge 215-517-8337 or Chris' Jazz Cafe (215) 568-3131.
Important!

If you buy tickets from the Jazz Bridge online store, you must call Chris' to make a reservation for seating too.
The Free Tickets are Ready!!!!
Claim your spot to see this historic jazz round table
at WRTI-Temple University Radio performance studios on July 13th from 2-4 p.m. at 1509 Cecil B. Moore Ave in Philadelphia. "Back in the Day: Philly Jazz Stories," though a grant from the Pennsylvania Humanties Council and the National Endowment for the Humanities for their We the People initiative on American history. Hosted by Bob Perkins, you'll hear stories about the Philadelphia jazz scene in the 1950s and 1960s from those who lived it: advocate Thelma Anderson, bassist Jymie Merritt, saxophonist Larry McKenna, arranger/composer Morris "Mo" Bailey, drummer Charlie Rice, and singer Billy Paul.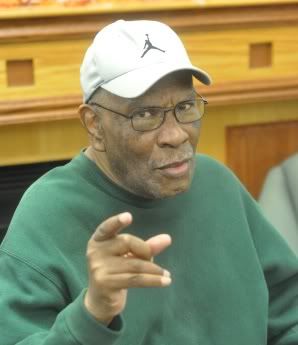 Only 30 seats available.
First Come, First Served!
Contact me NOW at cloud@jazzbridge.org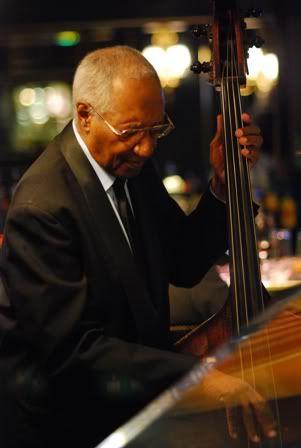 And for your Viewing Pleasure
. . .
Sherry Wilson Butler paying tribute to Nina Simone at our Mt. Airy Neighborhood Concerts last season, hosted by drummer Rob Henderson. Guess who her musicians are and win one of our new Jazz Bridge t-shirts designed by Kathy Ridl. Third correct guess wins it!