Jazz Doings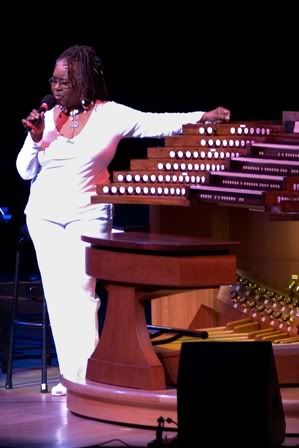 Bright Moments-All of Trudy Pitts' friends and colleagues will be remembering her at the Kimmel Center tomorrow June 4th between 5-7 pm. Many jazz luminaries will be there along with Mayor Nutter to celebrate the fabulous life of our own Trudy, one of Jazz Bridge's biggest boosters.
Free.
To contribute to the Trudy Pitts Memorial Fund that has been set up by the family, please click here. Please note: this is not a Jazz Bridge fund, so it is not tax deductible.
(Photo is by Ben Johnson)
Chris' Cafe will be featuring a musical tribute to Grover Washington Jr. (with members of his original band) Partial proceeds will go to the Protect a Dream Foundation. Shows on 6/3 and 6/4. For info on tickets: 215-568-3131
LaRose Jazz Club, 5531 Germantown Ave. in Philadelphia, will be hosting a Legends Ball with the Tony Williams Quartet to honor noted Philly drummer Charlie Rice from 7-11 PM $20 on Saturday June 4th. For info: 215-844-5818
And DON'T MISS the West Oak Lane Jazz Fest from June 17-19th! Graziella D'Amelio and Warren Oree have booked some fantastic people that will do the city proud!! Check it out NOW.
The Chicken Bone Beach Jazz on the Beach series will be in full swing starting July 7th with organist Dan Fogel opening for Bootise Barnes and Friends. Free! Chill out between Mississippi and Georgia Avenues on the Boardwalk. For info call, 609-441-9064
The Blue Moon Brewery Summer Jazz Series sponsored by the Somers Point Jazz Society continues!
WOW, what a May we had!
Thanks to ALL the jazz musicians that played our 2nd Annual Jazz Bridge Down the Shore at the
Sandi Point
Coastal Bistro, we raised $1260! AND the blues musicians who played the 4th Annual Zannie-Do Fest at the
Mermaid Inn
raised $1380!
Thank you to: Dan and Sandy, from the Sandi Pointe, Joanne and Jack from the Mermaid Inn and all the great players who gave their time and talent.
Most of our work is confidential, but let me share two stories that may show you how your money makes our musicians lives just a bit easier: You've heard about guitarist Charles Ellerbe and his problems getting the city to demolish the condemned buildings next to his house. As you know, mission was accomplished. Well, a day after Memorial Day, he called to say that he had had a BBQ in his backyard. He said, "I was sitting there by the grill enjoying the day when I thought, 'Wow, it's been 7 years since I was able to do this' and I just had to call you."
Trumpeter Michael Ray needed some help with his energy bill since he was out of work due to dental surgery, and afterward he told me that having Jazz Bridge around was "like having a guardian angel on speed dial." This is what your help is doing every day of the year.
Thank you!
Save the Date!
Jazz Bridge and WRTI-Temple University radio won a grant from the Pennsylvania Humanities Council and the National Endowment for the Humanities to present a VERY special roundtable: "Back in the Day: Philly Jazz Stories" this July 13th at WRTI studios from 2-4 pm. This program is part of the We the People initiatve on American History. The participants will be singer Dottie Smith, bassist Jymie Merritt, saxophonist Larry McKenna, drummer Charlie Rice, singer Billy Paul, advocate Thelma Anderson, and arranger/composer Morris "Mo" Bailey. Jazz Host Bob Perkins will lead the discussion
. Seating will be limited to 40 attendees. Jazz Bridge newsletter people will get the first heads up for when the FREE tickets are available. First come, first serve.
Dancer/ choreographer Germaine Ingram, composer/musician Bobby Zankel, and visual artist John Dowell will present the latest version of their ongoing creative collaboration commemorating the nine African Americans enslaved by President George Washington in the President's House, the first American "white house" that stood just steps away from where the Liberty Bell is currently housed. Two shows: 4:30 p.m. and 7:30 p.m. Location: Christ Church Neighborhood House, 20 N. American St., Phila. 19106 (next to Christ Church, 2nd Street above Market, Phila. 19106).Tickets $20 are available online.
Advocate for Arts Funding...PA folks, your state representatives just voted to CUT 70% arts funding out of the state budget. Please contact your local state senator and tell them you want the funding restored. They will be voting on it before the month is out, so CALL. Find your legislator
here.
And now here is why you need to call, a video of our last Cheltenham concert this season, partially funded by the PA Council on the Arts. Miss Justine, Twig Smith, Lee Smith, and Tommy Lawton. ENJOY!