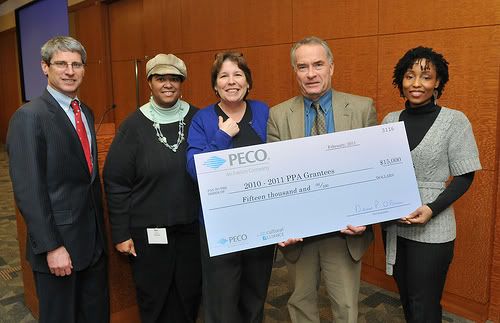 We got our check!
Thanks to PECO, the PA Council on the Arts, and the Greater Philadelphia Cultural Alliance for awarding Jazz Bridge a $2700 grant for our Cheltenham concerts series for the second year in a row. That's Kim Tucker and me with Tom Kaiden (Executive Director of the Cultural Alliance), Jeff Gordon CEO of PECO) and April Williamson (program officer with the Cultural Alliance).
Umar Raheem and Greg "Ju-Ju" Jones waiting to play for first press conference last week. It was COLD!
Mayor
Michael Nutter will be proclaiming April 11th as Philadelphia Jazz Day and there will be a press conference at City Hall in the Mayor's Conference Room at 10:30 am this Monday. Bassist Ron Carter will be there with the UARTS Jazz Ensemble. Let's fill the room folks...I mean, let's really FILL IT to show the city that we have a strong community.
Be There or Be Square!
Jazz Doings
Don't miss Father Ron Parker's long-running jazz vespers at the Christ Church Ithan in Villanova tomorrow evening at 7 pm with saxophonist Neil Wetzel, trombonist Rob Stoneback, pianist Father John D'Amico, bassist Bill Zino and drummer Jim Miller.
Also, don't miss the Lincoln University Fine Arts Festival from April 11-14th featuring the Howard University Concert Band, the Lincoln University Concert and Jazz Ensemble, and many more! For info, call: 484-365-7555 X 7558
And don't forget the Sunday night jams from 6-10 pm at LaRose Jazz Club in Germantown, hosted by Rob Henderson and Kim Tucker!
Jazz Bridge is pleased to announce that singer Sherry Wilson Butler will be performing her heartfelt tribute to Nina Simone at the Mt. Airy Presbyterian Church, 13 E. Mt. Pleasant Ave, in Philadelphia, on Thursday April 14th and with her will be pianist Barry Sames, bassist Steve Beskrone, and drummer Anwar Marshall.
A frequent performer at jazz festivals in Cape May, West Oak Lane, Rehoboth Beach, and the Anguilla West Indies, vocalist Sherry Wilson Butler's deep resonating contralto has excited audiences for over 30 years both as a headliner and as a voiceover artist for Billy Paul, Teddy Pendergrass, Patty LaBelle, and many others. Butler has taught at Perkins Performing Arts Center and been a PennPAT Artist on Tour. Presently, she teaches for Musicopia, the Philadelphia Clef Club, Philadelphia Community Arts Network, and her own SherryVocalise Studio.

Butler is
working on her next CD and is writing a documentary entitled Powder Puffs, Perfume, & Poker Faces, about women in the enterainment industry. Don't miss this one!
***************************
Remember, all Jazz Bridge shows are one show from 7:30-9PM. Tickets: $10/$5 for students. No advance sales. Door prizes and free CD giveaways. Free Refreshments!
Our second annual
Jazz Bridge Down the Shore
is happening!!
Bassist Tim Lekan, artistic director at the Somers Point Jazz Society, is gonna do it again for Jazz Bridge on May 15th at the Sandi Pointe Coastal Bistro from 4-8 pm and this year he's presenting the Ed Vezinho/Jim Ward Big Band (listen to this clip!), the Jim Ridl Trio, the Tony Day Quartet and the Gina Roche Group. Wow. Tickets $25 (including a buffet) will go on sale soon, so save this date!
This is the back of two derelict (and officially condemned) houses that were leaning against and slowly destroying guitarist Charles Ellerbe's home in North Philadelphia - he had called Jazz Bridge about some legal help to straighten out his deed too. Quickly, we got him a free lawyer through Philly VIP, a terrific organization that assists folks with any kind of legal problem. But then we had to get the city to knock down those darn houses - a very tall order considering the city's lack of money. Read the whole story of how we did it (with the help of Councilman Darrell Clarke and his capable aide Mel Smith) at our Adventures in Jazz Advocacy blog!
You have to see this clip . . . pure joy.
Duke Ellington (Paul Gonsalves)-Diminuendo and Crescendo in Blue