BE A PART OF TORRANCE HISTORY!
The Torrance Centennial Committee is excited to announce an exclusive opportunity to be part of the past, present, and future of the City of Torrance by purchasing a Commemorative Centennial Brick. Centennial Bricks will be incorporated into the beautifully designed Centennial Plaza at El Prado Park.
HOMETOWN HEROES MILITARY BANNER
RECOGNITION PROGRAM
The City of Torrance is proud to announce the Hometown Heroes Military Banner Recognition Program. Applications are now being accepted. There is still an opportunity to include your hero in the first 20 banners to be installed. Visit
www.TorranceCA.Gov/7491.htm for more information and application.
What's happening next week in
the City of Torrance?
E-mail questions, comments,
and suggestions to
| | |
| --- | --- |
| VOLUME 2 | ISSUE 13 | APRIL 26 - MAY 2 , 2012 |
HARDBACK BOOK SALE
APRIL 27 & 28, 2012
KATY GEISSERT CIVIC CENTER LIBRARY MEETING ROOM
Friends Members Only pre-sale on April 27 from 2 - 6 pm (memberships sold at the door starting at 1 pm). The Friends of the Torrance Library will offer a great selection of encyclopedias, reference material, children's books and thousands of books on a vast array of topics - all at bargain prices. A variety of records, CDs, cassette tapes, VHS tapes and DVDs will be offered. Learn more by clicking links below.
TORRANCE RELAY FOR LIFE
SATURDAY, APRIL 28, 2012 & SUNDAY, APRIL 29, 2012
8:30 A.M. - 9 A.M.
An overnight team event to raise donations for the fight against cancer held at the South High School practice field.
No matter who you are, there's a place for you at Relay. Each dollar you raise will help save lives. How far will you go to make a difference in the fight against cancer? Read More...
CITY-WIDE BEAUTIFICATION
SEASIDE HOMEOWNERS' ASSOCIATION
APRIL 28, 2012 - 9 A.M. | SEASIDE HEROES PARK CLEAN-UP
During the month of April, join us in a City-wide Clean-up/Beautification to get Torrance ready for it's Birthday Bash! Please wear sun-screen, old clothes & tennis shoes, and bring along gloves (and maybe even a few gardening tools - weed picker, clippers, etc.). Seaside Heroes Park Clean-up. Read more . . .
EVENT HAS A TENTATIVE NEW DATE!
MEET HOMETOWN HERO LOUIS ZAMPERINI
SATURDAY, JUNE 10, 2012 | 4-6 P.M.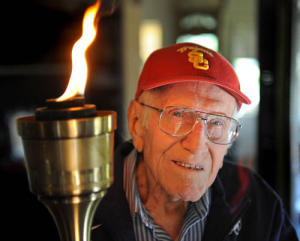 THIS EVENT HAS BEEN RESCHEDULED TO THE TENTATIVE DATE OF JUNE 10, 2012 from 4-6 p.m. Please contact the Torrance Public Library Foundation at 310-651-5230 or TPLF2012@gmail.com for more information.
ARMED FORCES DAY PARADE AND CELEBRATION
MAY 18-20, 2012
Beginning Friday, May 18 through Sunday, May 20, the City of Torrance will pay tribute to the nation's Armed Forces with its 53rdAnnual Armed Forces Day Celebration and Parade - the City's longest standing tradition. Each year, the City honors a different military branch; this year highlights the United States Air Force. Grand Marshal, Secretary of the Air Force Michael B. Donley, will lead the Parade on Saturday, May 19 that will begin at 1:30 p.m. Read more...
PARADE: SATURDAY, MAY 19, 2012
Torrance eNewsletter is a weekly publication of the City of Torrance. The purpose is to highlight activities and events that are happening within our community. A new eNewsletter will be published each Thursday at 3 p.m. You can sign-up by going to
www.TorranceCA.Gov/eNewsletter.htm
.