Dear Florida Climate Center Friends,
We'd like to present you with the October 2012 edition of our newsletter. In this newsletter, you'll find our monthly climate summary, a list of special events that our staff attended, an example of a data request made to the office, and more. If you have any questions, please email us at climate@coaps.fsu.edu.

Thanks,
The Staff of the Florida Climate Center
David Zierden


State Climatologist

James O'Brien


Professor Emeritus

Melissa Griffin


Asst. State Climatologist
September Climate Summary for Florida


The Florida Climate Center's September 2012 Florida Climate Summary is now available. The summary provides an analysis of temperature and precipitation trends across the state, along with data on hazardous weather, drought, the impacts of the weather and any records tied or broken for the month. During September, average temperatures and rainfall totals varied across Florida. El Niņo-Southern Oscillation conditions are still neutral; normal temperatures are expected for the state as a whole through December; and above normal precipitation is expected in the western Panhandle through December. Past summaries are archived here.

September average temperatures and departures from normal (° F) for select cities.
September precipitation totals and departures from normal (inches) for select cities.

A graphical depiction of the monthly rainfall departure from normal (inches) for September (courtesy of NOAA, NWS).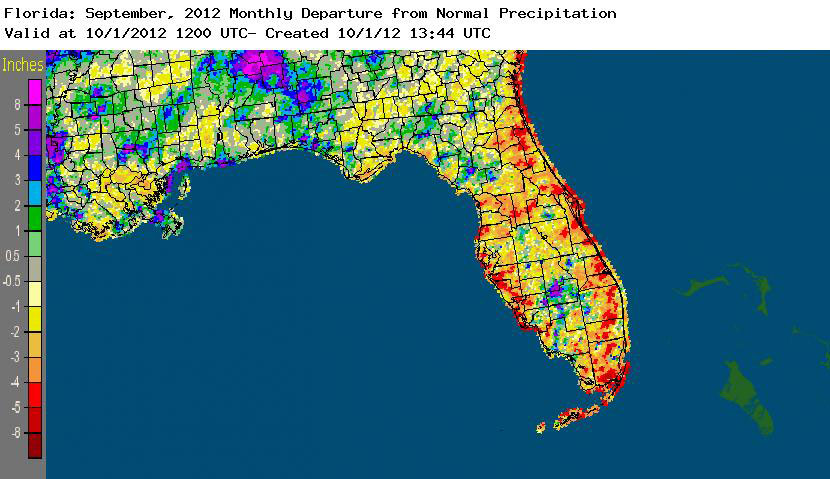 Climate Center Partners with Department of Health
Over the last few weeks, members from the Florida Climate Center have been working with colleagues at the Florida Department of Health on a variety of projects. One project is looking at the historical perspective of extreme temperatures, while another compares the more recent heat and humidity with admittance into area hospitals. The center is also collaborating with the Department of Health on a Centers for Disease Control and Prevention (CDC) grant to examine potential health impacts in Florida focused around climate variability and change.
Asst. State Climatologist Trains Local Students to Be Weather Observers
At the end of September, Assistant State Climatologist Melissa Griffin traveled to a local Tallahassee elementary school to train some of the students on how to be weather observers. The students have joined the Community Collaborative Rain, Hail and Snow (CoCoRaHS) Network and will be taking daily measurements of precipitation from their school every morning. Students listened to a brief discussion about the program, learned about how variable rainfall can be, and took part in a 'rain gauge relay race' in order to learn how to proper read their rain gauge.
In the News
Fall arrives Saturday, Florida style
Daytona Beach News-Journal - Sep. 21, 2012
"... For a while, climate observers thought an El Nino would form over the Pacific Ocean, which would bring cooler and wetter conditions. However, State Climatologist David Zierden said the El Nino is hovering over the threshold between neutral and El Nino. 'There's a good chance this one could just die on the vine,' Zierden said Friday. 'Even if it does come on, it doesn't look like it will be very strong.' ..."
Upcoming Events
Example Data Request
Each month, we highlight here recent examples of some of the many public services provided by the Florida Climate Center:
Lights. Camera. Action!
An independent movie production company looking for climatic information for various locations across South Florida contacted the Florida Climate Center last month. The company was interested in filming during October, but needed to make sure that temperatures would not be uncomfortable for actors in costumes. They were also concerned with the probability of rainfall during the three weeks of filming. The Climate Center was able to provide the company with the 30-year temperature and precipitation normals for the locations of interest, along with information on typical rainfall patterns across South Florida.
About Us
The Florida Climate Center is part of a three-tiered system of national, regional, and state climate offices, including NOAA's National Climatic Data Center and the Southeast Regional Climate Center. The Florida State Climatologist and other staff at the Florida Climate Center provide the following information and services to the people of Florida:
· Climate Data:
Historical weather observations for weather stations throughout the state of Florida. We are able to provide data for most stations from 1948-present.
· Climate Information:
Long-term historical averages for various stations, climate divisions, and the entire state.
· Extreme Event Records:
Information and analyses on extreme events such as freezes, droughts, floods and hurricanes.
· Special Analysis:
With their vast knowledge of El Niņo, La Niņa and climate variability, the State Climatologist and staff can offer expert insight into Florida's climate trends.
· Outreach:
Activities, presentations, and workshops that inform and educate the people of Florida about current and emerging climate issues. We also coordinate volunteers for the Community Collaborative Rain, Hail & Snow Network (CoCoRaHS).