Dear Florida Climate Center Friends,
We'd like to present you with the September 2012 edition of our newsletter. In this newsletter, you'll find our monthly climate summary, a list of special events that our staff attended, an example of a data request made to the office, and more. If you have any questions, please email us at climate@coaps.fsu.edu.

Thanks,
The Staff of the Florida Climate Center
David Zierden


State Climatologist

James O'Brien


Professor Emeritus

Melissa Griffin


Asst. State Climatologist
August Climate Summary for Florida


The Florida Climate Center's August 2012 Florida Climate Summary is now available. The summary provides an analysis of temperature and precipitation trends across the state, along with data on hazardous weather, drought, the impacts of the weather and any records tied or broken for the month. During August, average temperatures and rainfall totals varied across Florida. El Niņo-Southern Oscillation conditions are still neutral; normal temperatures are expected for the state as a whole through November; and above normal precipitation is expected in the western Panhandle through November. Past summaries are archived here.

August average temperatures and departures from normal (° F) for select cities.

August precipitation totals and departures from normal (inches) for select cities.

A graphical depiction of the monthly rainfall departure from normal (inches) for August (courtesy of NOAA, NWS).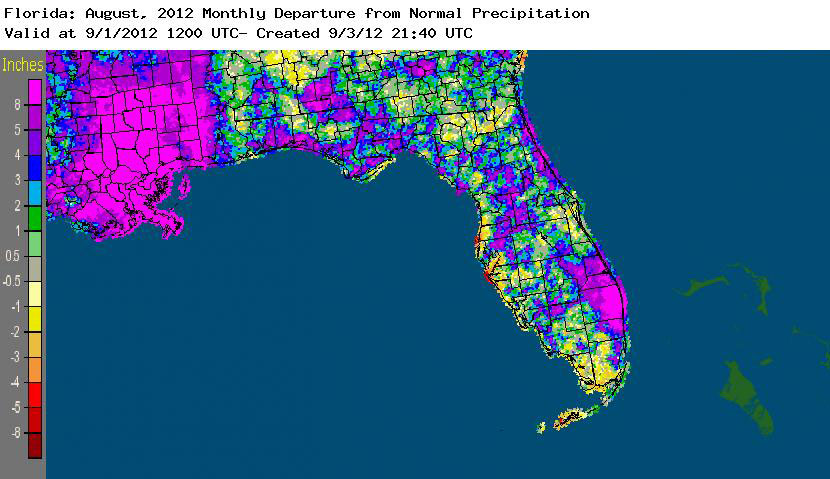 Asst. State Climatologist Presents at 4-H Congress
In early August, assistant state climatologist Melissa Griffin, along with Kathy Fearon from FSU's Center for Ocean-Atmospheric Prediction Studies and Heather Kent from the University of Florida, held an all-day workshop on climate and weather for adult and youth volunteers from the Florida 4-H Program. These volunteers, from four different counties, took part in actively learning activities and experiments on weather and climate that they will take back and teach to youth at their local 4-H offices. The workshop and toolkit were presented as a part of a USDA/NIFA grant to advance weather and climate knowledge by engagement, education and application through extension activities.
Asst. State Climatologist Talks at Local Summer Camp
Assistant state climatologist Melissa Griffin, alongside Heather Holbach from FSU's Center for Ocean-Atmospheric Prediction Studies, took part in an outreach presentation at the Wakulla Christian School towards the beginning of August. The talk focused on a basic introduction to weather and climate, weather instruments and severe weather, along with information on how Tropical Storm Debby had recently impacted the county and surrounding area. Participants from the camp took part in a variety of activities that ranged from answering questions throughout the presentation to playing with interactive experiments.
Climate Change the Topic at Florida Natural Resources Leadership Institute
The Florida Natural Resources Leadership Institute is a program based out of University of Florida Extension that trains natural resource professionals across the state in conflict management. This year's theme is climate change and the first session of this year's class kicked off in Cedar Key on August 9-12. State climatologist David Zierden joined the group on August 12 and spent the morning reviewing the science of climate change and what it means to the state of Florida. Current trends in temperature and rainfall across the state were discussed, along with changes in other hazards such as drought, hurricanes, and sea level rise.
Helping Farmers Use Climate Information
State climatologist David Zierden and various crop and social scientists from the University of Florida had their sixth meeting with row crop farmers from Florida, southern Georgia, and southern Alabama on August 9 in Headland, AL. The morning was dedicated to field trips to nearby farms where innovative techniques like high-residue cover crops and drip irrigation were being used to conserve water and soil moisture and take advantage of anticipated climate variations. The afternoon was spent reviewing crop status and weather patterns so far this growing season and how previous climate forecasts had verified. Mr. Zierden wrapped up the meeting with an assessment of the current state of the Pacific Ocean and a possible switch to El Niņo, and how that might affect climate patterns the remainder of the growing season.
In the News
El Nino could bring drought relief to Southeast
Southeast Farm Press - Aug. 15, 2012
... Farmers could see some relief from prolonged drought conditions if an El Niņo develops later this year, says Florida climatologist David Zierden.
Upcoming Events
Example Data Request
Each month, we highlight here recent examples of some of the many public services provided by the Florida Climate Center:
In addition to having a bustling tourist industry, Florida is home to a variety of agricultural industries that range from growing and harvesting citrus, fruits, and vegetables, to cultivating peanuts, winter forage, and cotton, to our major equine and livestock ranches. Weather and climate impact each one of these businesses.
Early in August, the Florida Climate Center was contacted by a farmer apprentice with the Earth Learning Center, who requested information on historic drought and floods in the Homestead area. The gentleman was planning on building a water harvesting system for a local farm. The Climate Center was able to provide him long-term precipitation information on cumulative rainfall surplus and deficits from the Homestead area. The information will be used to help plan how much water would need to be collected, which months they would potentially be able to collect rain, and which months it would be used the most.
About Us
The Florida Climate Center is part of a three-tiered system of national, regional, and state climate offices, including NOAA's National Climatic Data Center and the Southeast Regional Climate Center. The Florida State Climatologist and other staff at the Florida Climate Center provide the following information and services to the people of Florida:
· Climate Data:
Historical weather observations for weather stations throughout the state of Florida. We are able to provide data for most stations from 1948-present.
· Climate Information:
Long-term historical averages for various stations, climate divisions, and the entire state.
· Extreme Event Records:
Information and analyses on extreme events such as freezes, droughts, floods and hurricanes.
· Special Analysis:
With their vast knowledge of El Niņo, La Niņa and climate variability, the State Climatologist and staff can offer expert insight into Florida's climate trends.
· Outreach:
Activities, presentations, and workshops that inform and educate the people of Florida about current and emerging climate issues. We also coordinate volunteers for the Community Collaborative Rain, Hail & Snow Network (CoCoRaHS).