Dear Florida Climate Center Friends,
We'd like to present you with the August 2012 edition of our newsletter. In this newsletter, you'll find our monthly climate summary, a list of special events that our staff attended, an example of a data request made to the office, and more. If you have any questions, please email us at climate@coaps.fsu.edu.

Thanks,
The Staff of the Florida Climate Center
David Zierden


State Climatologist

James O'Brien


Professor Emeritus

Melissa Griffin


Asst. State Climatologist
July Climate Summary for Florida


The Florida Climate Center's July 2012 Florida Climate Summary is now available. The summary provides an analysis of temperature and precipitation trends across the state, along with data on hazardous weather, drought, the impacts of the weather and any records tied or broken for the month. During July, average temperatures and rainfall totals varied across Florida. El Niņo-Southern Oscillation conditions are still neutral; above normal temperatures are expected for the state as a whole through October; and above normal precipitation is expected in the western Panhandle through October. Past summaries are archived here.

July average temperatures and departures from normal (° F) for select cities.

July precipitation totals and departures from normal (inches) for select cities.

A graphical depiction of the monthly rainfall departure from normal (inches) for July (courtesy of NOAA, NWS).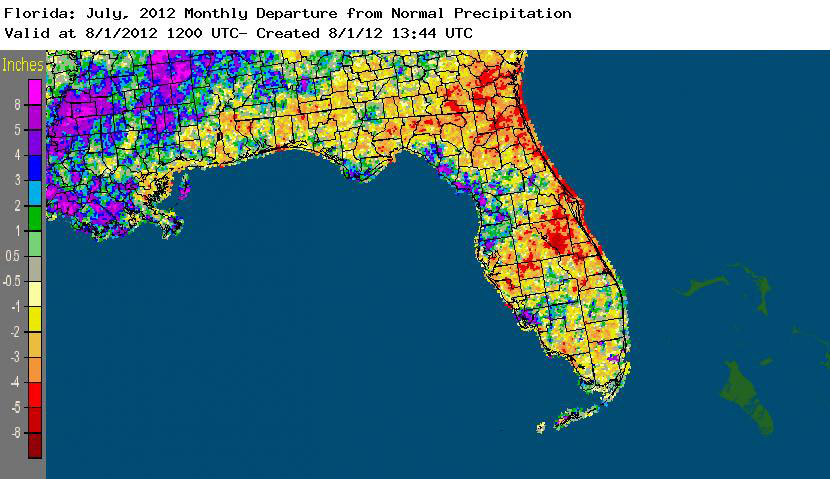 State Climate Office Hosts Annual Meeting of Association of American State Climatologists
The Florida Climate Center was pleased to host for the 37th Annual Meeting of the Association of American State Climatologists (AASC) at the Sandestin Golf and Beach Resort in Miramar Beach, FL, July 9- 12. About 35 state climate offices had representatives attend the conference, along with members of NOAA, NRCS, NWS, and USDA, for a total of over 100 attendees. Set against the beautiful backdrop of the Northwest Florida Coast, the 3-day meeting focused on discussions around current climate impacts, the statuses of state climate offices, climatic research and partnerships with state and federal agencies. The group also heard a presentation from Major Chad Cunningham, Chief of Operations and Training of the Weather Division with the Air Force Special Operations Command.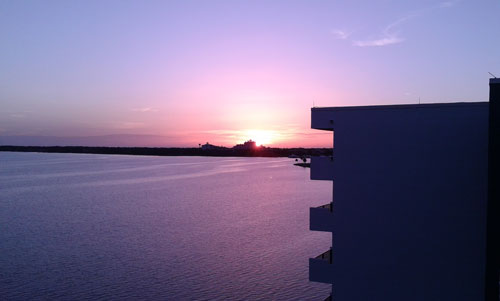 Climate Change Education for Middle School Teachers
In a joint project with the University of South Florida, researchers at the FSU Center for Ocean-Atmospheric Prediction Studies held a week-long professional development workshop for middle school teachers at Daytona Beach on July 16th through 19th. The project is sponsored by NASA and has been ongoing since 2010. The goal of the workshop is to instruct teachers on the scientific method, critical thinking, and the use of NASA and other climate data sources in teaching climate sciences to their students. State Climatologist David Zierden addressed the workshop on July 19th, giving a state of Florida perspective on causes of climate change and historical trends.
State Climatologist Talks to Southern Peanut Growers
State Climatologist David Zierden was an invited speaker at the Southern Peanut Growers annual meeting on August 20 at Panama City Beach. Mr. Zierden participated in a session titled "Uncontrolled Costs" and presented on the El Nino/La Nina cycle, the implications for climate and agriculture in the Southeast, and how this information can be used in peanut production. Other experts in the session spoke on energy and agriculture, water resources, and fertilizer use. The State Climatologist ended his presentation with an outlook of expected climate conditions in the next one to six months.
Upcoming Events
August 1-2, 2012:
Annual 4-H Congress in Gainesville, FL
August 9, 2012:
Row Crop Working Group Meeting in Headland, AL
September 20-21, 2012:
NIFA Project Meeting in Tifton, GA
October 22-25, 2012:
Climate Diagnostics Meeting in Fort Collins, CO
November 12, 2012:
Climate Adaptation Fair in Tifton, GA
November 13-15, 2012:
SECC Fall Review Meeting in Tifton, GA
Example Data Request
Each month, we highlight here recent examples of some of the many public services provided by the Florida Climate Center:
Florida summertime thunderstorms have the ability to produce strong winds, hail, heavy rain and lots of lightning. For example, on July 16, the National Weather Service Office in Tallahassee recorded over 5,300 cloud-to-ground strikes in a 4-hour period! During July, numerous requests for lightning-related information and data were made to our office. Some needed information to report lightning-related claims for insurance purposes, while others wanted to know why the storms seemed to produce more lightning than in previous summers.
The National Lightning Detection Network (NLDN) is the sole source for lightning information across the U.S. and is run by the Vaisala Company. The Climate Center was able to provide some basic information about lightning and thunderstorms to those requesting the data and then passed them along to NLDN for more detailed information.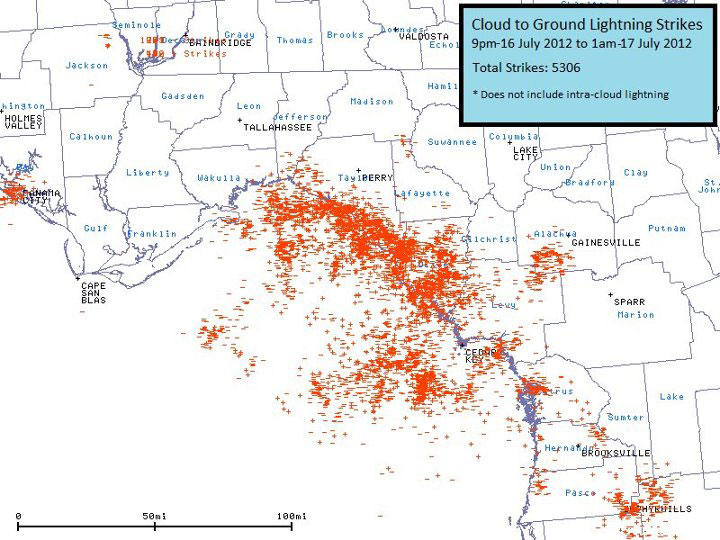 About Us
The Florida Climate Center is part of a three-tiered system of national, regional, and state climate offices, including NOAA's National Climatic Data Center and the Southeast Regional Climate Center. The Florida State Climatologist and other staff at the Florida Climate Center provide the following information and services to the people of Florida:
· Climate Data:
Historical weather observations for weather stations throughout the state of Florida. We are able to provide data for most stations from 1948-present.
· Climate Information:
Long-term historical averages for various stations, climate divisions, and the entire state.
· Extreme Event Records:
Information and analyses on extreme events such as freezes, droughts, floods and hurricanes.
· Special Analysis:
With their vast knowledge of El Niņo, La Niņa and climate variability, the State Climatologist and staff can offer expert insight into Florida's climate trends.
· Outreach:
Activities, presentations, and workshops that inform and educate the people of Florida about current and emerging climate issues. We also coordinate volunteers for the Community Collaborative Rain, Hail & Snow Network (CoCoRaHS).