Quick Facts
1,185 Registered FL Observers
483 Active FL Observers

11,516 FL Reports Submitted during 5/12
Greatest # of Daily Reports Submitted during May: 401 on 5/17/12
Most Rainfall Reported during May: 6.59" on 5/29/12 from Station FL-HN-17
CoCoRaHS Up for National Award
We all know how amazing CoCoRaHS is... and hopefully soon the rest of the U.S. will know too! CoCoRaHS, under the leadership of Colorado State University, is the western regional recipient of the Association of Public Land-grant Universities' (APLU) 2012 Outreach Scholarship W.K. Kellogg Foundation Engagement Award. The APLU gives out awards for five different categories (Northeast, South, North Central, West and the 1890 university community), and CoCoRaHS will now compete with the other category winners for the national C. Peter Magrath University Community Engagement Award, which will be announced in November.
This award could not have been possible without the support of all of our observers and coordinators. We may sound like a broken record when we say it... but you all are the heart and soul of this program, and its success is because of you.
2012 Hurricane Season
June 1st marks the beginning of the 2012 Hurricane Season, which runs until November 30th. Already this year, two storms have been named before the traditional June 1st start date. Tropical Storm Alberto formed off the South Carolina coast and drifted offshore from Georgia before it dissipated. Tropical Storm Beryl formed in the same region as Alberto and drifted southwest before moving east and making landfall near Jacksonville Beach on the morning of May 28th. The storm provided much-needed rain to drought-stricken parts of Florida. However, both storms were reminders that tropical systems can form outside the typical 6-month season. Forecasters are predicting a near-normal hurricane season, which roughly means about 13 named storms and 7 hurricanes. These forecasts don't predict how many will make landfall, so make sure you are prepared.
Tropical Storm Beryl
Speaking of the current Hurricane Season, Tropical Storm Beryl brought some much-needed rain to the state, though not enough to completely ease our drought. The highest CoCoRaHS total from May 24-30 was 9.76" from FL-HN-17; though most of the heaviest rain during the 7-day period was reported from our observers in Alachua, Clay, Citrus and Duval counties. When compared to the radar-estimated data, you can see that there is a lack of CoCoRaHS observations where the rainfall maximum was centered over Lafayette and southern Suwannee counties.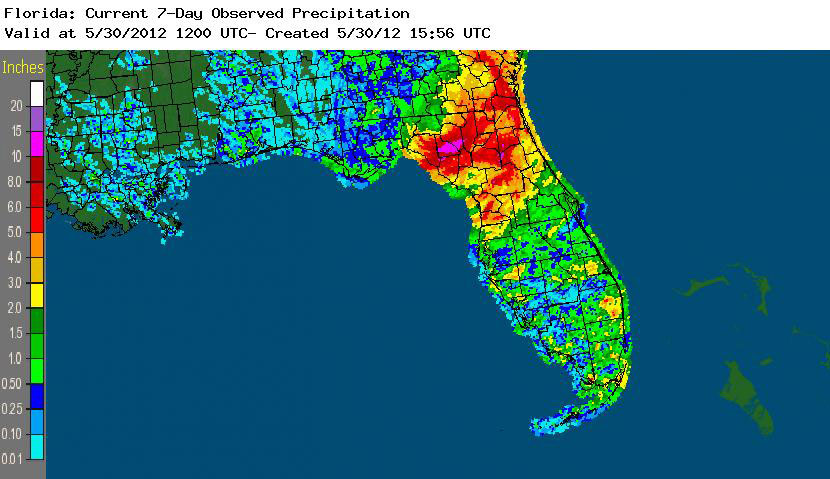 A graphical depiction of radar-estimated rainfall amounts from May 24 to 30, during the time that Tropical Storm Beryl passed through the state (courtesy of NOAA, NWS).
May Rains
Rainfall totals varied statewide in May (Table 1). Most stations saw slightly below normal rainfall, while Key West, Miami and Jacksonville saw above normal rainfall totals for the month. May 2012 was the 7th wettest on record at Miami and the 5th wettest May at Jacksonville. On the 22nd, Miami reported a record rain event of 9.70" in a 24-hour period, 4.40" of which fell in one hour (Table 2). Areal patterns of monthly rainfall relative to normal are depicted in Figure 1.



Table 1: May precipitation totals and departures from normal (inches) for select cities.

Table 2: Select daily rainfall records (inches) broken during May (compiled from NOAA, NWS).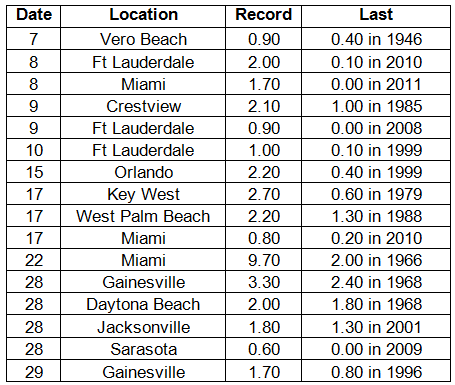 Figure 1: A graphical depiction of the monthly rainfall departure from normal (inches) for May (courtesy of NOAA, NWS)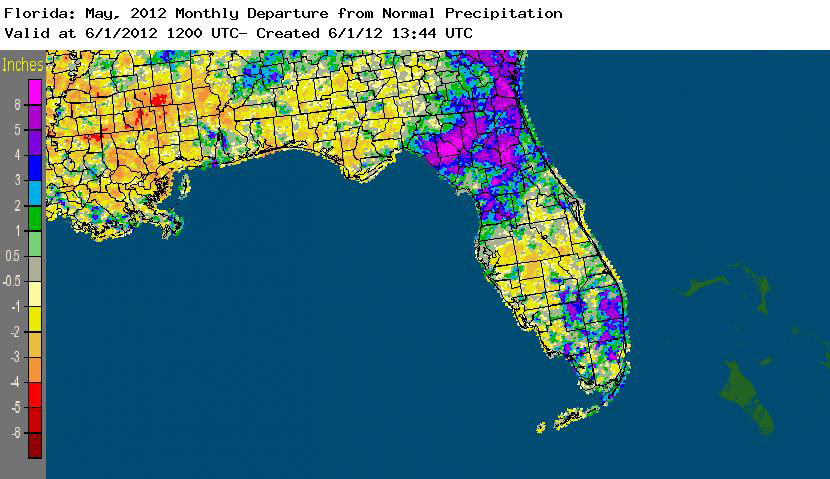 Current State of the Drought
Drought conditions worsened during the month of May, until the end of the month when Tropical Storm Beryl impacted the state. Prior to Beryl's landfall, the area between Jacksonville and Perry was still listed as in exceptional drought. Portions of the Panhandle went from moderate to severe, while parts of central Florida were newly designated as being in extreme drought. There were areas of improvement during the month, prior to Beryl. Heavy rains in south and southeastern Florida eased drought conditions, with at least 1 to 2 categories of improvement in the drought. After Beryl's landfall near Jacksonville at the end of the month, improvements were seen in the northeast and north central parts of the state, where the exceptional drought designation was dropped to extreme. The area received anywhere from 2.00" to 6.00" from the storm. Some portions of Lafayette and Suwannee counties saw over 10.00" of rain from Beryl. While there was improvement in the drought situation in some parts of the state, other areas of the state continued to deal with moderate to extreme drought conditions.
The National Drought Monitor is updated weekly, so you can always check the most recent conditions here: http://www.drought.unl.edu/dm/DM_state.htm?FL,SE.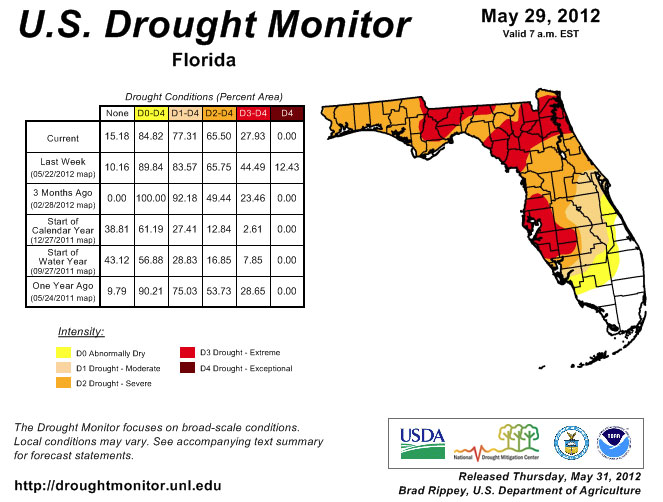 Odds and Ends
Work has been completed on a new Florida Climate Center website at http://climatecenter.fsu.edu. We will be adding new tools to the website over the next few months. Recently, a new tool was added that investigates the occurrences of a 'big rain' event at a variety of stations across the southeast. Take some time to play around with the tools that are available through the Florida Climate Center.
You can now 'Like' Florida CoCoRaHS on Facebook! By joining our Facebook page, the latest Florida CoCoRaHS news items will automatically show up in your "news feed" when you first login to Facebook. To join, click the "Find us on Facebook" link in the menu bar of this email, then click the "like" button on our Facebook page.
Thank you for your continued support and enthusiasm! If at any time you have questions about CoCoRaHS, reading your rain gauge, or finding a location to setup your rain gauge, please feel to contact a
Florida CoCoRaHS Coordinator
. We are lucky enough to have regional support from National Weather Service offices across the state, as well as county/local help from several CoCoRaHS volunteers.

Melissa Griffin
Florida CoCoRaHS State Coordinator
Assistant State Climatologist
Florida Climate Center/Center for Ocean-Atmospheric Prediction Studies
Florida State University
232 R.M. Johnson Building
Tallahassee, FL 32306-2840
(850) 644-0719