Dear Florida Climate Center Friends,
We'd like to present you with the June 2012 edition of our newsletter. In this newsletter, you'll find our monthly climate summary, a list of special events that our staff attended, an example of a data request made to the office, and more. If you have any questions, please email us at climate@coaps.fsu.edu.

Thanks,
The Staff of the Florida Climate Center
David Zierden


State Climatologist

James O'Brien


Professor Emeritus

Melissa Griffin


Asst. State Climatologist
May Climate Summary for Florida


The Florida Climate Center's May 2012 Florida Climate Summary is now available. The summary provides an analysis of temperature and precipitation trends across the state, along with data on hazardous weather, drought, the impacts of the weather and any records tied or broken for the month. During May, average temperatures and rainfall totals varied across Florida. El Niņo-Southern Oscillation conditions are now neutral, and warmer than normal temperatures and normal precipitation are expected through August. Past summaries are archived here.

May average temperatures and departures from normal (° F) for select cities.

May precipitation totals and departures from normal (inches) for select cities.

A graphical depiction of the monthly rainfall departure from normal (inches) for May (courtesy of NOAA, NWS).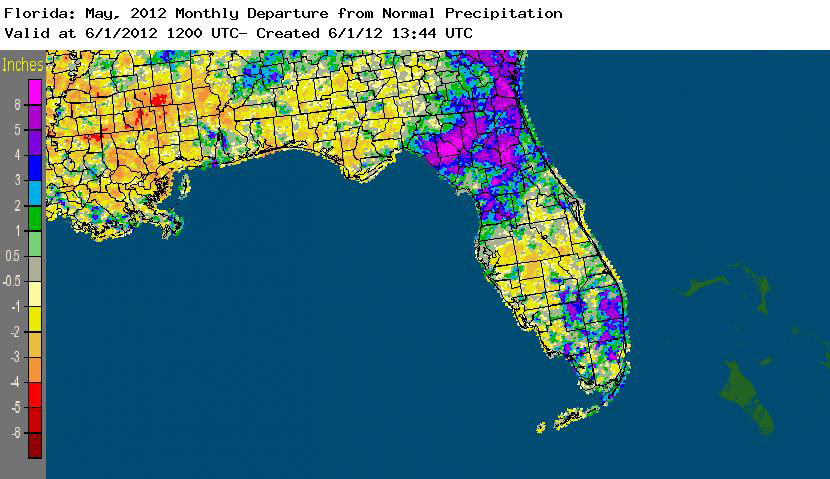 2012 Atlantic Hurricane Season
June 1 marks the beginning of the 2012 Atlantic hurricane season, which runs until November 30. Already this year, two storms have been named before the traditional June 1st start date. Tropical Storm Alberto formed off the South Carolina coast and drifted offshore from Georgia before it dissipated. Tropical Storm Beryl formed in the same region as Alberto and drifted southwest before moving east and making landfall near Jacksonville Beach on the morning of May 28. The storm provided much-needed rain to drought-stricken parts of Florida. However, both storms were reminders that tropical systems can form outside of the typical 6-month season.
On May 30, researchers at Florida State's Center for Ocean-Atmospheric Prediction Studies (COAPS) released their fourth annual Atlantic hurricane season forecast, which predicts 13 named storms and 7 hurricanes. For more information on their forecast, as well as the forecasts of other major organizations, please click on the following link: http://coaps.fsu.edu/hurricanes/.
Southeast U.S. Summer Outlook
After being under the influence of La Niņa conditions for the past two years, the transition to neutral conditions of El Niņo-Southern Oscillation (ENSO) has taken place. To see what this transition means for our ongoing drought, the upcoming hurricane season, and the state's wildfire threat, please click the following link: http://www.agroclimate.org/forecasts/current_climate_outlook.php.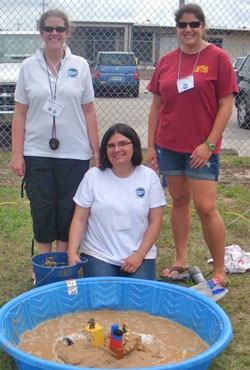 WeatherFest 2012
Assistant state climatologist Melissa Griffin appeared at the Tallahassee National Weather Service's WeatherFest, held May 3 at the Tallahassee Regional Airport. This year's event focused on hurricane preparedness and brought together a variety of organizations to showcase the operations, procedures, and emergency responses that take place during hurricane season. Dr. Lydia Stefanova, Ms. Heather Holbach, and Ms. Meredith Field from the Center for Ocean-Atmospheric Prediction Studies (COAPS) at Florida State University joined Ms. Griffin at WeatherFest. COAPS activities included a cloud in a bottle, a visual demonstration of storm surge and coastal erosion, and a rain gauge relay race. An estimated 1,250 people attended the event, including over 1,000 school children from local Florida and Georgia school districts.
Talking with Alabama Farmers
State climatologist David Zierden, along with other members of the Southeast Climate Consortium, met with a group of minority farmers on May 24 in Epes, Alabama. The group is the Southern Federation of Southern Cooperatives, a partnership of farming groups that help promote opportunities for minority farmers. The workshop was titled "Helping Black Farmers Manage Future Drought" and aimed at making climate information and predictions more useful for small farmers. Southeast Climate Consortium researchers learned about the climate-based challenges of growing such commodities as goats, vegetables, corn, and cattle. Mr. Zierden presented on long-term climate trends in western Alabama and year-to-year variability as controlled by the El Niņo/La Niņa cycle.
Managing and Utilizing Precipitation Observations from Volunteer Networks
In late May, assistant state climatologist Melissa Griffin attended the annual planning meeting of the WERA 1012 group, which is tasked with managing and utilizing precipitation observations from volunteer networks. WERA 1012's primary focuses are to promote, improve, educate and conduct research within the collaborative group from land grant universities across the U.S. Ms. Griffin currently serves as the state coordinator for the Florida Community Collaborative Rain, Hail & Snow Network (CoCoRaHS) and the chair of the Training and Education sub-committee, and will spend the next year working on a variety of projects as part of this corporative effort.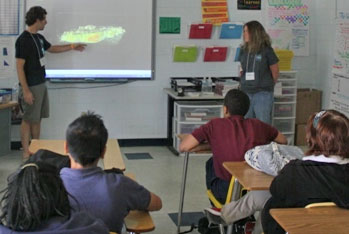 STARS Middle School Career Day
On May 23, assistant state climatologist Melissa Griffin attended Career Day at STARS Middle School in Tallahassee, FL. Mr. Austin Todd, an oceanography PhD student at COAPS, joined Ms. Griffin in giving a presentation on the different jobs that are available in atmospheric and oceanographic sciences. They highlighted some of the current and ongoing research done at the center and talked about their experiences in their respective fields.
Upcoming Events
Tue, 06/12/2012
Tallahassee, FL
Sea Level Rise Summit: The Future of Florida and the Coast
Thu, 06/21/2012 - Fri, 06/22/2012
Boca Raton, FL
Mon, 07/09/2012 - Thu, 07/12/2012
Miramar Beach, FL
ASK Florida Climate Education Teacher Workshop
Mon, 07/16/2012 - Thu, 07/19/2012
Daytona Beach, FL
Example Data Request
Each month, we highlight here recent examples of some of the many public services provided by the Florida Climate Center:
This month, the Florida Climate Center was contacted by a construction company interested in developing a weather planner based on certain precipitation thresholds to help identify months that would be more conducive for completing work. The company was interested in the number of days per month with rainfall values greater than 0.01", 0.10", 0.50" and 1.00". The office was able to point them to our new data visualization and download tools as well as a recent study done by Dr. James J' O'Brien on the frequency of big rain events at stations across Florida.
About Us
The Florida Climate Center is part of a three-tiered system of national, regional, and state climate offices, including NOAA's National Climatic Data Center and the Southeast Regional Climate Center. The Florida State Climatologist and other staff at the Florida Climate Center provide the following information and services to the people of Florida:
· Climate Data:
Historical weather observations for weather stations throughout the state of Florida. We are able to provide data for most stations from 1948-present.
· Climate Information:
Long-term historical averages for various stations, climate divisions, and the entire state.
· Extreme Event Records:
Information and analyses on extreme events such as freezes, droughts, floods and hurricanes.
· Special Analysis:
With their vast knowledge of El Niņo, La Niņa and climate variability, the State Climatologist and staff can offer expert insight into Florida's climate trends.
· Outreach:
Activities, presentations, and workshops that inform and educate the people of Florida about current and emerging climate issues. We also coordinate volunteers for the Community Collaborative Rain, Hail & Snow Network (CoCoRaHS).