Dear Florida Climate Center Friends,
We'd like to present you with the May 2012 edition of our newsletter. In this newsletter, you'll find our monthly climate summary, a list of special events that our staff attended, an example of a data request made to the office, and more. If you have any questions, please email us at

[email protected]

.

Thanks,
The Staff of the Florida Climate Center
David Zierden


State Climatologist

James O'Brien


Professor Emeritus

Melissa Griffin


Asst. State Climatologist
April Climate Summary for Florida


The Florida Climate Center's April 2012 Florida Climate Summary is now available. The summary provides an analysis of temperature and precipitation trends across the state, along with data on hazardous weather, drought, the impacts of the weather and any records tied or broken for the month. During April, average temperatures were near or slightly above normal while rainfall totals varied across Florida. La Niņa is continuing to transition to neutral conditions, and warmer than normal temperatures and normal precipitation are expected through July. Past summaries are archived here.

April average temperatures and departures from normal (° F) for select cities.

April precipitation totals and departures from normal (inches) for select cities.

A graphical depiction of the monthly rainfall departure from normal (inches) for April (courtesy of NOAA, NWS).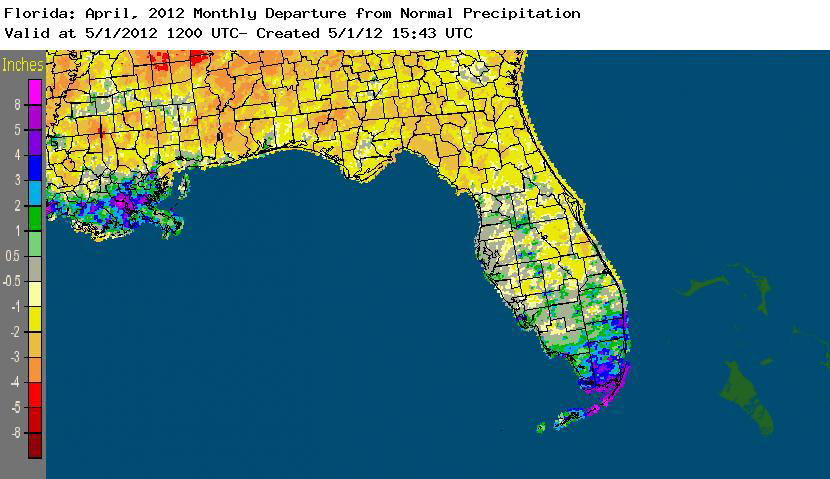 Congratulations to Our Undergraduate Researchers


For the past two years, the climate center has had the privilege of working with two undergraduates from the meteorology program at Florida State University. Mr. Daniel Gilford and Ms. Rochelle Worsnop have been an important part of our day-to-day operations and have completed vital research during their tenure at the center. Mr. Gilford is the recipient of an American Meteorological Society (AMS) Graduate Fellowship and will be attending MIT in the fall. Ms. Worsnop won a National Science Foundation (NSF) Graduate Fellowship and will be heading to University of Colorado-Boulder. We wish them the best as they continue forward with their careers.
New Heat Advisory Criteria
After the extremely warm summer of 2011, the Florida Climate Center was contacted by the National Weather Service (NWS) in Tallahassee to help develop a more meaningful Heat Advisory Criteria for the state. The first case study was done in Orange County in the fall of 2011 using data from the Florida Department of Health. The goal was to come up with criteria more directly relevant to heat-related concerns. Since the case study, the study has been expanded to the entire state. The seven NWS Offices that serve the state now have a more uniform heat advisory/warning structure for the state that will be implemented for the summer of 2012.
Southeast Climate Consortium Spring Meeting
State Climatologist David Zierden and Assistant State Climatologist Melissa Griffin attended the spring meeting of the Southeast Climate Consortium (SECC) in Auburn, Alabama, at the beginning of April. Mr. Zierden presented information on the climate center's involvement with a National Integrated Drought Information System (NIDIS) pilot project that is currently underway for the Apalachicola-Chattahoochee-Flint (ACF) River Basin. Dr. James J. O'Brien, Emeritus State Climatologist, talked about a recent study he's finished looking into how El Nino Southern Oscillation (ENSO) impacts large rain events in the Southeast U.S.
Outreach at Killearn Lakes Elementary
In late April, Assistant State Climatologist Melissa Griffin, gave a presentation to local 5th graders at Killearn Lakes Elementary School in Tallahassee. Ms. Griffin reviewed some of the basic weather material that had been covered for the 5th grade FCAT and discussed some of the severe weather phenomena, such as hurricanes, tornadoes, and thunderstorms, that affect the state. Students took part in the presentation by answering and asking questions, while Ms. Griffin preformed a couple of experiments and used some interactive applets to illustrate various weather-related phenomena.
Upcoming Events
Thu, 05/03/2012
9:00am - 5:00pm
Tallahassee Regional Airport
Tue, 05/15/2012 - Sat, 05/19/2012
Mon, 07/09/2012 - Thu, 07/12/2012
Miramar Beach, FL
Example Data Request
Each month, we highlight here recent examples of some of the many public services provided by the Florida Climate Center:
Hurricane Season starts on June 1st, and, with its start, the Florida Climate Center has received a few emails asking about hurricane impacts across the state.
A middle school student contacted the office to find out what was the most powerful hurricane to ever hit the state. The center was able to provide news articles and publications to the student about the Labor Day 1935 hurricane, which is the strongest hurricane on record to make landfall in Florida. The student was amazed to find out there was a personal account by J. E. Duane, a cooperative observer on Long Key for what was then known as the U.S. Weather Bureau (today's National Weather Service).
A potential homebuyer interested in purchasing beachfront property on Amelia Island, FL, also contact us to ask how many hurricanes had made a direct landfall in the area, and how many storms had impacted the area from a distance. The center was able to direct the citizen to an interactive website produced by NOAA's Coastal Service Center, which allows users to map hurricane, tropical storm, and tropical depression tracks since 1851. The website (http://www.csc.noaa.gov/hurricanes/) prompts users to enter locations, set a search area surrounding that location, pick a category, time frame, and much more.
About Us
The Florida Climate Center is part of a three-tiered system of national, regional, and state climate offices, including NOAA's National Climatic Data Center and the Southeast Regional Climate Center. The Florida State Climatologist and other staff at the Florida Climate Center provide the following information and services to the people of Florida:
· Climate Data:
Historical weather observations for weather stations throughout the state of Florida. We are able to provide data for most stations from 1948-present.
· Climate Information:
Long-term historical averages for various stations, climate divisions, and the entire state.
· Extreme Event Records:
Information and analyses on extreme events such as freezes, droughts, floods and hurricanes.
· Special Analysis:
With their vast knowledge of El Niņo, La Niņa and climate variability, the State Climatologist and staff can offer expert insight into Florida's climate trends.
· Outreach:
Activities, presentations, and workshops that inform and educate the people of Florida about current and emerging climate issues. We also coordinate volunteers for the Community Collaborative Rain, Hail & Snow Network (CoCoRaHS).