Dear Florida Climate Center Friends,
We'd like to present you with the April 2012 edition of our newsletter. In this newsletter, you'll find our monthly climate summary, a list of special events that our staff attended, an example of a data request made to the office, and more. If you have any questions, please email us at climate@coaps.fsu.edu.

Thanks,
The Staff of the Florida Climate Center
David Zierden


State Climatologist

James O'Brien


Professor Emeritus

Melissa Griffin


Asst. State Climatologist
March Climate Summary for Florida


The Florida Climate Center's March 2012 Florida Climate Summary is now available. The summary provides an analysis of temperature and precipitation trends across the state, along with data on hazardous weather, drought, the impacts of the weather and any records tied or broken for the month. During March, average average temperatures were well above normal while rainfall totals varied statewide. Past summaries are archived here.

March average temperatures and departures from normal (° F) for select cities.

March precipitation totals and departures from normal (inches) for select cities.

A graphical depiction of the monthly rainfall departure from normal (inches) for March (courtesy of NOAA, NWS).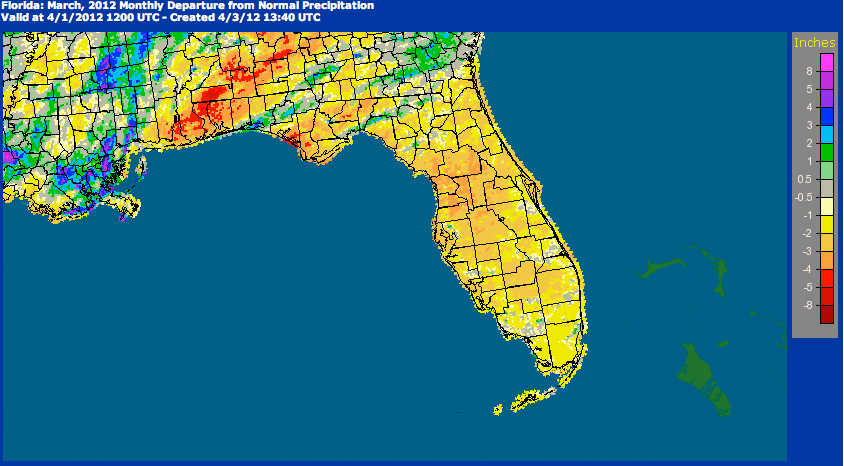 Climate Education Panel
Assistant state climatologist Melissa Griffin took part in a two-day event with members for the Center for Ocean-Atmospheric Prediction Studies (COAPS) and the University of South Florida as they conducted an assessment of education materials that had been presented to Hillsborough County middle school science teachers as part of a NASA Innovations in Climate Education (NICE) grant titled ASK Florida. Local county teachers demonstrated classroom activities they had created to present climate education and were able to ask the experts questions about climate and its impacts on Florida.
Southeast Regional Climate Center Technical Advisory Committee Meeting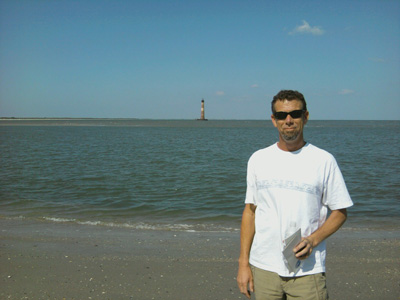 State climatologist David Zierden with the Morris Island lighthouse in the background.
At the end of March, the state climatologist and assistant state climatologist attended the Southeast Regional Climate Center Technical Advisory Committee Meeting in Folly Beach, SC. During the three-day event, members of the regional climate center and representatives from climate offices in the region talked about climate and its impacts on coastal communities and ecosystems. Attendees also took a walking tour to see the Morris Island Lighthouse (which is now completely surrounded by water) and were able to witness some of the heavy coastal erosion at Folly Beach County Park caused by Hurricane Irene.
Upcoming Events
Mon, 04/09/2012, 12:00pm - Wed, 04/11/2012, 12:00pm
Auburn, AL
Sat, 04/21/2012
10:00am - 4:00pm
Jacksonville Landing
Thu, 05/03/2012
9:00am - 5:00pm
Tallahassee Regional Airport
Mon, 07/09/2012 - Thu, 07/12/2012
Miramar Beach, FL
Example Data Request
Each month, we highlight here recent examples of some of the many public services provided by the Florida Climate Center:
Almost every spring, there's a time when we look at our cars and try to remember what color they are under the layer of yellow pollen. Allergies are a hindrance for many people, whether they are locals or visitors to Florida.
A recent request to our office was from a private citizen who comes to Florida each February to spend time with family who live in north-central Florida. She was wondering about wind information during that time of year, as her sister suffers from severe allergies, and she likes to go to the beach. The Climate Center gave her information about prevailing wind directions for some of the beaches in the area as well as how cold fronts impact wind directions as they pass through the state.
About Us
The Florida Climate Center is part of a three-tiered system of national, regional, and state climate offices, including NOAA's National Climatic Data Center and the Southeast Regional Climate Center. The Florida State Climatologist and other staff at the Florida Climate Center provide the following information and services to the people of Florida:
· Climate Data:
Historical weather observations for weather stations throughout the state of Florida. We are able to provide data for most stations from 1948-present.
· Climate Information:
Long-term historical averages for various stations, climate divisions, and the entire state.
· Extreme Event Records:
Information and analyses on extreme events such as freezes, droughts, floods and hurricanes.
· Special Analysis:
With their vast knowledge of El Niņo, La Niņa and climate variability, the State Climatologist and staff can offer expert insight into Florida's climate trends.
· Outreach:
Activities, presentations, and workshops that inform and educate the people of Florida about current and emerging climate issues. We also coordinate volunteers for the Community Collaborative Rain, Hail & Snow Network (CoCoRaHS).