Dear Florida Climate Center Friends,
We'd like to present you with the March 2012 edition of our newsletter. In this newsletter, you'll find our monthly climate summary, a list of special events that our staff attended, an example of a data request made to the office, and more. If you have any questions, please email us at climate@coaps.fsu.edu.

Thanks,
The Staff of the Florida Climate Center
David Zierden


State Climatologist

James O'Brien


Professor Emeritus

Melissa Griffin


Asst. State Climatologist

Preston Leftwich


Research Assistant
Daylight Saving Time Begins March 11
Just a friendly reminder to everyone that Daylight Saving Time begins at 2:00am on Sunday, March 11. Make sure before you go to bed the night of the 10th that you turn your clock ahead by one hour to reflect the change.
February Climate Summary for Florida


The Florida Climate Center's February 2012 Florida Climate Summary is now available. The summary provides an analysis of temperature and precipitation trends across the state, along with data on hazardous weather, drought, the impacts of the weather and any records tied or broken for the month. During January, average temperatures were well above normal while rainfall totals varied statewide. Past summaries are archived here.

Febrary average temperatures and departures from normal (° F) for select cities.

February precipitation totals and departures from normal (inches) for select cities.

A graphical depiction of the monthly rainfall departure from normal (inches) for February (courtesy of NOAA, NWS).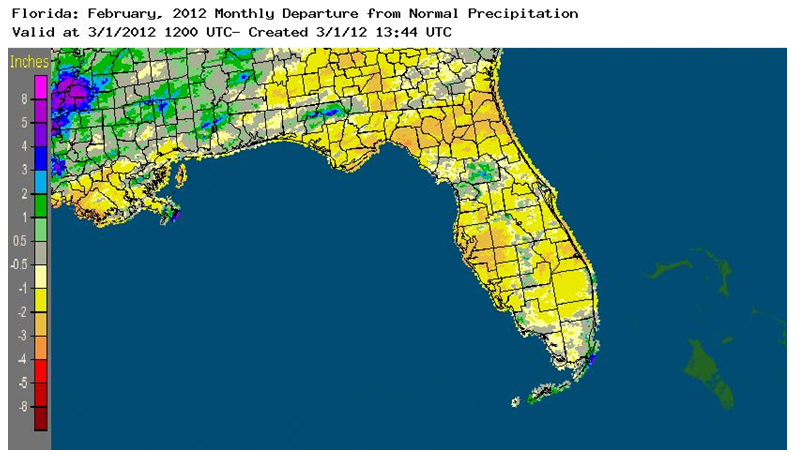 A Special Visit from FSU Administrators
The Florida Climate Center hosted several FSU administrators on February 1, including president Eric Barron. Dr. Barron is an FSU alum as well as a noted climate scientist and former director of the National Center for Atmospheric Research (NCAR). As a proponent of a National Climate Service, President Barron is keenly interested in the wide range of climate services provided by the Florida Climate Center and the Center for Ocean-Atmospheric Prediction Studies (COAPS). Dr. Barron, as well as Dr. Garnett Stokes (provost and executive president for Academic Cffairs), Dr. Sam Huckaba (interim dean of the College of Arts and Sciences), and Dr. Lynn Dudley (chair of the Department of Earth, Ocean and Atmospheric Science) were given a general overview of the Climate Center and services by state climatologist David Zierden, a briefing on outreach and education efforts by assistant state climatologist Melissa Griffin, and a presentation on climate modeling activities at COAPS by Dr. Vasu Misra.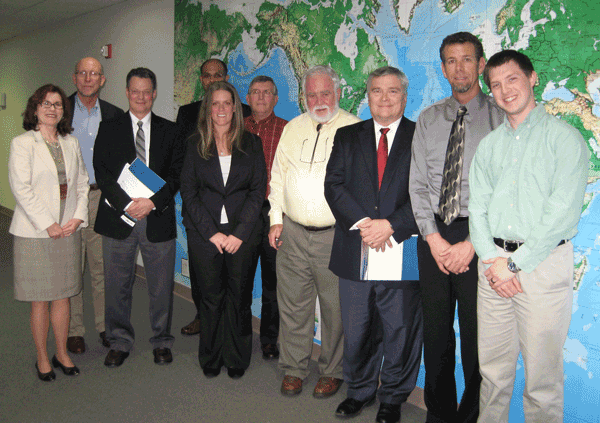 From left: Garnett Stokes, Lynn Dudley, Sam Huckaba, Vasu Misra, Melissa Griffin, Preston Leftwich, James O'Brien, Eric Barron, David Zierden, and Daniel Gilford.
It's FSU Day at the Capitol!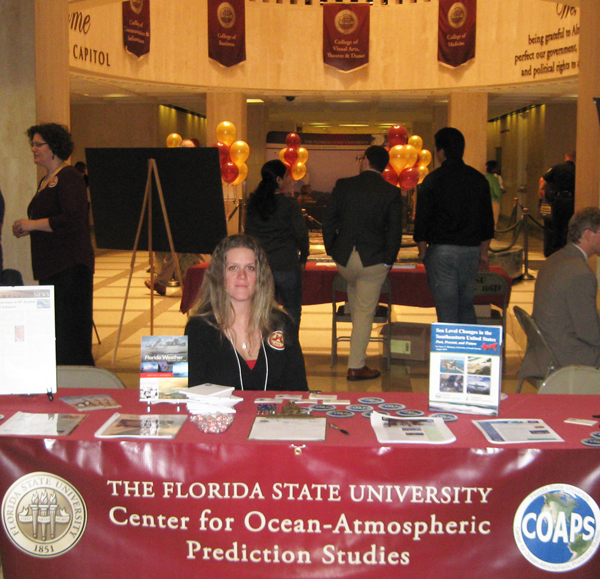 Assistant state climatologist Melissa Griffin represented the Florida Climate Center at FSU Day at the Capitol on February 7. A variety of colleges and departments from FSU setup displays in the lobby and the first 3 floors of the Florida Capitol Building. Ms. Griffin talked with visitors and members of the legislature about the climate of Florida. She also highlighted the variety of climatic and oceanographic research that is being done at COAPS, including the potential for wind energy and modeling ocean currents in the Gulf of Mexico.
To listen audio coverage of the event, including an interview with Ms. Griffin, click here.
Climate Center "Fronts" the Mag Lab Open House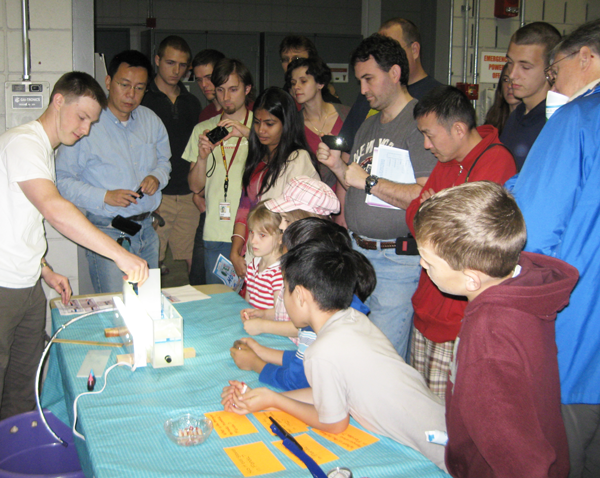 Daniel Gilford simulates a warm front.
Assistant state climatologist Melissa Griffin wowed visitors with demonstrations of cold fronts, warm fronts, and more at the annual National High Magnetic Field Laboratory Open House in Tallahassee on February 18. Over 5,000 people attended the event at this world-class research lab located just across the street from the Climate Center. Ms. Griffin, along with Meredith Field and Daniel Gilford from COAPS, showed visitors how density differences affect the weather, talked about the CoCoRaHS program, discussed severe storms and storm surge modeling, and quizzed attendees about Florida's climate.
Climate Change and the Law
State climatologist David Zierden attended the Public Interest Environment Conference on February 24, which was hosted by the University of Florida Levin College of Law. Mr. Zierden served as a panelist in the "Changing Climate" session, where he presented information on climate change and its impacts on the state of Florida. The discussion centered on how a changing climate could affect laws and policies concerning wetland and other ecosystem protection, water use and permitting, and coastal communities.
Our New Website
Work has been completed on a new Florida Climate Center website at http://climatecenter.fsu.edu. We will be adding redirects from the old site (http://coaps.fsu.edu/climate_center) to the new site this month, so please update your bookmarks! The new site includes a new interactive data visualization tool, which allows users to examine data from approximately 100 long-term stations across the state, as well as a download tool for temperature and precipitation data.
Example Data Request
Each month, we highlight here recent examples of some of the many public services provided by the Florida Climate Center:
Historical weather information has a variety of practical applications. Every once in a while, we receive a request that is truly unique and shows us a completely new use for climatic data: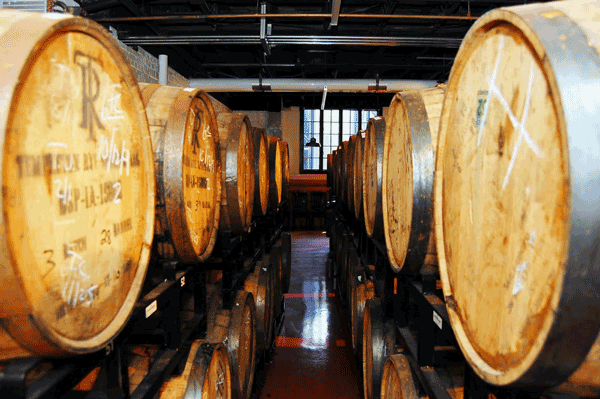 About a week ago, a request for data was forwarded to us from a colleague who's part of the Florida Climate Institute. A gentleman was considering building a distillery and looking for long-term data on humidity for a location in South Florida. Humidity is a key parameter that needs to be monitored while spirits are aged in oak barrels, due to the loss of volume that can occur due to evaporation. Higher humidity levels lead to more evaporation, which leads to less alcohol content per volume remaining in the barrels after aging.
The Climate Center is now working with this budding entrepreneur to help him get the historical information he needs to make an educated decision about his new business venture.
About Us
The Florida Climate Center is part of a three-tiered system of national, regional, and state climate offices, including NOAA's National Climatic Data Center and the Southeast Regional Climate Center. The Florida State Climatologist and other staff at the Florida Climate Center provide the following information and services to the people of Florida:
· Climate Data:
Historical weather observations for weather stations throughout the state of Florida. We are able to provide data for most stations from 1948-present.
· Climate Information:
Long-term historical averages for various stations, climate divisions, and the entire state.
· Extreme Event Records:
Information and analyses on extreme events such as freezes, droughts, floods and hurricanes.
· Special Analysis:
With their vast knowledge of El Niņo, La Niņa and climate variability, the State Climatologist and staff can offer expert insight into Florida's climate trends.
· Outreach:
Activities, presentations, and workshops that inform and educate the people of Florida about current and emerging climate issues. We also coordinate volunteers for the Community Collaborative Rain, Hail & Snow Network (CoCoRaHS).