Dear Florida Climate Center Friends,
We'd like to present you with the August 2011 edition of our newsletter. In this newsletter, you'll find our monthly climate summary, special events that our staff attended, newspaper articles about the on going drought in Florida, an example of a data request made to the office, and more.

If you have any questions,

please email us at

climate@coaps.fsu.edu.

Thanks,
The Staff of the Florida Climate Center
David Zierden
State Climatologist
James O'Brien
Professor Emeritus
Melissa Griffin
Asst. State Climatologist
Preston Leftwich
Research Assistant
July Climate Summary for Florida


The Florida Climate Center's July 2011 Florida Climate Summary is now available. The summary provides an analysis of temperature and precipitation trends across the state, along with data on hazardous weather, drought, the impacts of the weather and any records tied or broken for the month. During June, average temperatures were above normal while rainfall totals were below normal in most areas. Past summaries are archived here.

July average temperatures and departures from normal (° F) for selected cities.
July precipitation totals and departures from normal (inches) for selected cities.
A graphical depiction of the monthly rainfall departure from normal (inches) for July (courtesy of NOAA, NWS).
About the Florida Climate Institute

The Florida Climate Institute (FCI) is a multi-disciplinary network of national and international research and public organizations, scientists, and individuals seeking a better understanding of climate variability and change. The FCI was founded in 2010 by the University of Florida and the Florida State University and is supported by the two university's affiliated colleges, centers, and programs. The Florida Climate Center plays an important and active role in the FCI.
The FCI brings together outstanding expertise from across disciplines, universities, organizations, and industry to develop projects that integrate research, education, and outreach to identify and evaluate potential societal responses to climate change and variability.
The FCI currently has over 200 affiliated members. Anyone interested in FCI activities and developing a more sustainable future can register to join our growing network.
For more information about the FCI, please visit the FCI website or email info@floridaclimateinstitute.org.
New Report: Sea Level Changes in the Southeastern US
The Florida Climate Institute (FCI) commissioned Professor Gary T. Mitchum of the University of South Florida to prepare this report on sea level in the Southeast. Dr. Mitchum is a world-class expert in sea level. The funds to support his efforts were obtained from the Southeast Climate Consortium. This report should be used as a basic explanation of the existence and physics of sea level variations. To download the report, click the link below:
Sea Level Changes in the Southeastern United States: Past, Present and Future (PDF)
State Climate Office Staff Attend 36th Annual Meeting of the Association of State Climatologists
From July 19-22, members from the Florida Climate Center's staff attended the Annual Meeting of the American Association of State Climatologists (AASC) in Asheville, NC. The meeting was part of a joint conference with the American Meteorological Society's conferences on Applied Climatology and Climate Adaptation. The theme for the overlapping conferences examined drought monitoring, climate data and tools, applications using remote sensing, and effective climate services and communications.
At this year's meeting, it was announced that the Florida Climate Center would be hosting the 2012 meeting of the AASC in beautiful Destin, FL.
Assistant State Climatologist Out and About in Local Area
Assistant State Climatologist Melissa Griffin, in collaboration with representatives from the FSU Center for Ocean-Atmospheric Prediction Studies and the Florida Climate Institute, recently conducted outreach presentations at summer camps hosted by Literacy Volunteers of Leon County and the Tallahassee Housing Authority. The talks focused on tsunamis, storm surges, and the differences between the two phenomena. The 2011 hurricane season and hurricane preparedness were also discussed. Participants went home with their own 'Satellites-To-Go' kits, complete with a storm surge experiment and information on how satellites impact our lives.
In the Press
Florida adapting to changing temperatures
Tbo.com
In the future, changing weather patterns could make Florida hotter and ... the weather from year to year, said David Zierden, the state climatologist. ...
'Exceptional' drought areas expand to cover nearly 25% of Florida
Palm Beach Post
"The current drought conditions have been exacerbated by the heat," said David Zierden, State Climatologist at the Florida Climate Center in Tallahassee. ...
July rainfall not enough to end drought
Sarasota Herald-Tribune
Naples, for example is roughly 14 inches below normal for the year, said David Zierden, the state climatologist at Florida State University. ...
Parched as we are now, next year could be worse
Palm Beach Post
Winning numbers More than 300 men and women with ties to Florida have ... "We were in a strong La Niņa last year," state climatologist David Zierden said. ...
Example Data Request
Each month, we highlight here recent examples of some of the many public services provided by the Florida Climate Center: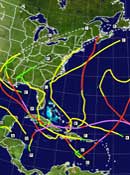 Hurricane Season started on June 1, and, as the season has progressed, the Florida Climate Center has fielded calls requesting a variety of information about the subject.
One person was interested in what the outlook is like for the current hurricane season. The private citizen was worried that, after a few years of somewhat quiet hurricane activity, Florida was primed for another devastating season like 2004 or 2005. While the center was unable to answer if Florida would be the target of this year's hurricane season, we were able to give the resident some information about the forecast for the 2011 season, along with information on how El Niņo Southern Oscillation (ENSO) can impact where hurricanes are more likely to make landfall.
Another private citizen from Oklahoma was planning a vacation in the fall to Destin, FL, along Florida's Emerald Coast. She was wondering about the likelihood of seeing a land-falling hurricane in the area during October. She was directed to climatological information about land-falling tracks of previous hurricanes and to information about how to prepare for a hurricane if you're vacationing in Florida.
About Us
The Florida Climate Center is part of a three-tiered system of national, regional, and state climate offices, including NOAA's National Climatic Data Center and the Southeast Regional Climate Center. The Florida State Climatologist and other staff at the Florida Climate Center provide the following information and services to the people of Florida:
· Climate Data:
Historical weather observations for weather stations throughout the state of Florida. We are able to provide data for most stations from 1948-present.
· Climate Information:
Long-term historical averages for various stations, climate divisions, and the entire state.
· Extreme Event Records:
Information and analyses on extreme events such as freezes, droughts, floods and hurricanes.
· Special Analysis:
With their vast knowledge of El Niņo, La Niņa and climate variability, the State Climatologist and staff can offer expert insight into Florida's climate trends.
· Outreach:
Activities, presentations, and workshops that inform and educate the people of Florida about current and emerging climate issues. We also coordinate volunteers for the Community Collaborative Rain, Hail & Snow Network (CoCoRaHS).