Dear Florida Climate Center Friends,
We'd like to present you with the March 2011 edition of our newsletter.

In this newsletter, you'll find our monthly climate summary, copies of news articles where topics like La Niņa and Florida's wildfire threat are discussed, special events that our staff will be at, and an example of a data request made to the office. If you have any questions,

please email us at

climate@coaps.fsu.edu.

Thanks,
The Staff of the Florida Climate Center
David Zierden
State Climatologist
James O'Brien
Professor Emeritus
Melissa Griffin
Asst. State Climatologist
Preston Leftwich
Research Assistant
Febuary Climate Summary


The Florida Climate Center's February 2011 Florida Climate Summary is now now available. The summary provides an analysis of temperature and precipitation trends across the state, along with data on hazardous weather, drought, the impacts of the weather and any records tied or broken for the month. February temperatures were above normal while rainfall totals were generally below normal. Past summaries are archived here.
February average temperatures and departures from normal (° F) for selected cities.
February precipitation totals and departures from normal (inches) for selected cities.
A graphical depiction of the monthly rainfall departure from normal (inches) for February (courtesy of NOAA, NWS).
In the Press
3/2/11: Brush fire danger seen in advance (Florida Today; with David Zierden)
2/16/11: La Niņa expected to bring warmer, drier conditions to Brevard (Florida Today; with James O'Brien and David Zierden)
2/15/11: Florida State welcomes warmer weather (FSU.com Radio; with David Zierden)
2/15/11: La Niņa may bring warm late winter to the Southeast (FSU.com; with James O'Brien and David Zierden)
Climate Workshop for Row Crop Farmers and Extension
State Climatologist David Zierden, along with Climate Extension Specialists and other scientists, met with Extension agents and growers on February 18th at Headland, Alabama. This was the third meeting of the Southeast Climate Consortium's Tri-State row crop working group composed of growers and Extension from North Florida, South Georgia, and Southeast Alabama. The workshop's goal is to examine how farmers can use climate information and forecasts to make better management decisions to minimize climate related risks and maximize production. David Zierden presented information on the current La Niņa, climate conditions so far this winter including the influence of the North Atlantic Oscillation, and the outlook for the remainder of the winter and spring.
Assistant State Climatologist Appears at Jacksonville WeatherFest
Climate Center staff member Melissa Griffin appeared at the Jacksonville National Weather Service's WeatherFest, held at the University of North Florida on February 26. The Assistant State Climatologist answered questions from the general public about this winter's unseasonable cold temperatures to La Niņa, from drought to CoCoRaHS, and a variety of topics in between. Along with help from two undergraduate students, Mr. Daniel Gilford and Ms. Johna Rudzin, Ms. Griffin demonstrated two take home experiments that were part of a NASA 'Satellites-To-Go' outreach kit that was passed out to attendees of WeatherFest.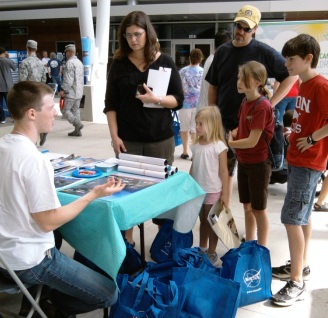 Daniel Gilford at WeatherFest
Upcoming Events
March 1-4, 2011:
Climate Prediction Applications Science Workshop in Des Monines, IA
April 12, 2011:
FSU Day at the Capitol in Tallahassee, FL
April 13-14, 2011:
National Drought Monitor Forum in Fairfax, VA
April 16, 2011:
FSU Coastal & Marine Laboratory Open House in St. Teresa, FL
May 24-27, 2011:
Climate Information for Managing Risks Symposium in Orlando, FL
Example Data Request
Each month, we highlight here recent examples of some of the many public services provided by the Florida Climate Center:
The office was contacted by a gentleman from
http://www.americasbeekeeper.com/ asking for information on annual rainfall across Florida for a presentation he was presenting at the Florida Bee College in March, as there is a correlation between rainfall and the spread of Africanized honey bees.The Florida Climate Center helped provide him with a precipitation map showing that the average annual rainfall is over 55 inches.
About Us
The Florida Climate Center is part of a three-tiered system of national, regional, and state climate offices, including NOAA's National Climatic Data Center and the Southeast Regional Climate Center. The Florida State Climatologist and other staff at the Florida Climate Center provide the following information and services to the people of Florida:
· Climate Data:
Historical weather observations for weather stations throughout the state of Florida. We are able to provide data for most stations from 1948-present.
· Climate Information:
Long-term historical averages for various stations, climate divisions, and the entire state.
· Extreme Event Records:
Information and analyses on extreme events such as freezes, droughts, floods and hurricanes.
· Special Analysis:
With their vast knowledge of El Niņo, La Niņa and climate variability, the State Climatologist and staff can offer expert insight into Florida's climate trends.
· Outreach:
Activities, presentations, and workshops that inform and educate the people of Florida about current and emerging climate issues. We also coordinate volunteers for the Community Collaborative Rain, Hail & Snow Network (CoCoRaHS).