Join Our List

RECIPE OF THE MONTH:
THAI CHICKEN WRAPS
1/4 cup sugar
1/4 cup creamy peanut butter
3 tablespoons soy sauce (as with all ingredients make sure you use a gf brand)
3 tablespoons water
2 tablespoons cooking oil
1 teaspoon minced garlic
1/2 teaspoon salt or garlic salt
1/4 to 1/2 teaspoon pepper
12 ounces skinless, boneless chicken breast strips
1 tablespoon cooking oil
4 cups packaged shredded broccoli-slaw mix
1/2 of a medium red onion, cut into thin wedges
1 teaspoon grated fresh ginger
6-8 brown rice tortillas
DIRECTIONS:
1. For peanut sauce, in a small saucepan combine sugar, peanut butter,
soy sauce, water, the 2 tablespoons cooking oil, and the garlic. Heat
until the sugar is dissolved, stirring frequently. Set aside.
NOTE: Depending on the brand of soy sauce and peanut butter you may
need to adjust the sugar!
2. Meanwhile, in a medium mixing bowl, add chicken and season evenly with salt and pepper.
3. In a large skillet heat the cooking oil. Cook and stir seasoned chicken in hot oil over medium-high heat until cooked through. Remove chicken from skillet; keep warm. Add broccoli mix, onion, and ginger to skillet. Cook and stir for 2 to 3 minutes or until vegetables are crisp-tender. Remove from heat.
4. To assemble, spread each tortilla with about 1 tablespoon of the
peanut sauce. Top with chicken strips and vegetable mixture. Roll up
each tortilla, secure with a toothpick, and serve immediately with
remaining sauce.
Greetings!

Greetings and welcome to the heart-healthy edition of the FNPA newsletter. As we exit February, the month of love, cupids, hearts and flowers it is the perfect opportunity to bring you the most recent information on cardiovascular health, including a delicious recipe and beneficial foods. There's also a reminder to check out the Florida Naturopathic Physicians Association web site. There is information on the newest health news and science, a local resource list to find your nearest farmers' market as well as an introduction to the FNPA Board members. Take a look!
There is a very quick and convenient way to share the newsletter with your loved ones. Please scroll down and use the "Forward" button we have provided. Help spread the word!
From the HEART
The leading cause of death for men and women in the United States is heart disease. In 2006, heart disease caused 26% of deaths - one in every four - in America. Women are twice as likely to die from heart disease then all cancers combined; one in 2.6 deaths are from heart disease vs one in 30 from breast cancer.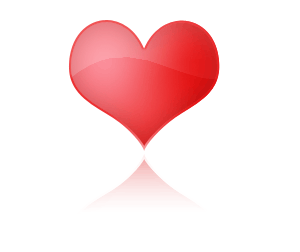 Last year there were 785,000 people who experienced a first heart attack. More women die within the first year after their attack and the majority of female patients do not get the same follow-up treatment or testing usually done on male clients. Emergency room doctors and cardiologists think the reason is the difference in experience of symptoms between men and women. Women rarely have the same "dramatic" sensations as men: sudden stabbing chest pressure, cold sweat and the tingling or pain radiating in the left arm. The American Heart Association listed the following symptoms as reported by women experiencing their first heart attack: terrible indigestion that is not alleviated by antacids or digestive enzymes, a "squeezing" sensation going up the spine, gaining speed to the sternum - this is the aorta spasming. All women reported the "squeezing" continuing to the throat and branching out to both sides of the jawline. Unfortunately these warning signs were usually ignored.
Besides consulting with your Naturopath and seeing your primary care physician, there are lifestyle interventions that are first steps toward prevention. Number one is smoking cessation. Important to remember is weight reduction and maintenance, engage in physical activity for 30-45 minutes per day and eat "heart-healthy" foods like lean protein, fruits and green leafy veggies. Ask your Naturopath about certain herbs and neutraceuticals like niacin, hawthorne, gingko biloba, garlic, cinnamon, hibiscus, globe artichoke, fish oils and red yeast rice. Listen to your body's signals. And always follow your heart.
-Dr. Deirdre D. Keeler
Check Out the FNPA Web Site!
Take a trip to your neighborhood farmers' market, find out how Naturopathic Medicine can reduce health care costs AND meet the FNPA Board, all in one place: go to www.fnpa.org. The official site of the Florida Naturopathic Physicians Association not only explains what Naturopathic Medicine is but also delves into the necessary training and education. There's a section called "Dear Doctor Questions" answering any concerns you might have as well as a monthly schedule of talks given by ND's covering such topics as digestion and keeping healthy during flu season. The site also has just-released national health studies; important topics citing the newest research on health, vitamins, herbs and neutraceuticals. And of course, you can find out how to be involved whether volunteering, donating or submitting a testimonial citing the changes or benefits Naturopathic Medicine has provided to you or family members. There's information on contacting your Florida representatives in the House and Senate. Most important of all is becoming a member. For just ten dollars you can become part of the FNPA and support legislative action. Pass on the news to friends and family. Everyday, with your involvement, brings us closer to gaining licensure in the beautiful sunshine state of Florida!
- Dr Deirdre D. Keeler
Legislative Update
NATIONAL NEWS:
Doctors, medical students, patients and others from all 50 states, are planning, an amazing public media and educational campaign to familiarize all Americans with Naturopathic medicine, through a 3,250 mile, transcontinental run from San Francisco to Bridgeport, CT, via Washington D.C. and New York City.
Former transcontinental runner, and founder of the R.U.N., Dr. Dennis Godby, son Isaiah Godby, nephew Jonas Ely, and tens of thousands of other runners and supporters along the way will meet with other doctors, patients and newly awakened advocates along the path to the White House to meet with President Obama. They will conduct daily press conferences and evening presentations about natural medicine in the towns and cities they pass from California to Connecticut. As the mass of advocates continues to swell over the course of the 3,250 miles, media coverage will grow exponentially, including national news. You can view more information, when the run begins and even SIGN UP at:
We are asking for your testimonials and letters. How have you been touched by naturopathic medicine? Do you have a story on how you could have been better served by a licensed ND with a full scope of practice in Florida? Are you an MD, DO, DC, PA, RN that would like to support the mission of the FNPA and understands the importance of having NDs as licensed primary care physicians in Florida? If you have a story you would like to share, we are collecting letters that will be given to legislators. We will also be using some of your letters on our FNPA website under our new testimonial section (with your permission only).
Please send your letters to Judith Thompson, N.D. Click below to access the FNPA Homepage for Dr Thompson's contact address.
We want to provide better healthcare choices to Florida's residents and we need your help! Please visit our website to learn more.
FNPA Homepage
Sincerely,

Florida Naturopathic Physicians Association