Join Our List

Recipe of
the Month

RAW TORTILLA SOUP
INGREDIENTS
2 tomatoes, chopped
2 lg. red peppers, chopped
1/4 cup sundried tomatoes, packed
1/4 cup fresh cilantro, packed
2 celery stalks, chopped
3/4 cup water
1 TBS lime juice
2-3 TBS olive oil
1 tsp salt
3/4 tsp cumin
1/2 tsp chili pwdr
1/4 tsp paprika
1 clove garlic
dash cayenne pepper, optional
Blend all ingredients except the olive oil in a high speed blender or food processor. When ingredients are well combined, drizzle in olive oil with blender/processor on low until mixture is blended and emulsified. Pour into bowls and garnish with red onions, cilantro, tortilla chips or avocado...mmmmmm
By Gena of Choosing Raw
Greetings!

Welcome to the May edition of our newsletter. Before reading the articles or sampling the recipe of the month, please remember to share a hug with Mom. It shouldn't be just one day that we show our appreciation but all year round. At home or at work, Mothers help us keep everything in perspective. It's especially endearing when it's done with flair and a sense of humor. Like the comedian Joan Rivers said, "I hate housework! You make the beds, you do the dishes - and six months later you have to start all over again."

There is a very quick and convenient way to share the newsletter with your loved ones. Please scroll down and use the "Forward" button we have provided. Help spread the word!
Paying It Forward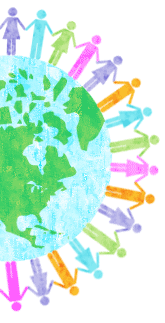 This has happened to each one of us. We're waiting in line at the grocery store with maybe two or three items when the good Samaritan in front of us, with the overflowing cart, waves us through. We smile and thank them for the gesture but the lingering feeling is one of faith in peoples' good will. We're also anxious to pay a good deed forward to the next individual in need. Whether it's kindness given in picking up a dropped coin or a contribution of many hours building a home for a needy family, studies show that voluntarily giving has physical as well as mental benefits.
In the year 2008, folks in the state of Florida volunteered 430 million hours for a total of $8.7 billion worth of contributed service! Even with the economic crisis, the national volunteer rate remained relatively constant from 26.2% of the population contributing in 2007 to 26.4 % in 2008. The Sunshine State boasted 21.4% of adults volunteering in 2008 doing fundraising, collection and distribution of food, general labor and tutoring or teaching.
A study done at the Department of Human Development at Cornell University in Ithaca, New York monitored 6920 adults since 1965. The published results found that midlife volunteering was significantly associated with greater physical activity and improved mental and physical health. Another study showed volunteering affects decline in depression especially for individuals over the age of 65 with men at a considerably lower risk of depression then women who volunteer. Community service in the adolescent age group promoted a sense of connection to community, greater concern for the welfare of others, fewer behavioral problems in their later teen years and an overall better work ethic. In the 15-24 year old age group 49% said volunteering gave them new skills that they could apply directly to their job.
The 2000 National Survey of Giving, Volunteering and Participating (NSGVP2000) perhaps gave the most compelling result when 28% of unemployed volunteers (and 16% of employed volunteers) said that their services had helped them obtain a job in the past. In this economy a whopping 62% of those unemployed volunteers believed their unselfish contributions would help them find employment in the future. Volunteer- it does a body good!
2. "Volunteering and Trajectories of Depression," Ken J, Pal M, J.Aging Health, 2010 Feb 22(1):84-105.
3."Americans Changing Lives Study," KupermincGP, Holdetch PT, AllenJP, Adolescent Medicine,2001,October (3); 445-57.
- Dr. Deirdre D. Keeler
Women's Role in Early Medicine
Women's role in providing medical care in home remedies, nursing, midwifery and herbalism dates back centuries. A woman by the name of Trotula was recorded as a doctor in the earliest European medical school in Salerno, Italy in 800's CE. But since the 1400's men have dominated the medical fields. Cities and governments declared only those trained by universities were allowed to formally practice medicine. Since women were not allowed into the schools, they could not gain a license. The Council of Trentwich, in the 15th century, forbade women from health and hospital administrator positions. Medical universities were run by male clerics and women were turned away. Christine de Pisan challenged the misogyny of the time by writing The City of Ladies describing an entire domain of women rulers, inventors and scientists of the 15th century.
But women did practice medicine in their own towns and villages through their role as nuns. Hildegard of Bingen set up convent infirmaries and a nursing order of nuns in the 1100's. She was also very well published in her description of herbal treatments and medicinal formulas as well as theological papers and visionary writings.
The time of the Renaissance was no different for women healers. Even well-educated women could not take advantage of new technology in science. Besides universities and schools, guilds were also closed to females so professional colleges and societies were also off-limits One exception on record was Dr. Laura Bassi, appointed Professor of Anatomy at the University of Bologna in 1732.
Despite their professional exclusion women provided many paid services such as sick-nursing, wet-nursing, midwifery, minor surgery and general physics. Midwives Jane Sharp and Louise Bourgeois became the first to pen their experiences in the 1600's. But continuing into the 1700's professional training and men-only guilds dismissed traditional and folk medicine as unscientific tales of the "old wives" and "old nurses" variety.
Dr. Deirdre D. Keeler
Legislative Update
We are asking for your testimonials and letters. How have you been touched by naturopathic medicine? Do you have a story on how you could have been better served by a licensed ND with a full scope of practice in Florida? Are you an MD, DO, DC, PA, RN that would like to support the mission of the FNPA and understands the importance of having NDs as licensed primary care physicians in Florida? If you have a story you would like to share, we are collecting letters that will be given to legislators. We will also be using some of your letters on our FNPA website under our new testimonial section (with your permission only).
We want to provide better healthcare choices to Florida's residents and we need your help! Please visit our website to learn more.
FNPA Homepage
Sincerely,

Florida Naturopathic Physicians Association