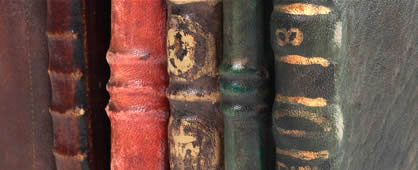 2010 Community Scholarships Awarded
by Lori Bennett
Shannon Luibrand and David Masterson,
2010 FOL Community Scholarship Recipiants
At our Annual Meeting on May 12th, the Friends of the Library awarded two $1,000 scholarships to local graduating seniors. This year's recipients are Shannon Luibrand, a student at Shenendehowa High School, and David Masterson, who attends LaSalle Institute.
Shannon, who will attend St. John's University, is very involved with St. Edward's Church. She is active in the Youth Council, is the first teen to join the Church Council, and writes a blog for the church. Her musical talents are shared with the congregation both at church and at other events. In addition to her church activities, she is also a former Shenendehowa Softball player.
David has participated in a variety of activities at LaSalle, including Student Senate, the school newspaper, Debate Club and the Cadet Ambassadors. He is member of the National Honor Society, Drama Club, and Masterminds. He also runs his own year-round yard care business. David will begin his studies at Union College this fall.
Both recipients wrote outstanding essays in response to the question, "What does the library mean to you?" One of the highlights of this year's Annual Meeting was actually meeting these amazing young adults! We are thrilled to award these scholarships to such deserving students to assist them in pursuing their educational goals.
Over 40 students applied for the scholarships, which were established in 2008. Selection of the winners was based primarily on a personal essay about the library, although the committee reviewed a variety of criteria, including academic achievement, activities, awards, work experience, and letters of recommendation.
Two scholarships are available annually; one is designated for a Shenendehowa student and the other is for a student residing within our Library district who may or may not be a Shenendehowa student. We look forward to the continued success of these scholarships.
An Evening with Margaret Peterson Haddix
by Janet Kreason
Head of Youth Services

Kids watching houses being constructed, a girl piecing together a Cinderella puzzle, a few minutes of muzziness as an exhausted air traveler...What do these snippets of ordinary life have in common? Margaret Peterson Haddix developed
them into three of her highly original, popular novels for children and teens:

Among the Hidden, Just Ella

and

Found

.
A former newspaper copy editor, newspaper reporter, community college instructor and freelance writer, Haddix also draws seed ideas for novels from her career experiences. Her lively presentation about her books and life delighted 225 children, teens and adults at the Clifton Park-Halfmoon Public Library on May 26. Enthusiastic audience members posed numerous questions about their favorite titles as well as about what it was like to be one of the authors contributing to

39 Clues

, a hot multiplatform series for tweens. A book signing followed the program.
Haddix has authored over twenty books for kids and teens, including the seven-part futuristic fiction Shadow Children series. Missing

,

her current series, chronicles the adventures of contemporary middle school students who travel back in time after
discovering that they have been snatched out of past eras.

Sabotaged

, Missing's third installment, will be published in August.
Haddix's trademark suspenseful plots and treatment of thought-provoking issues intrigue readers around the world. Her works have been translated into French, German, Spanish, Chinese and Korean. Haddix's books have garnered numerous state reader's choice awards as well as the International Reading Association's Children's Book Award.
Haddix shared the following tips for aspiring writers:
ˇ Read a lot
ˇ Write
ˇ Keep a journal
ˇ Pay attention to things around you and think about them a lot
ˇ If working on a book, start with a synopsis but leave room
to change things if a better idea comes along
For more information about the author and for book discussion questions, visit
http://www. haddixbooks.com
.
Thanks to the Friends of the Library for generously sponsoring this memorable event and providing delicious refreshments for those who attended.
Sue Brooks, Hospitality Chair and Ashley Denton, FOL Board
Author Margaret Peterson Haddix signs books for fans.
Library Budget Vote September 16th
by Ashley Denton

Experience the Library . . .


Your Community Center for Life-long Learning



Voting "YES" for our Library budget on Thursday, September 16th, will help ensure the continuation of the excellent services the Library provides for our community. The Library provides services for patrons of all ages, interests and cultures. With over 41,000 cardholders and 300 new patrons a month, the Library is an asset to every individual in Clifton Park and Halfmoon.
Approximately 1,500 patrons enter the Library on a daily basis, each with a different purpose. The Library is an invaluable community gathering place and source of intellectual material. Many members of the community may be wondering, "What can the Library do for me?"
Your Library offers an opportunity for life-long learning and the achievement of personal goals by offering a variety of resources, programs and services. Whether you are looking to learn a new skill, cultivate an interest or explore the Capital Region with the FOL's Museum Pass Program, the Library has something valuable to offer everyone.
The vote will take place at the Clifton Park-Halfmoon Public Library from 7:00 AM until 9:00 PM. Voting booths will be located on the first floor. Additional activities for the day include an evening reception that begins at 7:00 PM in the Josephine Piracci Board Room. This event will recognize the Friends of the Library Volunteer of the Year, In addition, the Friends will have the unveiling of local artist, Marcie Slot's, architectural rendering project . . . a full color, framed depiction of each of our former library buildings and our beautiful "new" library. The four full-color, framed renderings will enhance our boardroom and chronicle the history of our Library.
The Friends encourage all members to mark your calendars and take the time to come out and support your Library on Vote Day, September 16th.
The FOL Get Out The Vote Campaign coordinates publicity for the annual budget vote. If you would like to volunteer your time and talents for this year's campaign, please contact Ashley Denton at
[email protected]
The Friends' Favorites Cookbook
By Ellen Burns
The Friends' Favorites Cookbook, filled with taste-tempting recipes, is for sale at the library for $12. The cookbook has been created with the help of Shenendehowa High School East students in the graphics design class, who created the artwork for the cover and the section dividers throughout the book. The cookbook features favorite recipes from members of our community, your neighbors and friends.

Proceeds from the sales of our cookbooks will support the many worthwhile projects and programs at the library. By purchasing a cookbook, you will assist the FOL and experience many new and delicious recipes. Stop in at the library and pick up your copy before they are gone!

Book and Story Festival
by Jo Anne Robbins

An enthusiastic and appreciative crowd of Friends enjoyed our Springtime Book and Story Festival: Stories and Families, that was held on Wednesday, May 5th. The program, sponsored by the Friends of the Library, focused on memorable stories about family. Between courses of books and stories, participants enjoyed a delicious supper. Attractive literary baskets and author signed books were auctioned (Chinese Auction) throughout this fun-filled evening. The program included Four Courses of Books and Stories with Three Courses of a Meal.
Our special guests and presenters for the evening included lover of books and literature professor, Frank Hodge and local storyteller and member of the Friends of the Library, Kate Dudding. Their story telling and book sharing was touching and wonderful.
It was delightful to listen to Frank share his favorite stories as well as personal anecdotes about his grandmother and growing up loving books. As one of Frank's former students at SUNY Albany, it was a trip down memory lane. Frank taught Children's Literature there for many years and as an insightful teacher, he's brought the joy of literature to thousands of adults and children in the Capital Region. A number of his former students were in the audience and were equally appreciative. Frank is the owner of Hodge-Podge books, a business that he operates from his web site,
http://www.hodge-podgebooks.com
.
Kate Dudding is an award-winning storyteller and author. Kate's stories included a tale that she created especially for our festival, personal family stories and a moving story about Iqbal Masih, a young Pakistani boy whose heroic deeds and subsequent death inspired a 12 year old Canadian boy, Craig Kielburger, to devote his life to Iqbal's cause and organize Free The Children. She reminded listeners of the importance of sharing their own stories with friends and family -- giving a voice to important people from the past. Kate has told stories at many venues in our area including The New-York Historical Society and First Night in Saratoga Springs. She is a member of the Story Circle, Proctor's Resident Storytelling Company -
http://www.storycircleatproctors.org
. Kate also shares many of her touching stories from her own web site -
http://www.KateDudding.com
.
Following this memorable performance, a number of Friends asked that we provide a listing of the stories shared by Frank and Kate.
Here's Kate's list of stories:
First books:
Pat the Bunny
by Dorothy Kunhardt
Where's Spot
? By Eric Hill
Picture books:
Goodnight Moon
by Margaret Wise Brown
Where the Wild Things Are
by Maurice Sendak
Chapter books:
Half Magic
by Edward Eager
Prydain series by Lloyd Alexander (first in the series - T
he Book of Three
)
The Indian in the Cupboard
by Lynn Reid Banks
Iqbal
by Francesco D'Adamo
Here is Frank's list of books:
Don't Make Me Smile
by Barbara Park
Space Station Seventh Grade
by Jerry Spinelli
Hurt Go Happy
by Ginny Rorby
Once
by Morris Gleitzman
Stand Tall, Molly Lou Melon
by Patty Lovell
Mary Had A Little Lamp
by Jack Lechner
Jack's House
by Karen Beil
Touching Spirit Bear
by Ben Mikaelsen
Iqbal
by Francesco D'Adamo
Boy In The Striped Pajamas
by John Boyne
Boys Without Names
by Kashmira Sheth
Reading With Dad
by Richard Jorgensen
Friends of the Library Annual Meeting
by Lori Bennett

The Friends held our 2010 Annual Meeting on Wednesday, May 12th. This year's meeting was different from those in years past. Instead of hosting a separate event for our members, we decided to incorporate the Annual Meeting into our monthly Board meeting and invite members to attend.
The following are the highlights from the meeting:
ˇLori Bennett awarded the 2010 Community Scholarships to Shannon Luibrand and David Masterson.
ˇBetty Treffiletti presented the annual audit report and reviewed the financial dealings of the Friends.
ˇPresident Jo Anne Robbins gave Library Director Alex Gutelius, a $5,000 check for the Audio/Visual and Young Adult collections.
ˇMembers approved an update to our by-laws so that the annual meeting will be held during a monthly board meeting, and will take place no later than May 31st.
ˇThe Friends annual report was shared via a PowerPoint presentation.
ˇOutreach chair Cathy Lawrence shared that in the past 12 years, 12,900 books have been donated to the community.
ˇThe slate of officers for the 2010-2011 year was accepted:
President - Jo Anne Robbins
First Vice President - Keith Willis
Second Vice President - Toby Elman
Treasurer - George Pawlowski
Secretary - Lori Bennett
ˇGenerous donors were publicly recognized, photographed for the newsletter, and presented with a flowering plant.
ˇLibrary Board of Trustees President, Cliff Bueno, complimented the Friends for all of their activities and invited interested parties to participate in the Board's strategic planning process.
For more information on the Friends' activities for 2009-10, please see our annual report, which is posted on our website:
http://www.cliftonpark.org/friendsofcph
Children's Creativity Celebrated
by Jo Anne Robbins

Artistic Contributors Kianna Guttemann, Aidan Young, Annalese Winegard, Stephanie Carrier, Justine Pascual
A multitude of activities sponsored by our Library provide wonderful opportunities for children and other family members to engage in positive social and learning experiences. During our 40th Anniversary Celebration, we asked children in our community to submit designs for three "green" newel post people. Many interesting and creative designs were submitted.
In the end, contest judges decided that they couldn't pick three designs from the best submitted. Instead, we asked Creatacore, the Halfmoon company that created the original Newel Post Family displayed in the Children's Library, to use the best concepts from all of the designs to create our three new figures that are displayed outside the Children's Library.
Recently, the winners were invited to an awards and dedication ceremony at the Library. Board of Trustee members, Library staff, Friends and families gathered to recognize our children and celebrate the arrival of the three new figures. Recognition of our young artists is displayed on a permanent plaque located on the post above the figures.
The Friends of the Library congratulate the winners and their families for getting involved, sharing their ideas and helping us to Celebrate the 40th Anniversary of the Clifton Park - Halfmoon Public Library. The neat part of all of this . . . the three delightful newel post figures will always be a reminder to each person entering the Children's Library of our children's great ideas and the fun times they have had at our library.
Congratulations to our young artists: Macgregor Winegard, Paige Greenberg, Isabel Smrstik, Emma Smrstik, Annalese Winegard, Laura Nafis, Emily Greenberg, Stephanie Carrier, Aidan Young, Kianna Gutenmann and Justine Pascual,
Another Successful Used Book Sale
by Keith Willis
The Friends' Spring Book Sale was held May 21 - 23. The Committee would like to thank all of the volunteers, donors and patrons who contributed to making this event such a great success. The money raised by the Used Book Sale will be used to support Friends of the Library programs like the Community Scholarship program, and author visits like the recent Margaret Peterson Haddix presentation, and the upcoming visit by thriller author Lee Child in November. The Used Book Sale is one of the primary fund-raisers for these programs, and the great success of the last sale means that the Friends will be able to continue their support of programs that are so important to the local community.
The next Used Book Sale will be October 1 -3. We're beginning to get in a great assortment of books and audio/visual materials to fill the shelves for the next sale, but we still need your donations of clean, gently-used books, music and videos to make the next sale great. We hope to see you there, either as a volunteer, or as a shopper looking for a great book at a great price.
In addition, the Friends will host a mini-sale on Thursday, September 16th. This sale will feature paperback books and some children's books at a cost of fifty cents each. Make sure to come into the Library on that day to vote, and then head upstairs to browse the mini-sale.
Travel Update
by Rhona Koretzky
From the FOL travel program - we're sponsoring a bus trip in October and space is still available for the Italy trip! Join us for a presentation on July 13.
A DAY TRIP: Immerse yourself in the world of Edna St. Vincent Millay on Saturday October 2. The FOL is sponsoring a day trip to Steepletop, the poet's Columbia County home. We will have guided tours of the home and garden as well as an opportunity to visit the on-site exhibit about her life. The cost of the trip is $65 per person which includes the bus transportation and all tours.
Spaces for this trip are limited and will surely be filled quickly. Contact Rhona, FOL travel coordinator by email -

[email protected]

- or by phone - 505-1303 for more information and to make your reservation.
AN INTERNATIONAL ADVENTURE: The FOL is sponsoring a trip to Southern Italy and Sicily in March 2011. Spaces are filling,, but some do remain. There will be a slide show presentation and informational meeting at the library on Tuesday July 13 at 5:30 PM. Please contact Rhona at

[email protected]

for more information about the meeting as well as the trip.
Enjoy the summer--whether you "vacation" or "stay-cation".
First Annual FOL Plant and Garden Goody Swap and Sale

by Wilma Jozwiak
Wilma Jozwiak, Lisa Brennan, Corinne Acker. Jo Anne Robbins, Penny Salemme, Cathy Fruhauf, and Terry Fugazzi
On Saturday, June 12th, the skies opened up, the rain came down, and Clifton Park gardeners proved their mettle by making the First Annual Plant and Garden Goody Swap and Sale a big success. The event began at 10 as a swap and continued from 12 to 2 pm as a sale. The variety of available plants and goodies was excellent.
Over a dozen Friends volunteered to staff the event and many more brought their garden orphans, surplus garden tools and decorations, and garden books to swap and left them to be sold during the sale portion. Swappers and buyers alike enjoyed the opportunity, with many car trunks carrying plants to new homes. As gardeners, we made new friends and plans for visiting each other's gardens this summer. Proceeds from the sale will help support the Friends Summer Reading Program with Shaketon Elementary School.
Based on the success of the first swap, the Friends will begin planning soon for next year, and for the possibility of a Friends' Garden in the Library's back yard. If you are a gardener who missed this opportunity, we encourage you to become part of the planning, both of the next Swap and Sale and for the Friend's Garden. Contact Wilma Jozwiak at

[email protected]

or leave your contact information for her at the Information Desk to become part of next year's event.
Judy Drake, Jo Anne Robbins and Francine Roger
Summer 2010 Issue
Upcoming Events

July 13
Presentation @ the Library
FOL 2011 Italy Trip
September 10-12
Scholastic Book Fair
September 16
Library Budget Vote
FOL Mini Book Sale
7 pm: FOL Volunteer of the Year Reception
and the Unveiling of Library Rendering Project
October 1-3
Fall Used Book Sale
October 2
Trip to Massachusetts Literary Sites
November 3
Mystery Author, Lee Child 7 pm - Reservations begin October 1st
Outreach Service

Enjoy Reading? The Friends of the Library will deliver books to people who are unable to get to the Library. If you are interested in receiving this Outreach service or know anyone who might benefit from this service, please call Lou Ann Stewart at the Library, 371-8622.
Friends Fall Used Book Sale
Friday, October 1st
1 pm - 5 pm

Saturday October 2nd
10 am - 4 pm

Sunday, October 3rd
12 pm - 4 pm

Paperbacks $ .50
Children's $ .50
Hardcovers $1.00
VHS Tapes $1.00
CDs/DVDs $2.00 & up
Audio Books $2.00 - $5.00
Special Items priced slightly higher

Members of The Friends of The Library may purchase items at the members preview sale which is held on Friday at 12:00, before the event opens to the general public.

Each member may buy as many as 50 items at the preview sale. Bring your membership card, and get the best selection. If you are not a member, sign up now
to take advantage of this benefit.

Sunday is Bag Day!
On Sunday, fill a bag with books for $5.00.
Or buy a tote bag or backpack for $10.00
and fill it for free!

Mark your calendar now!



Friends' Used Book Sale Donation Guidelines

We continue to receive numerous donations to the Friends' Used Book Sale that we are not able to use. In fact, with continuing regularity, we receive donations of books that are ripped, dirty, moldy, or water-damaged.

Our volunteers go through every book, and have on occasion had to resort to wearing rubber gloves before removing the books from their bags or boxes. While we certainly want and need donations to continue to operate the Used Book Sales, PLEASE keep in mind that we only want books that we can actually sell.

A good rule of thumb is that if the book does not look like it belongs on the Library's shelves, it should not be donated to the Friends Book Sale. Another good guide is to look at the books you are donating and ask yourself , "Would I buy this book in this condition?" If the answer is no, please discard it.

Our actual donation guidelines are provided below:

The Friends gladly accept donations of the following items in preparation for the Used Book Sales: gently used books in good condition; compact discs; computer software and games; records; sheet music; videocassettes and DVDs.

Books with broken spines, missing pages or covers, or that are water damaged, should be discarded. We are unable to sell such books. Also, please discard any books that have a mildewy odor.

We are unable to use
Textbooks,
Encyclopedias,
Reader's Digest
Condensed Books
Magazines.

Please bring your donations to the Welcome Desk in the lobby of the library at 475 Moe Road, Clifton Park, NY 12065.
Book Friendly

Book Friendly is published quarterly, in January, April, July, and October.

Authors' writings do not reflect the views of the Friends of the Clifton Park - Halfmoon Public Library.

Authors retain rights to all their own work
Works & photos printed with permission of authors.
Writers Wanted!

Book Friendly accepts: Book Reviews, Poetry, Articles, Memoirs, Short Stories.

Email submissions to:

Heidi prefers Microsoft Word format. Handwritten or typed manuscripts are also accepted.

Call (518) 373-8170 for info.

Please include a statement granting Book Friendly permission to print your work. Deadline for the October fall issue is September 1, 2010.

Museum Pass Program
by Nancy Hampton
Looking for something fun and different to do this summer? The Friends' Museum Pass Program is the answer. Patrons over the age of 18 may borrow the passes for three days at a time, and are on a first come, first served basis. Borrowers must be residents of the Library tax district and have a valid Library Card. Just inquire at the Ask a Librarian desk.
We offer passes for the following museums:
Eric Carle Museum of Picture Book Art Amherst, MA
Schenectady Museum & Suites-Bueche Planetarium
Schenectady, NY
Hancock Shaker Village, Pittsfield, MA
Mass MoCA (Massachusetts Museum of Contemporary Art) North Adams, MA
Norman Rockwell Museum, Stockbridge, MA
Iroquois Indian Museum, Howes Cave, NY
Saratoga Children's Museum, Saratoga Springs, NY
If you have suggestions for new museums, please let us know.
FOL Board of Directors

Jo Anne Robbins

President


Keith Willis
1st VP & Book Sales


Toby Elman
2nd VP & Publicity


George Pawlowski
Treasurer


Lori Bennett
Secretary & Scholarships

Ellen Burns
Fundraising & Events

Bernie Grossman
Liaison to Trustees

Nancy Hampton
Youth & Families

Andres Harnecker

Technology

Wilma Jozwiak
Membership

Cathy Lawrence
Outreach

Rhona Koretzky
Travel

Ashley Denton
Get Out The Vote Campaign

Kathy Adam
Library Liaison




FOL Committee Chairs

Corinne Acker
Hospitality

Chris Barry


Historian



Sue Brooks


Hospitality



Ann Christoffel,


E-mail Tree



Janice Jaskolka Golden


Pavers



Fei Xie


Graphic Arts





FOL Mission

The mission of the Friends of the Clifton Park - Halfmoon Public Library, Inc. shall be to act as a bridge to the community by:

1) Increasing public awareness of, focusing attention on, and expanding the use of the Clifton Park - Halfmoon Public Library.

2) Initiating, organizing, promoting, and encouraging cultural and educational activities.

3) Procuring gifts and endowments for the Clifton Park - Halfmoon Public Library, as well as raising funds to support certain Library activities.

FOL Survey
The Friends of the Library will be sending you a survey that will help our organization update our records and increase opportunities for our membership to get involved. When you receive the survey, please take time to complete it.
Your Community Center for Life-Long Learning