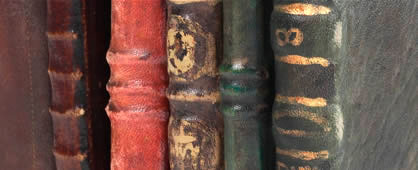 Author Event
Margaret Peterson Haddix
Wednesday, May 26, 2010
Library Program Rooms
Margaret Peterson Haddix comes from a long line of bookworms, so it is no wonder that she became a writer. "When we went on family vacations, my parents were always saying things like, 'Would you guys stop reading for a minute and look out the window? That's the Grand Canyon were driving past!'"

As a child, while other kids would answer the question of what do you want to be when you grow up by choosing the career of their parents, Margaret longed to have a career that she didn't believe real people actually got to do. She thought all people were farmers, like her father or nurses, like her mother, or doctors or teachers. She thought that authors were only found in books.

Margaret Peterson Haddix did become a writer, the prolific author of more than 20 books beginning with Running Out of Time in 1995. She is the author of The Shadow Children series and also of the tenth and final book of the 39 Clues series which will be available in the fall of 2010. At any given time she has two or three books in various stages of readiness for publication. "I know I have to write a story when the story keeps me awake at night, teases at the back of my brain all day, just won't let me go."

The Clifton Park- Halfmoon Public Library, in conjunction with the Friends of the Library, is pleased to announce that Margaret Peterson Haddix will be speaking at the Library on Wednesday, May 26, 2010 at 7 pm. Her presentation is for children and adults alike. Borders Books will have a selection of her books for sale and Ms. Peterson Haddix will be available for book signing immediately following the presentation. To register on-line for this wonderful event click on www.cphlibrary.org, On the left side of the page, click Program Registration then Calendar of Events. Or, call the Library at 371-8622. Registration is requested and begins Monday, May 3. Seating will be on a first-come, first-served basis and limited to room capacity.
Announcing . .

.




The Friends' Favorites Cookbook

By Ellen Burns
The Friends of the Clifton Park - Halfmoon Public Library have prepared a taste-tempting cookbook to be sold at our library. The cookbook has been created with the help of Shenendehowa High School East students in the graphics design class who have created the artwork for the cover and throughout the book. This wonderful cookbook will feature favorite recipes from members of our community, your neighbors and friends.

The Friends' Favorites Cookbook will be on sale beginning in the month of April at the library for $12 each. Proceeds from the sales of our cookbooks will support the many worthwhile projects and programs at the library. Your help in purchasing the cookbook will insure the success of this fundraiser while introducing you to many new and delicious recipes.
Mothers, aunts, sisters, and grandmothers alike, would love to receive this wonderful addition to their cookbook collection for Mothers' Day!
Join the Friends for A Book and Story Festival for Adults: Stories and Families
Wednesday, May 5th, 5:30 PM
Library Program Rooms

You are invited to enjoy a Springtime Book and Story Festival for Adults, organized and sponsored by the Friends of the Clifton Park - Halfmoon Public Library. The festival will be held on Wednesday, May 5th from 5:30 until 9:00 PM in the Library Program Rooms on the second floor. Supper will be served and attractive literary baskets and author signed books will be auctioned (Chinese Auction) throughout this fun-filled evening. The program will include Four Courses of Books and Stories with Three Courses of a Meal.
Our special guests and presenters for the evening include lover of books and literature professor, Frank Hodge and local storyteller and member of the Friends of the Library, Kate Dudding. Their story telling and book sharing will touch the heart of adults who are parents, grandparents, aunts and uncles or simply children at heart.
For many years, Frank taught Children's Literature at SUNY Albany and brought the joy of literature to thousands of adults and children in the Capital Region. He is the former owner of Hodge-Podge Books that was located on Lark Street in Albany. He now operates his business from his web site,
http://www.hodge-podgebooks.com
. Frank's love of literature is infectious and he counts among his friends many of the better children's book writers and illustrators.
Kate Dudding is an award-winning storyteller and author. She enjoys telling many kinds of stories to all ages. A particular interest of hers is bringing history to life -- giving a voice to people from the past. She has told stories at many venues in the Northeastern USA, including The New-York Historical Society (New York City, NY), The Clearwater Festival (Croton-on-Hudson, NY), First Night Saratoga (Saratoga Springs, NY), and The Norman Rockwell Museum (Stockbridge, MA). She is a member of the Story Circle, Proctor's Theatre Resident Storytelling Company -
http://www.storycircleatproctors.org.
Our Book and Story Festival is free. Seating is limited and reservations are required. As a Member of the Friends of the Library, you will have two weeks to register before this event becomes open to the public on April 19th. To register, simply call 371-8622. You may also register in person at the library Welcome Desk. Registration will begin on Monday, April 5, 2010.
Our festival will begin at 5:30 PM. You'll have time to check in, purchase Chinese Auction tickets (12 tickets for $10.00) and make your auction picks before the first course of stories. Before supper, we'll enjoy a book and story course while sipping a cup of punch followed by our first auction drawings. Our appetizer course will be followed by more books, stories and another auction drawing. Next, you'll enjoy gourmet sandwiches, fresh fruit, and side dishes followed by more stories, books and another auction drawing. The meal will conclude with dessert and coffee. Our exciting evening will end with our final course of stories, books and our final auction drawing.
National Children's Book Week

by Toby Elm
an
Celebrating New Babies
The Friends of the Clifton Park - Halfmoon Public Library invite parents and grandparents of a newborn (up to six months old). to join us in participating in National Children's Book Week, May 9 ~ May 15, 2010 with "Books for Babies."
If you are a Library District parent or grandparent of a newborn. please stop at the Welcome Desk in the lobby of the Library during the week of May 9~15 to receive a special gift packet containing, among other materials, a board book, library card application, nutritional information and tips on reading compliments of the Friends.
Travel Update
by Rhona Koretzky
Buon giorno from Rhona, the FOL travel coordinator. We are announcing the next international adventure with Collette Vacations, sponsored by and in support of the Friends of the Library. We will be traveling to Italy in March 2011. The first part of the trip will be six days touring Sicily. We will then travel by ferry to the spectacular Amalfi Coast for two days, then on to the ruined city of Pompeii, and conclude our trip with two full days in glorious Rome.

The trip departs from Albany Airport on Thursday March 17, 2011 and will return on Monday March 28. The tour cost is $3,344 per person based on double occupancy. Single occupancy is available for a supplemental fee of $495. Included in this price: round-trip airfare from Albany, air taxes, fees and surcharges, travel insurance, 9 breakfasts, 6 dinners, and guided sightseeing.

Please mark your calendar to join me on Wednesday June 2 at 6:00 PM at the library for a slide show presentation about this trip opportunity. Jennifer Baumann, district sales manager for Collette Vacations will be available to answer all questions. I will be happy to take registrations for the trip at any time. Please email me at

[email protected]

or call me at 518-505-1303 with any questions or if you would like to request a tour brochure.

Even before we jet off to Italy an exciting opportunity is being planned for this autumn. The next FOL sponsored day trip will be a tour of major literary sites in Massachusetts. Exact itinerary and pricing is not yet final, but expect to spend a full day exploring the great New England literary heritage. Please contact as above for further details or to sign up.

Safe travels wherever you go...and see you soon!
Museum Pass Program
by Nancy Hampton
Happy Spring! Have you checked out our Museum Pass Program? Stop by our Ask the Librarian desk for information and details about checking out a fun museum pass or simply click on the links below.
We are pleased to offer patrons of the Clifton Park - Halfmoon Public Library the opportunity to visit the following museums free of charge:
·
Eric Carle Museum of Picture Book Art
Amherst, MA
·
Schenectady Museum & Suites-Bueche Planetarium
Schenectady, NY
·
Hancock Shaker Village
Pittsfield, MA
ª
Mass MoCA
(Massachusetts Museum of Contemporary Art) North Adams, MA
·
Norman Rockwell Museum
Stockbridge, MA
·
Iroquois Indian Museum
Howes Cave, NY
·
Saratoga Children's Museum
Saratoga Springs, NY
Our passes may be borrowed for three days and are on a first-come, first served basis. Currently, we are looking into expanding our Museum Pass Program. So, "check us out" and let us know what you think!
Change of Heart
A Memoir by Dan Riley
You couldn't say my father and I had a relationship like most of my friends had with their Dads. After I returned from Naval service at the close of the War, he and I were friendly, but never close. Perhaps it was because he was frequently absent from my life up to the time that I enlisted; more likely because I was preoccupied with my friends and what was going on in my world; not exactly shunning him, but keeping a safe distance between us. An alcoholic, he had been a journeyman carpenter in the 20's, and 30's. With the help of AA, he stopped drinking in 1941, later starting up a roofing and siding company. His dream was for me to join him in the business, but I had other ideas.
During my summer vacations from college, I worked for my father; the experience convinced me that roofing would not be in my future plans. A perfectionist, he kept a close eye on me, and when he spied a shingle that didn't line up with its neighbor, I had to rip it off and nail on another while he stood behind me and looked over my shoulder. Nearing 60 years old, his agility on a makeshift scaffold always unnerved me as I stood there 30 feet above the ground, knees shaking, trying to correct my mistake without mashing my thumb.
We left for work early during the hot weather, anywhere from six to seven a.m.; this enabled me to be on the golf course by four o'clock, a concession he granted both of us. He didn't relish working in 90-degree heat any more than I did.
I reluctantly deferred to my father's "work rules". Some examples: "Always buy good paint and a good brush"; years later I ignored this advice and found out the hard way that using cheap paint to cover our dock was akin to brushing on glue. And when working on a scaffold, "Never look down--just concentrate on what you're doing" (easy for you, difficult for me). "You should be getting to bed earlier" was the one that always got me (I was often tempted to ask, "What were you doing nights when you were 22?"). These admonishments were soon forgotten after leaving the job site as my mind was focused on golf.
Sixty years has scarcely erased these memories. His words are now seen as metaphors that went right over my head. One bit of advice that did sink in was "You can get all the education in the world, but if you can't get along with people, you won't be successful"; I tried not to forget that one. He was a prime example of how to get along with others; his friends were many and loyal. He came out of the "school of hard knocks" and wanted me to learn from the mistakes he had made.
I wouldn't let myself concede that he could possibly know more than I did then; I was determined to make it on my own without his help. In retrospect, it's plain that any success I may have attained in my life came from the "on-the-job" training I received while standing 30 feet in the air on a shaky scaffold.
So on this forty-fifth anniversary of his untimely death, and overdue to wipe the slate clean, I salute my father: "Thanks a lot, Dad; you were one smart guy".
Book Friendly
Book Friendly is published quarterly, in January, April, July, and October.
· Authors' writings do not reflect the views of the Friends of the Clifton Park - Halfmoon Public Library.
· Authors retain rights to all their own work
· Works & photos printed with permission of authors.
Friends of the Library Annual Meeting
Wednesday, May 12, 2010, at 7:00 PM in Program Rooms C/D

by Jo Anne Robbins, President
The Board of the Friends of the Library invite our membership to attend our Annual Meeting scheduled for Wednesday, May 12, 2010, at 7:00 PM in Program Rooms C/D. The winners of our 2010 Scholarships will receive their awards. Generous donors will also receive recognition. Finally, the Board will present a PowerPoint Summary of their achievements for the year. Refreshments will be served.

We encourage members of the Library Board of Trustees, FOL Committee Chairs, library staff and active members of the Friends to attend and participate in the discussion. Members interested in finding out more about the Friends and how they may participate more actively in our organization are also welcome.

This is a major change in FOL past practice and will result in an amendment to our By-laws. This amendment to the By-laws of the Friends of the Library will be on the agenda.

It has also been past practice that the Friends recognize a Volunteer of the Year at our Annual Meeting. The Board has decided that this event will take place in September at a special reception to be held on the library vote day, Thursday, September 16th, at 6:30 PM in the Josephine Piracci Board Room. Nominations for Volunteer of the Year may be made in writing to our Secretary, Lori Bennett -

[email protected]

.
Help Wanted!
Author Events Coordinator

Do you enjoy planning and communicating?
The Friends are looking for a volunteer to work with our Events and Fund-raising Chair to plan and coordinate author events for the coming year.
This is not a Board position and much of the work can be done from home.
If you might be interested in receiving a job description and discuss the possibilities, please contact Toby Elman.
[email protected]
Calling All Gardeners!

Save the Date - Saturday, June 12th!

That morning, the Friends will be sponsoring a plant swap and sale from 10 AM to 1 PM under the roof of the Library porch. Area gardeners will be able to bring perennial plants that have been thinned from home gardens or extras of annual seedlings to the Library to swap for plants from other gardeners or to donate for sale to folks who are just beginning to garden. (Proceeds from the sale of plants will be donated to our Library Literacy Volunteer Program.) Visit the Friends website or drop by the Library in the next few weeks to pick up a brochure with more information about how you can participate in the swap - a "swapper's toolbox" will be provided to ensure an organized and successful inaugural event. If you are interested in working on this project, please contact Wilma Jozwiak at:
[email protected]
Cookbook Art Exhibit


During the month of April, there will be an exhibit of FOL Cookbook Art created by a very talented group of students from Sally Way's graphics design classes at Shenendehowa High School East. The exhibit is located on the wall opposite our Program Rooms on the second floor. Look for the Friends' Favorites Cookbook mid April. The art selected for our cookbook cover and the dividers is part of that art display.
Once the cookbook has been received from our printer, it will be available at the Circulation Desk. The price: $12.00.

Spring 2010 Issue
Upcoming Events

May 5
Book and Story Festival for Adults
5:30 pm
May 12
FOL Annual Meeting
7 pm
May 21-23
Spring Used Book Sale
May 26
Author Margaret Peterson Haddix
7 pm
Outreach Service

Enjoy Reading? The Friends of the Library will deliver books to people who are unable to get to the Library. If you are interested in receiving this Outreach service or know anyone who might benefit from this service, please call Lou Ann Stewart at the Library, 371-8622.
Friends Springtime Used Book Sale

The next regular full-scale Used Book Sale will be held May 21 through May 23 in Program Rooms A and B and the Friends Room (adjacent to Program Room A). The Friends have received an overwhelming amount of donations for this next sale, and volunteers have been working tirelessly to sort and categorize all the books and audio/visual materials that have pouring in.

This sale will feature a selection of audio books and VHS movies, as well as the usual great selection of contemporary and classic fiction, children's books, and non-fiction books.
Details of the Sale are below.
Friday, May 21st


1:00 pm - 5:00 pm
Saturday, May 22nd

10:00am - 4:00 pm
Sunday, May 23rd


12:00 pm - 4:00 pm
Paperbacks - $ .50 Children's Books - $ .50
Hardcovers - $1.00
VHS Tapes - $1.00 CDs/DVDs $2.00 and up Audio Books $2.00 - $5.00
Special Items priced slightly higher.


Members of The Friends of The Library may purchase items at the members preview sale which is held Friday at 12:00, before the event opens to the general public. Each member may buy as many as 50 items at the preview sale. Bring your membership card, and get the best selection. If you are not a member, sign up now to take advantage of this benefit.

Sunday is Bag Day!
On Sunday, fill a bag with books for $5.00. Or buy a tote bag or backpack for $10.00 and fill it for free!
Mark your calendar now!
Friends' Used Book Sale Donation Guidelines

Recently, we have re-
ceived numerous dona-
tions to the Friends' Used Book Sale that we are not able to use. In fact, with surprising regularity, we receive donations of books that are ripped, dirty, moldy, and water-damaged. The volunteers go through every book, and have on occasion had to resort to wearing rubber gloves before removing the books from their bags or boxes. While we certainly want and need donations to continue to operate the Used Book Sales, PLEASE keep in mind that we only want books that we can actually sell. A good rule of thumb is that if the book does not look like it belongs on the Library's shelves, it should not be donated to the Friends Book Sale. Another good guide is to look at the books you are donating, and ask yourself "would I buy this book in this condition?" If the answer is no, please discard it.
Our actual donation guidelines are provided below:
The Friends gladly accept donations of the following items in preparation for the Used Book Sales: gently used books in good condition; compact discs; computer software and games; records; sheet music; videocassettes and DVDs.
Books with broken spines, missing pages or covers, or that are water damaged, should be discarded. We are unable to sell such books. Also, please discard any books that have a mildewy odor.
We are unable to use textbooks, encyclopedias, Reader's Digest Condensed Books or magazines.

Please bring your donations to the Welcome Desk in the lobby of the library at 475 Moe Road, Clifton Park, NY 12065.
FOL Recycling Fund-raising Program

The Friends of the Clifton Park Halfmoon Public Library are continuing the "green" recycling fund-raiser through a program called EcoPhones. The recycling program is for cell phones, inkjet cartridges, iPods and digital cameras.

There is nothing to buy. We are simply asking you to protect the environment by donating your old items. They may be tax deductible and will be recycled in accordance with EPA regulations or refurbished and sold.

The cell phones will be donated to the Saratoga Domestic Violence Shelter and 100% of the other proceeds will go directly to support library programs.

The green collection bin is located in the library at 475 Moe Rd. Clifton Park.

The following items will be accepted:

-Cell Phones - working and non-working. The memory will be cleared from all donated cell phones; however, we recommend you remove any personal information from your phone before donating it. Please include the battery with
the phone, but no other accessories (chargers, cases, earpieces, etc.) can be recycled.
-Ink Jet Cartridges - all brands, functional or broken will be accepted. No toner cartridges, please. (Ink jet cartridges
are small and can fit in your hand, toner cartridges are large and bulky).
-Apple iPods - working and non-working. Please include the battery, but no other accessories.
-Digital Cameras - work- ing and non-working. Please include the battery, but no other accessories.
Writers Wanted!

Book Friendly accepts: Book Reviews, Poetry, Articles, Memoirs, Short Stories.

Email submissions to:

I prefer Microsoft Word format. handwritten or typed manuscripts are also accepted.

Call (518) 373-8170 for info.

Please include a statement granting Book Friendly permission to print your work. Deadline for the next issue, April 2010, is March 15th.
FOL Board of Directors

Jo Anne Robbins

President


Keith Willis
1st VP & Book Sales


Toby Elman
2nd VP & Publicity


George Pawlowski
Treasurer


Lori Bennett
Secretary & Scholarships

Ellen Burns
Fundraising & Events

Bernie Grossman
Liaison to Trustees

Nancy Hampton
Youth & Families

Andres Harnecker

Technology

Wilma Jozwiak
Membership

Cathy Lawrence
Outreach

Rhona Koretzky
Travel

Ashley Denton
Get Out The Vote Campaign

Kathy Adam
Library Liaison




FOL Committee Chairs

Corinne Acker
Hospitality

Chris Barry


Historian



Sue Brooks


Hospitality



Ann Christoffel,


E-mail Tree



Janice Jaskolka Golden


Pavers



Fei Xie


Graphic Arts