Publisher/Editorial Director:
Associate Publisher/Contributing Editor:
Contributing Photographers:
Darold Kohout
Doug Oehler
Joe Streng
Web Producers:
Rancho Cordova, Ca. 95742
1-888-FORD-100
Celebrating
Our 43rd
Anniversary
1969 - 2012
Thank You!
Vintage Friday's
Car Shows!
Music & Entertainment
at our shows for
13 YEARS!
-- RIP Larry --
The Association of California Car Clubs (ACCC)
is a volunteer organization with regional representatives who represent the interests of individual members and member clubs across the state.

The ACCC consists of thousands of automobile hobbyists throughout the state who are interested in California laws and policies regarding collector automobiles.


FAST FRAME

The Official Custom Art Frame Shop of
Vintage Fridays

5343 Sunrise Blvd
Fair Oaks, Ca. 95628
916-966-8766
Barris Kustom
Industries
Thanks For The Support George!



Click
Above to see what
George Barris has been up to and shop Barris.com



Sacramento Vintage
is an authorized
Barris Kustoms
Dealer!


We have 3 Barris memorabilia sections:



-- Batmobile Related

-- Barris Books
-- The Munster Koach
CLICK
on the Batmobile

Thanks to
Hooters Restaurants
for their support of our Vintage Friday's events!

Rancho Cordova
Sacramento
Natomas
Fresno
Bakersfield
Honolulu
Thank You!
New drivers need to


Start Smart.
Enroll your young driver in a Start Smart program today.
Sacramento Vintage Ford was
Honored with a
2010
All Star Award
from
Constant Contact
for our 2009 & 2010
newsletters!


Stop by the
Rancho Cordova

location - Just down the street from Sacramento Vintage Ford!

Rancho Cordova Store Manager: Mitch Harrison
2838 Sunrise Blvd

Rancho Cordova, Ca.

95742

916-858-8666

WIN Some Very Cool Lethal Threat

Rat Rod Embroidered Mechanics Shirts
at all of our Vintage Friday's events!
CLICK above to see what else Lethal Threat has. And they have a lot!
THUNDERBOLTS
Capitol Auto Club
Official Host Club
of our Vintage Friday's Car Shows!
CLICK above to read more about the 'BOLTS'
At P.F. Chang's we are committed to providing you with an exceptional dining experience every time you walk through our doors. Each dish on our menu is prepared to order using the freshest and highest quality ingredients.
Majestic 11 foot tall horses grace the entrance to many of the restaurants. The horse symbolizes the original Forbidden City in China, which was built for China's first emperor Qin Shi Huangdi.
At P.F. Chang's you are surrounded by a unique environment combining influences of Chinese and American cultures. A panoramic, hand-painted mural depicting 12th century China, is visible from the main dining room and commands attention as the restaurant's centerpiece, while several terra-cotta warriors stand guard.
P.F. Chang's
(Darold and Lynn highly recommend the Chang's Chicken Lettuce Wraps to start your dining experience!
)
Rod Shows.com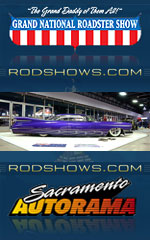 Grand National Roadster Show
January 25-27, 2013
Sacramento Autorama
February 16-18, 2013
Join the West Coast's premier hot rod, bike & motorsports tour!
Come and join the two Oldest and Longest Running Indoor Car Shows in the World.
CLICK
above to see when the Overhaulin' episodes will be re-broadcast!
-Dates and Times-
Garage Mahal
American Trucker
Shark Fights
Optima Ultimate Street
Car Invitational
CLICK on any show
for information
Monster Rides On Sale!
Hot Rod Magazine
Monster Rides

We also have the mirror hangers and ornaments for the Holidays!
Ask the Gift Shop about the HOT ROD Monster Rides hat, FREE with your purchase of 2 or more 'full size' Monster Rides! and........ we just received the Monster Rides motorcycles!
Classic Shop Talk
Tech Articles
Instructions
Videos
Classic Performace Products
A Valued Vintage
Friday's Sponsor!
U.S. NAVY F4U
CORSAIR COUPE
in 1:18 Scale
You may WIN one at our events this season!
WIN some very
cool signs from

Ruckus Rods!

We will have these NEW signs in stock soon!



CLICK

above if you can't wait!

California Highway Patrol
The California Highway Patrol
-Valley Division-
A Vintage Fridays Sponsor & Supporter


Nothing Comes Close To
A Cobra

North American Headquarters:

Cobra Electronics Corporation
6500 West Cortland Street
Chicago, IL 60707

productinfo@cobra.com
1-773-889-8870


Back for a new season,
Car Warriors is a competition unlike any other.

Every week, two of the country's most talented and colorful local garages will have one crazy challenge: Build an ENTIRE CAR from a piece of junk - in just 48 hours.

It's the ultimate car building competition.


Sacramento Vintage Ford Shop Tour
by Craig Pike over at
My Ride Is Me.com
'The first thing I noticed'.......CLICK above to read the article
Photos by
Fender Donated The Guitar!




Gene Winfield Painted
It To Match WILD CAD!



Mike Clines Striped It in 12k White Gold with Green Accents To Match WILD CAD


Best Buy in Roseville, California donated the Fender Amp!





W

e gave it all away all for Make-A-Wish
in July!


Watch out for this little
guy in our parking lot area.
Very friendly but hasn't learned he may get squished by a car.
Originally posted on MOONEYES Express,
Shige Suganuma's Blog.
(Courtesy Shige Suganuma)

"I did it again.

Thanks to social media, Facebook and YouTube, news travels super fast so rather than not saying anything, I figure I would post about it.


In Sweden 8 years ago when I crashed and 7 years since my crash in Japan, the scope of news didn't travel very far. Unlike this time which was in a blink of an eye. I have received a lot of emails from people concerned and saying not to worry. Thank you very much.


This was my second time going upside down. As the Dragster is turned over and I'm hanging upside
down by the seat belt, I could only think,
"Oh man, I did it again, Dumb!"


The medics came quickly to the scene and got me into the ambulance real fast. They took me to a medical facility on the course area to check me out. There was nothing wrong to report so they let me go.


Thank you to everyone at Chimay Race Track and thank you for your concerns about me and the Dragster."


TWO video clips for you to check out:

CLICK the photo to view above clip.

CLICK the photos to view the above video.
This clip is about 4 minutes long.
LOKAR VISITS SACRAMENTO VINTAGE
Skip Walls, (left), founder of Lokar Performance Products, Knoxville, Tennessee stopped by the store earlier this month for a visit and tour while up here in Northern California in search of a 'Camaro"?

The Lokar brand and name is familiar to street rodders worldwide as company founders Skip and Debbie Walls have been steadfast in their involvement and support within the industry. Open any rodding magazine and you'll likely see their ad. Go to a big event and you'll likely see their rig on the midway. The company is also recognized at many industry award ceremonies and receptions as a leading manufacturer.

At last year's SEMA Show in Las Vegas, Lokar's brand new Drive-By-Wire Electronic Throttle Control Pedal Assembly was named Best New Engineered Product. More than just manufacturer's and sponsors, Debbie has served as Chairman of the Hot Rod Industry Alliance and was named as the Goodguys Woman of the Year in 2000 for her integrity and contributions to hot rodding.

Lokar was founded in 1988 in Walnut, California.
O'Reilly Auto Parts
With over 3600 O'Reilly Auto Parts stores in 38 states, they are never far from home!
Better Parts...Better Prices, Everyday!
$2500. MAKE-A-WISH DONATION
FROM PICK-n-PULL
Darold Kohout (Sacramento Vintage) presents a check to Kim with the Make-A-Wish Foundation of Sacramento and Northeastern California for $2500. at our July show.
The donation was from
Pick-n-Pull Self-Service Auto & Truck Dismantlers,
a subsidiary of Schnitzer Steel Industries, Inc.
Pick-n-Pull has 51 locations throughout the U.S. and Canada.
A HUGE Thank You To Pick-n-Pull!
DON'T MISS THE CELEBRITY ROAST OF BLACKIE GEJEIAN
Don't miss the Celebrity Roast of Blackie Gejeian and a Salute To Fresno Motorsports Heroes on Saturday, November 3rd at The Grand in Fresno, CA.

You don't want to miss this historic gala gathering of notables from the glory days of hot rodding, drag racing, Bonneville, oval track and boat racing! The evening's festivities kick off at 3:00PM and will include a rod & racecar display, automotive legends, a full tri-tip or chicken dinner and of course, the roast of the honored guest, Blackie Gejeian.

Don't hesitate... Tickets are limited!


CLICK ABOVE TO PURCHASE YOUR TICKETS
TOBY KEITH'S
I LOVE THIS BAR & GRILLE
Now in Folsom, California!
Leave it to country music legend Toby Keith to create a restaurant that offers great food and the best live music in Oklahoma City. Named after Toby's hit single "I Love This Bar," this exciting venue offers a real down-home experience.
Enjoy over 100 pieces of Toby Keith memorabilia including signed guitars, platinum records and clothing Keith wore in videos. Take a seat on one of their "Redneck Loveseats" and get ready to Love This Bar and Grill.
Stop by the Toby Keith shop and pick up a "Whiskey Girl" t-shirt or a bottle of Toby's special BBQ 'rub' for your next cookout.
Open for lunch 11am daily. Come as you are.
They'd love to have you anytime!
No reservations, but seated upon order of arrival.
Toby Keith's
I Love This Bar & Grill
.
440 Palladio ParkwayFolsom, California 95630916-984-8629
Located in the PALLADIO at Broadstone
-Please drink and drive responsibly-
Toby Keith guitar picks are available in the Sacramento Vintage Gift Shop and on our web site.
ANDY'S PICNIC 2012
Andy and Sue Brizio 'back in the day'
Sunday, August 19, 2012 we were at Andy's Hot Rod Picnic hosted by Andy & Sue Brizio. The event was held at the Italian Benevolent Society Picnic Grounds in Sutter Creek, California.
Andy during one of many interviews
Sue and Andy Brizio.... and Blackie Gejeian
CLICK
on any of the photos to view our photo gallery!
Thanks to the Brizio Family for a great time!

GOODGUYS 26TH WEST COAST NATIONALS
AUGUST 24-26, 2012
The "Crown Jewel" of all Goodguys events - the 26th West Coast Nationals Presented by Flowmaster - is the longest running and most prestigious national event on the calendar and will return to the Fairgrounds in Pleasanton August 24-26! The Goodguys 26th West Coast Nationals promises to feature a sun-soaked weekend of hot rodding fellowship and the highest quality cars in the country!


You don't want to miss the giant Show & Shine featuring over 3,000 '72 & earlier rods, customs, muscle cars, trucks and classics on display! You'll also see the crowning of the Flowmaster America's Most Beautiful Street Rod and other prestigious awards, see the latest collector car products and trends at over 300 vendor and sponsor exhibits, shop the Mega Swap Meet & AutoTrader Classics Cars 4 Sale Corral, enjoy live stage shows, model car show, arts & crafts expo, model engine expo, the FREE Kids Revell Model Make-N-Take, PPG Kids Coloring Contest and so much more!

It's a guaranteed great weekend out for the whole family with cool cars and cool people that you definitely don't want to miss!

August 24, 25 & 26, 2012
Pleasanton, California,
Alameda County Fairgrounds
Goodguys Main Line: (925) 838-9876

Event Location Phone: (925) 426-7600

Event Hours
Friday, August 24: 8am to 5pm
Saturday, August 25: 8am to 5pm
Sunday, August 26: 8am to 3pm


Pepsi Beverages Company
Sacramento, California
Thank You Pepsi Beverages Company, Sacramento,
for your continuous support of our Make-A-Wish efforts.
Pepsi Next will be released two new fruit-flavored colas last month. Cherry Vanilla and Paradise Mango flavors are the first the be unveiled after the original.

"This flavor is for a limited time only or while supplies last! Look for it mid July 2012," the company's website states.
The drinks will have less caffeine than the original flavor.
Free samples of the new Pepsi products were available at these young ladies booths. A big Thank You for your help with our Make-A-Wish efforts in 2012!
GOODGUYS HOT ROD WEEK
-FIRST STOP-
SACRAMENTO VINTAGE FORD
Goodguys Hot Rod Week 2012, no registration is required and there is no fee! Just show up at the Pleasanton, California Hilton at 8am each morning, get a tour map and head off with the pack to join the Hot Rod Week Fun!

All tours leave the back parking lot of the Hilton at 8:30am sharp!
Kirk Jones, Goodguys Goodtimes Magazine Editor, with TWO bus loads of visitors arrive at Sacramento Vintage.
Hot Rod Week 2012 opened with an 80 mile trip up to California's Capital City!
The first stop was a visit with the gang at Sacramento Vintage Ford to see what they're up to. Then it was over to R.C. Hobbies for a look at one of the world's foremost collections of model trains, planes, slot cars, boats and more! From R.C. they headed to Gary Matranga's place to see his collection of rods & race cars before the final stop of the day at Tim Lohey's Rod Shop in Rio Linda.
Gary Meadors, Darold Kohout and Kirk Jones
Greg and Rebecca Stokes on the left. Greg is the Feature Writer with
Hot Rod New Zealand Magazine
. And.......they have the honor of driving around Hot Rod Week in Andy and Sue Brizio's '32 Roadster!
How cool is that!
CLICK
on any image to view all the photos
from the stopover
Next One: SEPTEMBER 28, 2012
Friday, September 28th is the third Vintage Friday's Car Show and BBQ out of four held at Sacramento Vintage Ford.
GREAT raffle prizes again this season with 100% of the ticket sales going the The Make-A-Wish Foundation of Sacramento and Northeastern California.
Goodguys promotes and produces 20 annual events in 13 states and publishes the monthly Goodguys Goodtimes Gazette from the association's Pleasanton, California headquarters. More info? Visit www.good-guys.com.
CLICK above to print a Goodguys $3. Discount Coupon, PDF version. Good for ANY Goodguys Event!
The KEY and TOKEN the WISH recipient is given to unlock the very special room that grants their WISH.
Join KNCI 105.1 radio this Thursday and Friday, August 23rd and 24th at the Westfield Galleria in Roseville for their annual Make-A-Wish radiothon!
All kinds of autographed memorabilia for you to bid on, including items from the worlds of music, sports, TV, movies and more!
JAMES HETFIELD'S 'IRON FIST' 1936 FORD
BY BLUE COLLAR CUSTOMS FEATURED IN
HOT ROD MAGAZINE

It's Metal.
What Did You Expect from James Hetfield?

Metallica frontman James Hetfield has been a car guy for years. If you've ever seen the video for Metallica's song "Fuel", which is a 4-1/2 minute montage of street racing muscle cars and burnouts, that shouldn't come as a surprise. Right about the time when his taste for cars was evolving from muscle cars into hot rods and customs, he met Scott Mugford, owner of Blue Collar Customs in Sacramento, California. The two ran into each other every now and then at various northern California car shows and talked cars every time. Noting the kinds of cars that Scott's shop turned out, James commissioned Blue Collar Customs to finish a Ford F100 he bought that had already been customized.

With the F100 completed and looking like a true '60's custom, the search for the next project was on. Although he was looking for a three-window '36 coupe, a five-window "beater from SoCal" turned out to be a blessing because of the extra legroom. James had Blue Collar chop the '36, but it went under the knife in his own garage as well. "I proceeded to cut into it myself and keep it a rat for a while. That was really the extent of my skills anyway," he says. After driving the car to shows across California and racking up the miles, the '36 was rough around the edges, so he once again turned to Blue Collar Customs.

To read more pick up the
October 2012 issue of Hot Rod Magazine.

Sacramento Vintage Ford is proud to have a mention in this well composed article, written by Brandan Gillogly and photos courtesy, Randy Lorentzen.
...The 350 small-block was in the car when it was purchased; the crew at Blue Collar focused on making it look the part of a traditional mill. An Edelbrock three-deuce intake was topped with Stromberg 97s.
Sacramento Vintage Ford also hooked Scott up with the custom wrapped 'old school' spark plug wires.

These 2 photos were from our June 2012 Vintage Fridays Car Show.


Photos by Darold
BLUE COLLAR CUSTOMS
4824 Amber Lane
Sacramento, California 95841

916.338.4327
B.R. COHN WINERY
Founded by Bruce Cohn in 1984, B.R. Cohn Winery is located in the heart of Sonoma Valley. Offers a full line of ultra-premium wines, extra virgin olive oils, handcrafted vinegars and gourmet food products.
Thanks to B.R. Cohn Winery for their donations to our Make-A-Wish efforts again for2012!
This season at each of our events you may win, courtesy B.R. Cohn Winery, a VIP tour and tasting for up to 6 people, a bottle of their Picholine extra virgin olive oil and a bottle of their 15 year Balsamic Vinegar in a custom wooden box and to top it off, a Doobie Brothers 'World Gone Crazy' CD. Bruce Cohn just happens to be the Doobie Brothers manager.
B.R. Cohn Winery Amphitheater - Glen Ellen, California
Charity Music Festival



Saturday, October 6, 2012
The Doobie Brothers & Friends
Buddy Guy
WAR
The Turtles
Lara Johnston
Scars on 45
Sunday, October 7, 2012
The Doobie Brothers & Friends
Kenny Loggins
Dave Mason
The Turtles
Zen Road PilotsTyrone Wells
Pat Simmons Jr.
Bruce Cohn with the 'BIG CHECK' from the B.R. Cohn Winery Charity Events. Amazing donation of $300,000.
Great job Bruce!
The 'Exclusive Side Stage' VIP Tickets have already sold out for the October event.
CLICK above for additional details and events.
WINNER OF THE FENDER GUITAR AND AMP!
M
ike Clines putting the final touches on the WILD CAD guitar.
The WILD CAD guitar was designed in the style of the WILD CAD Cadillac that we had on display. It is owned by Mario and Catriona Colalillo, Sydney, Australia.
The SPORTS GUY Pat Walsh from radio station KFBK in Sacramento was on hand to draw the winning ticket!
Left To Right: Roya, Sharon, Brian (with guitar), Pat Walsh, our DJ, Smitty and Event Coordinator, Heather.
PIKES PEAK CAR OVER THE SIDE!
If you have ever wanted to see an advertisement for a roll cage manufacturer, this video would be it.

Jeremy Foley and his co-driver Yuri were coming up to Devil's Playground during their Pikes Peak run when all hell broke loose. After taking too wide of a turn and losing control, their car went off the side of the mountain. They rolled, and bounced, and rolled, and bounced until their car was torn of its body panels and only the skeleton of a car was left.

Both Foley and Yuri were taken to the hospital but they were expected to be released. If they did not have such a strong and rigid roll cage, their injuries would have been much worse, possibly fatal.

Evolution Dynamics created the roll cage that saved these racers lives, and they should be proud of the product they created. They seem to also be updating us on Jeremy and Yuri's condition, so if you want to be kept up to date, keep checking their Facebook page.
CLICK on the photo above to view both of the videos including what the on board camera caught.
The car went off the road in the exact same spot another car did, during last year's race. The Pikes Peak International Hill Climb in Colorado is a 12 mile race to the summit of Pikes Peak near Colorado Springs.
FINE AND FUN DINING AWAITS YOU!
Stop by the September 28th Vintage Fridays Car Show for your chance to WIN over $150. in gift cards and certificates from:
P.F. Chang's China Bistro
Toby Keith's I Love This Bar & Grille
Sheepherder Bar & Grill
TGI Friday's
Hooters Restaurants
PICK UP YOUR FREE PPG POSTER AT THE SHOW FRIDAY SEPTEMBER 28
PRINT OUT THE COUPON!
CLICK
on the image to open the PDF file and print out your coupon! Poster measures 17" x 24" on heavy stock.
Bring your coupon to the cashier for your FREE copy!
Thanks to the folks over at PPG!
(limit one per customer while supplies last)
And thanks to Tom and Teri at FastFrame in Fair Oaks, California. Tom with one of the PPG posters they framed and matted for our Make-A-Wish efforts. Tom and Teri have been very gracious supporters of our events for many years!
5337 Sunrise Blvd, Fair Oaks, California, 95628
(916) 966-8766
Established in 1987, the Pick-n-Pull chain of self-service auto parts stores is one of the largest recyclers of end-of-life vehicles in the industry. You bring your tools, pull the parts you need and SAVE lots of money! Their 48 U.S. and 3 Canadian locations offer a huge a selection of used OEM (original equipment manufacturer) parts for cars, vans and light trucks - all makes and models, foreign and domestic - all at incredibly low prices.

Pick-n-Pull is proud of the fact that they recycle more than 350,000 vehicles and service more than 5 million self-service customers each year.

Pick-n-Pull is a subsidiary of Schnitzer Steel Industries, Inc., a global leader in the metals recycling industry that has been in business for over a century. Although Pick-n-Pull and Schnitzer have worked together since 1989, Pick-n-Pull became a fully owned subsidiary of Schnitzer in 2003 as part of its Auto Parts Business unit. Being part of a Fortune 1000 company has enabled them to grow stronger and introduce cost efficiencies into their system that have allowed them to bring environmental and cost benefits to their customers. At the same time, the Pick-n-Pull stores have retained the regional and local focus that has made them popular with their customers.


CLICK to find a Pick-n-Pull Near You!
OPTIMA Ultimate Street Car Invitational
July 13, 2012 (MILWAUKEE) - OPTIMA® Batteries announced the sale of a limited number of spectator tickets for its fifth annual OPTIMA Ultimate Street Car Invitational presented by K&N Filters and Royal Purple. This marks only the second year where spectators have been permitted at the famed event. Fans can purchase tickets by visiting www.optimainvitational.com now through Friday, November 2, 2012 or until sold out.

The OPTIMA Invitational has grown into an international event in recent years with participants from as far as Norway traveling to Pahrump, Nevada for a chance at the OPTIMA Ultimate Street Car title.

The event, which began as a way to showcase the power of aftermarket performance products and the SEMA Show vehicles that use them, now includes a series of

qualifying events across the country and three one-hour long TV specials that air on the SPEED™ channel.

THE SACRAMENTO VINTAGE FORD
F100 PARTS CATALOG!
Our 408 page, full color 2012 catalog of 1948-1966 Ford Pickup parts and accessories. If you have been ordering your F-1 & F-100 Pickup parts from Sacramento Vintage, watch for it in your mailbox .
And a special THANKS to artist David R. Barrett for the very cool pickup art!
Not on our list? CLICK to order.
THE SACRAMENTO VINTAGE FORD
MODEL A PARTS CATALOG!
Our 480 page, catalog of parts for the 1928-1931 Ford Model A & AA. Parts and Accessories, Gift Items, Apparel and even a few items to make your little
Model A go.....faster!

Your source of quality Model A Parts since 1969!
What Ford Parts Do We Have For You?
1909-27 Model T
1928-31 Model A & AA
1932-48 Ford Passenger
1932-47 Pickup
1948-66 Pickup
1949-56 Ford Passenger
1967-79 Ford Pickup
Parts for your Hot Rod, Street Rod, Custom,
Suede & Rat.
Cool stuff for your shop, office and garage!
One Shot, Lil Daddy Roth, Von Hot Rod, Mack Brushes
Roth Rattle Bomb Paint, Stickers, Clothing, Books, Art
and a bunch more! And it's all at
www.VINTAGEFOD.com
Mac's Distributing
6001 Auburn Blvd, Ste 100
Citrus Heights, California 95621
916-722-6227
AMERICAN RESTORATION
AMERICAN RESTORATION features Rick Dale and his crew of loose screws at Rick's Restorations in Las Vegas, Nevada, as they take rusty, beat-up items and restore them to their original glory.
When it comes to restoration, Rick Dale is the Pawn Stars go-to guy. AMERICAN RESTORATION follows Rick's work as owner of Las Vegas-based Rick's Restorations, a family business that finds, restores and up-cycles cool objects ranging from Cadillacs to Coke Machines.
Rick's very nice Ford F-1 Pickup can be spotted on various episodes of American Restoration.

Did we mention Rick's pickup is:
1112 S Commerce Street
Las Vegas, Nevada 89102
SHEEPHERDER BAR AND GRILLE
The Citrus Inn opened in 1913
in this very building on Folsom Boulevard. Citrus was sold in front of the building to everyone that passed by on busy Folsom Boulevard.

Folsom Boulevard was a main thoroughfare for the gold rush in the mid 1800s. Many immigrants and forty-niners were in search of some of the gold that James W Marshall and John Sutter found in the American River. The railroads that are still visible across the street today were the same railroads that were constructed in the late 1800s.

Rumor has it that over the years The Citrus Inn became many different businesses, including The Edwards Hotel, and at one point, a brothel. Everyone came to the building to eat good food and to have a good time. There was drinking and dancing 'til late at night.

Later, the building became known as Sheepherder Inn. It was a place for Basque sheepherders to come and rest upstairs in the Inn and enjoy a hearty meal downstairs, which probably consisted of meats, fish, lamb stews, legumes, cheeses and Basque cider.

Sheepherder Bar and Grille
11275 Folsom Blvd.
Rancho Cordova, CA 95742
Phone: (916) 638-4584

Crossroads: Folsom Blvd. and Sunrise Blvd. just down
the street from Sacramento Vintage Ford.....
QUICK QUACK CAR WASH
3 Minutes Fast & No Waiting!
Quick Quack is a growing chain of exterior-only, soft cloth car washes in California, Texas & Colorado. They take pride in being environmentally friendly by conserving & recycling water.
FREE car wash coupon and Quick Quack dash
duster cloth to the first 25 folks when you
purchase $20. in Make-A-Wish raffle tickets.
TAKE-A-KID TO A CAR SHOW APP
There have been countless studies done to prove it, but virtually everyone knows that spending quality time with a kid is the greatest gift you can give them. And sharing your appreciation for collector cars is a great way to nurture their interest in a hobby that you can enjoy together for many years to come.
Through the SEMA Take a Kid to a Car Show coloring book app, kids of all ages will be able to customize and personalize each car. We encourage users to visit www.takeakidtoacarshow.com to discover additional fun and exciting resources through this campaign.

Users can also forward their completed drawings for inclusion on the Take A Kid to a Car Show website.
Works on devices using OS 3.0 and greater.


In 1965 the first T.G.I. Friday's restaurant opened in New York City at the corner of First Avenue and 63rd Street and quickly became the meeting place for single adults, with $1 million in revenues its first year.
"T.G.I. Friday's® is known for serving authentic American food and exciting drinks. We also understand that our restaurants are more than just a place to eat. They are places where communities form, gather and engage."

"So, we take our commitment to community seriously. Our Team Members have cultivated strong local relationships and take great pride in their engagement with guests and their participation in the communities that they live and work in."
MODEL T PARTS
Yes....we are hard at work on our ALL NEW parts catalog for the Model T Fords, 1909-1927!
CLICK above to get on our list for your FREE copy or give us a call at 888-FORD-100 and ask to be added to the Model T Catalog list.

As new parts arrive, and there are a lot, please check our Model T web pages as they will go up to the web as soon as they become available.
CLICK the logo to browse our Model T parts!
You can also send an email with your name and mailing address to modelt@vintageford.com and we will place you on the list for a FREE copy when available.

LES SCHWAB TIRES
Rancho Cordova, California

Thanks to Mitch and the crew over at Les Schwab Tires in Rancho Cordova for their support of our Make-A-Wish efforts!


2838 Sunrise Boulevard Rancho Cordova, CA 95742
(916) 858-8666

Next to Home Depot!



Remember......Tires and service on your 'modern' car go see Mitch over at Les Schwab in Rancho Cordova!

Skinny Tires for your Antique or Vintage car, head over to Sacramento Vintage Ford.
Al Capone Cadillac sells for $341,000
Photos by Theo Civitello, courtesy RM Auctions.


It's remarkable what a little celebrity provenance can do for a car. To most Cadillac enthusiasts, the four-door, five-passenger town sedan is one of the least desirable body styles of the Model 341 range, but over the weekend one example alleged to have been modified for gangster Al Capone sold for $341,000, well above what Cadillac V-8s of that era typically fetch.

What's even more remarkable is that the car's ties to Capone aren't as solid as one would expect from a typical celebrity-owned car. RM Auctions, in its description for the 1928 Cadillac, claims that "the provenance of the 'Al Capone' armored Cadillac has never been questioned," but actual ownership documentation only dates back to 1933 and the strongest evidence that this particular car belonged to Capone comes from the son of the man who allegedly installed the flip-down bulletproof backlite when the car was new.

Then again, even a man as brazen as Capone wouldn't exactly splash his name across one of the most basic and anonymous sedans of his day, and the Cadillac does still feature nearly inch-thick bulletproof glass and a flip-down bulletproof backlite (steel plate used as body armor within the door panels had been removed during a late 1950s or early 1960s restoration), making it - according to RM - one of the earliest known examples of armored sedans.
CLICK on the image to read more:
FLOWMASTER MUFFLER
In 1983 California Sprint Car racers were experiencing 'excessive sound' issues at numerous race tracks and were told to quiet the cars down or lose racing privileges. All attempts to silence the race engines without sacrificing power repeatedly failed.

Enter Flowmaster founder, Ray Flugger, with over 45+ years of exhaust design experience, and while working out of a small 800 square foot barn in Kenwood, California, created Flowmaster's first patented design of racing silencers. Ray attached handles to ease carrying the square shaped race mufflers through the race pits, and the mufflers became known as the "suitcase muffler." Today, these innovative Flowmaster mufflers are the result of years of development with top race engine builders, thousands of hours of dyno research and "real-world" on-track testing

Flowmaster's product line includes exhaust products for Performance Street, Muscle Cars, Trucks, Street Rods, RV's, Motorhomes, and all types of race applications. With over 400 different muffler models, 370+ exhaust systems and numerous exhaust accessories available, Flowmaster offers you the choice of sound to fit your preference from "wild to mild" and your specific vehicle needs.

HOUSEHOLDER MOPAR PICK AWARD
To Include a $100. CASH BONUS!

This season Sacramento Vintage will have a 'Mopar Pick' at each of the 4 Vintage Friday's shows this season. Any pre-1973 Mopar is eligible for the pick that has registered at the show.
Included with the Pick Award will be a $100. CASH AWARD to the Pick winner! The Larry Housholder Pick award is sponsored by John and Rosemarie LaBelle.
Larry Householder 1944-2011
Our enthusiastic 'entertainment director' that had graciously donated his services for the past 12 years.
Jerry was the award recipiant at the June 29th show.
Plus a $100. cash prize.
Presenting the Householder award left to right: Sharon and Roya from Hooters Restaurant, Rancho Cordova.
1,300 Vintage Cars Heading For Sacramento!

Golden State Street Rod Nationals Plus
October 5 - 7, 2012,
California Exposition & State Fair
Sacramento, California
1,300 street rods, customs, muscle cars and street machines will be on hand at the Cal Expo Fairgrounds this fall as the National Street
Rod Association® presents its 11th Annual Golden State Street Rod Nationals Plus.
The dates for the city's largest vintage car show will be October 5, 6, 7, 2012. This will be the 11th time the NSRA Golden State Street Rod Nationals Plus has been
held in Sacramento and an all time high number of participants and spectators are expected this year. Almost all of the Cal Expo Fairgrounds will be utilized for the
event as well as many of the buildings, which will house a large number of manufacturer and dealer displays and other attractions.
Included in this event are muscle cars, those factory produced high horsepower machines from the 60's and 70's along with the classics cars of the 50's. This is truly
unique mix of old and new together at Cal Expo Fairgrounds and a national gathering of fine vintage automobiles of every description.
The NSRA Golden State Street Rod Nationals Plus is the area's largest automotive participation event and spectators from around the area will attend the event.
The big automotive show will be at the beautiful Cal Expo Fairgrounds and is open to the public October 5, 6, 7, 2012. Make your plans now to attend the 11th Annual
Golden State Street Rod Nationals Plus in Sacramento, California. It promises to be one of the biggest vintage car shows in the city's recent history and you can enjoy
every exciting part of it.
No mail-in entries accepted after Friday,
September 14th, 2012.
Discount available through Friday,
September 14th, 2012.
CALIFORNIA SUPER STORES
Facing the terrain and looking for a

Dodge Ram Truck
or
Jeep
Dealer?
Thinking that a
Chrysler
is more your style?
Vintage Dodge At the Folsom Boulevard Store
PARTS - ACCESSORIES - APPAREL - GIFTS
California Superstores - Folsom
12545 Folsom Blvd Folsom, California 95630
888-228-9289
MOPAR - CHRYSLER - DODGE - JEEP - DODGE RAM
BUSTED KNUCKLE GARAGE
Yep...Warren Tracy's Busted Knuckle Garage F-1 Ford
Shop Truck is:

VINTAGE FRIDAY'S
- Car Shows and BBQ -

Sacramento Vintage presents our 14th Annual Season of Vintage Friday's 2012!
All pre-1973 U.S. makes and models are welcome! Participant parking is limited, please no saving spaces.
A relaxed, family cruise night with good friends and their rides! No car? No Problem!
Come on by, check out the cars & trucks, grab one of our famous burgers or hot dogs, a Soda, a bag of chips and enjoy the evening. There is no entry fee for vehicles or spectators.
Oh...and Win Stuff! Excellent prizes from our great sponsors and supporters! Remember to relax, we have tables and chairs at the BBQ.

Home & Garage Accessories, Cars on Display
In The Showroom and All Kinds Of Neat Stuff
in the Gift Shop!
Western Pacific Events will once again be sponsoring the Best of the Best Award at our Vintage Friday's Car Shows.
Along with the
2012 Best Of The Best
trophy that will be awarded at the October show, Butch Gardner with Artesia Street Rod Promotions is, again this year, including a
$100. cash bonus
for the Best Of The Best winner.
CLICK above to visit the Western Pacific Events site.

COBRA ELECTRONICS
Cobra Electronics Corporation
is a leading designer of mobile communications products in the United States, Canada, Europe and around the world. After 50 years of innovation, the company continues to grow by boldly entering into new product categories.
Today the company's products include:
Mobile navigation devicesTwo-way radiosRadar/laser detectorsCitizens band radiosMarine electronicsPower inverters
Cobra products are available in nearly 40,000 storefronts in North America and in a growing number of retailers throughout the world.
We would also like to thank Cobra Electronics for their support of our Make-A-Wish efforts.
HOLLYWOOD HOT ROD ACCESSORIES
V-12 CHEVY
Rare 702 cu. in. Twin Six 1960-65
Largest Truck Gas Engine Ever Built
Built by GMC and only 11 were in Wisconsin
in 5 years of production.
72 qt. of Water, 118 g.p.m. Pump, 16 qt. of Oil
1 Crankshaft, 1 Cam, 7 Main Bearings, 2 Distributors,
and 1 Cast Block
Block Weight 1485 lbs
630 lb. of torque at 1600 r.p.m.
250 horsepower at 2400 r.p.m.
351 V6 Heads - 4.56 Bore & 3.58 Stroke
From the web......
Old Mercs For Sale
Mercuryland - one of the nation's leading suppliers of 1949-'66 Mercury parts - will auction off its inventory of used cars and parts in October. The company's physical location will not be for sale, but the rights to the Mercuryland name, website, catalog and the company rolodex will be, so it could be an good opportunity for a business-minded Mercury enthusiast or a used-parts dealer looking to expand his or her business.
Mercuryland is still open, but they've suspended sales of used parts due to the auction, which is scheduled for 9 a.m., October 27, 2012.
CLICK

above to read the article courtesy Hemmings Blog.


DID YOU SIGN UP FOR OUR NEWSLETTERS?
Sign up a friend for our email newsletters!
CLICK Above
When you join our e-mail list, you can also
'fine tune'
what information you would like to receive from Sacramento Vintage Ford......from the type of car(s) you
have.... to 'Garage Sale' bargins.....Catalogs .....and more!
(We do not sell or rent our valued customers e-mail addresses)
You can also forward this newsletter to a friend using the box at the lower left corner of this newsletter.
CLICK above to view newsletters you may have missed!
Cruisin' around the Sacramento Vintage parking lot in the 'Sacramento Vintage Equipped' Grand National
'Speed 33' Roadster.
That's It For This Edition!
Thank You!
Please drive safe, have fun and enjoy your ride!
1-888-FORD-100