Publisher/Editorial Director:
Associate Publisher/Contributing Editor:
Contributing Photographers:
Darold Kohout
Doug Oehler
Joe Streng
Web Producers:
Rancho Cordova, Ca. 95742
1-888-FORD-100
Celebrating
Our 43rd
Anniversary
1969 - 2012
Thank You!
Vintage Friday's
Car Shows!
Music & Entertainment
at our shows for
13 YEARS!
-- RIP Larry --
Barris Kustom
Industries
Thanks For The Support George!



Click
Above to see what
George Barris has been up to and shop Barris.com



Sacramento Vintage
is an authorized
Barris Kustoms
Dealer!


We have 3 Barris memorabilia sections:



-- Batmobile Related

-- Barris Books
-- The Munster Koach
CLICK
on the Batmobile

J.P.'s Toyz
Will the Anglia or the
Jelly Belly candy be at our Vintage Fridays?
Or....both?
The Official Custom Art Frame Shop of
Vintage Fridays

5343 Sunrise Blvd
Fair Oaks, Ca. 95628
916-966-8766



b and m

hurst!!!

b7m driveshafts?


Thanks to
Hooters Restaurants
for the many years of support at our events!

Rancho Cordova
Sacramento
Natomas
Fresno
Bakersfield
Honolulu
Thank You!
Sacramento Vintage Ford was
Honored with a
2010
All Star Award
from
Constant Contact
for our 2009 & 2010
newsletters!


New drivers need to


Start Smart.
Enroll your young driver in a Start Smart program today.
Stop by the
Rancho Cordova

location - Just down the street from Sacramento Vintage Ford!

Rancho Cordova Store Manager: Mitch
2838 Sunrise Blvd

Rancho Cordova, Ca.

95742

916-858-8666

WIN Some Very Cool Lethal Threat

Rat Rod Embroidered Mechanics Shirts
at all of our Vintage Friday's events!
CLICK above to see what else Lethal Threat has. And they have a lot!
THUNDERBOLTS
Capitol Auto Club
Official Host Club
of our Vintage Friday's Car Shows!
CLICK above to read more about the 'BOLTS'
At P.F. Chang's we are committed to providing you with an exceptional dining experience every time you walk through our doors. Each dish on our menu is prepared to order using the freshest and highest quality ingredients.
Majestic 11 foot tall horses grace the entrance to many of the restaurants. The horse symbolizes the original Forbidden City in China, which was built for China's first emperor Qin Shi Huangdi.
At P.F. Chang's you are surrounded by a unique environment combining influences of Chinese and American cultures. A panoramic, hand-painted mural depicting 12th century China, is visible from the main dining room and commands attention as the restaurant's centerpiece, while several terra-cotta warriors stand guard.
P.F. Chang's
(Darold and Lynn highly recommend the Chang's Chicken Lettuce Wraps to start your dining experience!
)
Rod Shows.com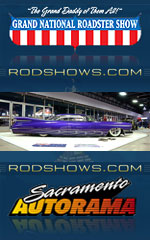 Grand National Roadster Show
January 25-27, 2013
Sacramento Autorama
February 16-18, 2013
Join the West Coast's premier hot rod, bike & motorsports tour!
Come and join the two Oldest and Longest Running Indoor Car Shows in the World.
Stop by and check out our selection
!
Waxes & Polish
Car Wash and
Wash Systems
Tire & Wheel
Bugs & Grime
Micro Fiber Towels
Gift Sets
CLICK
above to see when the Overhaulin' episodes will be re-broadcast!
-Dates and Times-
Garage Mahal
American Trucker
Shark Fights
Optima Ultimate Street
Car Invitational
CLICK on any show
for information
Monster Rides On Sale!
Hot Rod Magazine
Monster Rides

We also have the mirror hangers and ornaments for the Holidays!
Ask the Gift Shop about the HOT ROD Monster Rides hat, FREE with your purchase of 2 or more 'full size' Monster Rides! and........ we just received the Monster Rides motorcycles!
Classic Shop Talk
Tech Articles
Instructions
Videos
Classic Performace Products
A Valued Vintage
Friday's Sponsor!
U.S. NAVY F4U
CORSAIR COUPE
in 1:18 Scale
You may WIN one at our events this season!
WIN some very
cool signs from

Ruckus Rods!

We will have these NEW signs in stock soon!



CLICK

above if you can't wait!

California Highway Patrol
The California Highway Patrol
-Valley Division-
A Vintage Fridays Sponsor & Supporter
Back for a new season,
Car Warriors is a competition unlike any other.

Every week, two of the country's most talented and colorful local garages will have one crazy challenge: Build an ENTIRE CAR from a piece of junk - in just 48 hours.

It's the ultimate car building competition.


Sacramento Vintage Ford Shop Tour
by Craig Pike over at
My Ride Is Me.com
'The first thing I noticed'.......CLICK above to read the article
Photos by
Fender Donated The Guitar!




Gene Winfield Painted
It To Match WILD CAD!



Mike Clines Striped It in 12k White Gold with Green Accents To Match WILD CAD


Best Buy in Roseville, California donated the Fender Amp!





W

e are giving it all away all for Make-A-Wish
in July!


Polished Finned Aluminum Covers For 1939-48 Ford Style PowerGen's
Coming Soon To Sacramento Vintage!
THE X51 1951 CUSTOM FORD OVER
AT SACRAMENTO VINTAGE
1951 Ford 'X-51' was a featured cover car back in the day starting in 1958.
RON COURTNEY'S X-51 FORD
When this red, sectioned, large-finned ex-shoebox Ford hit small-magazine covers in 1958, people thought it might be the new T-bird. That's just what self-taught designer/builder Courtney wanted. Eschewing custom trends and working alone at home, he redesigned his boxy '51 Ford into a style that still works (and exists) today. - Pat Ganahl
Top 100 Hot Rods That Changed the World
To celebrate their 60th Anniversary, the HOT ROD staff and a few industry friends choose the 100 most influencial vehicles in the history of hot rodding.
The X51 was on the top 100 list of the 'Top 100 Hot Rods That Changed The World' in their February 2009 issue.
CLICK above to read more.


TOBY KEITH'S
I LOVE THIS BAR & GRILLE
Opens in Folsom, California This Weekend!
Leave it to country music legend Toby Keith to create a restaurant that offers great food and the best live music in Oklahoma City. Named after Toby's hit single "I Love This Bar," this exciting venue offers a real down-home experience.
Enjoy over 100 pieces of Toby Keith memorabilia including signed guitars, platinum records and clothing Keith wore in videos. Take a seat on one of their "Redneck Loveseats" and get ready to Love This Bar and Grill.
Stop by the Toby Keith shop and pick up a "Whiskey Girl" t-shirt or a bottle of Toby's special BBQ 'rub' for your next cookout.
Open for lunch 11am daily. Come as you are.
They'd love to have you anytime!
No reservations, but seated upon order of arrival.
Darold and the 'Whiskey Girls' Julia, Bailey
and Amanda. Stop by and tell them Hi!
A sneak peek at the new Toby Keith's
I Love This Bar & Grill
.
440 Palladio ParkwayFolsom, California 95630916-984-8629
Located in the PALLADIO at Broadstone
ANDY and SUE BRIZIO
O'Reilly Auto Parts
With over 3600 O'Reilly Auto Parts stores in 38 states, we're never far from home!
Better Parts...Better Prices, Everyday!
You could
WIN
a case or two of
O'Reilly Premium Motor Oil
at all of our events!
Pepsi Beverages Company
Sacramento, California
Thank You Pepsi Beverages Company, Sacramento,
for your continuous support of our
Make-A-Wish efforts.
You could WIN this Oakland Athletics Team Jacket at our June 29th Vintage Friday's Car Show! Included with this jacket are 4 Oakland A's ticket vouchers!
Courtesy Pepsi Beverages Company, Sacramento
Charlie Thomas made his fortune as an automobile dealer. Now he collects the cars he couldn't afford when he was just starting out. In this excerpt from his personal video biography, he shows off his favorites.
JUNE 29, 2012
Friday June 29th is the start of the 14th Annual Season of the Vintage Friday's Car Shows and BBQ's at
Sacramento Vintage Ford!
GREAT raffle prizes again this season with 100% of the ticket sales going the The Make-A-Wish Foundation of Sacramento and Northeastern California.
Goodguys promotes and produces 20 annual events in 13 states and publishes the monthly Goodguys Goodtimes Gazette from the association's Pleasanton, California headquarters. More info? Visit www.good-guys.com.
CLICK above to print a Goodguys $3. Discount Coupon, PDF version.
ERNIE ADAMS
Is Ernie Adams a really big guy or is that
Mercury really small?
You will have to CLICK on the photos to find out!
B.R. COHN WINERY
Founded by Bruce Cohn in 1984, B.R. Cohn Winery is located in the heart of Sonoma Valley. Offers a full line of ultra-premium wines, extra virgin olive oils, handcrafted vinegars and gourmet food products.
Thanks to B.R. Cohn Winery for their donations to our Make-A-Wish efforts! Stay tuned to see what they are donating this season!
B.R. Cohn Winery Amphitheater - Glen Ellen, Californa
Charity Music Festival Sunday October 7, 2012
The Doobie Brothers
Kenny Loggins
Eric Burdon and the Animals
Dave Mason
The Turtles
Tyrone Wells
Pat Simmons Jr.
Bruce Cohn with the 'BIG CHECK' from the B.R. Cohn Winery Charity Events. Amazing donation of $300,000.
Great job Bruce!
The 'Exclusive Side Stage' VIP Tickets have already sold out for the October event.
CLICK above for additional details and events.
Meadors 1948 Chrysler Town & Country Convertible - Leno Takes It For A spin!
Goodguys founder, Gary Meadors, stops by Jay Leno's Garage with restorer, Scott Bonowski, and perhaps the most amazing restomod you've ever seen. Three years ago, Gary bought this woody on eBay, sight unseen. Now it looks bone stock - but wait 'til you see what's under the hood!
Goodguys founder and chairman Gary Meadors and Jay Leno cruisin' in Gary's Viper V-10 powered '48 Chrysler Town & Country!
Built by Hot Rods & Hobbies, the country cruiser had Leno pretty excited! Enjoy the video!
CLICK on any image.
OPTIMA BATTERIES
HOW TO TELL WHICH IS WHICH
RedTop: Use this for normal engine starting where an alternator immediately monitors the state of charge and provides energy to the battery whenever it is needed. This would describe most stock vehicles.
YellowTop: Use this when electrical loads are higher than average, or when the discharge cycle is more than typical engine starting, such as vehicles without alternators. This also includes vehicles with significant electrical loads that may exceed the average alternator output (for example aftermarket audio system, GPS, chargers, winch, snowplow, inverters, drag cars). This can also include vehicles that have a lot of electronics from the factory, such as a minivan with power sliding doors and a DVD player, especially if the DVD player is used when the engine isn't running.


BlueTop: The BlueTop starting battery (dark gray case) is to be used when a dedicated starting battery is required and it should never be used for cycling duty. The dual purpose BlueTop (light gray case) can be used for both starting and deep cycling; it is a true deep cycle battery with extremely high cranking power.

Trolling motors, marine applications with heavy electrical accessories and RVs should use a dual purpose BlueTop (which is both a starting and deep cycle battery)
Use a BlueTop starting battery for marine applications and RVs when the battery's only function is engine starting.
Note: The difference between BlueTop and YellowTop deep cycle batteries is that BlueTop batteries have both automotive (SAE) posts and threaded posts, while YellowTops (other than D31T) only have SAE posts.


If you ever get confused on the color tops just remember: if it has a dark gray case then it is a starting battery; if it has a light gray case then it is a deep cycle (dual purpose) battery.
AMERICAN RESTORATION
AMERICAN RESTORATION features Rick Dale and his crew of loose screws at Rick's Restorations in Las Vegas, Nevada, as they take rusty, beat-up items and restore them to their original glory.
When it comes to restoration, Rick Dale is the Pawn Stars go-to guy. AMERICAN RESTORATION follows Rick's work as owner of Las Vegas-based Rick's Restorations, a family business that finds, restores and up-cycles cool objects ranging from Cadillacs to Coke Machines.
Rick's very nice Ford F-1 Pickup can be spotted on various episodes of American Restoration.

Did we mention Rick's pickup is:
Thanks to Kelly for sending over the photo of Rick with the 'shop truck'.
CLICK
above to view interviews, clips and photos
of the show.
CLICK to sign up for their WEBCAST
1112 S Commerce Street
Las Vegas, Nevada 89102
THE SACRAMENTO VINTAGE FORD
F100 PARTS CATALOG!
Our 408 page, full color 2012 catalog of 1948-1966 Ford Pickup parts and accessories. If you have been ordering your F-1 & F-100 Pickup parts from Sacramento Vintage, watch for it in your mailbox .
And a special THANKS to artist David R. Barrett for the very cool pickup art!
Not on our list? CLICK to order.
THE SACRAMENTO VINTAGE FORD
MODEL A PARTS CATALOG!
Our 480 page, catalog of parts for the 1928-1931 Ford Model A & AA. Parts and Accessories, Gift Items, Apparel and even a few items to make your little
Model A go.....faster!

Your source of quality Model A Parts since 1969!
What Ford Parts Do We Have For You?
1909-27 Model T
1928-31 Model A & AA
1932-48 Ford Passenger
1932-47 Pickup
1948-66 Pickup
1949-56 Ford Passenger
1967-79 Ford Pickup
Parts for your Hot Rod, Street Rod, Custom,
Suede & Rat.
Cool stuff for your shop, office and garage!
One Shot, Lil Daddy Roth, Von Hot Rod, Mack Brushes
Roth Rattle Bomb Paint, Stickers, Clothing, Books, Art
and a bunch more! And it's all at
www.VINTAGEFOD.com
Mac's Distributing
6001 Auburn Blvd, Ste 100
Citrus Heights, California 95621
916-722-6227
SHEEPHERDER BAR AND GRILLE
The Citrus Inn opened in 1913
in this very building on Folsom Boulevard. Citrus was sold in front of the building to everyone that passed by on busy Folsom Boulevard.

Folsom Boulevard was a main thoroughfare for the gold rush in the mid 1800s. Many immigrants and forty-niners were in search of some of the gold that James W Marshall and John Sutter found in the American River. The railroads that are still visible across the street today were the same railroads that were constructed in the late 1800s.

Rumor has it that over the years The Citrus Inn became many different businesses, including The Edwards Hotel, and at one point, a brothel. Everyone came to the building to eat good food and to have a good time. There was drinking and dancing 'til late at night.

Later, the building became known as Sheepherder Inn. It was a place for Basque sheepherders to come and rest upstairs in the Inn and enjoy a hearty meal downstairs, which probably consisted of meats, fish, lamb stews, legumes, cheeses and Basque cider.

Entertainment at Sheepherder Bar & Grille!

'Because' is a Northern California based
Beatles Tribute Band, a band that strives to capture the imagination of both the old and young.

Their pride is in their attention to detail: from the way that they look and move to the way they sing and play, they will whisk you away to the 1960's. Whatever the venue, Because brings to their live perfomances a youthful energy and playfulness that is the sheer essence of The Beatles.
Sheepherder Bar and Grille
11275 Folsom Blvd.
Rancho Cordova, CA 95742
Phone: (916) 638-4584

Crossroads: Folsom Blvd. and Sunrise Blvd. just down
the street from Sacramento Vintage Ford.....
QUICK QUACK CAR WASH
3 Minutes Fast & No Waiting!
Quick Quack is a growing chain of exterior-only, soft cloth car washes in California, Texas & Colorado. They take pride in being environmentally friendly by conserving & recycling water.
Did You Miss The Last One?
CLICK on the
NEWSLETTER ARCHIVE BAR
to see what you may have
missed in previous editions of the
Vintage Advantage..........
NEWSLETTER ARCHIVE BAR
Some of the COOL stuff from George Barris they had donated to our Make-A-Wish efforts in 2011!
Those Batmobile embossed tin boxes with plastic car model kits are really neat! And.... it's all autographed
by George! Look for them in our Gift Shop!
Stay Tuned to see what George and Joji Barris have
donated for our 2012 Make-A-Wish efforts!
TAKE-A-KID TO A CAR SHOW APP
There have been countless studies done to prove it, but virtually everyone knows that spending quality time with a kid is the greatest gift you can give them. And sharing your appreciation for collector cars is a great way to nurture their interest in a hobby that you can enjoy together for many years to come.
Through the SEMA Take a Kid to a Car Show coloring book app, kids of all ages will be able to customize and personalize each car. We encourage users to visit www.takeakidtoacarshow.com to discover additional fun and exciting resources through this campaign.

Users can also forward their completed drawings for inclusion on the Take A Kid to a Car Show website.
Works on devices using OS 3.0 and greater.


In 1965 the first T.G.I. Friday's restaurant opened in New York City at the corner of First Avenue and 63rd Street and quickly became the meeting place for single adults, with $1 million in revenues its first year.
"T.G.I. Friday's® is known for serving authentic American food and exciting drinks. We also understand that our restaurants are more than just a place to eat. They are places where communities form, gather and engage."

"So, we take our commitment to community seriously. Our Team Members have cultivated strong local relationships and take great pride in their engagement with guests and their participation in the communities that they live and work in."
THE RETURN OF THE FORD BLUE OVAL
Article Courtesy Cole Quinnell - 5-22-2012
In 2006, Ford put it all on the line. We began the Ford turnaround plan by mortgaging nearly all of our assets and borrowed $23.5 billion from our banks - a "giant home improvement loan," as Ford CEO Alan Mulally likes to call it. This allowed us to pour that money into research and development so we could make world class cars that people want and value.

Along with our factories and equipment,
one of the assets we mortgaged was our none other than our iconic logo - the blue oval.
The blue oval has long been associated with Ford and as a brand logo, it's recognized worldwide. The script in the middle of the oval was taken from the original script created in 1912 and has been part of the Ford heritage for a century. And since Ford returned to profitability beginning in 2009, we have been paying down our debt against that loan.

But because our credit had been below investment grade since 2005, the banks would not return those assets to us - including the blue oval - until at least three credit rating firms granted Ford investment grade status. Last month, Fitch's was the second to restore Ford to that level.

Today, we received notice that Moody's Investor's Service has lifted the Ford credit rating to investment grade. The blue oval is back.
CLICK on a photo above to read the complete article.
Rodfather-Goodguys Road Tour Takes 100 Hot Rodders on a Cross Country Trek This Fall
This will be Andy's last cross country tour!
Pleasanton, CA - On Friday, September 14th a spirited pack of seasoned hot rodders from around the country will gather together as one out on the Bonneville Salt Flats in Utah, go over final checklists then blast East in a thunderous flurry - all one hundred of them whooshing down the highway.

Their destination? Indianapolis, Indiana - the Racing Capital of the World, to take in the Goodguys 2nd WIX Filters Speedway Nationals, an event which fills the infield of Indianapolis Motor Speedway with thousands of customized, candy colored classics and hot rods.

Leading the pack will be
Andy Brizio and Gary Meadors - two men at the forefront of the hot rodding scene for the last 4 decades.
Brizio, 80, is calling the trip, officially named the "Rodfather/Goodguys Road Tour" his last hurrah. Since his first cross-country trip to Peoria, Illinois in 1970 (which he made in his AMBR-winning candy colored '23 Ford T bucket ), he's made more than two dozen such trek's in a variety of rods including his mount for the last 20 years - a flaming purple '32 Ford hiboy roadster built by his son Roy Brizio. Known worldwide as "The Rodfather," Brizio has never shied away from his passion for driving show winning rods long distances. "I wanted to prove to people that you could drive these kinds of cars to car shows," he said reflectively.


Meadors too has an unquenchable thirst for hot rod road trips. The founder and chairman of the Goodguys Rod & Custom Association (www.good-guys.com), he has racked up well over 200,000 miles over the years riding to Goodguys events from coast to coast in hot rodded roadsters, coupes and Cadillac's. Like Brizio, his cars have never seen a trailer.

"You're not gettin' the most out of a hot rod if you're not driving it down the backroads of America" he said with his signature Goodguy grin. He and Brizio have been friends since they met in the San Francisco Bay Area in the 1960s and have toured the world promoting hot rods. "Andy is truly the man," Meadors said. "Guys have always flocked to his events and road trips because since day one he's been an unquestioned leader in our hobby. His passion for these cars is genuine and everyone knows it."
CLICK on any image to read more:
MODEL T PARTS
Yes....we are hard at work on our ALL NEW parts catalog for the Model T Fords, 1909-1927!
CLICK above to get on our list for your FREE copy or give us a call at 888-FORD-100 and ask to be added to the Model T Catalog list.

As new parts arrive, and there are a lot, please check our Model T web pages as they will go up to the web as soon as they become available.
CLICK the logo to browse our Model T parts!
FLOWMASTER MUFFLER
In 1983 California Sprint Car racers were experiencing 'excessive sound' issues at numerous race tracks and were told to quiet the cars down or lose racing privileges. All attempts to silence the race engines without sacrificing power repeatedly failed.

Enter Flowmaster founder, Ray Flugger, with over 45+ years of exhaust design experience, and while working out of a small 800 square foot barn in Kenwood, California, created Flowmaster's first patented design of racing silencers. Ray attached handles to ease carrying the square shaped race mufflers through the race pits, and the mufflers became known as the "suitcase muffler." Today, these innovative Flowmaster mufflers are the result of years of development with top race engine builders, thousands of hours of dyno research and "real-world" on-track testing

Flowmaster's product line includes exhaust products for Performance Street, Muscle Cars, Trucks, Street Rods, RV's, Motorhomes, and all types of race applications. With over 400 different muffler models, 370+ exhaust systems and numerous exhaust accessories available, Flowmaster offers you the choice of sound to fit your preference from "wild to mild" and your specific vehicle needs.

HOUSEHOLDER MOPAR PICK AWARD
To Include a $100. CASH BONUS!

This season Sacramento Vintage will have a 'Mopar Pick' at each of the 4 Vintage Friday's shows this season. Any pre-1973 Mopar is eligible for the pick that has registered at the show.
Included with the Pick Award will be a $100. CASH AWARD to the Pick winner! The Larry Housholder Pick award is sponsored by John and Rosemarie LaBelle.
Larry Householder 1944-2011
Our 'entertainment director' for 12 years.
CALIFORNIA SUPER STORES
Facing the terrain and looking for a

Dodge Ram Truck
or
Jeep
Dealer?
Thinking that a
Chrysler
is more your style?
California Super Stores is your
Fiat
Dealer in Newark and Sacramento and your
Kia
Dealership in Valencia.
DODGE 911 Police Vehicles -
CLICK
Above
MOPAR Speedshop at the Folsom Boulevard Store
PARTS - ACCESSORIES - APPAREL - GIFTS
California Superstores - Folsom
12545 Folsom Blvd Folsom, California 95630
888-228-9289
MOPAR - CHRYSLER - DODGE - JEEP - DODGE RAM
AMERICAN NATIONAL INSURANCE
Mother Nature said there would be days like this!
Years of painstaking work gone in seconds, because Nature has a mind of its own. Relax
CHROME®
was designed by car buffs, for car buffs just like yourself.
CHROME®
can help you recover from Mother Nature's wrath. At
AMERICAN NATIONAL
, our full service agents can provide you with the personalized service you deserve. Coordinating your insurance needs and related services saves you TIME and MONEY.
Kelly Hallagan Leif
4813 El Camino Avenue #B
Carmichael, CA 95608
916-481-8200 office ~ 916-244-7169 fax
CA LIC #0729653
BUSTED KNUCKLE GARAGE
We are pleased to announce that Warren Tracy's
Busted Knuckle Garage F-1 Ford Shop Truck is:

VINTAGE FRIDAY'S
- Car Shows and BBQ -

Sacramento Vintage presents our 14th Annual Season of Vintage Friday's 2012 starting up this June.
All pre-1973 U.S. makes and models are welcome! Participant parking is limited, please no saving spaces.
A relaxed, family cruise night with good friends and their rides! No car? No Problem!
Starting in June....Come on by, check out the cars & trucks, grab one of our famous burgers or hot dogs, a Soda, a bag of chips and enjoy the evening. There is no entry fee for vehicles or spectators.
Oh...and Win Stuff! Excellent prizes from our great sponsors and supporters! Remember to relax, we have tables and chairs at the BBQ.

R2D2 will on the raffle table for Make-A-Wish at our July 27th show. R2D2 is actually an ice cooler for your beverages, donated by Pepsi Beverages, Sacramento.

Home & Garage Accessories, Cars on Display
In The Showroom and All Kinds Of Neat Stuff
in the Gift Shop!
Western Pacific Events will once again be sponsoring the Best of the Best Award at our Vintage Friday's Car Shows.
Along with the
2012 Best Of The Best
trophy that will be awarded at the October show, Butch Gardner with Artesia Street Rod Promotions is, again this year, including a
$100. cash bonus
for the Best Of The Best winner.
CLICK above to visit the Western Pacific Events site.

WIN THIS CUSTOM 'WILD CAD'
FENDER GUITAR


DID YOU SIGN UP FOR OUR NEWSLETTERS?
Sign up a friend for our email newsletters!
CLICK Above
When you join our e-mail list, you can also
'fine tune'
what information you would like to receive from Sacramento Vintage Ford......from the type of car(s) you
have.... to 'Garage Sale' bargins.....Catalogs .....and more!
(We do not sell or rent our valued customers e-mail addresses)
You can also forward this newsletter to a friend using the box at the lower left corner of this newsletter.
CLICK above to view newsletters you may have missed!
Cruisin' around the Sacramento Vintage parking lot in the 'Sacramento Vintage Equipped' Grand National
'Speed 33' Roadster.
That's It For This Edition!
Thank You!
Please drive safe, have fun and enjoy your ride!
1-888-FORD-100