Publisher/Editorial Director:
Associate Publisher/Contributing Editor:
Contributing Photographers:
Darold Kohout
Doug Oehler
Joe Streng
Web Producers:
Rancho Cordova, Ca. 95742
1-888-FORD-100
Celebrating
Our 43rd
Anniversary
1969 - 2012
Thank You!
Vintage Friday's
Car Shows!
Music & Entertainment
at our shows for
13 YEARS!
-- RIP Larry --
Barris Kustom
Industries
Thanks For The Support George!



Click
Above to see what
George Barris has been up to and shop Barris.com



Sacramento Vintage
is an authorized
Barris Kustoms
Dealer!


We have 3 Barris memorabilia sections in our web site:



-- Batmobile Related

-- Barris Books
-- The Munster Koach
CLICK
on the Batmobile

J.P.'s Toyz
Will the Anglia or the
Jelly Belly candy be at our Vintage Fridays?
Or....both?
Jiffy Lube has over
2,000 locations to service your automotive needs.

Ol' SKOOL RODZ Magazine


Sacramento area Model Darling Danika graces the cover of Ol' Skool Rodz Magazine.


The Official Custom Art Frame Shop of
Vintage Fridays

5343 Sunrise Blvd
Fair Oaks, Ca. 95628
916-966-8766
Thanks to
Hooters Restaurants
for the many years of support at our events!

Rancho Cordova
Sacramento
Natomas
Fresno
Bakersfield
Honolulu
Thank You!
Sacramento Vintage Ford was
Honored with a
2010
All Star Award
from
Constant Contact
for our 2009 & 2010
newsletters!


Vibrance Automotive Finishes
The world's leading supplier of automotive, industrial and architectural finishes
New drivers need to


Start Smart.
Enroll your young driver in a Start Smart program today.
The mission of The Progeria Research Foundation is to find the cure and effective treatment for Progeria and its aging related disorders.
FIND OUT HOW YOU
CAN HELP
WIN Some Very Cool Lethal Threat

Rat Rod Embroidered Mechanics Shirts
at all of our Vintage Friday's events!
CLICK above to see what else Lethal Threat has. And they have a lot!
Stop by and check out our selection
!
Waxes & Polish
Car Wash and
Wash Systems
Tire & Wheel
Bugs & Grime
Micro Fiber Towels
Gift Sets
Pick-n-Pull
Pick-n-Pull
The Cheapest, Easiest Way to buy Recycled Auto Parts
....Nationwide!
35 U.S. Locations and Canada
THUNDERBOLTS
Capitol Auto Club
Official Host Club
of our Vintage Friday's Car Shows!
CLICK above to read more about the 'BOLTS'
At P.F. Chang's we are committed to providing you with an exceptional dining experience every time you walk through our doors. Each dish on our menu is prepared to order using the freshest and highest quality ingredients.
Majestic 11 foot tall horses grace the entrance to many of the restaurants. The horse symbolizes the original Forbidden City in China, which was built for China's first emperor Qin Shi Huangdi.
At P.F. Chang's you are surrounded by a unique environment combining influences of Chinese and American cultures. A panoramic, hand-painted mural depicting 12th century China, is visible from the main dining room and commands attention as the restaurant's centerpiece, while several terra-cotta warriors stand guard.
P.F. Chang's
(Darold and Lynn highly recommend the Chang's Chicken Lettuce Wraps to start your dining experience!
)
Rod Shows.com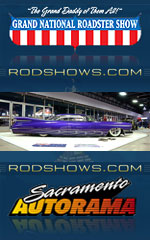 Grand National Roadster Show
January 25-27, 2013
Sacramento Autorama
February 16-18, 2013
Join the West Coast's premier hot rod, bike & motorsports tour!
Come and join the two Oldest and Longest Running Indoor Car Shows in the World.
CLICK
above to see when the Overhaulin' episodes will be re-broadcast!
-Dates and Times-
Garage Mahal
American Trucker
Shark Fights
Optima Ultimate Street
Car Invitational
CLICK on any show
for information
Monster Rides On Sale!
Hot Rod Magazine
Monster Rides

We also have the mirror hangers and ornaments for the Holidays!
Ask the Gift Shop about the HOT ROD Monster Rides hat, FREE with your purchase of 2 or more 'full size' Monster Rides! and........ we just received the Monster Rides motorcycles!
U.S. NAVY F4U
CORSAIR COUPE
in 1:18 Scale
You may WIN one at our events this season!
WIN some very
cool signs from

Ruckus Rods!

We will have these NEW signs in stock soon!



CLICK

above if you can't wait!

California Highway Patrol
The California Highway Patrol
-Valley Division-
A Vintage Fridays Sponsor & Supporter
Back for a new season,
Car Warriors is a competition unlike any other.

Every week, two of the country's most talented and colorful local garages will have one crazy challenge: Build an ENTIRE CAR from a piece of junk - in just 48 hours.

It's the ultimate car building competition.


Classic Shop Talk
Tech Articles
Instructions
Videos
Classic Performace Products
A Valued Vintage
Friday's Sponsor!
Sacramento Vintage Ford Shop Tour
by Craig Pike over at
My Ride Is Me.com
'The first thing I noticed'.......CLICK above to read the article
Photos by
The Danbury Mint

Featuring die-cast cars from the 1920s to the present, each Danbury Mint die-cast car is precision cast to reflect the original beauty of classic touring, racing and muscle cars. From Limited Editions to hot rods to muscle cars, you're sure to find a treasure in the Danbury Mint collection.
Click on the Betty Boop snow globe to see how you can get your first one FREE from the Danbury Mint

Car Kulture Deluxe Magazine



Ol' Skool Rodz Magazine


Fender Donated The Guitar!




Gene Winfield Painted
It To Match WILD CAD!



Mike Clines Striped It in 12k White Gold with Green Accents To Match WILD CAD


Best Buy in Roseville, California donated the Fender Amp!





W

e are giving it all away all for Make-A-Wish
in July!


Car Kulture Deluxe Magazine



Ol' Skool Rodz Magazine


O'Reilly Auto Parts
With over 3600 O'Reilly Auto Parts stores in 38 states, we're never far from home!
Better Parts...Better Prices, Everyday!
Artist Dave Bell Passes
Hot rod artist Dave Bell whose humorous black & white cartoon's filled the pages of industry magazines and posters for decades has passed away. Bell's unique style was revered by hot rodders and motorcyclists worldwide. He had the unique ability to incorporate hot rodding's colorful characters, their cars and the latest trends into his art.

He contributed a monthly cartoon/column called "Henry Hirise" to STREET RODDER MAGAZINE among others, leaving readers eager to see what he'd draw and talk about next. He worked on numerous projects for Goodguys over the years and was a great fan of the late Goodguy Bill Burnham.
Bell suffered a heart attack on April 18th and while in the hospital was diagnosed with brain cancer. "Dave was an integral part of our industry and STREET RODDER magazine since its inception," said SRM editor Brian Brennan. "He never missed a deadline in all those years. He was a great guy, had a great personality and an incredible talent that made STREET RODDER better. We will miss a good friend of 40 years..."
(Above photo and article courtesy Goodguys News)
The art shown above is one that Dave Bell had created for us back in the 80's. One of our most popular shirts and we still offer them!
Norm Grabowski and the Kookie Car.
This was the most recent one that Dave had done for us that was also in Street Rodder Magazine. This one featured the California Kid 1934 Coupe, Jake's Coupe and the John LaBelle Kookie Car. We were honored to have these cars on display in our showroom. Actually..... we still have the Kookie Car on display!
Darold took this photo of Dave during the 2010 L.A. Roadster Show.

Rest In Peace Dave.....You will be missed.
Pepsi Beverages Company
Sacramento, California
Thank You Pepsi Beverages Company, Sacramento,
for your continuous support of our
Make-A-Wish efforts.
OPTIMA BATTERIES
HOW TO TELL WHICH IS WHICH
RedTop: Use this for normal engine starting where an alternator immediately monitors the state of charge and provides energy to the battery whenever it is needed. This would describe most stock vehicles.
YellowTop: Use this when electrical loads are higher than average, or when the discharge cycle is more than typical engine starting, such as vehicles without alternators. This also includes vehicles with significant electrical loads that may exceed the average alternator output (for example aftermarket audio system, GPS, chargers, winch, snowplow, inverters, drag cars). This can also include vehicles that have a lot of electronics from the factory, such as a minivan with power sliding doors and a DVD player, especially if the DVD player is used when the engine isn't running.


BlueTop: The BlueTop starting battery (dark gray case) is to be used when a dedicated starting battery is required and it should never be used for cycling duty. The dual purpose BlueTop (light gray case) can be used for both starting and deep cycling; it is a true deep cycle battery with extremely high cranking power.

Trolling motors, marine applications with heavy electrical accessories and RVs should use a dual purpose BlueTop (which is both a starting and deep cycle battery)
Use a BlueTop starting battery for marine applications and RVs when the battery's only function is engine starting.
Note: The difference between BlueTop and YellowTop deep cycle batteries is that BlueTop batteries have both automotive (SAE) posts and threaded posts, while YellowTops (other than D31T) only have SAE posts.


If you ever get confused on the color tops just remember: if it has a dark gray case then it is a starting battery; if it has a light gray case then it is a deep cycle (dual purpose) battery.
Goodguys promotes and produces 20 annual events in 13 states and publishes the monthly Goodguys Goodtimes Gazette out of the association's Pleasanton, California headquarters. For more visit www.good-guys.com.
CLICK above to print a Goodguys $3. Discount Coupon, PDF version.
CRIMINAL MINDS EPISODE
Matthew Gray Gubler and Candy Clark
Matthew plays Dr. Spencer Reid on 'Criminal Minds'. Sandy Jareau is played by Candy.
Oscar nominee Candy Clark - who earned a nomination in 1973 for her role in American Graffiti - will guest star on the Criminal Minds season 7 finale as JJ's mom,
according to TV Guide sources.
The character will be named Sandy Jareau.

Criminal Minds Season 7 finale guest star - A.J.'s Mom!
As if the Criminal Minds Season 7 finale wasn't big enough as it is, the show is bringing in Oscar-nominated actress Candy Clark to portray the mother of JJ (A.J. Cook). The finale as it is is already jam packed with everything you could ask a series to include in a single episode, so the addition of JJ's dear old mother seems almost like overkill. Make no mistake; this isn't a happy family reunion. There is some serious drama attached to Clark's appearance as Sandy Jareau. Unfortunately, we haven't been told what that is! So now we're left to our own imagination as to why the elder Jareau is hanging around.

Matthew Gray Gubler as Dr. Spencer Reid

As stated above and confirmed by TV Guide, Clark will appear in the Season 7 finale, which will be a two-hour long event, making it a little bit easier to cram all the intensity planned into the episode. What possible reason could there be for a visit from JJ's mom? I think the answer may lie in some of the other events happening in the finale. The biggest event to note is the robbery of a federal bank that quickly turns into a hostage situation. Complicating matters, a BAU member is among the hostages. Could JJ be the BAU member held captive? This crazy, two-hour finale airs Wednesday, May 16th.
Get ready to meet a Criminal Minds mother.
Sweet little Candy Clark as 'Debbie' in American Graffiti. Could she be a mean evil Mother in Criminal Minds?
AMERICAN RESTORATION
AMERICAN RESTORATION features Rick Dale and his crew of loose screws at Rick's Restorations in Las Vegas, Nevada, as they take rusty, beat-up items and restore them to their original glory.
When it comes to restoration, Rick Dale is the Pawn Stars go-to guy. AMERICAN RESTORATION follows Rick's work as owner of Las Vegas-based Rick's Restorations, a family business that finds, restores and up-cycles cool objects ranging from Cadillacs to Coke Machines.
Visit Rick's NEW LOCATION
1112 S Commerce Street
Las Vegas, Nevada 89102
Rick's very nice Ford F-1 Pickup can be spotted on episodes of American Restoration.

Did we mention Rick's pickup is:
Thanks to Kelly for sending over the photo of Rick with the 'shop truck'.
CLICK
above to view interviews, clips and photos
of the show.
CLICK to sign up for their WEBCAST
THE SACRAMENTO VINTAGE FORD
F100 PARTS CATALOG!
Our 408 page, full color 2012 catalog of 1948-1966 Ford Pickup parts and accessories. If you have been ordering your F-1 & F-100 Pickup parts from Sacramento Vintage, watch for it in your mailbox .
And a special THANKS to artist David R. Barrett for the very cool pickup art!
Not on our list? CLICK to order.
THE SACRAMENTO VINTAGE FORD
MODEL A PARTS CATALOG!
Our 480 page, catalog of parts for the 1928-1931 Ford Model A & AA. Parts and Accessories, Gift Items, Apparel and even a few items to make your little
Model A go.....faster!

Your source of quality Model A Parts since 1969!
What Ford Parts Do We Have For You?
1909-27 Model T
1928-31 Model A & AA
1932-48 Ford Passenger
1932-47 Pickup
1948-66 Pickup
1949-56 Ford Passenger
1967-79 Ford Pickup
Parts for your Hot Rod, Street Rod, Custom,
Suede & Rat.
Cool stuff for your shop, office and garage!
One Shot, Lil Daddy Roth, Von Hot Rod, Mack Brushes
Roth Rattle Bomb Paint, Stickers, Clothing, Books, Art
and a bunch more! And it's all at
www.VINTAGEFOD.com
L.A. ROASDTER SHOW 2012
Year 2012 will be the 48th time the Los Angeles Roadsters Car Club has produced its world-renowned show and the 33rd year it will be held at the Fairplex in Pomona, California.
The show will be held on Father's Day Weekend, Saturday, June 16th and Sunday, June 17th for your enjoyment.

This year's show will be new and exciting. The show will have a new look and be located in the beautiful inner fairgrounds and in Exhibitor Building #4.

There's something for everyone at the L.A. Roadster Show. Late model enthusiasts will find the swappers and manufacturers with many of the parts they are looking for, while early car parts will be in abundance for the fellows who are restoring antiques or building that special new car. Come and see the West Coast's largest trade show, where over 200 manufacturers and vendors of reproduction hot rod parts and accessories will display their products and services. They will have their own special section outside, and in Exhibitor Building #4.

By popular demand the Cacklefest is returning in 2012 and will fire up on Saturday at 10:00 am and 2:00 pm in the Specialty Parking area.
CLICK on the image for more information and hotel accomodations.
SHEEPHERDER BAR AND GRILLE
The Citrus Inn opened in 1913 in this very building on Folsom Boulevard. Citrus was sold in front of the building to everyone that passed by on busy Folsom Boulevard.

Folsom Boulevard was a main thoroughfare for the gold rush in the mid 1800s. Many immigrants and forty-niners were in search of some of the gold that James W Marshall and John Sutter found in the American River. The railroads that are still visible across the street today were the same railroads that were constructed in the late 1800s.

Rumor has it that over the years The Citrus Inn became many different businesses, including The Edwards Hotel, and at one point, a brothel. Everyone came to the building to eat good food and to have a good time. There was drinking and dancing 'til late at night.

Later, the building became known as Sheepherder Inn. It was a place for Basque sheepherders to come and rest upstairs in the Inn and enjoy a hearty meal downstairs, which probably consisted of meats, fish, lamb stews, legumes, cheeses and Basque cider.

Entertainment at Sheepherder Bar & Grille!

Sheepherder Bar and Grille
11275 Folsom Blvd.
Rancho Cordova, CA 95742
Phone: (916) 638-4584

Crossroads: Folsom Blvd. and Sunrise Blvd. just down
the street from Sacramento Vintage Ford.....
Bevy of Batmobiles at Bob's Big Boy, Burbank!
In a Batman franchise first, all five Batmobiles drove into
the parking lot of Bob's Big Boy in Burbank, California on March 30th and took part in a car enthusiasts gathering at the "Classic Car Show." This historic event is the first time all five Batmobiles have been together for a public viewing.

This special event is part of a segment being shot for a Warner Bros. documentary focusing on vehicles from the Batman film and television franchise.
CLICK on the photos to watch these and other videos of the event. Thanks to George, Joji and yes Tara for the press release information.


Tony over at Barris Kustom just sent over a few more photos. That's Tony driving the Batmobile and leading the way!
Thanks Tony!
Industry Mourns Death of Automotive Legend Carroll Shelby
(Article and Image courtesy Ashley Smissen, HotRod and Restoration Magazine.)

Motorsports industry icon Carroll Shelby died Thursday May 10th at a hospital in Dallas, Carroll Shelby International Inc. announced last Friday morning.

Shelby's career in the motorsports industry spanned over 50 years. The champion race car driver and racing team owner is probably best known as designer of the Shelby American Cobra and for founding Shelby American Inc., which manufactures and markets performance vehicles and related products. (The company later became a subsidiary of Carroll Shelby International Inc.)

"I look forward every day to building cars, to being a part of the industry," Shelby told Hotrod & Restoration contributor Charles Phoenix in 2003. "I've been in it since its infancy. I'm 80 years old, and I'm just lucky to be here and be a part of it.


"The news of Shelby's death comes a few weeks after he cancelled an appearance at the New York International Auto Show, where he was set to debut the new 950-horsepower Shelby 1000 and 1,100-horsepower Shelby 1000 S/C. He later used his Facebook page to reassure his fans that he was in good health, and revealed that he had been suffering from a long bout of pneumonia.

No cause of death was released. He was 89.
CLICK on the photo to read the complete article.
CLICK on the photo to see more of these photos over at the tribute.com page.
QUICK QUACK CAR WASH
3 Minutes Fast & No Waiting!
Quick Quack is a growing chain of exterior-only, soft cloth car washes in California, Texas & Colorado. They take pride in being environmentally friendly by conserving & recycling water.
Did You Miss The Last One?
CLICK on the
NEWSLETTER ARCHIVE BAR
to see what you may have
missed in previous editions of the
Vintage Advantage..........
NEWSLETTER ARCHIVE BAR
Some of the COOL stuff from George Barris they had donated to our Make-A-Wish efforts in 2011!
Those Batmobile embossed tin boxes with plastic car model kits are really neat! And.... it's all autographed
by George! Look for them in our Gift Shop!
Stay Tuned to see what George and Joji Barris have
donated for our 2012 Make-A-Wish efforts!
Back for a new season, Car Warriors is a competition unlike any other. Every week, two of the country's most talented and colorful local garages will have one crazy challenge: Build an ENTIRE CAR from a piece of junk - in just 48 hours. It's the ultimate car building competition.
Wednesdays 9PM Eastern on SPEED
2012 CRUISIN NATIONALS
If you remember how it was in the nifty fifties, you will recall that it was the West Coast that set the trends, and "Lead" the way in kustomizing. Join the Cruisin' Nationals in bringing back those great leadsleds and honoring the many big kustomizers still active on the West Coast. Here is a chance to get that kustom out of the garage, load up the family & join us for some good times.
Don't Miss The
West Coast Kustoms 31st Annual Cruisin' Nationals
May 25, 26, & 27, 2012 at the Santa Maria Fairpark.
CLICK on the poster for all the details.
At Superchips, their engineering teams adjust all of the elements that affect vehicle power: air/fuel ratio, fuel injector flow rates and spark timing. They also tune shift characteristics of an automatic transmission for maximum acceleration and a high performance driving feel.
Thirty years ago, these results would have required rejetting a carburetor, reworking the spark advance on the distributor and installing a transmission shift-improvement kit.
Warner Streaming 'Casablanca' Free on Facebook
CASABLANCA: Exclusive Facebook screening! Inside the Script and Warner Bros. would like to invite you to enjoy a complimentary screening of one of the most iconic films of all time, Casablanca - Wednesday, May 16th at 7pm PST/EST.

Warner Bros. Digital Distribution said it is streaming Oscar-winning movie classic Casablanca free on Facebook for one night (May 16) at 7 p.m. EDT and 7 p.m. PDT. Viewing must commence within two hours of the Pacific start time. Only one screening per Facebook account is permitted.

The complimentary screening comes shortly after the May 1 release of the Casablanca: 70th Anniversary Edition Blu-ray/DVD combo from Warner Home Video.
In addition to the digitally-re-mastered 1942 movie starring Humphrey Bogart and Ingrid Bergman, the boxed set includes never-before-seen documentaries - "Casablanca: An Unlikely Classic" and "Michael Curtiz: The Greatest Director You Never Heard Of."

The set contains more than 14 hours of bonus material, including feature-length documentaries "The Brothers Warner, You Must Remember This: The Warner Bros. Story" and "Jack L. Warner: The Last Mogul."

TAKE-A-KID TO A CAR SHOW APP
There have been countless studies done to prove it, but virtually everyone knows that spending quality time with a kid is the greatest gift you can give them. And sharing your appreciation for collector cars is a great way to nurture their interest in a hobby that you can enjoy together for many years to come.
Through the SEMA Take a Kid to a Car Show coloring book app, kids of all ages will be able to customize and personalize each car. We encourage users to visit www.takeakidtoacarshow.com to discover additional fun and exciting resources through this campaign.

Users can also forward their completed drawings for inclusion on the Take A Kid to a Car Show website.
Works on devices using OS 3.0 and greater.


Oil Change and Automotive Services

Jiffy Lube provides oil changes and other automotive services done in a professional, friendly and timely manner. From Fairfield to Sacramento, Roseville and Rocklin to Folsom, Elk Grove to Stockton or Manteca to Fresno, there is a Jiffy Lube oil change location near you!
Oil change coupons that can help save big!
MODEL T PARTS
Yes....we are hard at work on our 2012 parts catalog for the Model T Fords, 1909-1927!
CLICK above to get on our list for your FREE 2012 copy or give us a call at 888-FORD-100 and ask to be added to the Model T Catalog list.

As new parts arrive, and there are a lot, please check our Model T web pages as they will go up to the web as soon as they become available.
CLICK the logo to browse our Model T parts!
FLOWMASTER MUFFLER
In 1983 California Sprint Car racers were experiencing 'excessive sound' issues at numerous race tracks and were told to quiet the cars down or lose racing privileges. All attempts to silence the race engines without sacrificing power repeatedly failed.

Enter Flowmaster founder, Ray Flugger, with over 45+ years of exhaust design experience, and while working out of a small 800 square foot barn in Kenwood, California, created Flowmaster's first patented design of racing silencers. Ray attached handles to ease carrying the square shaped race mufflers through the race pits, and the mufflers became known as the "suitcase muffler." Today, these innovative Flowmaster mufflers are the result of years of development with top race engine builders, thousands of hours of dyno research and "real-world" on-track testing

Flowmaster's product line includes exhaust products for Performance Street, Muscle Cars, Trucks, Street Rods, RV's, Motorhomes, and all types of race applications. With over 400 different muffler models, 370+ exhaust systems and numerous exhaust accessories available, Flowmaster offers you the choice of sound to fit your preference from "wild to mild" and your specific vehicle needs.

HOUSEHOLDER MOPAR PICK

This season Sacramento Vintage will have a 'Mopar Pick' at each of the 4 Vintage Friday's shows this season. Any pre-1973 Mopar is eligible for the pick that has registered at the show.
Included with the Pick Award will be a $100. cash award to the Pick winner! The Larry Housholder Pick award is sponsored by John and Rosemarie LaBelle.
Larry Householder 1944-2011
Our 'entertainment director' for 12 years.
CALIFORNIA SUPER STORES
Looking for a new car or a used car?
California Super Stores would like to put you in the vehicle of your choice.
Search
California Super Stores
huge inventory of cars for sale. They offer auto financing and car loans to get you into your car faster. They can help you pick the vehicle that's right for you.
Facing the terrain and looking for a
Dodge Ram Truck
or
Jeep
Dealer? Thinking that a
Chrysler
is more your style? California Super Stores, is your
Fiat
Dealer in Newark and Sacramento, California and your
Kia
Dealership in Valencia.
DODGE 911 Police Vehicles -
CLICK
Above
MOPAR Speedshop at the Folsom Boulevard Store
PARTS - ACCESSORIES - APPAREL - GIFTS
California Superstores - Folsom
12545 Folsom Blvd Folsom, California 95630
888-228-9289
MOPAR - CHRYSLER - DODGE - JEEP - DODGE RAM
AMERICAN NATIONAL INSURANCE
Mother Nature said there would be days like this!
Years of painstaking work gone in seconds, because Nature has a mind of its own. Relax
CHROMEŽ
was designed by car buffs, for car buffs just like yourself.
CHROMEŽ
can help you recover from Mother Nature's wrath. At
AMERICAN NATIONAL
, our full service agents can provide you with the personalized service you deserve. Coordinating your insurance needs and related services saves you TIME and MONEY.
Kelly Hallagan Leif
4813 El Camino Avenue #B
Carmichael, CA 95608
916-481-8200 office ~ 916-244-7169 fax
CA LIC #0729653

VINTAGE FRIDAY'S
- Car Shows and BBQ -

Sacramento Vintage presents our 14th Annual Season of Vintage Friday's 2012 starting up this June.
All pre-1973 U.S. makes and models are welcome! Participant parking is limited, please no saving spaces.
A relaxed, family cruise night with good friends and their rides! No car? No Problem!
Starting in June....Come on by, check out the cars & trucks, grab one of our famous burgers or hot dogs, a Soda, a bag of chips and enjoy the evening. There is no entry fee for vehicles or spectators.
Oh...and Win Stuff! Excellent prizes from our great sponsors and supporters! Remember to relax, we have tables and chairs at the BBQ.

R2D2 will on the raffle table for Make-A-Wish at our June or July show. R2D2 is actually an ice cooler for your beverages, donated by Pepsi Beverages, Sacramento.

Home & Garage Accessories, Cars on Display
In The Showroom and All Kinds Of Neat Stuff
in the Gift Shop!
Our 2011 Season was dedicated to

INTERCITY LINES

America's premier enclosed auto transport company
Intercity Lines, Inc., has been in the enclosed automobile transport business since 1980.
Automobile transportation is their only business.
Intercity Lines features state of the art 53' FULLY ENCLOSED air ride trailers.

CLICK above to see what Jay has in the trailer. He has wanted it since he was 14 years old.....


Western Pacific Events will once again be sponsoring the Best of the Best Award at our Vintage Friday's Car Shows.
Along with the
2012 Best Of The Best
trophy that will be awarded at the October show, Butch Gardner with Artesia Street Rod Promotions is, again this year, including a
$100. cash bonus
for the Best Of The Best winner.
CLICK above to visit the Western Pacific Events site.

WIN THIS CUSTOM 'WILD CAD'
FENDER GUITAR
OPEN HOUSE at ARTISIC COLLISION CENTER
Included a ribbon cutting ceremony by the Rancho Cordova Chamber of Commerce
Bryan and Steve Welsh (Artistic Collision Center), Council Member Robert J. McGarvey and Harry Leman (The Market Place).
Artistic Collision Center's open house May 11 at their new state of the art body shop facility in Rancho Cordova, California.
* Shop tours and live demonstrations
* Classic and custom car's on display
* Folsom Roadsters Nostalgic Dragster display
* BBQ Hamburgers & Hot Dogs
* Door prizes and giveaways
* 50's Memorabilia Display
* Live entertainment was provided by the Bella Vista High School Jazz Band and local rock band, Designer Forks
Artistic Collision Center
2459 Mercantile Drive
Rancho Cordova, CA 95742


DID YOU SIGN UP FOR OUR NEWSLETTERS?
Sign up a friend for our email newsletters!
CLICK Above
When you join our e-mail list, you can also
'fine tune'
what information you would like to receive from Sacramento Vintage Ford......from the type of car(s) you
have.... to 'Garage Sale' bargins.....Catalogs .....and more!
(We do not sell or rent our valued customers e-mail addresses)
You can also forward this newsletter to a friend using the box at the lower left corner of this newsletter.
Cruisin' around the Sacramento Vintage parking lot in the 'Sacramento Vintage Equipped' Grand National
'Speed 33' Roadster.
That's It For This Edition!
Thank You!
Please drive safe, have fun and enjoy your ride!

1-888-FORD-100