Publisher/Editorial Director:
Associate Publisher/Contributing Editor:
Contributing Photographers:
Darold Kohout
Doug Oehler
Joe Streng
Web Producers:
Rancho Cordova, Ca. 95742
1-888-FORD-100
Celebrating
Our 43rd
Anniversary
1969 - 2012
Thank You!
Vintage Friday's
Car Shows!
Music & Entertainment
at our shows for
13 YEARS!
-- RIP Larry --
Barris Kustom
Industries
Thanks For The Support George!



Click
Above to see what
George Barris has been up to and shop Barris.com



Sacramento Vintage
is an authorized
Barris Kustoms
Dealer!


We have 3 Barris memorabilia sections in our web site:



-- Batmobile Related

-- Barris Books
-- The Munster Koach
CLICK
on the Batmobile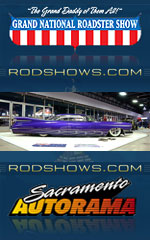 Thanks to John Buck and the Rod Shows
Staff for their continued support of our Make-A-Wish efforts!
Jiffy Lube has over
2,000 locations to service your automotive needs.

Ol' SKOOL RODZ Magazine


Sacramento area Model Darling Danika graces the cover of Ol' Skool Rodz Magazine.


The Official Custom Art Frame Shop of
Vintage Fridays

5343 Sunrise Blvd
Fair Oaks, Ca. 95628
916-966-8766
Thanks to
Hooters Restaurants
for the many years of support at our events!

Rancho Cordova
Sacramento
Natomas
Fresno
Honolulu
Thank You!
Sacramento Vintage Ford was
Honored with a
2010
All Star Award
from
Constant Contact
for our 2009 & 2010
newsletters!


Vibrance Automotive Finishes
The world's leading supplier of automotive, industrial and architectural finishes
New drivers need to


Start Smart.
Enroll your young driver in a Start Smart program today.
The mission of The Progeria Research Foundation is to find the cure and effective treatment for Progeria and its aging related disorders.
FIND OUT HOW YOU
CAN HELP
WIN Some Very Cool Lethal Threat

Rat Rod Embroidered Mechanics Shirts
at all of our Vintage Friday's events!
CLICK above to see what else Lethal Threat has. And they have a lot!
Stop by and check out our selection
!
Waxes & Polish
Car Wash and
Wash Systems
Tire & Wheel
Bugs & Grime
Micro Fiber Towels
Gift Sets
Pick-n-Pull
Pick-n-Pull
The Cheapest, Easiest Way to buy Recycled Auto Parts
....Nationwide!
35 U.S. Locations and Canada
THUNDERBOLTS
Capitol Auto Club
Official Host Club
of our Vintage Friday's Car Shows!
CLICK above to read more about the 'BOLTS'
At P.F. Chang's we are committed to providing you with an exceptional dining experience every time you walk through our doors. Each dish on our menu is prepared to order using the freshest and highest quality ingredients.
Majestic 11 foot tall horses grace the entrance to many of the restaurants. The horse symbolizes the original Forbidden City in China, which was built for China's first emperor Qin Shi Huangdi.
At P.F. Chang's you are surrounded by a unique environment combining influences of Chinese and American cultures. A panoramic, hand-painted mural depicting 12th century China, is visible from the main dining room and commands attention as the restaurant's centerpiece, while several terra-cotta warriors stand guard.
P.F. Chang's
(Darold and Lynn highly recommend the Chang's Chicken Lettuce Wraps to start your dining experience!
)
Rod Shows.com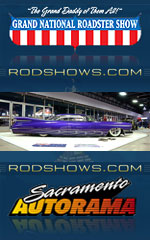 Grand National Roadster Show
January 25-27, 2013
Sacramento Autorama
February 16-18, 2013
Join the West Coast's premier hot rod, bike & motorsports tour!
Come and join the two Oldest and Longest Running Indoor Car Shows in the World.
CLICK
above to see when the Overhaulin' episodes will be re-broadcast!
-Dates and Times-
Garage Mahal
American Trucker
Shark Fights
Optima Ultimate Street
Car Invitational
CLICK on any show
for information
Monster Rides On Sale!
Hot Rod Magazine
Monster Rides

We also have the mirror hangers and ornaments for the Holidays!
Ask the Gift Shop about the HOT ROD Monster Rides hat, FREE with your purchase of 2 or more 'full size' Monster Rides! and........ we just received the Monster Rides motorcycles!
Car Kulture Deluxe Magazine



Ol' Skool Rodz Magazine


U.S. NAVY F4U
CORSAIR COUPE
in 1:18 Scale
You may WIN one at our events this season!
WIN some very
cool signs from

Ruckus Rods!

We will have these NEW signs in stock soon!



CLICK

above if you can't wait!

California Highway Patrol
The California Highway Patrol
-Valley Division-
A Vintage Fridays Sponsor & Supporter
Back for a new season,
Car Warriors is a competition unlike any other.

Every week, two of the country's most talented and colorful local garages will have one crazy challenge: Build an ENTIRE CAR from a piece of junk - in just 48 hours.

It's the ultimate car building competition.


Classic Shop Talk
Tech Articles
Instructions
Videos
Classic Performace Products
A Valued Vintage
Friday's Sponsor!
Sacramento Vintage Ford Shop Tour
by Craig Pike over at
My Ride Is Me.com
'The first thing I noticed'.......CLICK above to read the article
Photos by
Classic Shop Talk
Tech Articles
Instructions
Videos
Classic Performace Products
Vintage Friday's
Official
Trophy Sponsor!

The Danbury Mint

Featuring die-cast cars from the 1920s to the present, each Danbury Mint die-cast car is precision cast to reflect the original beauty of classic touring, racing and muscle cars. From Limited Editions to hot rods to muscle cars, you're sure to find a treasure in the Danbury Mint collection.
Click on the Betty Boop snow globe to see how you can get your first one FREE from the Danbury Mint

Car Kulture Deluxe Magazine



Ol' Skool Rodz Magazine


Fender Donated The Guitar!




Gene Winfield Painted
It To Match WILD CAD!



Mike Clines Striped It in 12k White Gold with Green Accents To Match WILD CAD


Best Buy in Roseville, California donated the Fender Amp!





W

e are giving it all away all for Make-A-Wish
in July!


Car Kulture Deluxe Magazine



Ol' Skool Rodz Magazine


O'Reilly Auto Parts
With over 3600 O'Reilly Auto Parts stores in 38 states, we're never far from home!
Better Parts...Better Prices, Everyday!
Darold (Sacramento Vintage) and Curtis (O'Reilly Auto Parts) at the Sacramento Autorama.
Roseville racer likes a little salt with
his speed
Article Courtesy Bill Poindexter, Photos Courtesy Philip Wood
Roseville Press Tribune
It's known as "Salt Fever," and there appears to be no cure; not that Ben York wants to be cured.

York was infected the first time he came in contact with the Bonneville Salt Flats while attending Oakmont High School in the late 1980s. He's had "Salt Fever" ever since.

"My dad took me out there, and I just fell in love with it," York said last week at Roseville Rod & Custom, the shop he opened mere months after graduating from Oakmont in 1991 and has owned since. "You fall in love with it; you can't get it out of your blood."

York attended the 40th anniversary of Speed Week at Bonneville in 1988. He left with a dream of one day driving on the seven-mile strip on the Salt Flats.

It took 20 years for that dream to come true, but the same determination that led a then-19-year-old York to plunk down $1,200 to rent a building and open his shop - with an occasional assist from fate thrown in - he made it happen.
The blown gas Lakester driven by Ben York of Roseville has a 237-inch wheelbase and is powered by a 437 cubic-inch Arias/Chevy hemi engine that runs on 115-octane racing gas.

York was named Rookie of the Year for 2011 by the Southern California Timing Association after driving a blown gas Lakester - think dragster but on dry lake beds and salt - 232 mph at El Mirage dry lake in the Mojave Desert and 251 mph at Bonneville in Utah.

York builds and restores hot rods for customers at his business - the frame, suspension, parts, bodies, paint, "Everything from the ground up," York said. Well, except upholstery.
They'll attack the class record of 334 mph on the seven-mile strip at Bonneville with a 437 cubic-inch Arias/Chevy, which includes a rare combination of a supercharger and 115-octane racing gas. The Lakester does 180 mph in first gear.

"Bonneville is the big one," York said. "That's the Holy Grail of land speed racing."

Rooting for him are wife Melissa and their children: James, 11; Elissa, 4; and Eber, 3. Melissa and Ben have been a couple since their Oakmont days. They married not long after graduating.

"She has always pushed me," Ben York said. "She's always said, 'You should race,' because she knows how much I love it."

CLICK on the paper to read the complete article.
Pepsi Beverages Company
Sacramento, California
Thank You Pepsi Beverages Company, Sacramento,
for your continuous support of our
Make-A-Wish efforts.
OPTIMA BATTERIES
HOW TO TELL WHICH IS WHICH
RedTop: Use this for normal engine starting where an alternator immediately monitors the state of charge and provides energy to the battery whenever it is needed. This would describe most stock vehicles.
YellowTop: Use this when electrical loads are higher than average, or when the discharge cycle is more than typical engine starting, such as vehicles without alternators. This also includes vehicles with significant electrical loads that may exceed the average alternator output (for example aftermarket audio system, GPS, chargers, winch, snowplow, inverters, drag cars). This can also include vehicles that have a lot of electronics from the factory, such as a minivan with power sliding doors and a DVD player, especially if the DVD player is used when the engine isn't running.


BlueTop: The BlueTop starting battery (dark gray case) is to be used when a dedicated starting battery is required and it should never be used for cycling duty. The dual purpose BlueTop (light gray case) can be used for both starting and deep cycling; it is a true deep cycle battery with extremely high cranking power.

Trolling motors, marine applications with heavy electrical accessories and RVs should use a dual purpose BlueTop (which is both a starting and deep cycle battery)
Use a BlueTop starting battery for marine applications and RVs when the battery's only function is engine starting.
Note: The difference between BlueTop and YellowTop deep cycle batteries is that BlueTop batteries have both automotive (SAE) posts and threaded posts, while YellowTops (other than D31T) only have SAE posts.


If you ever get confused on the color tops just remember: if it has a dark gray case then it is a starting battery; if it has a light gray case then it is a deep cycle (dual purpose) battery.
CAST YOUR VOTE FOR THE GOODGUYS 2014 GRAND PRIZE GIVEAWAY TRUCK
CLICK above to view 16 additional designs you can
vote for!

Pleasanton, CA - The Goodguys Rod & Custom Association has reached out to the world's finest automotive illustrators for their help in determining the direction and design of Goodguys' 2014 Grand Prize Giveaway Vehicle - a '67-'72 Chevrolet C10 pickup truck. Long a believer in crowd participation, Goodguys is asking their members along with all automotive enthusiasts around the globe to pick the winning design.

The direction of the build will simply be determined by whichever artist's rendering receives the most votes. There are 16 renderings to choose from.
Once the winning design is picked, Bakersfield, California's Ironworks Speed & Kustom will build the truck. The truck is scheduled to debut late next year.

Online voting is open now through mid June. For those without internet access, the artist's renderings and contest will be featured in the July 2012 Goodguys Gazette. Simply fill out the ballot and mail it in to Goodguys.

The Goodguys Rod & Custom Association, with over 70,000 members is the world's largest association dedicated to showcasing street rods, hot rods, muscle cars, classics and custom cars through events, publications and digital media.
Goodguys promotes and produces 20 annual events in 13 states and publishes the monthly Goodguys Goodtimes Gazette out of the association's Pleasanton, California headquarters. For more visit www.good-guys.com.
CLICK above to print the Goodguys $3. Discount Coupon, PDF version.
Coming up: 7th Nashville Nationals
May 18, 19 & 20, 2012
LP Field, Titan Stadium
Nashville, TN -
Click above to watch the TV Spot
AMERICAN RESTORATION
AMERICAN RESTORATION features Rick Dale and his crew of loose screws at Rick's Restorations in Las Vegas, Nevada, as they take rusty, beat-up items and restore them to their original glory.
When it comes to restoration, Rick Dale is the Pawn Stars go-to guy. AMERICAN RESTORATION follows Rick's work as owner of Las Vegas-based Rick's Restorations, a family business that finds, restores and up-cycles cool objects ranging from Cadillacs to Coke Machines.
Visit Rick's NEW LOCATION
1112 S Commerce Street
Las Vegas, Nevada 89102
Rick's very nice Ford F-1 Pickup can be spotted on episodes of American Restoration.

Did we mention Rick's pickup is:
Thanks to Kelly for sending over the photo of Rick with the 'shop truck'.
CLICK
above to view interviews, clips and photos
of the show.
CLICK to sign up for their WEBCAST
THE SACRAMENTO VINTAGE FORD
F100 PARTS CATALOG!
Our 408 page, full color 2012 catalog of 1948-1966 Ford Pickup parts and accessories. If you have been ordering your F-1 & F-100 Pickup parts from Sacramento Vintage, watch for it in your mailbox .
And a special THANKS to artist David R. Barrett for the very cool pickup art!
Not on our list? CLICK to order.
THE SACRAMENTO VINTAGE FORD
MODEL A PARTS CATALOG!
Our 480 page, catalog of parts for the 1928-1931 Ford Model A & AA. Parts and Accessories, Gift Items, Apparel and even a few items to make your little
Model A go.....faster!

Your source of quality Model A Parts since 1969!
What Ford Parts Do We Have For You?
1909-27 Model T
1928-31 Model A & AA
1932-48 Ford Passenger
1932-47 Pickup
1948-66 Pickup
1949-56 Ford Passenger
1967-79 Ford Pickup
Parts for your Hot Rod, Street Rod, Custom,
Suede & Rat.
Cool stuff for your shop, office and garage!
One Shot, Lil Daddy Roth, Von Hot Rod, Mack Brushes
Roth Rattle Bomb Paint, Stickers, Clothing, Books, Art
and a bunch more! And it's all at
www.VINTAGEFOD.com
L.A. ROASDTER SHOW 2012
Year 2012 will be the 48th time the Los Angeles Roadsters Car Club has produced its world-renowned show and the 33rd year it will be held at the Fairplex in Pomona, California.
The show will be held on Father's Day Weekend, Saturday, June 16th and Sunday, June 17th for your enjoyment.

This year's show will be new and exciting. The show will have a new look and be located in the beautiful inner fairgrounds and in Exhibitor Building #4.

There's something for everyone at the L.A. Roadster Show. Late model enthusiasts will find the swappers and manufacturers with many of the parts they are looking for, while early car parts will be in abundance for the fellows who are restoring antiques or building that special new car. Come and see the West Coast's largest trade show, where over 200 manufacturers and vendors of reproduction hot rod parts and accessories will display their products and services. They will have their own special section outside, and in Exhibitor Building #4.

By popular demand the Cacklefest is returning in 2012 and will fire up on Saturday at 10:00 am and 2:00 pm in the Specialty Parking area.
CLICK on the image for more information and hotel accomdations.
SHEEPHERDER BAR AND GRILLE
The Citrus Inn opened in 1913 in this very building on Folsom Boulevard. Citrus was sold in front of the building to everyone that passed by on busy Folsom Boulevard.

Folsom Boulevard was a main thoroughfare for the gold rush in the mid 1800s. Many immigrants and forty-niners were in search of some of the gold that James W Marshall and John Sutter found in the American River. The railroads that are still visible across the street today were the same railroads that were constructed in the late 1800s.

Rumor has it that over the years The Citrus Inn became many different businesses, including The Edwards Hotel, and at one point, a brothel. Everyone came to the building to eat good food and to have a good time. There was drinking and dancing 'til late at night.

Later, the building became known as Sheepherder Inn. It was a place for Basque sheepherders to come and rest upstairs in the Inn and enjoy a hearty meal downstairs, which probably consisted of meats, fish, lamb stews, legumes, cheeses and Basque cider.

Entertainment at Sheepherder Bar & Grille!

Sheepherder Bar and Grille
11275 Folsom Blvd.
Rancho Cordova, CA 95742
Phone: (916) 638-4584

Crossroads: Folsom Blvd. and Sunrise Blvd. just down
the street from Sacramento Vintage Ford.....
Ohio man busted for trying to sell cloned Chevelle Z16 as the real thing
Photo via Columbus Dispatch . Article courtesy Hemmings Blog
Bobby Patton thought he'd figured out a way to make a few bucks off a 1965 Chevelle. He'd punch out his own trim and VIN tag, throw in a 396 and some badges, and stick the car up on a popular online auction site for a quick $100,000. That's what he did, last April.

Only problem: There's more to a Z16 than that, and the Z16 guys pay attention.

A thread on Chevelles.com quickly pointed out the problems with the car, starting with obvious issues such as the homemade VIN, with the incorrect codes and sequence within it. Jeff Helms, owner of the Z16 website and registry, soon contacted the owner (with great tact, I'd like to point out), and indicated some of the issues with the car:

"Hi, Roger. Thanks for sending the pictures. Unfortunately, your car is not a Z16. Nor is the engine a Z16 engine. Nor is it # matching to the car."
CLICK on the photo to read the entire article and comments!
DYNAMAT
CLICK above to see what we have in the Dynamat Insulation line, or stop by the store.
SHOW CAR DREAMS
GRAND NATIONAL ROADSTER SHOW EDITION
The 1st complete history covering a major segment of the Hot Rod sport! Read about the men who made it happen and the people who built the fantastic cars that have set the pace and style for Hot Rod & Custom cars through the years. Covers from 1948 - 2009

This Special Limited Edition is a 300 page book that documents an exciting era of car show history.
Over 600 fantastic photos
A great photo history
Personalities and celebrities
Custom black wood case with protective velvet liner

This Limited Edition of 250 also includes a chapter on the Grand National Roadster Show.
We had given this book a mention in our last newsletter and Sacramento Vintage now has them available.
$295.00 Item Number 9514-2
CLICK on the photo
QUICK QUACK CAR WASH
3 Minutes Fast & No Waiting!
Quick Quack is a growing chain of exterior-only, soft cloth car washes in California, Texas & Colorado. They take pride in being environmentally friendly by conserving & recycling water.
Take a break and take a listen! You can even download the lyrics and the coloring book page for the kids!

CLICK on the tub to listen to the
Quick Quack song!
Did You Miss The Last One?
CLICK on the
NEWSLETTER ARCHIVE BAR
to see what you may have
missed in previous editions of the
Vintage Advantage..........
NEWSLETTER ARCHIVE BAR
Some of the COOL stuff from George Barris they had donated to our Make-A-Wish efforts in 2011!
Those Batmobile embossed tin boxes with plastic car model kits are really neat! And.... it's all autographed
by George! Look for them in our Gift Shop!
Stay Tuned to see what George and Joji Barris have
donated for our 2012 Make-A-Wish efforts!
Back for a new season, Car Warriors is a competition unlike any other. Every week, two of the country's most talented and colorful local garages will have one crazy challenge: Build an ENTIRE CAR from a piece of junk - in just 48 hours. It's the ultimate car building competition.
Wednesdays 9PM Eastern on SPEED
NORM UNDER THE WEATHER
Norm Grabowski is a bit under the weather. He is dealing with the cancer thing at the moment. When Darold spoke with Norm a couple of days ago the family was seeking a cancer treatment center near his Arkansas home.
Our thoughts and prayers are with Norman as he goes forward.
Norm Grabowski is an American hot rod builder and actor. The heavy set crew cut wearing Grabowski appeared in minor roles in many films produced by Albert Zugsmith and Walt Disney.

In 1952, after leaving military service, Grabowski built a hot rod based on a shortened 1922 Ford Model T touring car mated to a similarly extremely shortened Model A pickup truck bed. With a powerful Cadillac overhead valve engine that came from his parents' sedan the vehicle that resulted had a unique appearance and stance which inspired many hot rods created afterward.
The car was first featured on the cover of the October, 1955 issue of Hot Rod Magazine and then underwent further modifications, including a greater rake, tilted windshield and blue paint with flames when it famously appeared in color on the cover of the April, 1957 issue of Car Craft magazine as well as in the April 29, 1957 issue of Life Magazine.

Grabowski's hugely influential T-bucket hot rod, which became known as the Kookie Kar, was used in the television show 77 Sunset Strip. The car was owned and driven in the show by the character Kookie who was played by Edd Byrnes.
As a consequence of the magazine exposure, Grabowski was approached about renting the car out to appear in movies and television shows. The contacts he made in this way led to an acting career for Grabowski. He appeared in many movies and television shows, including High School Confidential, Son of Flubber, Roustabout, Girl Happy, and The Many Loves of Dobie Gillis.
Grabowski is known as a wood carver, and many hot rods and custom cars feature his unique hand-carved skull gearshift knobs. He retired from acting in the 1980s after The Cannonball Run.


This was designed by Norm a few years back for Darold's office. Thanks Norman! Get Well!
2012 CRUISIN NATIONALS
If you remember how it was in the nifty fifties, you will recall that it was the West Coast that set the trends, and "Lead" the way in kustomizing. Join the Cruisin' Nationals in bringing back those great leadsleds and honoring the many big kustomizers still active on the West Coast. Here is a chance to get that kustom out of the garage, load up the family & join us for some good times.
Don't Miss The
West Coast Kustoms 31st Annual Cruisin' Nationals
May 25, 26, & 27, 2012 at the Santa Maria Fairpark.
CLICK on the poster for all the details.
At Superchips, their engineering teams adjust all of the elements that affect vehicle power: air/fuel ratio, fuel injector flow rates and spark timing. They also tune shift characteristics of an automatic transmission for maximum acceleration and a high performance driving feel.
Thirty years ago, these results would have required rejetting a carburetor, reworking the spark advance on the distributor and installing a transmission shift-improvement kit.
TAKE-A-KID TO A CAR SHOW APP
There have been countless studies done to prove it, but virtually everyone knows that spending quality time with a kid is the greatest gift you can give them. And sharing your appreciation for collector cars is a great way to nurture their interest in a hobby that you can enjoy together for many years to come.
Through the SEMA Take a Kid to a Car Show coloring book app, kids of all ages will be able to customize and personalize each car. We encourage users to visit www.takeakidtoacarshow.com to discover additional fun and exciting resources through this campaign.

Users can also forward their completed drawings for inclusion on the Take A Kid to a Car Show website.
Works on devices using OS 3.0 and greater.



1959
107th anniversary of the Italian Police


We know the Italians for their chaotic driving style, now this is the perfection of it! The Rome Police Hold Anniversary - from 1953.
CLICK on the photos to watch!

SAMMY'S BEACH BAR
The theme of the Sammy's Beach Bar & Grill restaurants is high-quality beach food and uninhibited fun, which immediately gave Sammy the idea to complement that vibe with a premium quality silver rum. Since Hagar owns a home and lives part of the year in Maui, HI - what better place to produce a world-class rum? The best sugar cane in the world comes from Hawaii - and the island is known for tropical drinks and the love of rum.
Sammy's luck was with him, as he happened to meet a local distiller making top quality vodka. After tasting the vodka for the better part of the afternoon, a friendship was developed. Sammy and the distiller would soon make a pact to produce the finest rum in the world using the pure cane sugar from Hawaii.
Now available in California, Nevada and all BevMo! stores. More states coming soon.
Produced by HALIIMAILE DISTILLING CO.,
ENJOY THE SPIRIT OF ALOHA RESPONSIBLY



Watch for the new Sammy's Beach Bar & Grill coming soon to Roseville, California!
Oil Change and Automotive Services

Jiffy Lube provides oil changes and other automotive services done in a professional, friendly and timely manner. From Fairfield to Sacramento, Roseville and Rocklin to Folsom, Elk Grove to Stockton or Manteca to Fresno, there is a Jiffy Lube oil change location near you!
Oil change coupons that can help save big!
MODEL T PARTS
Yes....we are hard at work on our 2012 parts catalog for the Model T Fords, 1909-1927!
CLICK above to get on our list for your FREE 2012 copy or give us a call at 888-FORD-100 and ask to be added to the Model T Catalog list.

As new parts arrive, and there are a lot, please check our Model T web pages as they will go up to the web as soon as they become available.
CLICK the logo to browse our Model T parts!
(Yuuup...We will have the 3 Stooges metal signs available soon!)
Cardboard standups are available in the Gift Shop. This is 'Lizzy' from the Disney/Pixar movie CARS.
Make-A-Wish Beginnings - 1980
All his life, Christopher James Greicius dreamed of becoming a police officer. But he couldn't know that his wish would be the inspiration for the largest wish-granting organization in the world.

The Make-A-Wish Foundation® traces its beginning to one boy's wish. In 1980, 7-year-old Chris Greicius was being treated for leukemia. Every day, he dreamed of becoming a police officer.


U.S. Customs Officer Tommy Austin had befriended Chris and his mother, Linda Bergendahl-Pauling. He also promised Chris a ride in a police helicopter. When Chris' health worsened, Austin contacted Ron Cox, an Arizona Department of Public Safety officer, and planned a day that would lift Chris' spirits.


On April 29, 1980, Austin and a caring group of DPS personnel started Chris' day with a tour of the city in a department helicopter, which also flew him to headquarters. Three cruisers and a motorcycle officer greeted him before his meeting with the DPS command staff. There, Chris was sworn in as the first honorary DPS patrolman in state history.


But his experience didn't stop there. Cox contacted John's Uniforms, which agreed to make a custom-tailored DPS uniform for Chris. The store owner and two seamstresses worked through the night to finish it. The officers presented the official uniform to Chris on May 1 and arranged a motorcycle proficiency test so he could earn wings to pin on his uniform. Needless to say, Chris passed the test with flying colors on his battery-operated motorcycle.

On May 2, Chris was back in the hospital. He asked to arrange the room so he could always see his uniform, his motorcycle helmet and his "Smokey Bear"-style campaign hat. DPS motor officer Frank Shankwitz presented Chris with his motorcycle wings. He accepted them with a smile that lit up the room.

The following day, Chris passed away, but not before seeing his dream come true and experiencing the hope, strength and joy that came from receiving his wish.
Thank You for your suport of our Make-A-Wish efforts at our Vintage Friday's car shows and during the year! Your generosity has allowed us to grant 6 'WISHES' to date.

FLOWMASTER MUFFLER
In 1983 California Sprint Car racers were experiencing 'excessive sound' issues at numerous race tracks and were told to quiet the cars down or lose racing privileges. All attempts to silence the race engines without sacrificing power repeatedly failed.

Enter Flowmaster founder, Ray Flugger, with over 45+ years of exhaust design experience, and while working out of a small 800 square foot barn in Kenwood, California, created Flowmaster's first patented design of racing silencers. Ray attached handles to ease carrying the square shaped race mufflers through the race pits, and the mufflers became known as the "suitcase muffler." Today, these innovative Flowmaster mufflers are the result of years of development with top race engine builders, thousands of hours of dyno research and "real-world" on-track testing

Flowmaster's product line includes exhaust products for Performance Street, Muscle Cars, Trucks, Street Rods, RV's, Motorhomes, and all types of race applications. With over 400 different muffler models, 370+ exhaust systems and numerous exhaust accessories available, Flowmaster offers you the choice of sound to fit your preference from "wild to mild" and your specific vehicle needs.

HOUSEHOLDER MOPAR PICK

This season we are doing a 'Mopar Pick' at each of the 4 Vintage Friday's shows this season. Any pre-1973 Mopar is eligible for the pick that has registered at the show.
Included with the Pick Award will be a $100. cash award to the Pick winner! The Larry Housholder Pick award is sponsored by John and Rosemarie LaBelle.
Larry Householder 1944-2011
AMERICAN NATIONAL INSURANCE
Mother Nature said there would be days like this!
Years of painstaking work gone in seconds, because Nature has a mind of its own. Relax
CHROME®
was designed by car buffs, for car buffs just like yourself.
CHROME®
can help you recover from Mother Nature's wrath. At
AMERICAN NATIONAL
, our full service agents can provide you with the personalized service you deserve. Coordinating your insurance needs and related services saves you TIME and MONEY.
Kelly Hallagan Leif
4813 El Camino Avenue #B
Carmichael, CA 95608
916-481-8200 office ~ 916-244-7169 fax
CA LIC #0729653
CHROME Insurance - Preferred Insurer of
CALIFORNIA SUPER STORES
Looking for a new car or a used car?
California Super Stores would like to put you in the vehicle of your choice.
Search
California Super Stores
huge inventory of cars for sale. They offer auto financing and car loans to get you into your car faster. They can help you pick the vehicle that's right for you.
Facing the terrain and looking for a
Dodge Ram Truck
or
Jeep
Dealer? Thinking that a
Chrysler
is more your style? California Super Stores, is your
Fiat
Dealer in Newark and Sacramento, California and your
Kia
Dealership in Valencia.
DODGE 911 Police Vehicles -
CLICK
Above
MOPAR Speedshop at the Folsom Boulevard Store
PARTS - ACCESSORIES - APPAREL - GIFTS
California Superstores - Folsom
12545 Folsom Blvd Folsom, California 95630
888-228-9289
MOPAR - CHRYSLER - DODGE - JEEP - DODGE RAM
BUSTED KNUCKLE GARAGE
We are pleased to announce that Warren Tracy's
F-1 Ford Shop Truck is also:
RAYBESTOS CHASSIS
The Raybestos® brand is a name firmly rooted in a proud tradition of innovative product design and manufacturing excellence. The premier brand of replacement products since 1902, the Raybestos® brand name has changed the way people think about brake products and brake performance with continual innovations and dedication to quality. It all began with two young men, Arthur H. Raymond and Arthur F. Law, in a converted barn in Bridgeport, Connecticut. Raybestos® brand products have led the industry since the invention of woven brake lining in 1906.
Proud highlights include a crucial role in World War I and II, providing brake lining material by the mile for tanks and trucks and later heavy bombers, as well as ninety percent of aircraft supercharger drive system materials.
From the 30-minute brake band for the legendary Model "T" to today's highest quality complete line of brake products, the Raybestos® brand name is highly regarded for its record as the industry leader..
CLICK above to watch the informational videos.

The Raybestos GTO-R was given away
to one lucky professional mechanic or do-it-yourselfer Raybestos customer as part of a summer 2011 North American sales promotion.

Affinia Global Brake & Chassis, manufacturers of
Raybestos Brakes & Chassis.

VINTAGE FRIDAY'S
- Car Shows and BBQ -

Sacramento Vintage presents our 14th Annual Season of Vintage Friday's 2012 starting up this June.
All pre-1973 U.S. makes and models are welcome! Participant parking is limited, please no saving spaces.
A relaxed, family cruise night with good friends and their rides! No car? No Problem!
Starting in June....Come on by, check out the cars & trucks, grab one of our famous burgers or hot dogs, a Soda, a bag of chips and enjoy the evening. There is no entry fee for vehicles or spectators.
Oh...and Win Stuff! Excellent prizes from our great sponsors and supporters! Remember to relax, we have tables and chairs at the BBQ.

Home & Garage Accessories, Cars on Display
In The Showroom and All Kinds Of Neat Stuff
in the Gift Shop!
Our 2011 Season was dedicated to

INTERCITY LINES

America's premier enclosed auto transport company
Intercity Lines, Inc., has been in the enclosed automobile transport business since 1980.
Automobile transportation is their only business.
Intercity Lines features state of the art 53' FULLY ENCLOSED air ride trailers.

CLICK above to see what Jay has in the trailer. He has wanted it since he was 14 years old.....


YOUR

Order Shipped To


YOUR

Door As Low As $3.95
*
That's right!
Orders $10.00 and under will ship for only $3.95 and orders under $50.00 ship for only $6.95.
Applies to small parts only, no heavy or oversize items. See store or current catalog for complete details
.


*
(A $1. insurance fee is added to all orders)
Western Pacific Events will once again be sponsoring the Best of the BEST Award at our Vintage Friday's Car Shows.
Along with the
2012 Best Of The Best
trophy that will be awarded at the October show, Butch Gardner with Artesia Street Rod Promotions is, again this year, including a
$100. cash bonus
for the Best Of The Best winner.
CLICK above to visit the Western Pacific Events site.

SUEDE PAVILION AT THE
SACRAMENTO AUTORAMA WAS SPONSORED
BY SACRAMENTO VINTAGE
Chip Foose's 'Overhaulin'' to Return to TV This Fall
By Ashley Smissen, Courtesy HotRod & Restoration
The vehicle restoration show "Overhaulin'" will be coming back to television, according to a recent article in Variety. The show, which follows iconic customizer Chip Foose as he performs major transformations on beat-up vehicles, was a big hit when it originally aired on TLC from 2004-2009.
The show has been picked up by the Discovery Channel-owned Velocity channel.
"I am thrilled to be returning to television with a new and improved version of 'Overhaulin," and especially excited to be working with the team at Velocity," Foose said in an interview with SEMA News. "Velocity is the perfect home for 'Overhaulin'' and I'm looking forward to shooting all-new episodes bringing viewers compelling stories of car owners who are surprised to have their much-loved treasures overhauled."


DID YOU SIGN UP FOR OUR NEWSLETTERS?
Sign up a friend for our email newsletters!
CLICK Above
When you join our e-mail list, you can also
'fine tune'
what information you would like to receive from Sacramento Vintage Ford......from the type of car(s) you
have.... to 'Garage Sale' bargins.....Catalogs .....and more!
(We do not sell or rent our valued customers e-mail addresses)
You can also forward this newsletter to a friend using the box at the lower left corner of this newsletter.
Cruisin' around the Sacramento Vintage parking lot in the 'Sacramento Vintage Equipped' Grand National
'Speed 33' Roadster.
That's It For This Edition!
Thank You!
Please drive safe, have fun and enjoy your ride!

1-888-FORD-100