Publisher/Editorial Director:
Associate Publisher/Contributing Editor:
Contributing Photographers:
Darold Kohout
Doug Oehler
Joe Streng
Web Producers:
Rancho Cordova, Ca. 95742
1-888-FORD-100
Celebrating
Our 43rd
Anniversary
1969 - 2012
Thank You!
Vintage Friday's
Car Shows!
Music & Entertainment
at our shows for
13 YEARS!
-- RIP Larry --
Barris Kustom
Industries
Thanks For The Support George!



Click
Above to see what
George Barris has been up to and shop Barris.com



Sacramento Vintage
is an authorized
Barris Kustoms
Dealer!


We have 3 Barris memorabilia sections in our web site:



-- Batmobile Related

-- Barris Books
-- The Munster Koach
CLICK
on the Batmobile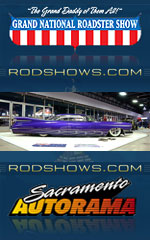 Thanks to John Buck and the Rod Shows
Staff for their continued support of our Make-A-Wish efforts!

The 30th All American Get-Together
(March 24 & 25)
Pleasanton

12th Del Mar Nationals
(March 30 - Apr 1)
Del Mar

CLICK the photos for
more details
Jiffy Lube has over
2,000 locations to service your automotive needs.

Ol' SKOOL RODZ Magazine


Sacramento area Model Darling Danika graces the cover of Ol' Skool Rodz Magazine.


The Official Custom Art Frame Shop of
Vintage Fridays

5343 Sunrise Blvd
Fair Oaks, Ca. 95628
916-966-8766
Thanks to
Hooters Restaurants
for the many years of support at our events!

Rancho Cordova
Sacramento
Natomas
Fresno
Honolulu
Thank You!
Sacramento Vintage Ford was
Honored with a
2010
All Star Award
from
Constant Contact
for our 2009 & 2010
newsletters!


6001 Auburn Blvd
# 100
Citrus Heights, CA 95621-6502
(916) 722-6227
Vibrance Automotive Finishes
The world's leading supplier of automotive, industrial and architectural finishes
CLICK above to visit Hoven Vision
CLICK below to see HOVEN Sunglasses in the Sacramento Vintage
Gift Shop
and.......HOVEN VISION gave away 2 pair at each of our events to help benefit the Make-A-Wish Foundation!
New drivers need to


Start Smart.
Enroll your young driver in a Start Smart program today.
The mission of The Progeria Research Foundation is to find the cure and effective treatment for Progeria and its aging related disorders.
FIND OUT HOW YOU
CAN HELP
Joe Gibbs Driven
Hot Rod Motor Oils
Degreasers
Assembly Lube
Break-In Oils
at
Sacramento Vintage
and your local dealer.
WIN Some Very Cool Lethal Threat

Rat Rod Embroidered Mechanics Shirts
at all of our Vintage Friday's events!
CLICK above to see what else Lethal Threat has. And they have a lot!
Stop by and check out our selection
!
Waxes & Polish
Car Wash and
Wash Systems
Tire & Wheel
Bugs & Grime
Micro Fiber Towels
Gift Sets
Pick-n-Pull
Pick-n-Pull
The Cheapest, Easiest Way to buy Recycled Auto Parts
....Nationwide!
35 U.S. Locations and Canada
THUNDERBOLTS
Capitol Auto Club
Official Host Club
of our Vintage Friday's Car Shows!
CLICK above to read more about the 'BOLTS'
At P.F. Chang's we are committed to providing you with an exceptional dining experience every time you walk through our doors. Each dish on our menu is prepared to order using the freshest and highest quality ingredients.
Majestic 11 foot tall horses grace the entrance to many of the restaurants. The horse symbolizes the original Forbidden City in China, which was built for China's first emperor Qin Shi Huangdi.
At P.F. Chang's you are surrounded by a unique environment combining influences of Chinese and American cultures. A panoramic, hand-painted mural depicting 12th century China, is visible from the main dining room and commands attention as the restaurant's centerpiece, while several terra-cotta warriors stand guard.
P.F. Chang's
(Darold and Lynn highly recommend the Chang's Chicken Lettuce Wraps to start your dining experience!
)
9 TIPS to help you
save gas and money plus save $$$ on your next oil change!
Rod Shows.com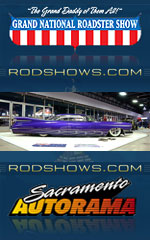 Grand National Roadster Show
January 25-27, 2013
Sacramento Autorama
February 16-18, 2013
Join the West Coast's premier hot rod, bike & motorsports tour!
Come and join the two Oldest and Longest Running Indoor Car Shows in the World.
CLICK
above to see when the Overhaulin' episodes will be re-broadcast!
-Dates and Times-
Garage Mahal
American Trucker
Shark Fights
Optima Ultimate Street
Car Invitational
CLICK on any show
for information
Monster Rides On Sale!
Hot Rod Magazine
Monster Rides

We also have the mirror hangers and ornaments for the Holidays!
Ask the Gift Shop about the HOT ROD Monster Rides hat, FREE with your purchase of 2 or more 'full size' Monster Rides! and........ we just received the Monster Rides motorcycles!
Car Kulture Deluxe Magazine



Ol' Skool Rodz Magazine


U.S. NAVY F4U
CORSAIR COUPE
in 1:18 Scale
You may WIN one at our events this season!
WIN some very
cool signs from

Ruckus Rods!

We will have these NEW signs in stock soon!



CLICK

above if you can't wait!

California Highway Patrol
The California Highway Patrol
-Valley Division-
A Vintage Fridays Sponsor & Supporter
Back for a new season,
Car Warriors is a competition unlike any other.

Every week, two of the country's most talented and colorful local garages will have one crazy challenge: Build an ENTIRE CAR from a piece of junk - in just 48 hours.

It's the ultimate car building competition.


More very COOL signs you can WIN from Mighty Image
&
Pasttime Signs
All to help benefit Make-A-Wish
At Vintage Friday's!
Classic Shop Talk
Tech Articles
Instructions
Videos
Classic Performace Products
Vintage Friday's
Official
Trophy Sponsor!

Sacramento Vintage
Your Authorized


Genuine Stromberg Dealer

NEW 97's

Stock & Chrome

Parts - Gaskets

Repair & Rebuild Kits

Linkage Kits

Signs - Patches

Hats - Shirts - Stickers
Sacramento Vintage Ford Shop Tour
by Craig Pike over at
My Ride Is Me.com
'The first thing I noticed'.......CLICK above to read the article
Photos by
Classic Shop Talk
Tech Articles
Instructions
Videos
Classic Performace Products
Vintage Friday's
Official
Trophy Sponsor!

The Danbury Mint

Featuring die-cast cars from the 1920s to the present, each Danbury Mint die-cast car is precision cast to reflect the original beauty of classic touring, racing and muscle cars. From Limited Editions to hot rods to muscle cars, you're sure to find a treasure in the Danbury Mint collection.
Click on the Betty Boop snow globe to see how you can get your first one FREE from the Danbury Mint

Car Kulture Deluxe Magazine



Ol' Skool Rodz Magazine


Fender Donated The Guitar!




Gene Winfield Painted
It To Match WILD CAD!



Mike Clines Striped It in 12k White Gold with Green Accents To Match WILD CAD


Best Buy in Roseville, California donated the Fender Amp!





W

e are giving it all away all for Make-A-Wish
in July!


Car Kulture Deluxe Magazine



Ol' Skool Rodz Magazine


2012 Sacramento Autorama
-King Of Kustoms-
-Custom D'Elegance-
2012 King of Kustoms
2012 West Coast Kustoms Outstanding Nostalgia Award
Anthony DeFreitas
Pleasanton, California
1951 Mercury Custom

2012 Custom D'Elegance Award Winner
2012 H.A. Bagdasarian Award - World's Most Beautiful Custom
James Hetfield
Carlsbad, California
1937 Lincoln Zephyr



2012 Sam Barris Memorial Award
2012 Dick Bertolucci Automotive Excellence Award
2012 Best Custom
Bruce Ricks
Sapulpa, Oklahoma
1956 Ford Sunliner "Suncammer'



(Photos courtesy Rod Shows.com)
CLICK to see all the award winners
Rick Dore - Builder of the Year
Sacramento Autorama
Congratulations to the 2012 Sacramento Autorama Builder of the Year Award Winner,
Rick Dore, Carlsbad, California.
Rick Dore has over 20 years of creative experience as a custom car builder and automotive stylist. Since his debut on the custom car scene in the early 90's, his work has earned him worldwide honors, awards and recognition. His cars have been featured in hundreds of international publications and have earned him a place in several automotive halls of fame; his vehicles continue to take home top honors.
1937 Zephyr - 'Voodoo Priest'
Born in New York, Rick had a passion for all things automotive from a very early age. Influenced by the classic coachbuilders like Figoni & Falaschi, America's pioneering customizers, and the amazing concept vehicles dreamed up in that era, Rick has created an unmistakable style of his own. His early career was spent in Arizona, where he styled and built a large collection of top award-winning custom cars.
1953 Buick Skylark - 'Skyscraper'

Rick and his custom car business, now both residing in California, continue to produce one-of-a-kind dream cars for the most discerning clients. Rick specializes in conceptual styling to completed vehicle transformations from start to finish, all of which takes place under his meticulous supervision.
CLICK above to see more at Rick Dore.com


Did you stop by the Rick Dore booth during the show?
Rick was giving away some very cool posters just for the asking while supplies lasted! The posters were printed on heavy stock and designed by Coby over at ChurchEquipped.com


BLUE COLLAR CUSTOMS
Congratulations to Scott Mugford and crew over at Blue Collar Customs in Sacramento for the work on the James Hetfield 1936 Ford Coupe, 'Iron Fist'.
Hetfield's 'Iron Fist' took home the Outstanding Engine and Outstanding Undercarriage in the Custom d'Elegance category.
CLICK above to visit Blue Collar Customs.
O'Reilly Auto Parts
With over 3600 O'Reilly Auto Parts stores in 38 states, we're never far from home!
Better Parts...Better Prices, Everyday!
HILLCLIMBERS ON DISPLAY
PERFORMANCE IS ONE OF THE FASTEST GROWING AREAS OF INTEREST AMONG OLD FORD ENTHUSIASTS.
Your membership with F.A.S.T. entitles you to a quarterly magazine that will open up the world of vintage performance 4 cylinder powered vehicles. Additionally, you can buy and sell (no charge for ads) those hard to find parts, read about upcoming events and the results of competitions from hill climbs to "land speed" records. So to keep those Model T, A and B motors running F.A.S.T. -CLICK- on the photo.

F.A.S.T. display will be at:
Sacramento Vintage Ford Parts
2484 Mercantile Drive
Rancho Cordova, Ca. 95742
916-853-2244

April 14, 2012

We're just off Hwy 50! Take Sunrise Blvd South, turn left onto Folsom Blvd then right onto Mercantile Drive.

MODEL 'A' FORD BRAKE SHOES
Brand New - All New
All NEW - No Exchange is required!
These BRAND NEW shoes are for the 1928-1931 Model A Fords with the original mechanical brakes. Available in bare metal for you to reline or complete assembly painted with woven and riveted linings ready to install. Sold in sets of 2 for one wheel.
The lined shoes have the Scandinavian lining as originally used. Containing soft woven fibers, with brass wire interwoven throughout, lining is 3/16" thick. Utilizing the original Ford drawing and design of the Model A brake shoes, they have been re-engineered and fully upgraded using today's modern technology, manufacturing process and materials to deliver optimum performance.

Since changes and improvements had been made by Ford both during and after Model A production ended, the latest revision of the Ford drawing and specifications were found and followed for tooling and manufacturing. The manufacturer is ISO-9000 certified, ensuring that strict quality control standards are followed during production.

The material for the new Model A brake shoes was upgraded to SAE-1045 carbon steel, which is currently used on 2011 vehicles. This upgrade will greatly increase the overall strength of the shoe while reducing the wear of the pin holes used for operation. Modern technology CNC machines are programmed to accurately form the outside diameter of the steel shoes so they conform to specification and match the inside diameter of the brake drum. Another type of CNC machine is programmed to drill and precision ream the two holes for the pins in the reinforced sections of the steel shoes, per the original specifications.

Instead of the rolling process Ford used to assemble the two sections of the shoe, a CNC robotic welding machine precisely makes 16 total spot welds (eight per side) for overall strength. These exact same manufacturing processes are used for today's economy, sport vehicles and trucks.

Sold in sets of 2 shoes for one wheel.
Model A Bare Shoes- #136-1
Model A Lined Shoes- #136-0
CLICK on the photo.
Pepsi Beverages Company
Sacramento, California
Thank You Pepsi Beverages Company, Sacramento,
for being a part of our 2012 Season and our
Make-A-Wish efforts.
OPTIMA BATTERIES
HOW TO TELL WHICH IS WHICH
RedTop: Use this for normal engine starting where an alternator immediately monitors the state of charge and provides energy to the battery whenever it is needed. This would describe most stock vehicles.
YellowTop: Use this when electrical loads are higher than average, or when the discharge cycle is more than typical engine starting, such as vehicles without alternators. This also includes vehicles with significant electrical loads that may exceed the average alternator output (for example aftermarket audio system, GPS, chargers, winch, snowplow, inverters, drag cars). This can also include vehicles that have a lot of electronics from the factory, such as a minivan with power sliding doors and a DVD player, especially if the DVD player is used when the engine isn't running.


BlueTop: The BlueTop starting battery (dark gray case) is to be used when a dedicated starting battery is required and it should never be used for cycling duty. The dual purpose BlueTop (light gray case) can be used for both starting and deep cycling; it is a true deep cycle battery with extremely high cranking power.

Trolling motors, marine applications with heavy electrical accessories and RVs should use a dual purpose BlueTop (which is both a starting and deep cycle battery)
Use a BlueTop starting battery for marine applications and RVs when the battery's only function is engine starting.
Note: The difference between BlueTop and YellowTop deep cycle batteries is that BlueTop batteries have both automotive (SAE) posts and threaded posts, while YellowTops (other than D31T) only have SAE posts.


If you ever get confused on the color tops just remember: if it has a dark gray case then it is a starting battery; if it has a light gray case then it is a deep cycle (dual purpose) battery.
BUGATTI VEYRON SUPER SPORT
RIDE ALONG SPEED TEST
James May attempts to break his personal speed record in a brand new, even more powerful version of the amazing Bugatti Veyron.

This beast features a 16-cylinder engine with a total output of 1200 HP. With this amount of power, the Super Sport will sprint from 0 to 60 mph in just 2.5 seconds and will hit a top speed of 267 mph.
View full screen and hang on! CLICK on the photos.
OK....just received this link from Tom Vogele.
Keep your volume up!

This is one absolutely amazing remote controlled model airplane.

Not only did they build its jet engines, but included a retractable landing gear, and built it into a fully scaled model of the SR-71 "Blackbird" that flies just like the real McCoy.

This SR-71 model was built by an Engineer / RC enthusiast in Germany, and is certainly one awesome toy.
CLICK on the photo!



GOODGUYS All American Get-Together

Over 3,000 All American or American Powered Rods, Customs, Classics, Muscle Cars, Street Machines & Trucks
Vendors & Exhibitors
Indoor & Outdoor Car Show
Huge Swap Meet & Cars 4 Sale Corral
Model & Pedal Car Show
Arts & Crafts Show
Kids Play Area
Pinstripers Brush Bash & Auction
Goodguys AutoCross
FLASHBACK SUNDAY:
To celebrate the 30th annual Goodguys All American Get-Together, a special "Flashback Sunday" promotion will be held March 25th featuring cars, clothing, music and memorabilia from 1983 - the event's first year.

Bring out those American made or powered 1983 model vehicles (which will have a special parking area), wear 80's apparel and help us celebrate 80s music and pop culture!
CLICK above to print the Goodguys $3. Discount Coupon, PDF version.
March 24 & 25, 2012, Pleasanton, CA.
Alameda County Fairgrounds
GOODGUYS DEL MAR

Goodguys to Honor Ed Pink, Ed Iskenderian
at 12th Del Mar Nationals

Del Mar, CA - Southern California legends Ed Pink and Ed Iskenderian will be honored as "Hot Rod Heroes" at the Goodguys 12th Meguiar's Del Mar Nationals March 30, 31 & April 1 at the Del Mar Fairgrounds. Both men bring decades of rich hot rodding and motorsports heritage to the festivities.


Pink, known worldwide as one of the premier engine builders in all racing platforms will have a booth on the midway showcasing Ed Pink Racing Engines as well as his red '29 Ford hiboy roadster, "Old Master" top fuel dragster and other Pink-powered hot rods.
Iskenderian, better known as the "Camfather" is still going strong at 90 years old. Isky's iconic '27 Ford hot rod roadster will be on display throughout the weekend.

Pink and Iskendereian will be available for autographs and bench racing all three days. They will headline a special "Meet & Greet" with fans on Saturday March 31st beginning at 11:30am inside the Mission Tower at the Del Mar Fairgrounds.

The Goodguys 12th Meguiar's Del Mar Nationals features over 2,000 1972 & earlier vehicles, vendor exhibits, the Goodguys AutoCross, a swap meet & car corral and more! For more visit www.good-guys.com

B.R. COHN WINERY
Founded by Bruce Cohn in 1984, B.R. Cohn Winery is located in the heart of Sonoma Valley. Offers a full line of ultra-premium wines, extra virgin olive oils, handcrafted vinegars and gourmet food products.
Thanks to B.R. Cohn Winery for their donations to our Make-A-Wish efforts for 2011!
AMERICAN RESTORATION
AMERICAN RESTORATION features Rick Dale and his crew of loose screws at Rick's Restorations in Las Vegas, Nevada, as they take rusty, beat-up items and restore them to their original glory.
When it comes to restoration, Rick Dale is the Pawn Stars go-to guy. AMERICAN RESTORATION follows Rick's work as owner of Las Vegas-based Rick's Restorations, a family business that finds, restores and up-cycles cools objects ranging from Cadillacs to Coke Machines.
Visit Rick's NEW LOCATION
1112 S Commerce Street
Las Vegas, Nevada 89102
Rick's very nice Ford F-1 Pickup can be spotted on episodes of American Restoration.

Did we mention Rick's pickup is:
Thanks to Kelly for sending over the photo of Rick with the 'shop truck'.
CLICK
above to view interviews, clips and photos
of the show.
CLICK to sign up for their WEBCAST
THE SACRAMENTO VINTAGE FORD
F100 PARTS CATALOG!
Our 408 page, full color 2012 catalog of 1948-1966 Ford Pickup parts and accessories. If you have been ordering your F-1 & F-100 Pickup parts from Sacramento Vintage, watch for it in your mailbox .
And a special THANKS to artist David R. Barrett for the very cool pickup art!
Not on our list? CLICK to order.
THE SACRAMENTO VINTAGE FORD
MODEL A PARTS CATALOG!
Our 480 page, catalog of parts for the 1928-1931 Ford Model A & AA. Parts and Accessories, Gift Items, Apparel and even a few items to make your little
Model A go.....faster!

Your source of quality Model A Parts since 1969!
What Ford Parts Do We Have For You?
1909-27 Model T
1928-31 Model A & AA
1932-48 Ford Passenger
1932-47 Pickup
1948-66 Pickup
1949-56 Ford Passenger
1967-79 Ford Pickup
Parts for your Hot Rod, Street Rod, Custom,
Suede & Rat.
Cool stuff for your shop, office and garage!
One Shot, Lil Daddy Roth, Von Hot Rod, Mack Brushes
Roth Rattle Bomb Paint, Stickers, Clothing, Books, Art
and a bunch more! And it's all at
www.VINTAGEFOD.com
DYNAMAT
CLICK above to see what we have in Dynamat, or stop by the store.
SHOW CAR DREAMS
GRAND NATIONAL ROADSTER SHOW EDITION
The 1st complete history covering a major segment of the Hot Rod sport! Read about the men who made it happen and the people who built the fantastic cars that have set the pace and style for Hot Rod & Custom cars through the years. Covers from 1948 - 2009

This Special Limited Edition is a 300 page book that documents an exciting era of car show history.
Over 600 fantastic photos
A great photo history
Personalities and celebrities
Custom black wood case with protective velvet liner

This Limited Edition of 250 also includes a chapter on the Grand National Roadster Show.
We had given this book a mention in our last newsletter and Sacramento Vintage now has them available.
$295.00 Item Number 9514-2
CLICK on the photo
QUICK QUACK CAR WASH
3 Minutes Fast & No Waiting!
Quick Quack is a growing chain of exterior-only, soft cloth car washes in California, Texas & Colorado. They take pride in being environmentally friendly by conserving & recycling water.
Take a break and take a listen! You can even download the lyrics and the coloring book page for the kids!

CLICK on the tub to listen to the
Quick Quack song!
Did You Miss The Last One?
CLICK on the
NEWSLETTER ARCHIVE BAR
to see what you may have
missed in previous editions of the
Vintage Advantage..........
NEWSLETTER ARCHIVE BAR
Some of the COOL stuff from George Barris they had donated to our Make-A-Wish efforts in 2011!
Those Batmobile embossed tin boxes with plastic car model kits are really neat! And.... it's all autographed
by George! Look for them in our Gift Shop!
Back for a new season, Car Warriors is a competition unlike any other. Every week, two of the country's most talented and colorful local garages will have one crazy challenge: Build an ENTIRE CAR from a piece of junk - in just 48 hours. It's the ultimate car building competition.
Wednesdays 9PM Eastern on SPEED
RED TEAM:
CELEBRITY KUSTOMS SAN FRANCISCO, CA.
www.johndagostinokustomkars.com
John D'Agostino began building and customizing model cars as a child, which lead to his legendary status in the car building world. Inspired by cars built by Barris, Bailon and many others, he has led an extensive career of building and customizing unique cars.
BLUE TEAM:IRESON MOTORSPORTS FORT MYERS, FL.
www.iresonmotorsports.com
Ireson Motorsports specializes in custom cars and restoration. Detail-orientated, quality craftsmanship and horsepower; provides mild to wild custom work. There is no project too big or small to repair and modify your classic car.
At Superchips, their engineering teams adjust all of the elements that affect vehicle power: air/fuel ratio, fuel injector flow rates and spark timing. They also tune shift characteristics of an automatic transmission for maximum acceleration and a high performance driving feel.
Thirty years ago, these results would have required rejetting a carburetor, reworking the spark advance on the distributor and installing a transmission shift-improvement kit.
Hagar's 'Red VooDoo' GMC
&
'FRANKENHAULER'
Aaron and Misa Hagar stopped by the store to let Red VooDoo, their 1946 GMC, out of the showroom for some fresh air! Red VooDoo is back in the showroom now.
A few of Aaron's concepts for the Frankenhauler/Rat Runners Garage project
The 1955 Ford Cab Over Engine car hauler. Stay tuned as work has already started on this project.
'FRANKENHAULER'
will be:
Darold Kohout, Aaron Hagar and Red VooDoo
Red Voodoo:

Chevy 454 big Block Engine - T400 Transmission
3:73 Rear Axle - boxed chassis
6" dropped axle - 4-link coil over rear
Aluminum aircraft seats - 1951 Desoto dash
Shortened '53 Chevy bed
Propellers used as stake sides
50 caliber Tailgunner exhaust tips - Firestone Tires
Early radio microphone shift knob
TAKE-A-KID TO A CAR SHOW APP
There have been countless studies done to prove it, but virtually everyone knows that spending quality time with a kid is the greatest gift you can give them. And sharing your appreciation for collector cars is a great way to nurture their interest in a hobby that you can enjoy together for many years to come.
Through the SEMA Take a Kid to a Car Show coloring book app, kids of all ages will be able to customize and personalize each car. We encourage users to visit www.takeakidtoacarshow.com to discover additional fun and exciting resources through this campaign.

Users can also forward their completed drawings for inclusion on the Take A Kid to a Car Show website.
Works on devices using OS 3.0 and greater.


1959
107th anniversary of the Italian Police


We know the Italians for their chaotic driving style, now this is the perfection of it! The Rome Police Hold Anniversary - from 1953.
SAMMY'S BEACH BAR
The theme of the Sammy's Beach Bar & Grill restaurants is high-quality beach food and uninhibited fun, which immediately gave Sammy the idea to complement that vibe with a premium quality silver rum. Since Hagar owns a home and lives part of the year in Maui, HI - what better place to produce a world-class rum? The best sugar cane in the world comes from Hawaii - and the island is known for tropical drinks and the love of rum.

Sammy's luck was with him, as he happened to meet a local distiller making top quality vodka. After tasting the vodka for the better part of the afternoon, a friendship was developed. Sammy and the distiller would soon make a pact to produce the finest rum in the world using the pure cane sugar from Hawaii.
Now available in California, Nevada and all BevMo! stores. More states coming soon.

Produced by HALIIMAILE DISTILLING CO.,
MAKAWAO, Hawaii.

ENJOY THE SPIRIT OF ALOHA RESPONSIBLY


Watch for the new Sammy's Beach Bar & Grill coming soon to Roseville, California!
OVER AT THE LUNCHEON
Mike Clines, Darold Kohout, Gene Winfield and Mario Colallillo (Wild Cad owner) at the Legends Luncheon during the Sacramento Autorama along with the WILD CAD GUITAR Sacramento Vintage will be giving away this July. 100% of the ticket sales will go to the Make-A-Wish Foundation of Sacramento
and Northeastern California.
Roy Brizio, John Buck and Andy Brizio. Roy and Andy Brizio were inducted into the Sacramento Autorama Legends. John Buck with Rod Shows presents them with their plaques and custom Legends Jackets.
Oil Change and Automotive Services

Jiffy Lube provides oil changes and other automotive services done in a professional, friendly and timely manner. From Fairfield to Sacramento, Roseville and Rocklin to Folsom, Elk Grove to Stockton or Manteca to Fresno, there is a Jiffy Lube oil change location near you!
Oil change coupons that can help save big!
MODEL T PARTS
Yes....we are hard at work on our 2012 parts catalog for the Model T Fords, 1909-1927!
CLICK above to get on our list for your FREE 2012 copy or give us a call at 888-FORD-100 and ask to be added to the Model T Catalog list.

As new parts arrive, and there are a lot, please check our Model T web pages as they will go up to the web as soon as they become available.
CLICK the logo to browse our Model T parts!
(Yuuup...We will have the 3 Stooges metal signs available soon!)
Cardboard standups are available in the Gift Shop. This is 'Lizzy' from the Disney/Pixar movie CARS.
......and.....did you know that we make our very own authentic wire harnesses for the Model T's and many other early Fords? Well we do! And have, since the early 1970's, right here in our shop.
USA BRAKE DRUMS AT VINTAGE
These Vintage Ford USA Made brake drums fit the 1940-1948 Ford cars and 1940-47 Pickups, Front or Rear For inside mount hubs with a 3-1/4" center, accepts original 12" x 1-3/4" brake shoes. Replaces the original Ford part #21A-1125. These drums also used on 1928-31 Model A & 1932-38 Hydraulic Brake Conversions.
CLICK above or check with your local early Ford parts supplier. Look for the VINTAGE cast into the drum.... Vintage Brake drums are made in the U.S.A.
Our Vintage brake drums use a modern hydraulic molding process which eliminates run-out between the inside and outside of the drum,
also creates a smoother, cleaner cast surface unlike hand packed molds that leave a rough, gritty finish.
Hydraulic clamping eliminates inconsistencies in drum thickness unlike older processes which do not allow the molds to close as tight. Castings are then machined using state of the art CNC equipment eliminating the need to add weights for balancing.
AMERICAN NATIONAL INSURANCE
Mother Nature said there would be days like this!
Years of painstaking work gone in seconds, because Nature has a mind of its own. Relax
CHROME®
was designed by car buffs, for car buffs just like yourself.
CHROME®
can help you recover from Mother Nature's wrath. At
AMERICAN NATIONAL
, our full service agents can provide you with the personalized service you deserve. Coordinating your insurance need sand related services saves you TIME and MONEY.
Kelly Hallagan Leif
4813 El Camino Avenue #B
Carmichael, CA 95608
916-481-8200 office ~ 916-244-7169 fax
CA LIC #0729653
CHROME Insurance - Preferred Insurer of
CALIFORNIA SUPER STORES
Looking for a new car or a used car?
California Super Stores would like to put you in the vehicle of your choice.
Search
California Super Stores
huge inventory of cars for sale. They offer auto financing and car loans to get you into your car faster. They can help you pick the vehicle that's right for you.
Facing the terrain and looking for a
Dodge Ram Truck
or
Jeep
Dealer? Thinking that a
Chrysler
is more your style? California Super Stores, is your
Fiat
Dealer in Newark and Sacramento, California and your
Kia
Dealership in Valencia.
DODGE 911 Police Vehicles -
CLICK
Above
MOPAR Speedshop at the Folsom Boulevard Store
PARTS - ACCESSORIES - APPAREL - GIFTS
California Superstores - Folsom
12545 Folsom Blvd Folsom, California 95630
888-228-9289
MOPAR - CHRYSLER - DODGE - JEEP - DODGE RAM
BUSTED KNUCKLE GARAGE
We are pleased to announce that Warren Tracy's
F-1 Ford Shop Truck is:
RAYBESTOS CHASSIS
The Raybestos® brand is a name firmly rooted in a proud tradition of innovative product design and manufacturing excellence. The premier brand of replacement products since 1902, the Raybestos® brand name has changed the way people think about brake products and brake performance with continual innovations and dedication to quality. It all began with two young men, Arthur H. Raymond and Arthur F. Law, in a converted barn in Bridgeport, Connecticut. Raybestos® brand products have led the industry since the invention of woven brake lining in 1906.
Proud highlights include a crucial role in World War I and II, providing brake lining material by the mile for tanks and trucks and later heavy bombers, as well as ninety percent of aircraft supercharger drive system materials.
From the 30-minute brake band for the legendary Model "T" to today's highest quality complete line of brake products, the Raybestos® brand name is highly regarded for its record as the industry leader..
CLICK above to watch the informational videos.

The Raybestos GTO-R was given away
to one lucky professional mechanic or do-it-yourselfer Raybestos customer as part of a summer 2011 North American sales promotion.
The Raybestos GTO-R was announced at the SEMA show by
Josh Russell
, Director of Sales & Marketing for the Racing & Performance division of
Affinia Global Brake & Chassis, manufacturers of
Raybestos Brakes & Chassis
.

VINTAGE FRIDAY'S
- Car Shows and BBQ -

Sacramento Vintage presents our 14th Annual Season of Vintage Friday's 2012 starting up this June.
All pre-1973 U.S. makes and models are welcome! Participant parking is limited, please no saving spaces.
A relaxed, family cruise night with good friends and their rides! No car? No Problem!
Starting in June....Come on by, check out the cars & trucks, grab one of our famous burgers or hot dogs, a Soda, a bag of chips and enjoy the evening. There is no entry fee for vehicles or spectators.
Oh...and Win Stuff! Excellent prizes from our great sponsors and supporters! Remember to relax, we have tables and chairs at the BBQ.

Home & Garage Accessories, Cars on Display
In The Showroom and All Kinds Of Neat Stuff
in the Gift Shop!
Our 2011 Season was dedicated to

EDWARD TOWE PASSES
1914-2012
EDWARD TOWE (seated) and his daughter Kristy Updegraff and his son-in-law Jim Updegraff pose in front of a 1903 Ford during the second annual Founders' Day at the California Automobile Museum. The car is owned by longtime museum supporter Buck Kamphausen. Valley Community Newspapers photo, Lance Armstrong
.


Edward Towe, a Montana banker, rancher, and entrepreneur, died March 13, 2012, 38 days before his 98th birthday, of natural causes at the home of his daughter in Sacramento, California.
Edward Towe was born in Norway, Iowa, on April 20, 1914. His mother and all 4 grandparents were born in Norway near the town of Tau inland from Stavanger, Norway. He was an entrepreneur throughout his life beginning from the time he became the town's only bicycle repairman with a bicycle shop in Paullina, Iowa when he was just 15 years old. Soon after that he started buying old model T Fords and making them into farm wagons.
Edward Towe worked his way through engineering school at Iowa State College in Ames. He married Florence Tow, daughter of a prominent Hereford breeder near Dysart, Iowa, in 1935. By then he had made several trips driving new Fords to California to sell at a profit. In 1937 he, along with a cousin, purchased the Ford dealership in Paullina, Iowa, which he ran for a year before moving to California where he bought a gas station and sold gas for 11.9 cents per gallon at a time when all gas was pumped by hand.
CLICK
on the photo below to read the complete article. Photo courtesy Ward Sherwood.
INTERCITY LINES

America's premier enclosed auto transport company
Intercity Lines, Inc., has been in the enclosed automobile transport business since 1980.
Automobile transportation is their only business.
Intercity Lines features state of the art 53' FULLY ENCLOSED air ride trailers.

CLICK above to see what Jay has in the trailer. He has wanted it since he was 14 years old.....


YOUR

Order Shipped To


YOUR

Door As Low As $3.95
*
That's right!
Orders $10.00 and under will ship for only $3.95 and orders under $50.00 ship for only $6.95.
Applies to small parts only, no heavy or oversize items. See store or current catalog for complete details
.


*
(A $1. insurance fee is added to all orders)
Chitty Chitty Bang Bang Flies Again
Most cars are just that: Four tires and an engine. And then there's Chitty Chitty Bang Bang, the flying version born of Ian Fleming's imagination and the namesake of the James Bond creator's only book for children.
That's a big driver's seat to slide into, especially when you add Dick Van Dyke in a wildly popular movie written by Roald Dahl, a Broadway musical and a generation or two of Chitty-lovin' parents.
So why did the Fleming family pluck Frank Cottrell Boyce of Liverpool to revive the story
nearly 50 years after
the original was published? And why now?
He has no idea.
"I never asked, in case it was a mistake," he said by telephone ahead of Tuesday's U.S. debut of his "Chitty Chitty Bang Bang Flies Again," from Candlewick Press.
CLICK
on the photo to read the complete article.
SUEDE PAVILION AT THE
SACRAMENTO AUTORAMA


DID YOU SIGN UP FOR OUR NEWSLETTERS?
Sign up a friend for our email newsletters!
CLICK Above
When you join our e-mail list, you can also
'fine tune'
what information you would like to receive from Sacramento Vintage Ford......from the type of car(s) you
have.... to 'Garage Sale' bargins.....Catalogs .....and more!
(We do not sell or rent our valued customers e-mail addresses)
You can also forward this newsletter to a friend using the box at the lower left corner of this newsletter.
Cruisin' around the Sacramento Vintage parking lot in the 'Sacramento Vintage Equipped' Grand National
'Speed 33' Roadster.
That's It For This Edition!
Thank You!
Please drive safe, have fun and enjoy your ride!

1-888-FORD-100