YOUR OFFICE -4th Quarter Organizing Tips
It is hard to believe that in a couple of months we will be saying Happy New Year. As you prepare for year end profits use the following tips to get organized to enable you to be more effective and efficient at work.
Business Cards-Make the piles of business cards in your office work for you, organize them using scanners or other software to organize contacts.
Emails-Create folders and rules to organize incoming emails. This will allow you to give priority to project related email.
Desktop-A clear desk helps you focus on important tasks.
Project Files-Create systems to organize all project related documents and files together.
To-Do Lists-Stay focused by writing a daily list of tasks that you would like to complete.
Get Organized on the Go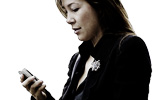 Listen to this month's segment scheduled for Monday, October 26th at 8:00pm
"Organize Your Life"
with my guest Cathy Bishop as we discuss
How To Say No To Shopping and Yes To A Home Free Of Clutter
. This show is for anyone who is ready to have a home free of clutter.
YOUR TIME- Balancing Time and Life
I believe that each of us must periodically review how we manage our time. As we near the end of this year I hope these tips below will help you better manage your time and life.
Plan Ahead: Before you end your day think of all the items you will need to take with you the next day (client files, referrals for doctors, tickets to pick up cleaning).
List Goals: Create a list of both professional and personal goals to help you focus your time and energy on things that matter the most to you.
Use technology to manage your time: Utilize the benefits of a Smart Phone or PDA to help you manage your time by allowing you to have immediate access to your schedule which will prevent you from overbooking yourself.
Review schedule regularly: To ensure that you are balancing your time and life review your schedule weekly to help you stay on track of your professional and personal goals.
Plan time for fun: As you plan your week make sure to plan time for fun (movies, dinner with friends, roller skating) to live a balanced life.
YOUR HOME - Clutter Conquering Tips
I always tell clients there are little things you can do each day and week to help you conquer clutter and have a space that is organized. Below are keys to help you stay organized and have a clutter free home.
Items that do not fit: If it does not fit donate the article of clothing.
Items not working: Repair and donate or recycle items that are not working (computers/electronics).
Junk Mail: Toss junk mail immediately.
Old Items: Toss expired and dated items when you see them or touch them.
Staying Organized: Designate 1 hour a week to staying organized.