YOUR OFFICE - Filing 101
After years of organizing business clients I find those with organized files are able to work more effectively and achieve more. They also find it easier to stay focused on business and project details. Use the tips below to help organize the files and paperwork in your office and stay one step ahead of the competition.
Clearly Name Files-Telephone:Office, Merchant Account, Smith Project, Business Plan 2009, Certification: City.
Categorize Files-Group similar documents/information together Financial, Vendors, Clients, Projects, Legal.
Keep Information Current-When you receive updated information archive or toss the information that is replaced.
File Regularly-File regularly to keep files current, information accessible and save time looking through piles.
Purge Regularly-Save money by regularly purging files to prevent wasting resources and space keeping information and documents that can be purged and shredded.
Get Organized on the Go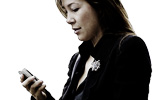 Join me this month on
"Organize Your Life"
with my guest Valerie Anderson, MSW as we discuss how to live a
Simplified Life
. This show is for anyone who is ready to live a simple and clutter free life.
YOUR TIME- Planning A Smooth Routine
Part of living an organized life is managing your time to get things done without stress. When you plan your day and life you are able to live a balanced and stress-free life. Following are a few tips to help you get started.
Plan Meals: Planning meals helps save money, time and allows you to serve healthier meals to your family.
Family Calendar: A family calendar will help you better manage your time and that of your family. The calendar will also help you identify time wasters and anything that will conflict with your family goals.
Get Organized: Getting your home in order will help you save valuable time and eliminate endless searches for items you know you own.
Prep The Night Before: When you prepare the night before you start each day focused on the tasks instead of trying to remember what you need before you walk out the door or forgetting something and making a return trip home.
Set A Regular Bedtime: I found that if I don't get enough rest, it takes me twice as long to do tasks. Therefore I make sure I have a set bedtime.
YOUR HOME - Organizing Your Entryway
I once walked into a home and asked the client do you allow shoes to be worn in your home? They were amazed that I would ask that question since the answer was no. I informed them I could tell because all the shoes were piled by the door. Below are a few tips to help you organize the entryway to your home.
Shoe Rack: If everyone kicks their shoes off when they come home a shoe rack near the entrance is a great way to keep shoes organized.
Magazine Boxes: Designate a magazine box (IKEA) for each child and use as a place to put papers/ homework that needs to be reviewed or signed.
Hook For Keys: A hook will eliminate endless hours of searching for keys.
Mail Bin: Creating a home incoming and outgoing mail bin keeps track of mail and eliminates piles throughout the home.
Entryway Systems: Designate a place where backpacks, totes and briefcases can be left. Check out Pottery Barn for Entryway systems.