YOUR OFFICE - Effective and Efficient Workspace
I had the opportunity to speak with Todd Freeman, Partner of
Cubicles Direct
and asked him to provide suggestions to help us be more organized.
Q. Todd, what steps can a person take to make their workspace effective so they can be more efficient in their daily tasks?
A. Janet, I have 6 suggestions to make workspaces efficient:
Conquer Clutter-Remove the clutter from your desktop.
Increase Workspace-If you need more space consider getting an under the desk mount CPU Holder or a mobile unit and/or a mobile under the desk- fax/printer stand.
Position Keyboard Ergonomically-Keyboard arm with a swivel/tilt mouse pad which mount under the work-surface and gives the user the ability to position his/her keyboard and mouse at a height and angle which is ideal for that particular user and at the same time free up desk space.
Increase Desk Space-If your computer is at a 90 degree corner where your desk meets the bridge or return consider a corner filler which creates a 17 to 28 degree angle which will create a space that is much more comfortable and efficient to work in.
Good Chair Mat-A good chair-mat is very important as it gives the user the ability to move around their work-space effortlessly. A cracked chair-mat is worse than no mat at all as it actually hinders mobility and can cause injury.
A Good Chair-The most important piece of furniture for a person who is expected to sit for more than 1 hour is a good chair. Look for a quality chair made in the United States that is rated for 250 lbs. but is made to handle a lot more. Todd added that chair designers believe that a chair has to respond and interact with the person sitting in it and do that automatically without requiring the person to manipluate a host of buttons and knobs.
For more information on efficient space design and quailty office furnishings contact Todd at Cubicles Direct.
Get Organized on the Go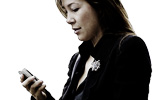 I am taking a break this Summer from producing and hosting my radio show
"Organize Your Life".
I will resume the show in September. Until then listen to previous shows and mark your calendar for future segments so you can stay on track and continue your journey to live an organized life.
YOUR TIME- Conquering Procrastination
It is possible to conquer procrastination. I have learned when I feel the urge to put something off for another day, week or month to do one thing no matter how small to get started. Today, I encourage you to do the same. Do one thing to get started. Following are tips that have helped me conquer procrastination and I hope will help you as well.
Estimate how long a project will take and then double the time.
Break project down into managable tasks: Write guest list, plan menu, purchase paper goods.
Listen to your moods:I write articles in the morning when I am more alert.
You don't have to start at the beginning: Write list of advisors needed for business plan.
Set small deadlines for yourself: August 30th have guest list for party.
YOUR HOME - Controlling Mail
You come home after a long day, shift through the pile of mail and put it aside to deal with later. Before you know it your piles seem like mountains and you don't know where to begin. Following are tips to manage and reduce the amount of information you receive each day so it will be easier to maintain an organized space.
Open mail by the trashcan: Discard junk mail and mail inserts that you don't need.
Use letter trays:Create and in/out system using letter trays
Schedule administrative time: Schedule time to file statements, bills and documents.
Reduce unwanted mail: Visit www.catalogchoice.org to reduce amount of unwanted mail you receive.
Manage junk mail. Visit www.DMAChoice.com to manage your junk mail.