Are 18,000 sheets enough? Your four-drawer file cabinet, when full, holds 18,000 pages.
"Janet named Organized Living Examiner"
I am the new Philadelphia Organized Living Examiner on Examiner.com. Click the following link to read my article Organize Your Child's Closet.
Thank You!
for attending my workshop at the Yeadon Library last month.
Greetings!



The second week in June is " Small Business Week" so I wanted this issue to help you better manage your business whether you are an executive in a Fortune 500 company, a home based entrepreneur or a stay at home mom managing the home front. This month I included tips from my Dad, ways to clean up your computer and provide you with steps to conquer the catch all room in your home.

No matter what area you decide to focus on remember if you spent 1 hour each week on organization within a year you would have dedicated 52 hours to getting your life in order. Image what your office and space will look like and how your life will feel with less stuff to manage.




YOUR OFFICE - Business Tips From Dad
In honor of Father's Day I wanted to share tips from my Dad. These tips have help me to manage my time and team. I hope that after reading these tips you will develop your own list of tips from the men in your life, your Dad, Uncle or Grandfather.
Delegate-As a child I watched Dad delegate tasks that he could have done but decided it would be a better use of his time and resources to delegate it to someone who could complete the task in half the time.
Teamwork-Dad taught me the importance of building a strong team that brings a collection of experiences to get the job done without one person feeling overwhelmed with tasks.
Teach Others-I was always allowed to watch my Dad build or repair things and as a result I have the confidence to assemble products for my clients.
Time Management-Dad always woke up early with his to-do list in hand and started his work day focused and on purpose.
Appreciate Others-Let others know you
appreciate them by saying "Thank You".
Get Organized on the Go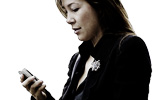 Listen to or download this month's topic
"The Art of Delegation"
as my guest and Virtual Assistant, Lynn Edwards, President of Virtual Excellence Business Solutions, LLC shares tips for business owners that will help them increase profits and expand their business by delegating tasks.
YOUR COMPUTER - The Clean Up
Summer is around the corner and you have probably transitioned your home and clothes from winter to spring/summer, but have you prepared your computer for a new season? Yes, our computers need a little clean up as well. Listed below are a few tips to help your computer get into optimum shape.
Dust Off Your Computer. You can use a simple *compressed gas duster to help get rid of dust and dirt in your computer that can be harmful to the chips and circuits. Wiping down your computer regularly will help prevent excess dust and dirt.
Use Your Delete Key. Deleting unwanted files left in your recycle bin and removing temporary internet files will free up more space on your computer and help your system to run faster.
*Check your favorite office supply store.

Visit Lynn Edwards at www.Virtual-Excellence.com for additional administrative tips.
YOUR HOME - Clearing The Catch All Room
Last month I decided that before I begin renovations in my home I needed to organize the boxes, containers, etc in the room that will be my reading room. You may have a room that you envision will be your home office or exercise room but it has become the catch all room. The catch all room is where items end up when the doorbell rings or you don't feel like dealing with your stuff. Below are tips that I use to help me work through my stuff and I hope will help you as well:
Set a date and schedule the time in your calendar. I scheduled at least one Saturday a month to focus on my project.
Schedule between 2-4 hours for your project. I scheduled to work from 8am-12pm which gave me enough time for the project and allowed me to spend time with friends in the afternoon.
Develop a plan. Since I am beginning a renovation project my goal was to make sure the items that will remain in the boxes during the renovations are items I need and will use.
Plan to purge. If I was not in love with an item or would not use it, I let it go. I decided to let go of my birthday hat from my 40th birthday party but keep the card my friends signed.
Get Support. There are a few containers that have my mother's belongs stored so I have asked my cousin to go through them with me since these containers are very sentimental.
Until next time, have a clutter free day!
Sincerely,

Janet M. Taylor
Totally Organized, LLC