Note from VEERA's Founder
Now that we are open, I have been so anxious to get everything started at once . . . workshops, teacher trainings, retreats OH MY! My type A personality has begun to take over and all the while I am so grateful for yoga! I take classes at VEERA, and I hear our teachers (including myself!) talk about staying present and practicing gratitude. As I watch new students coming in, relishing this new practice and being totally content right where they are, I'm reminded that all is exactly as it should be.
I have so much gratitude for our growing community and for all of your support. Every morning, I wake up, kiss my little Arjun, and wonder if I'm dreaming. I am truly in awe of this new reality where I get to practice yoga daily and share it with an amazing community of people.
Namaste.
Gangotri- VEERA Founder
BEGINNER'S WORKSHOP
New to yoga and want to get comfortable at a slower pace than the regularly scheduled classes? This workshop will help you do just that! We will learn about the history of yoga, the benefits of the practice, and how to do some of the basic postures that form the foundation of our classes here at VEERA YOGA.
This workshop will cover:

A brief discussion of the origin, philosophy, and benefits of VEERA YOGA

Basic Postures: Alignment and modifications
How to link Ujaii breath with movement as we flow from pose to pose
During this workshop, you will have the opportunity to ask questions that others in the room probably have as well. Please don't be shy- ask! You will also receive one-on-one assistance as you get into the poses.
Upon completion of this workshop, you will be prepared for any of our basics classes.
November 13th | 1pm - 3pm | $20
YOGIC EATING WORKSHOP
What does yogic eating mean? How important is an organic diet and what proof is there that this is necessary? Find the answers to these questions and more at our Yogic Eating workshop. By the end of this two hour session, you'll know the more about:
What does organic really mean?
What scientific evidence supports your decision to become a pesticide-free eater?
How can you eat economically while maintaining organic standards?
Yogic Eating Philosophy- what does it mean?
Learn some tips about how to take care of pests in your garden safely without the use of chemicals
Our workshop will be hosted by Morgan Dickerson, B.S. biology from UCLA. She is a wife and mother of three children and considers herself a "green mama" expert. Come hear
what she has to say and bring your questions.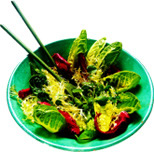 November 14th | 1pm-3pm | $30
Karuna means compassion in sanskrit. This area of our newsletter is dedicated to compassionate acts within our community.
For Thanksgiving this year, VEERA decided to feed the turkeys rather than eat the turkeys! Over the eight weeks before we opened, our pre-opening classes raised over $250 in donations for the farm sanctuary! We used $180 of that to adopt 6 turkeys. Daphne, Harley, Jordan, Kima, Reese & Velma thank the VEERA community for helping to bring happiness to their lives. Come into the studio and check out Karuna Corner to learn more about each of our feathered friends!

We thought you might want a quick update on how Edwin is doing. While he is very loving, he's also a bit shy. Over the last few months, he's been spending his time with his friend Whitaker who is much more social. It seems like some of that has rubbed off as Edwin has made a new friend, Elliot!
Tell Us What You Think!
We acknowledge that we are new and while we are trying to ensure that all of your ideas, suggestions and requests are heard, we don't know unless you tell us. To make it easier for you to let us know your thoughts, we now have a suggestion box at the front desk. If you have a request or just want to let us know about an experience you had at the studio, drop us a note!
30 DAYS of YOGA for $39
New Students enjoy 30 consecutive days of unlimited yoga for just $39! Come as much as you like during this introductory period. It's a great opportunity to experience different teachers and the impact of yoga on your life.
Finding Time to Practice

With the busy schedules we all have, it can be challenging to find time to practice. At VEERA we recognize this and work to offer classes at a variety of times to enable you to fit it in. Did you know that we have one hour noon classes Monday through Friday? We even have a shower if you need to rinse before heading back into work! While it can be hard to remember in the rushed moments of our days, know that a consistent yoga practice will help you to manage your schedule and your psyche better!
6am Classes coming after Thanksgiving!
Many of you have expressed an interest in early morning classes and we're listening! Starting on Thursday, December 2nd, we'll have 6am classes on Mondays and Thursdays. Practicing at this time is a great way to start your day! You'll find that you are happier, have more energy and more smiles to give out! No excuses not to get your practice in now!
HOLIDAY SHOPPING
Have you started to think about your holiday shopping yet? Why not give the gift of yoga and really make a difference in someone's life? We have gift certificates that can be used for classes, workshops or items in our boutique. You can even purchase them online!
Practice on the VEERA patio under a full moon! Get in tune with nature as we flow to various drum beats at a slower pace than our usual VVF classes. Rather than sun salutations, we'll be saluting the moon and gathering the energy from her rays. The end of this class will include a 20 minute Pranyama (breathing) practice. Dress in layers for this class as it may be chilly until we get warmed up.
November 21st
7:30pm - 8:45pm
$15
Sevak means servant in Sanskrit. We call our staff our Sevak Team as we are here to serve and ensure that you get the most out of your VEERA experience.
Meet Sevak Summer!
Like many, I have lived the majority of my life in my head. Logic has been my best ally and I've assumed that most things couldn't be resolved by a thorough check list or pro/con sheet. These "smarts" got me through school, directed my life, and even brought me to yoga. What intelligent young woman doesn't want to look good in a pair of jeans? Little did I realize that a continued practice of inward inspection, attention to breath, and detachment of thought would lead me to a life of wanting to live through my heart. My yoga journey now is about releasing this idea of control, not constantly analyzing the past or trying to predict the future, about cultivating intuition, living in the present moment, and adapting to current situations with grace. A teacher once told me that "the greatest jouirney we make is the 12 inches from our head to our heart". It's a tough road, the mind is powerful and wants to lead us. It will tell you all sorts of things to remain in charge. Stay diligent in your practice and eventually love begins to lead more frequently. Hard decisions become easier. Your path begins to reveal itself. Instead of making lists and racking my brain these days, I try to meditate, say no sometimes, and listen to my heart. Yoga teaches us to love. And it is through love that we make our lives and those around us happier!
- Summer Ward