Contact Us
Visit our website www.floridaclimateinstitute.org
Need an answer to your question about climate?
Ask our Florida's team of experts:
Research spotlight:
Sea Level Rise in Florida: Coastal Forests Retreat
By Francis E. (Jack) Putz, FCI Member and Professor of Biology, University of Florida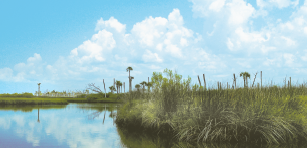 A recent full color article on sea level rise published in The Palmetto (a quarterly magazine of the Florida Native Plant Society) provides an overview of nearly 20 years of research by more than 30 students and faculty from the University of Florida. The work was conducted primarily in Waccasassa Bay State Preserve just north of the Withlacoochee Gulf Preserve, which is featured in the photo essay. Rather than repeating the data reported in the cited references, the article provides a readable account of the effects of sea level rise that should help convince Floridians who view sea level rise as a future problem for distant peoples that it is a process that we are facing today right here in Florida. The author (Francis E. "Jack" Putz, a professor in the Department of Biology at UF) and publisher (The Native Plant Society) hope that this article is distributed widely, so FCI readers are encouraged to forward it to anyone who would be or should be interested.
FCI Events
May 9, 2012, 2-4pm | FL Dept. of Economic Opportunity Up-Close | Online Webinar
Meet top officials of this new agency and hear their presentations on a range of timely topics important for communities. Learn about agency priorities and plans for 2012 and beyond. Gain insights on results of the 2012 Legislative Session. Get a close-up look at noteworthy programs and projects, including initiatives to integrate community planning and economic-development. Discover resources and services to benefit Florida communities. Hear the latest announcements of agency news. FCI director Jim Jones is on the Department of Economic Opportunity (DEO) task force.
Other Events

May 7-16, 2012 | Teaching Climate Complexity | Online Workshop
May 17-20, 2012 | Environmental Pollution and Public Health | Shanghai, China
May 23-25, 2012 | Programs that bring together Geoscience and Sustainability | Palo Alto, CA
May 27-June 1, 2012 | 21st Century Watershed Technology Conference and Workshops | Bari, Italy
June 2-6, 2012 | Teaching Environmental Geology Workshop | Bozeman, MT
June 21-22, 2012│Risk and Response: Sea Level Rise Summit, the Future of Florida and the Coasts│Boca Raton, FL
More upcoming events here.
Awards & Recognitions
At the annual meeting of the Society for Applied Anthropology in Baltimore in March, Tony Oliver-Smith, professor emeritus of anthropology at UF, was informed that he won the Malinowski Award for this coming year for his work on climate-related disasters, among others, and involuntary resettlement. The award is presented to an outstanding social scientist in recognition of efforts to understand and serve the needs of the world's societies and who has actively pursued the goal of solving human problems using the concepts and tools of social science during one's entire career.
On April 9, FCI co-director Eric Chassignet received FSU's Distinguished Research Professor Award. This it the third highest faculty award at Florida State.
Publications
FCI members are in bold.
Frumkin, A., & Misra, V. (2012). Predictability of dry season reforecasts over the tropical and subtropical South American region. International Journal of Climatology (in press).
Hönisch, B., Ridgwell A., Schmidt D., Thomas E., Gibbs S., Slujs A., Zeebe R., Kump L., Martindale R., Greene S., Kiessling W., Ries J., Zachos J., Royer D., Barker S., Marchitto Jr T.M., Moyer R., Pelejero C., Ziveri P., Foster G.L., & Williams B. (2012) The Geological Record of Ocean Acidification. Science 335:1058-1063. doi: 10.1126/science.1208277.
Markell, D. L. (2012). Climate change and the roles of land use and energy law: an introduction. Journal of Land Use & Environmental Law, 27; FSU College of Law, Public Law Research Paper No. 577.
Misra, V., & DiNapoli, S.M. (2012). Understanding wet season variations over Florida. Clim. Dyn. (in press).
Obeysekera, J., Park, J., Irizarry-Ortiz, M., Barnes, J., & Trimble, P. (2012). Probabilistic projection of mean sea level and coastal extremes. Journal of Waterway, Port, Coastal, and Ocean Engineering (accepted). doi:10.1061/(ASCE)WW.1943-5460.0000154.
Rogers, S., Tanski, J., Carey, W., McCoy, C., Berman, G., & Miller, J. (2012). "Win-win" climate change adaptation strategies: lessons learned from Sea Grant coastal processes and hazards programming. North Carolina Sea Grant Report. UNC-SG-12-06.
FCI Recent Presentations
April 4, 2012: Dr. Zhaohua Wu - On the Time-Varying Trend in Global-Mean Surface Temperature. Tallahassee, FL.
[ Download Slides || Watch Seminar (Runtime 56 minutes) ]
April 5, 2012: Dr. Benjamin Horton - Past Sea-Levels for the Atlantic Coast of the USA. Gainesville, FL.
[ Watch Seminar with slides (Runtime 57 minutes) ]
April 19, 2012: Dr. Kenny Broad - Cultural and Cognitive Challenges to using Climate Information. Gainesville, FL.

Project Updates
NEW FUNDING: A Comparison of Dynamically and Statistically Down-scaled Climate Models for the Southeast United States (USGS)
PI: Dr. Tom Smith, Research Ecologist, Southeast Ecological Science Center, USGS
This project is being done for the South Atlantic LCC (http://www.southatlanticlcc.org/). The LCC covers the area from Tallahassee to Jacksonville in Florida and then northward including most of Georgia, the Carolinas and southern Virginia. Dynamically down-scaled climate model data from the USGS project "A Land of Flowers on a Latitude of Deserts," La Florida for short (http://fl.biology.usgs.gov/climate/la_florida.html) will be compared to statistically down-scaled datasets from several sources. Cooperating Investigators include Drs. Vasu Misra and Lydia Stephanova from COAPS, and Dr. Ryan Boyles, State Climatologist for North Carolina.
NEW FUNDING: Use of Down-scaled Climate Model Datasets in Ecological Models for the SE United States and Florida Everglades (USGS)
PI: Dr. Tom Smith, Research Ecologist, Southeast Ecological Science Center, USGS
This project is in support of research needs identified by staff of the Peninsular Florida LCC (http://peninsularfloridalcc.org/). The down-scaled climate model data from the La Florida project will be used as inputs to a variety of ecological models for a number of plant and animal species of interest in Florida and the SE United States. Climate envelop models will be developed to make predictions about potential range expansions, contractions and geographical shifts across the landscape. Species to be modeled could include endangered species (e.g. American Crocodile, Florida Manatee), charismatic fauna (e.g. wading birds, alligator), invasive, exotic species (e.g. Australian mangroves), and possibly others after the research team has consulted with resource managers and Land Conservation Consortium staff. Collaborating Investigators on this project include Dr. Stephanie Romanach, USGS, and Drs. Vasu Misra and Lydia Stephanova, at COAPS.
NEW FUNDING:Towards a Global Reconciliation of Last Interglacial Sea Level Observations (NSF)
PI: Dr. Andrea Dutton, Asst. Professor, Geology, UF
This 3-year study will examine the dynamics of ice sheets and sea level change during a warm period in earth's history. his research will involve field work in the Seychelles, Bahamas, and Jamaica to constrain the position of sea level in the far- and near- field of the large ice sheets that exist during glacial periods. These observational data will be reconciled with glacial isostatic modeling to understand the behavior of globally averaged, or eustatic, sea level change.
NEW FUNDING: Vulnerability Analysis of the Environment, Facilities, and Personnel of the Kennedy Space Center (KSC) to Extreme Weather Events and Climatic Anomalies Resulting from Global Climate Change (NASA)
PI: Dr. John Lanicci, Professor, Applied Meterology, Embry-Riddle Aeronautical University
Co-PIs are Dr. Dan Britt from the Physics Department at UCF, and Dr. Frank Merceret from the Kennedy Space Center Weather Office.
NEW FUNDING: Florida Sea Grant, Sarasota County, and IFAS Extension, with support from the Sarasota County Board of County Commissioners, have received a two-year grant to develop and implement a collaborative public-participation process designed to bring coastal stakeholders together to consider policies appropriate for the County's draft post-disaster redevelopment plan.
An integral part of the process will be use of an innovative mix of hardware and software that will allow small groups to interact with geospatial data through visualization software projected onto a tabletop. The tabletop is interactive and allows participants to create and modify scenarios and generate information real time based on the scenarios. Use of scenarios will allow participants to generate data based on impacts of sea-level rise such as increased storm surge or coastal flooding.
NEW WEBSITE: The Florida Sea Grant Sea Grant College Program has launched a coastal planning website that focuses primarily on adaptation to sea-level.
The page, whose development is on-going, provides resources directed at local government attorneys and local government planners. The website is available at
www.flseagrant.org/coastalplanning.
NEW VIDEO: Droughts and Downpours: Harvesting Rain on a Dryland Farm
Grower Kirk Brock talks with Wendy-Lin Bartels about adapting to rainfall extremes on his dryland farm in Florida and how seasonal climate forecasts should help him improve his operation. The video is posted here in NOAA's ClimateWatch Magazine.
NEW HIRE: Florida Sea Grant (FSG) recently received a grant from the Florida Fish and Wildlife Commission (FWC) to hire a Sea Level Rise Outreach Coordinator. A search was conducted early this year, and Ms. Whitney Gray now is in this position. Whitney will be a liaison between FSG and the FWC on work related to sea level rise and coastal natural resource impacts and adaptations. She will work out of the FWC headquarters in Tallahassee, embedded with that agency's climate change adaptation team. She will lead efforts to inventory coastal habitats at risk from sea level rise, identify research needs to support natural system adaptation initiatives, work to incorporate sea level rise adaptation planning into FWC coastal resource protection programs, and develop education and outreach materials related to sea level rise for Extension Agents in FSG, staff at the FWC, elected and appointed officials and the general public. Before coming to UF, Whitney was the Senior Environmental Planner for the Southwest Florida Regional Planning Council, a City Commissioner for Clearwater, Florida, and a Head of the Science Department at a Pinellas County High School.
OTHER: Florida Sea Grant Coastal Planning Specialist Thomas Ruppert worked with Dr. Jim Beever of the Southwest Florida Regional Planning Council to present on the science and impacts of sea-level rise to the Charlotte County Beaches and Shores Advisory Committee.
The Advisory Committee had contacted Charlotte County Sea Grant Agent Betty Staugler requesting information on sea-level rise, and subsequently invited Mr. Ruppert and Mr. Beever to present. As part of questions and discussions after the meeting, the Advisory Committee voted to recommend to the Charlotte County Board of County Commissioners to invite Mr. Ruppert and Mr. Beever to give a similar presentation to the Board of County Commissioners. The Board accepted this recommendation and has issued an invitation for a presentation in May.
Publication Opportunities

Call for Papers: "Wetlands in a Complex World," A Special Issue of Ecological Processes (Springer)
Call for Papers: "Energy, Environment, and Sustainability," A Special Issue of Environment, Systems, and Decisions (Springer)
Other Opportunities

Risk and Decisions in Complex Bio-Systems: Notice of Ecological Risk Assessment Symposium
Ecological Risk Assessment specialty group
Society for Risk Analysis Annual Meeting
December 9-12, 2012 - San Francisco, California
ERAsg would like to solicit ideas and volunteers to help in organizing an SRA symposium on the role of ecological risk assessment in sustainable development.