We hope this email finds you enjoying the last days of summer, and we look forward to having the opportunity to see you this fall! We will be attending 2 upcoming conferences. Please come by and say hello if you are there.
Keystone, CO- SHRM Colorado State Conference Sept 28-30
Bellevue, WA - NHRMA Conference & Tradeshow Oct 5-7
Medical Marijuana- What's an Employer to Do?
Where is it legal? Over half of the states in the U.S. either currently have Medical Marijuana laws or are attempting to pass legislation. (These states have passed legislation: WA, OR, CA, NV, MT, AZ, CO, AK, NM, ME, VT, NJ, MI, RI) This isn't something that is going away any time soon, as much as employers might wish it would.
Why is it being prescribed? Interestingly, only 2% of marijuana recommendations are for the originally proposed uses such as glaucoma, cancer and HIV/Aids. Instead prescriptions are most often for pain, spasms, anxiety, or insomnia. Even ADHD, PMS and alcoholism can garner a marijuana recommendation.
Who is getting prescriptions/recommendations? 52% of patients are 18-30 years old. 72% are 40 years old and under.
But what can an employer do? Depending on state law:
Marijuana use violates federal law. Employers are not required to accommodate medical marijuana.
Employers can choose to prohibit the use of any substances illegal under federal law.
Employers can do pre-employment drug testing and exclude positive marijuana tests for hiring. (The drug could make the applicant unfit for the job or create safety issues.)
Employers can do Reasonable Suspicion or Post-Accident drug testing and a positive test can be considered 'under the influence'.
If you are in a state with Medical Marijuana laws, make sure to get legal advice and know your rights before the situation arises.
Synthetic Opiates (Oxycodone) - Did you know?
Many of you are aware that Oxycodone has become a frequently abused prescription painkiller.
Did you know that a standard 5, 8 or 9-panel drug screen (urine or oral fluids) will not test for Oxycodone? Oxycontin, and other drugs containing Oxycodone, and will not show up on a regular panel that includes opiates becuase the drug is synthetic.
If you are concerned about Oxycontin abuse in your organization, you must request the addition of synthetic opiates to your existing panel, if you have not done so. There will be a small increase for the additional panel.
Please contact our office if you would like to change your drug panel. (888)833-5304
Online Disclosure Forms are available!
Occuscreen is excited to introduce a new feature on our website, the QuickApp, which is geared towards streamlining your hiring process.
The QuickApp feature allows you to electronically send Disclosure and Release Forms to applicants (via email).The applicant will be able to electronically sign the disclosure, as well as enter their personal information directly into the Occuscreen website. Once the applicant has submitted this information, an email notification be sent through the system, alerting you that the applicant is ready to process.
Once you receive email notification, you will log in to the Occuscreen system, review the applicant's information, and dispatch the search for processing. 
The online Disclosure Form will be available on the website for future reference, along with a copy of the electronic signature, giving you the option of eliminating a paper trail, while also allowing you to print out a copy of the Disclosure Form for the applicant's file. 
For more information on this feature, please contact Emily Petersen.
Emily Petersen
Director of Operations
888-833-5305
Please let us know if there are questions or areas of interest you would like us to address in future newsletters, or if you are interested in partnering for employment screening.
Sincerely,


Pamela Mack
Occuscreen
888-833-5304
Dilute Specimens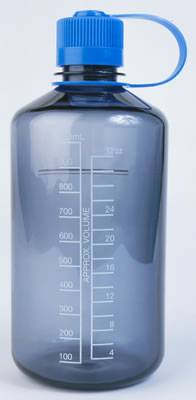 It's the time of year when dilute specimen results are occurring more than ever in urine drug screens.
Dilute specimens can be caused many ways, but of course, over-hydration would be one of them, whether on purpose to throw off a screening, or simply because of warm weather and activity.

Many companies will allow for one retest within 24 hours if a specimen is dilute. Others consider them a fail and don't offer a retest for months.
If you are having an issue with dilute specimens, you can advise applicants not to drink fluids for several hours prior to testing, or you can switch to oral fluid screening, to avoid the problem completely. Just make sure the test is lab-analyzed at a certified lab to get comparable results to urine screening.
Occuscreen recommends the Intercept product. Please contact us if you have questions!

888-833-5304