Dear Member of the International Olympic Committee:

The 2016 Committee continues to come under withering fire from the local press. Here are two items from yesterday.

Olympic Bid Running Ragged


Chicago losing steam as facts emerge



By STEVE RHODES - NBC News Online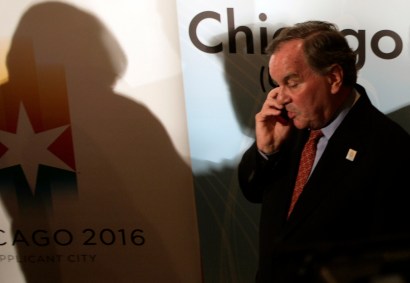 The home stretch for Chicago's 2016 Olympic bid looks about as promising as the Cubs winning their division.

The local organizing effort is springing leaks in every direction.
Emergency ward meetings designed to quell unrest over the about the taxpayer liability aren't working.

"People are just not buying into the spin coming out," Stephen Alexander, a senior research fellow at DePaul University's Egan Urban Center, tells the Tribune.

Alexander has attended several of the ward meetings and played witness to aggressive questioning from citizens and disingenuous answers from Olympic officials.

Some residents are also unhappy that the ward meetings are happening now -- as an obvious attempt at damage control -- instead of early on.

"Wouldn't it have made a lot more sense to have all these meetings last year or the year before or the year before to get all this out before we had to sign a host-city contract that will obligate to us to anything the IOC committee wants?" Joan Levin, a member of No-Games Chicago, asked at one ward meeting, according to the Trib.

Last week AFP reported that the Chicago effort was losing momentum while Rio was on the move. A source told the news agency that officials behind the Chicago bid had alienated IOC members who had previously been on their side. A large chunk of the blame has been laid at the feet of the United States Olympic Committee, which recently pulled a controversial broadcast plan off the table to appease the IOC, but the damage might not be repaired in time - and trust retained - for Chicago to win its bid.

- And Crain's reports what close observers have known for a long time but the media is only now examining: that Mayor Daley's claims of a $22.5 billion economic boost from hosting the Summer Games is pure fantasy.

"That's crazy," Holy Cross professor Victor Matheson, who has studied the economic impact of the Games, told Crain's. "Anyone using this $22.5 billion number as justification to vote for the Olympics is being led down a garden path."

Truly, this bid feels like its in reverse. A well-oiled machine at the outset is turning ragged at the finish line. That's what happens when folks finally start asking questions; sometimes the truth emerges.



Steve Rhodes is the proprietor of The Beachwood Reporter, a Chicago-centric news and culture review.



Greising: Olympic Secrecy "Doesn't Smell Very Good"
Josh Kalven on August 24, 2009 - Progress Illinois
This month, Tribune business columnist David Greising has written two pieces urging more disclosure on the part of Chicago's Olympic bid committee and, in doing so, spurred a lengthy editorial from his paper on the topic. On Friday, he appeared on Chicago Tonight's "Week in Review" show to discuss the games and continued to push back against the committee's assurances that they are being "open and transparent." Watch it (full video here):
GRIESING: It's interesting. I've talked to people at the Olympic committee -- Chicago 2016 -- and they all believe that they've been the most open and transparent group that has ever been seen in the face of the Olympic movement.
And yet, a few weeks away, 40-some days away from the October 2 vote, we still don't know who these insurance companies are that are supposed to be backing -- guaranteeing the bid. We have no idea who any of the developers are of the Olympic Village. The guarantee they're looking for -- the unlimited guarantee from the city -- we don't know much about.
We've had a little bit of corruption -- not corruption, conflicts of interest pop up with this Michael Scott -- this Olympic committee member who is involved in a development near the village.
It's just all kind of stirring around and it doesn't smell very good to longtime Chicagoans.