We did it!!
Mandatory labeling of GMO ingredients in food products will be on the November ballot! We had only two months to gather 500,000 signatures in the State of California and we got a whopping 971,000!!



Now the real work begins.

We've got roughly 22 weeks to inform and encourage everyone we know to vote in favor of this labeling. Several other states have said that they will also require labeling IF California passes this law. It's up to us to lead the nation.



Really, the case to be made is very simple:
Don't we have the right to know what's in our food? Labels already tell us about salt content, percentage of protein, trans fats, etc. Shouldn't we be allowed to know if genetically engineered ingredients are in our food, so we can make a choice? If you are allergic to salmon, shouldn't you know if salmon DNA is being spliced into your tomatoes for cold hardiness? Without labeling, how can you protect your health?




Spread the word - vote for labeling of GMOs! I have bumper stickers and some small signs available.
Contact me directly at: dulanie@me.com
Day on the Farm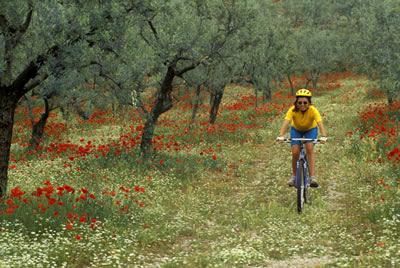 Over 150 people visited six Ojai farms on this first ever event (which is already in the planning stages for next year). Each farm featured something different- herb gardens, delicious prepared farm food, seeds, best growing practices and plenty of inspiration. Lots of folks biked to farms.

Sustainability, organic practices, water use, insects and gophers were a large conversational component, along with best seasonal crops for Ojai. Each farmer added their own signature style and the visitors were "wowed" by the spectacular beauty and variety of each farm operation.

Kudos to Christel Rogero for imagining and organizing what I think will come to be a new Rite of Spring - celebrating the food culture growing in our Valley.

The First Lady's new book is meant to inspire all would-be backyard gardeners (even if your yard isn't as big as hers). Divided by the season, chocked full of stories, growing tips, history, gorgeous glossy food photos & recipes, this book is sure to please.
Montessori School of Ojai Gardens for us all
The Montessori School of Ojai is deep in the process of developing a self-sustaining school garden program. We currently have Mulch for sale at $35/yard including delivery. We have veggie and flower starts for sale ranging from $1.00 to $3.00. We are also seeking volunteers to help in the garden in exchange for fresh produce, families are welcome as volunteers. Our garden is growing and we also have a fruit orchard of over 30 fruit trees. For more information about any of these opportunities please call Jon Ellis at (818) 388-7364.
Thanks for your continuing interest in making the Ojai Valley a more delicious place to live. Our food system is a vital part of our resilience and strength.
Growing food, growing community!

Dulanie Ellis, Food Council

Ojai Valley Green Coalition
Ojai Olive Oil Tours
Free
Tour an olive grove in Ojai, a working farm that grows 9 varieties of olives and produces premium quality extra-virgin olive oils. Learn about the cultivation, harvesting and production. Then step into the tasting room!
(reservations required)
1811 Ladera Rd., Ojai
646-5964

UCSB Extension
$235
"Designing Sustainable Gardens with Native & Edible Plants"
Thursdays 6:30-9:30pm
Aug 16-Sept 13 &
Sat. 9a-12:00pm 8/25


Permaculture Caretaker Job
The Santa Barbara Permaculture Network announced this job.



"North of Santa Barbara 1-1/2 hours. Santa Margarita riverfront property, great location Owners looking
for caretakers for maintenance to apply permaculture experience for gardens & fruit trees. Offering salary and housing. contact:
cindy@mlc.sbcoxmail.com



Snap Pea &
New Potato Salad
2 lbs baby potatoes, scrubbed & cut to size of walnuts
2 tsp good olive oil
1 bunch scallions, finely chopped
2 c. shelled fresh peas (about 3 lbs.unshelled)
1/4 c. water
1-1/2 c. thinly sliced radishes
1 tbl. butter
2 Tbl. finely chopped fresh herbs (parsley, chervil, savory or your choice)
1/2 tsp salt
1/4 tsp pepper

Steam the potatoes til cooked but firm.
While potatoes cook, heat oil in large nonstick skillet over medium heat. Add scallion whites and stir constantly til translucent (about 2 minutes). Add peas & water. Cook, stirring occasionally until peas are just soft (3 min). Add radishes & butter. Cook, strring, until radishes are soft (2-3 min) Gently stir in the steamed potatoes, herbs, salt & pepper. Serve warm.

Makes 8 svgs of 1 cup